Kesuksesan MSI sebagai brand gaming tak lepas dari dukungan SteelSeries. Perusahaan Denmark itu terus membantu penggarapan keyboard di notebook gaming mereka, dan dahulu, produk MSI sering dibundel bersama headset SteelSeries. Bahkan ketika sang produsen Taiwan mengenalkan headphone-nya sendiri (seperti DS502/DS502), MSI tetap mengadopsi rancangan gaming gear SteelSeries.
Keseriusan MSI dalam meracik headset baru betul-betul terlihat di awal tahun ini, ketika sejumlah periferal gaming menjadi bagian dari presentasinya di CES 2017. Di sana, saya berkenalan dengan Immerse GH70, headphone gaming premium pertama buatan Micro-Star International. Produsen menyadari bahwa para kompetitornya telah lebih berpengalaman dan sudah memupuk prestasi di segmen ini. Agar bisa bersaing, MSI mencoba memampatkan segala macam teknologi serta fitur canggih di Immerse GH70.
Kira-kira tujuh bulan semenjak perkenalan itu, MSI menawarkan saya kesempatan untuk bertemu lagi dengan Immerse GH70 dan menjajalnya lebih personal. Dan selama beberapa minggu ini, saya merasakan hasil dari kerja keras produsen demi memastikan performa audio headphone ini setara penampilan menawannya. MSI juga berusaha menjaga penyajiannya tetap simpel, agar Immerse GH70 bisa mudah dioperasikan oleh pengguna awam sekalipun.
Silakan simak ulasan lengkapnya di bawah.
Bundel pembelian
Immerse GH70 dibungkus dalam boks hitam. Headphone ditaruh di atas dudukan pastik, dan saat bagian ini diangkat, Anda bisa menemukan pouch hitam dari kulit sintetis dan lembar panduan. Kantong tersebut sangat lembut, cocok untuk jadi tempat penyimpanan headphone ketika Anda bepergian.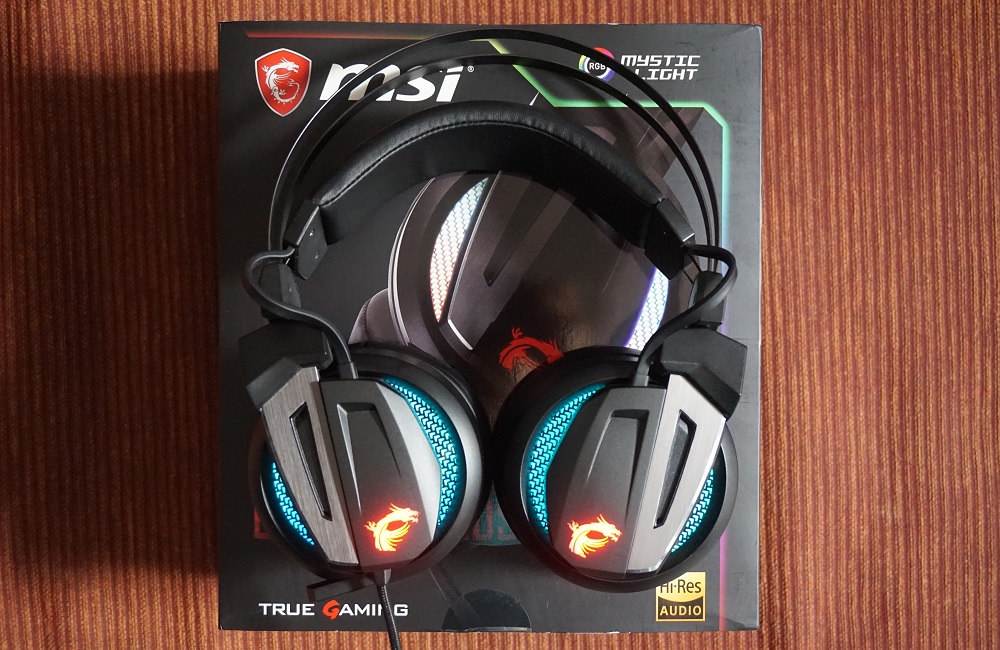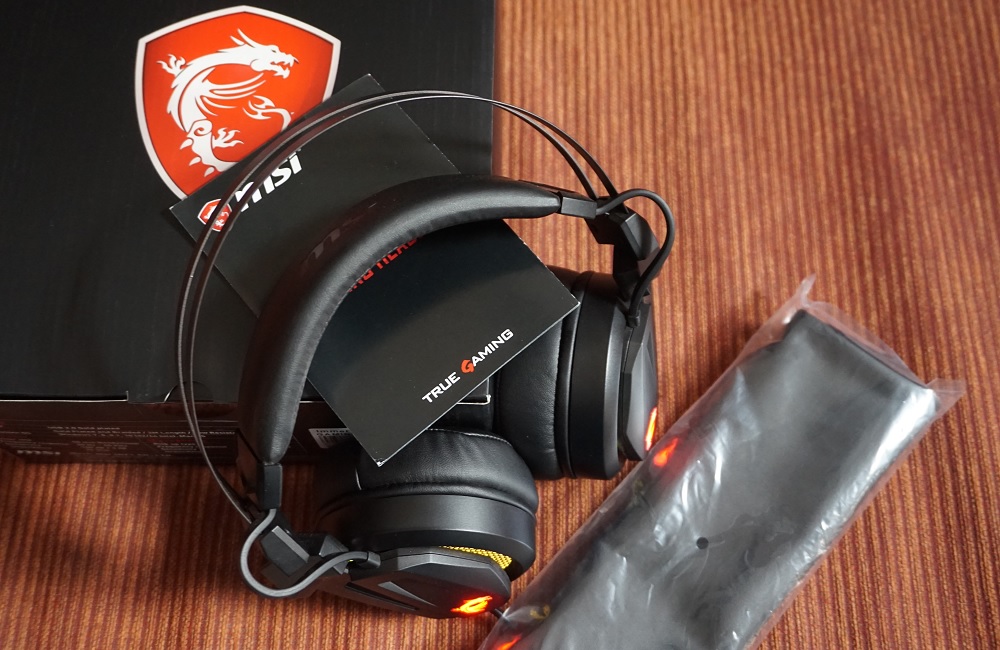 Desain
MSI Immerse GH70 adalah headphone dengan ear cupover-the-ear bundar. Bagian tersebut disambung oleh dua batang headband baja yang kuat dan lentur. Sebuah headband lagi melintas di bawahnya, kali ini empuk serta fleksibel. Ia berperan sebagai bantalan sehingga headset dapat pas di segala jenis kepala. Pendekatan itu mengindikasikan bagaimana MSI masih mengakui keunggulan desain salah satu produk audio gaming terlaris SteelSeries, Siberia V2.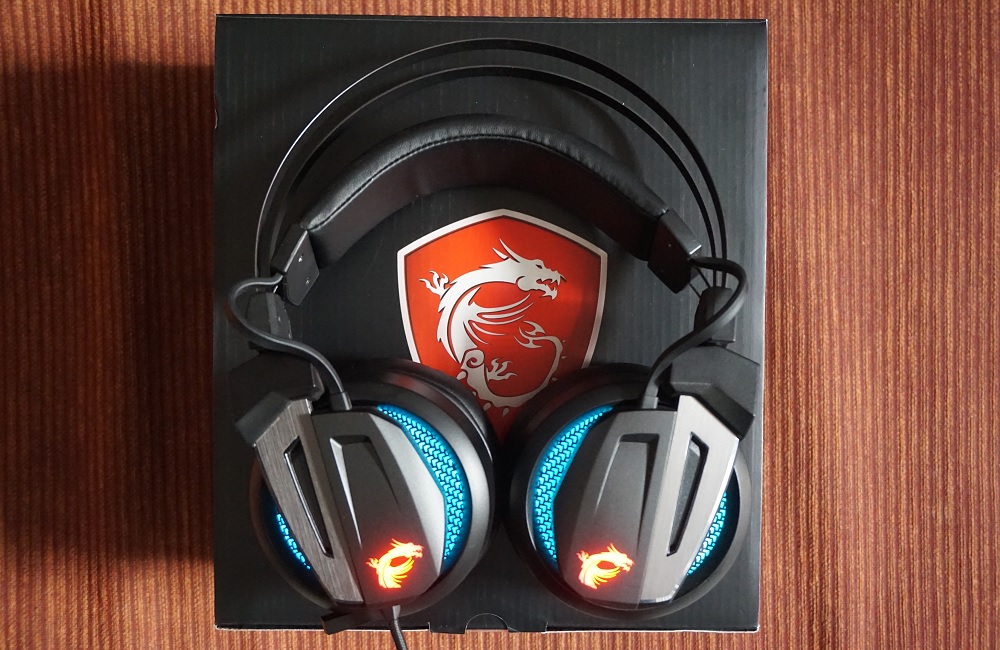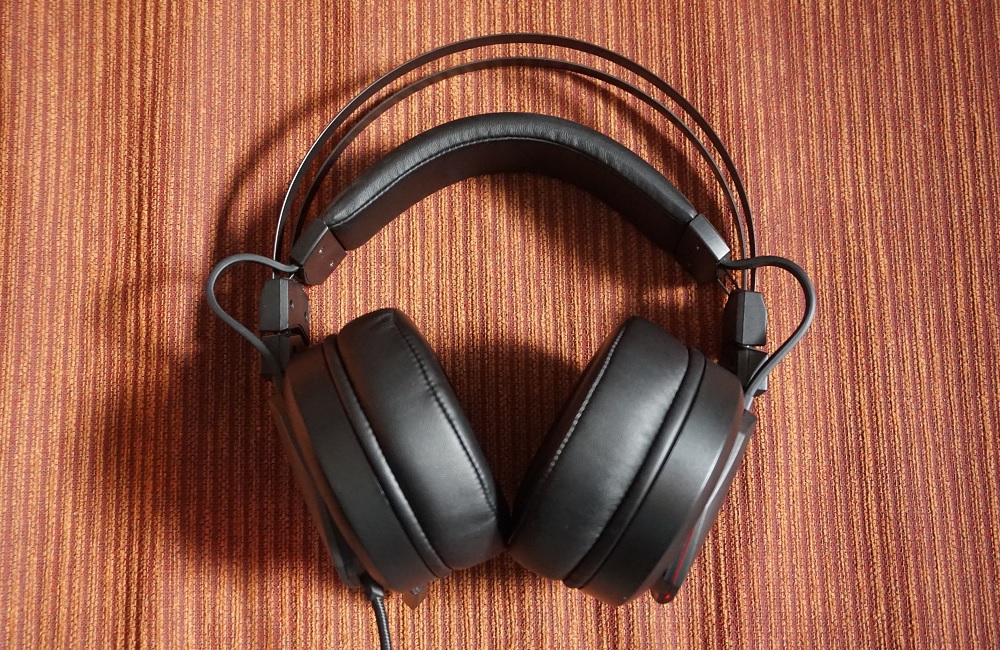 Headphone mempunyai engsel putar sehingga housing speaker bisa diarahkan ke depan. Selanjutnya, elemen logam turut dibubuhkan pada sisi luar housing, memberikan kesan asimetris saat dilihat dari samping. Bagian tersebut memanfaatkan struktur plastik yang dipadu tekstur matte, memperkuat tema metaliknya. Buat saya, Immerse GH70 sangat pas ketika dipasangkan dengan perangkat-perangkat gaming MSI, dari mulai notebook GS dan GT, hingga desktop Aegis ataupun Trident.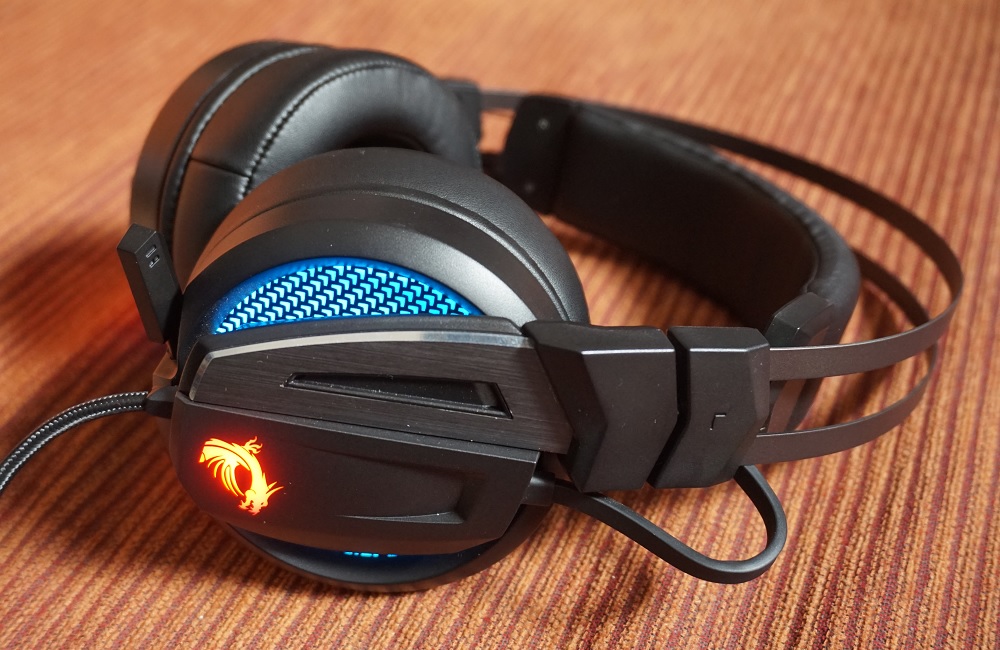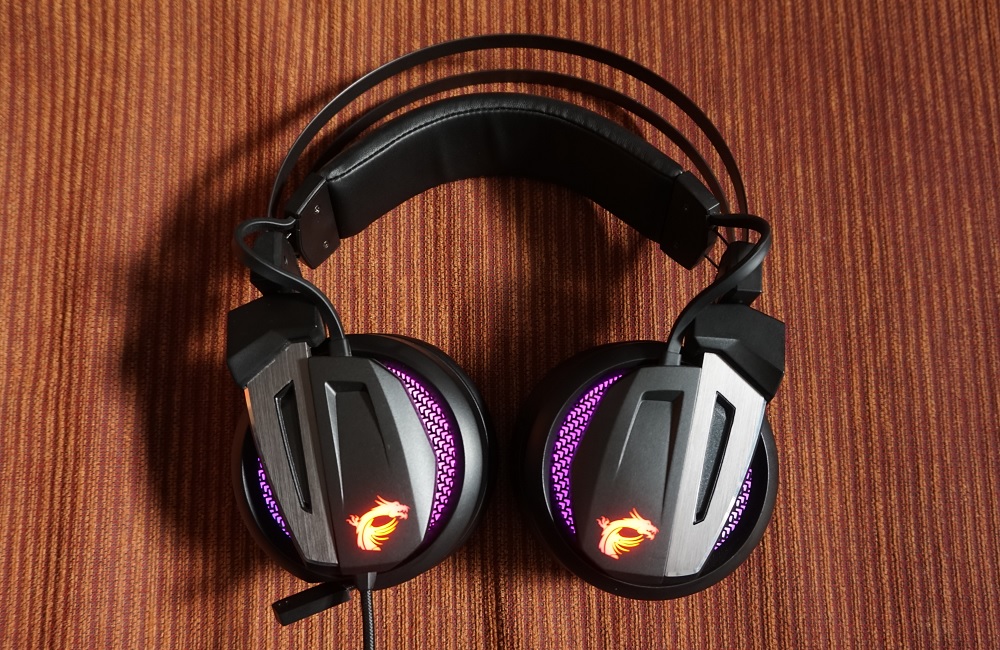 Hampir segala elemen di headset ini berkesan tebal, industrial dan 'berani': MSI tak ragu-ragu memanfaatkan desain dengan banyak sudut, menonjolkan kabel antara housiing dan headband, juga mengimplementasikan arahan serupa pada unit kendali. Di sana, tersedia kenop pengaturan volume, tombol buat mengaktifkan surround sound 7.1 serta tombol mute microphone. Immerse GH70 terhubung ke PC melalui kabel braided sepanjang 2-meter dengan ujung USB 2.0 berlapis emas.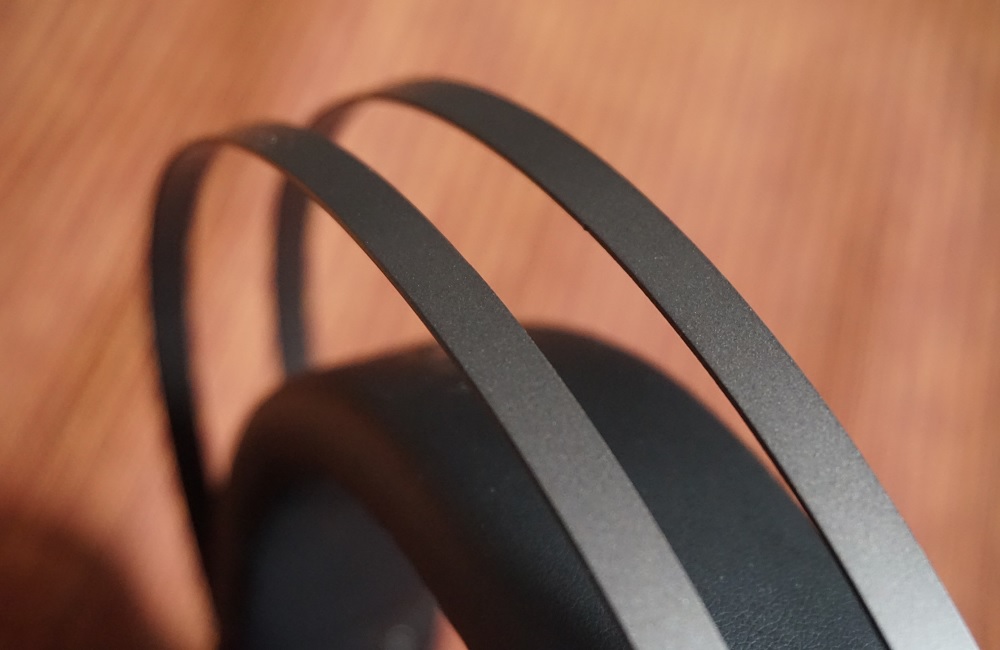 Seperti Siberia V2, microphoneretractable -nya bersembunyi dalam ear cup kiri, bisa ditarik keluar saat Anda ingin menggunakannya. Struktur lengan mic tersebut dapat mudah diubah – bisa diarahkan mendekati atau menjauhi mulut.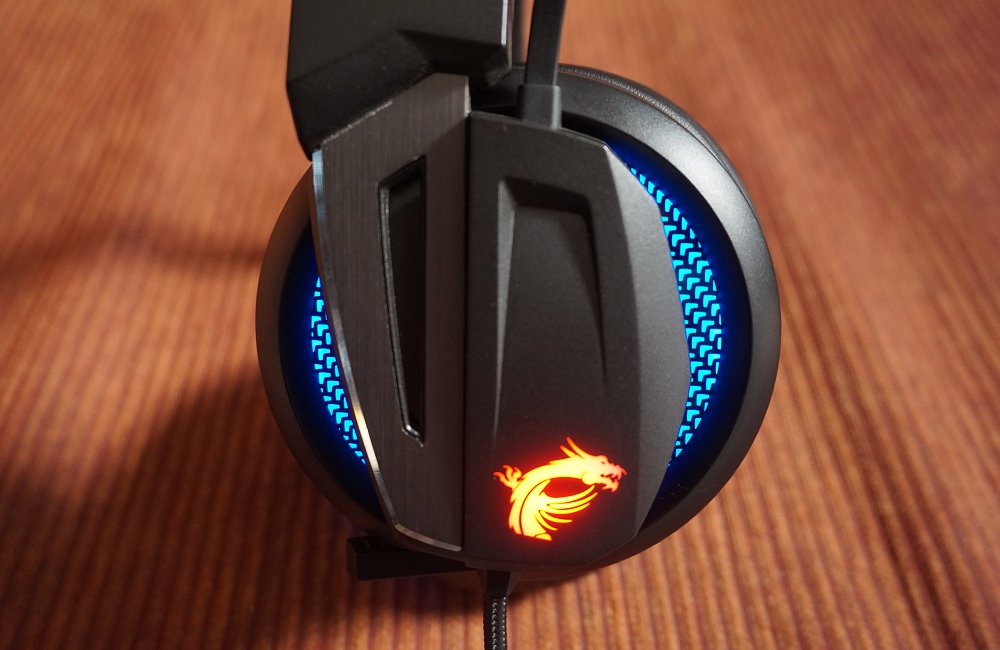 Pertunjukan pencahayaan RGB juga menjadi aspek esensial pada desain Immerse GH70. Saat headphone dicolokkan ke PC, LED merah di logo naga Gaming G Series segera menyala, disempurnakan oleh latar belakang RGB (jika diperhatikan lebih teliti, memiliki pola sisik naga). Warna dan pola pencahayaan bisa utak-atik lebih jauh lewat dua software: MSI Gaming Center dan Mystic Light.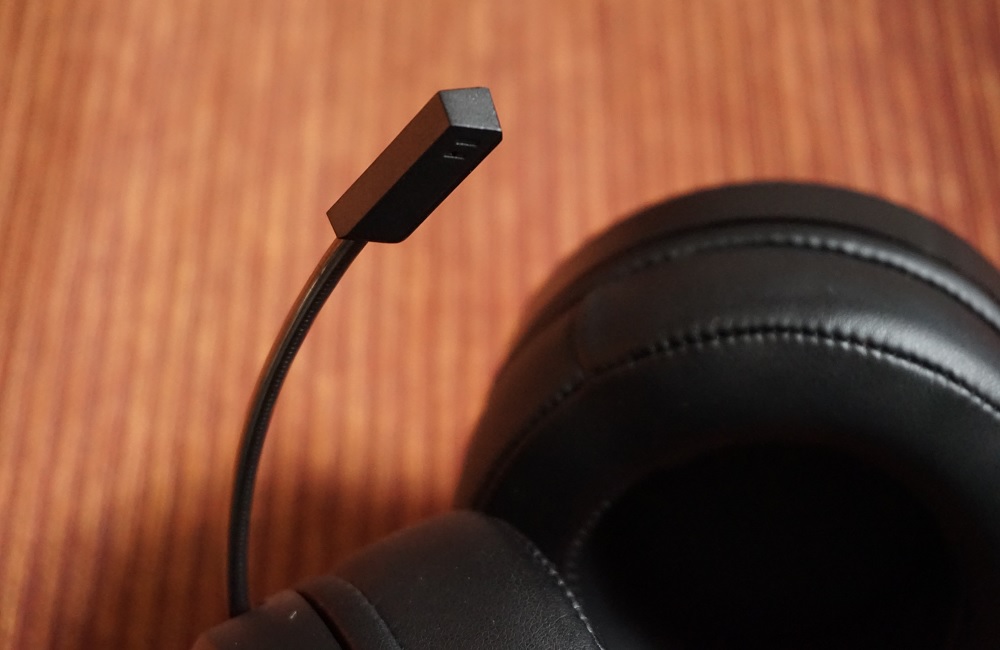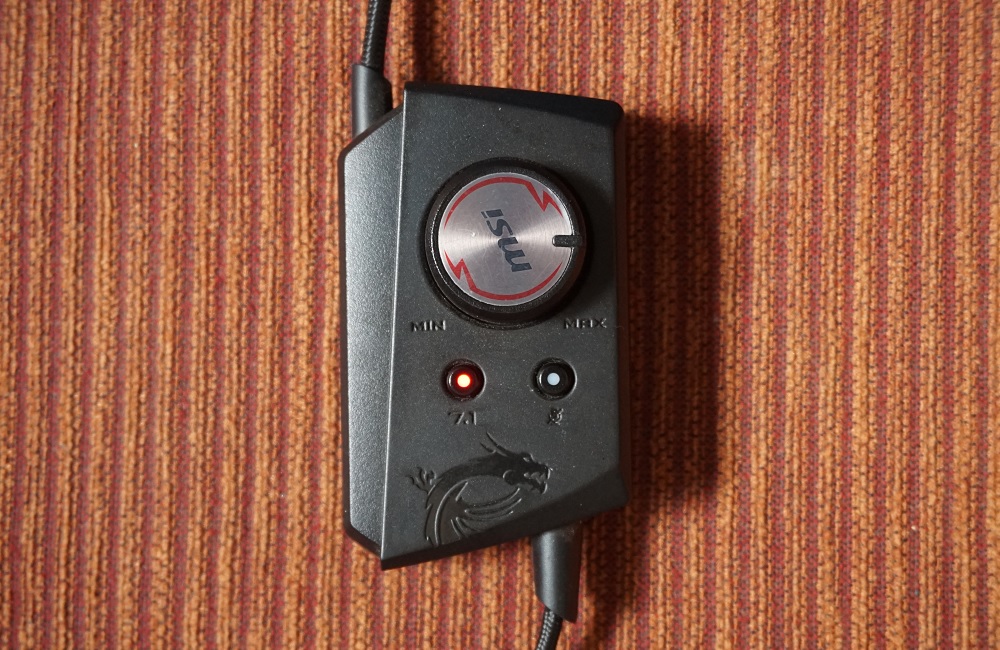 Daya tahan dan kenyamanan
Arahan desain berkonsep tebal memengaruhi konstruksi Immerse GH70. Headphone ini terasa sangat kokoh dan kekar, dan sejauh ini saya belum menemukan bagian-bagian yang mencemaskan. Walaupun engselnya sempat saya putar dengan kasar, ia sama sekali tidak menunjukkan kelemahan. Kabel braided-nya pun tak perlu dikhawatirkan, komponen ini sangat kuat (bahkan sedikit kaku).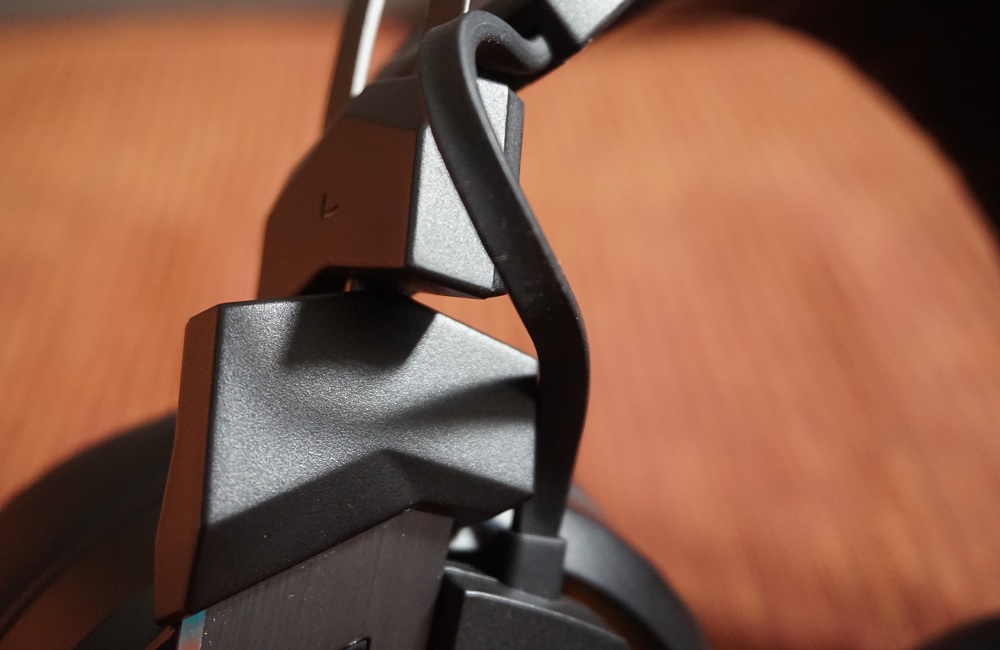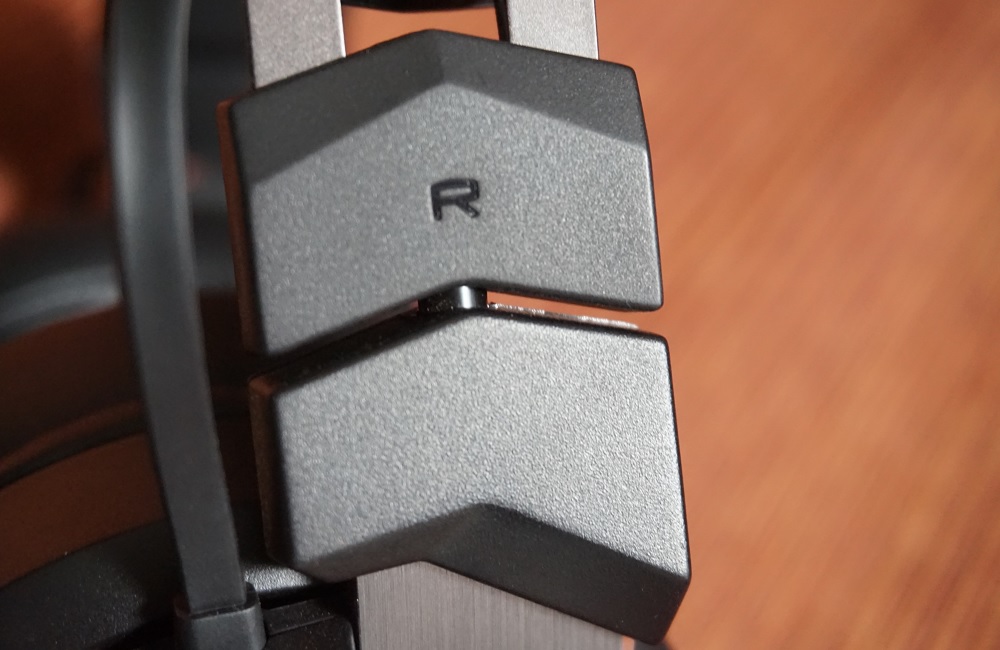 Untuk padding, MSI memanfaatkan busa empuk (hampir sekelas memory foam) yang dilapisi bahan kulit sintetis super-lembut. Bahkan saat dikenakan di ruang tanpa pendingin udara, suhu di area telinga tak pernah melewati batasan tidak nyaman. MSI juga kabarnya menyediakan bantalan berlapis kain opsional (tidak dibundel dalam packaging). Selain itu, material kulit sintetis serupa turut digunakan pada headband sekunder.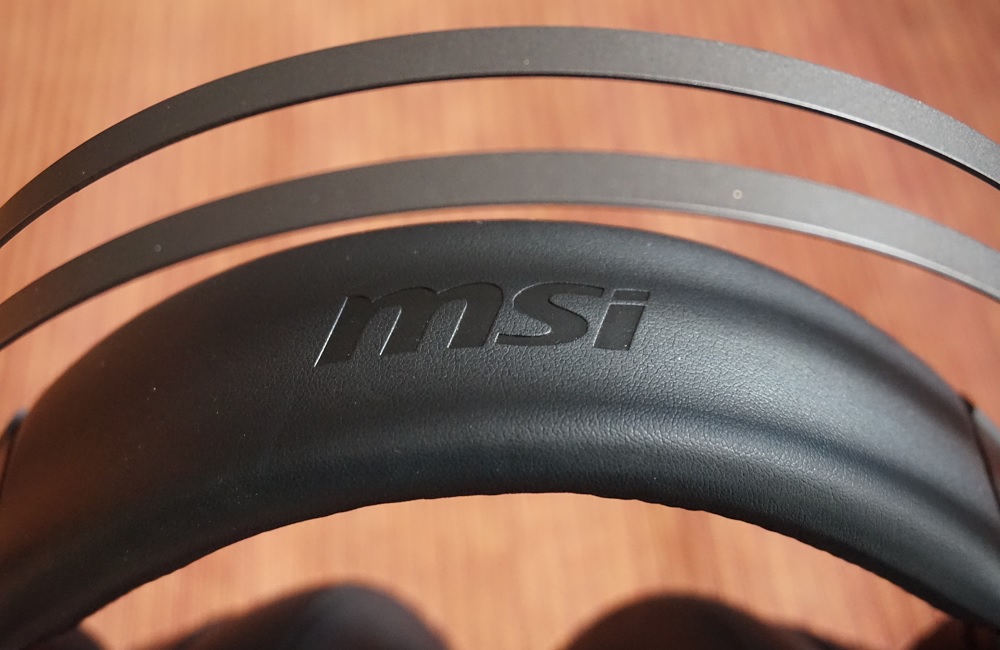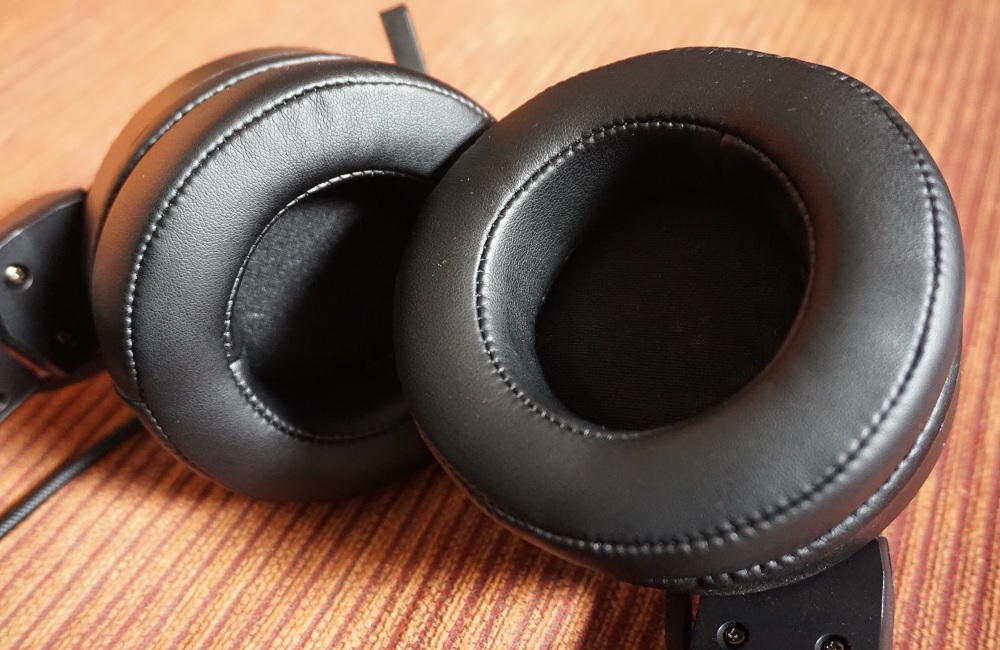 Saat dikenakan, Immerse GH70 segera mencengkeram kepala Anda dengan erat. Ia tidak akan terlepas kecuali jika kepala diguncangkan sangat kencang. Buat saya, tekanan ear cup ke kepala sedikit terlalu tinggi (terutama di area depan telinga dan rahang atas). Namun uniknya, headphone tidak menyebabkan pemakaian kacamata jadi tak nyaman, saya malah tidak berasakan tekanan di bagian tangkai kacamata yang ditindih padding berkat busa empuknya.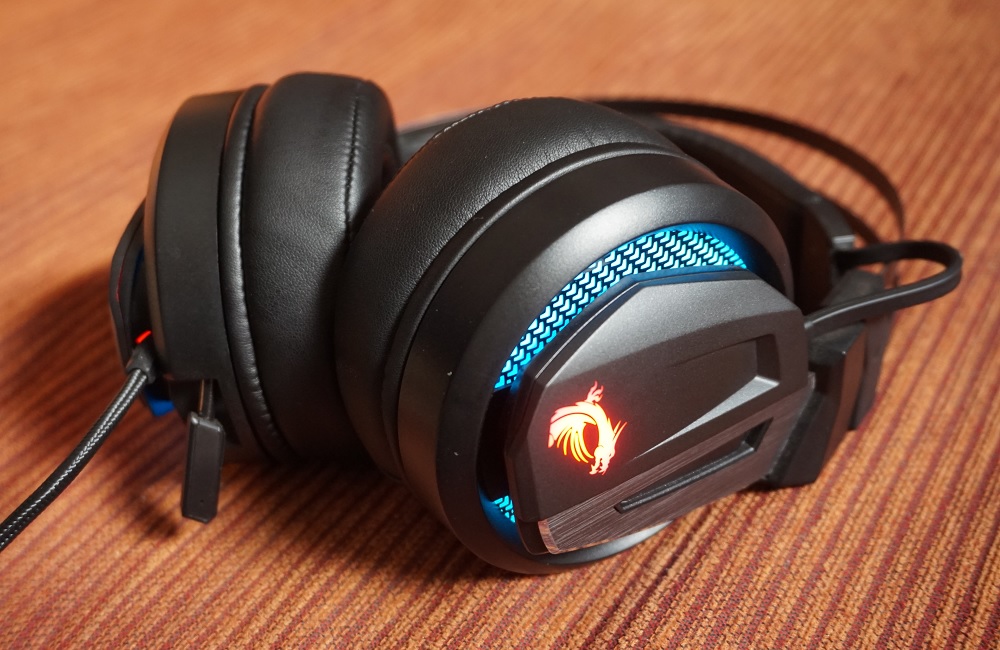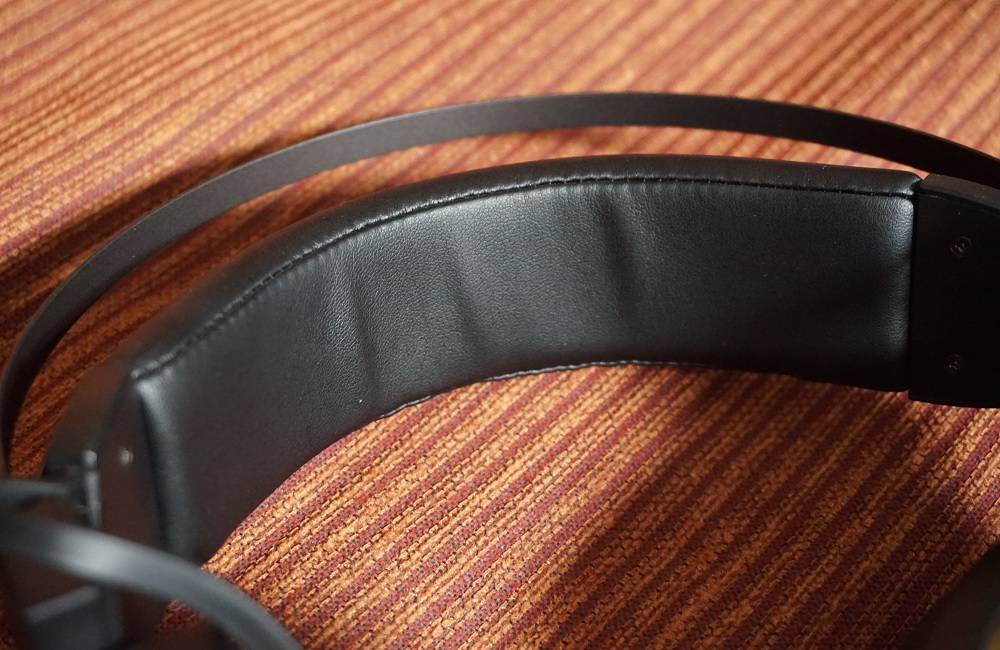 Immerse GH70 lebih berbobot dibanding sejumlah headset gaming kompetitor. Saya belum mengetahui pasti berapa beratnya, tetapi dengan mendengakkan atau menundukkan kepala, saya bisa merasakan sedikit pergeseran posisi headphone akibat gravitasi.
Software dan kustomisasi
App Mystic Light dapat digunakan jika Anda ingin menyinkronkan seluruh pencahayaan di sistem gaming, namun bagi saya, Gaming Center lebih esensial. Selain memperkenankan kita mengakses lighting RGB, software tersebut menyuguhkan keleluasaan konfigurasi audio. Komentar saya terhadap penyajiannya sama seperti di review mouse Clutch GM70: sebaiknya MSI membundel semuanya dalam satu aplikasi all-in-one agar tidak membingungkan.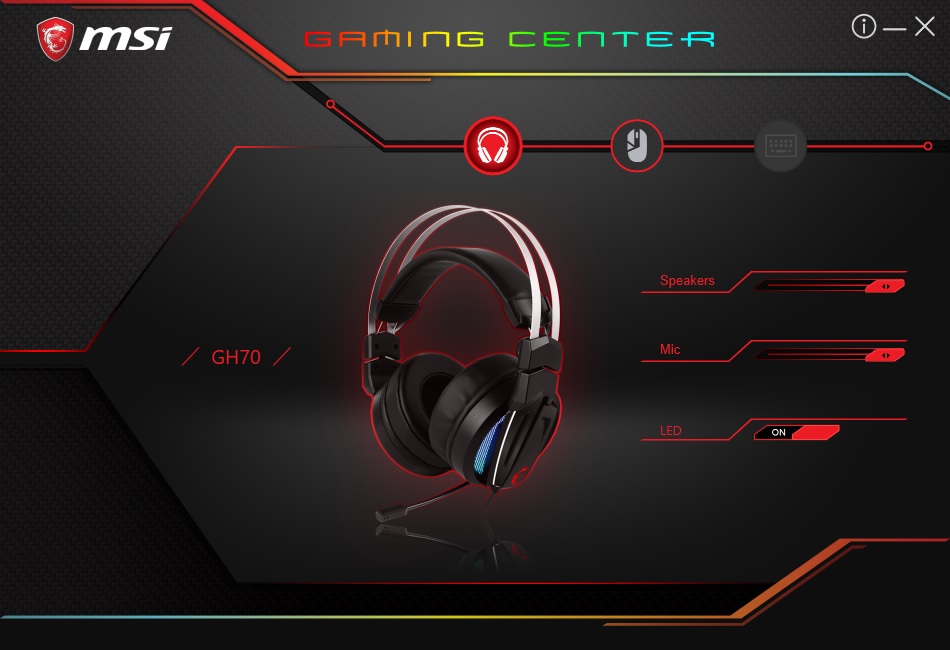 Gaming Center sendiri memang tidak seelok software companion punya kompetitor, tetapi fungsi-fungsi di sana disuguhkan secara efisien. App bisa segera mengetahui saat Immerse GH70 tersambung ke komputer, dan dengan mengklik gambar headset, Anda dipersilakan mengakses setting output suara, microphone, dan LED.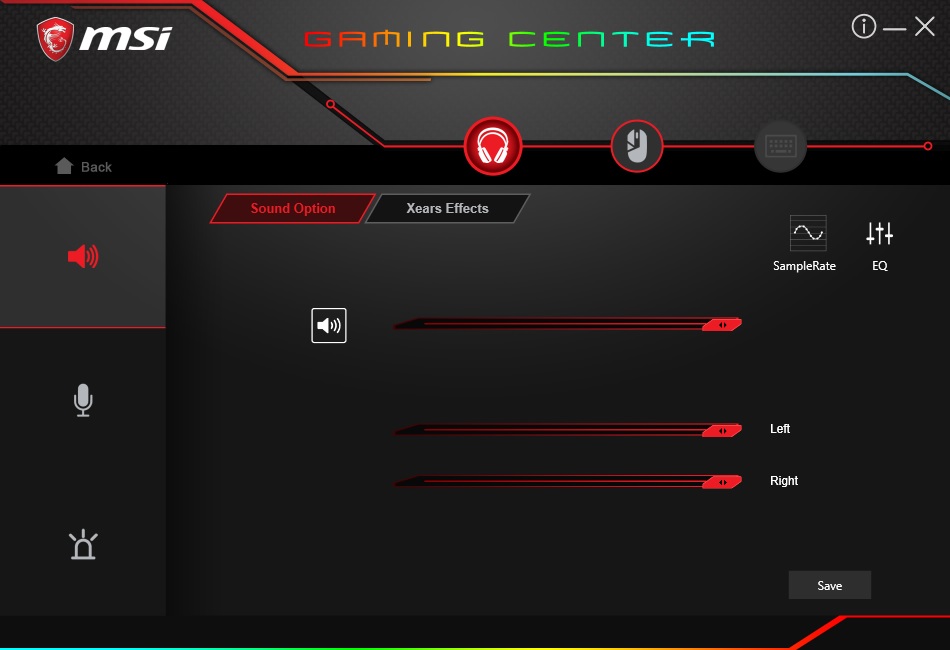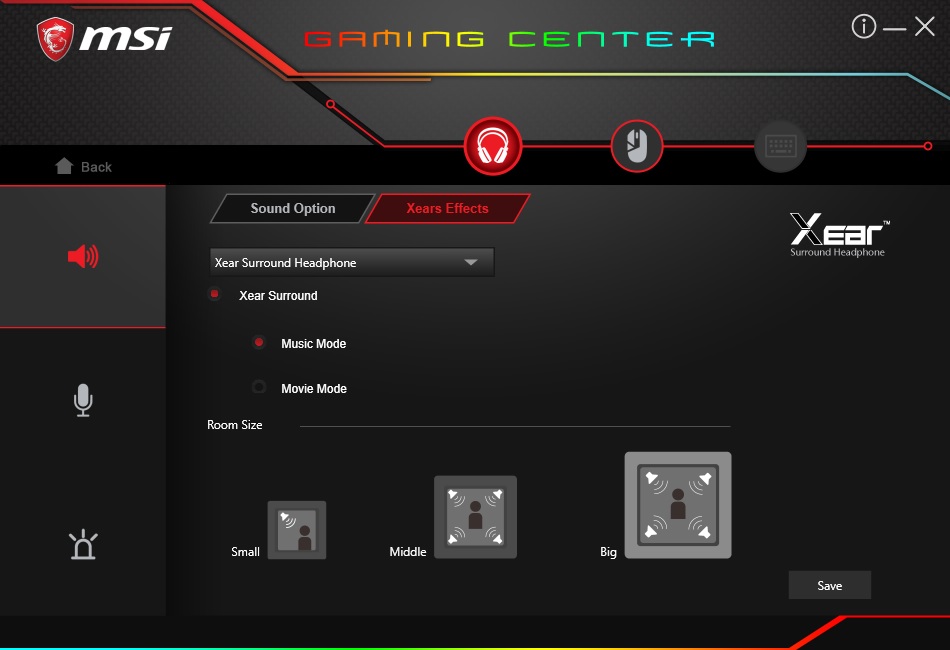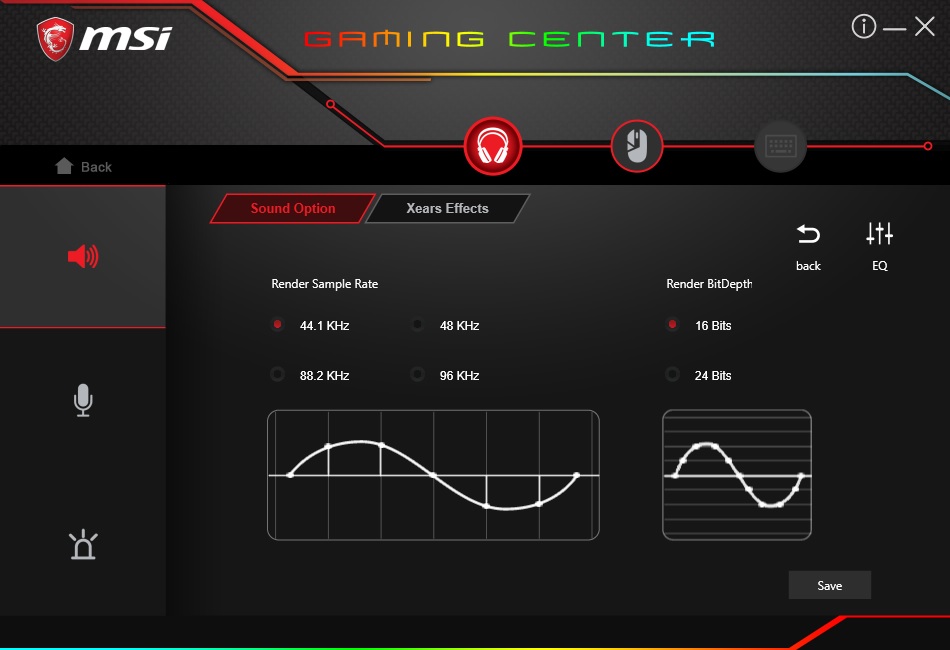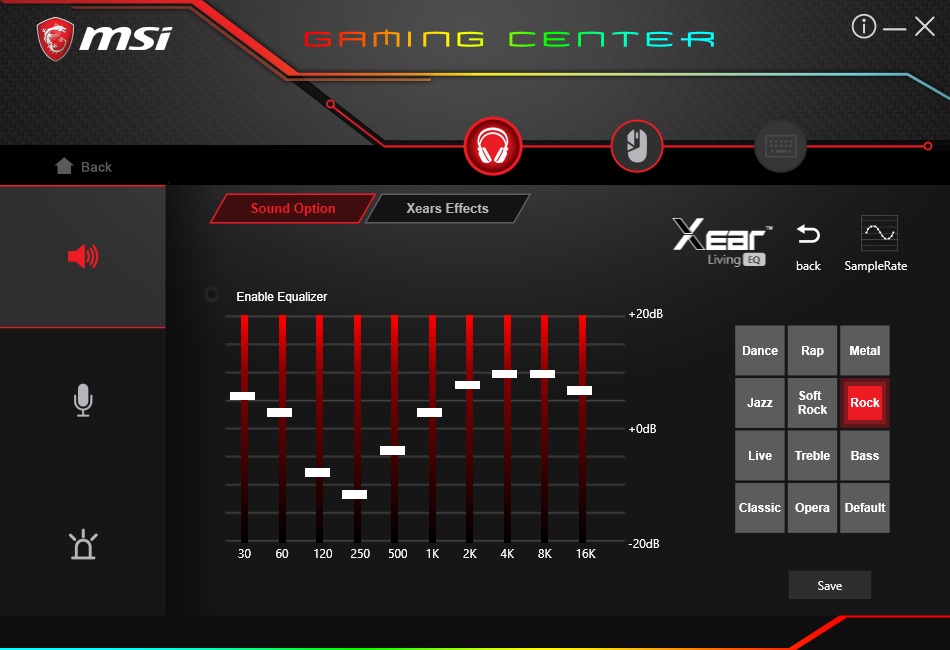 Di menu suara, kita bisa mengaktifkan fitur Xear Surround, memilih mode (film atau musik) serta sample rate, menentukan ukuran ruangan, hingga mengoprek equalizer. Pemilihan sample rate juga ada di menu mic, beserta opsi Xear Effects buat mengaktifkan Magic Voice. Dengannya, saya dapat mengubah suara normal menjadi suara monster, kartun, atau suara wanita. Fitur ini saya pakai di Titanfall 2, dan sempat menyebabkan kehebohan…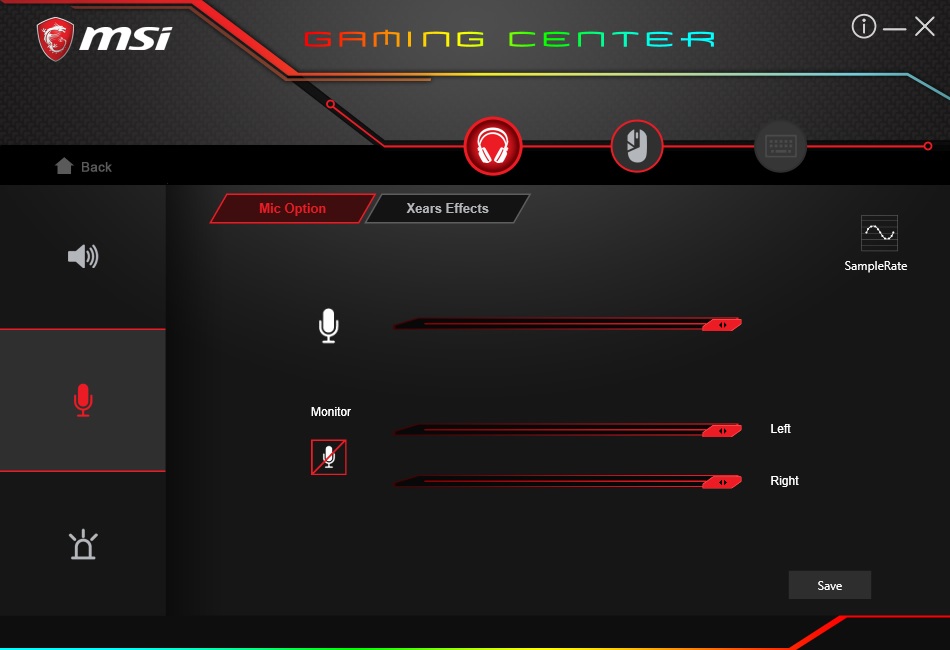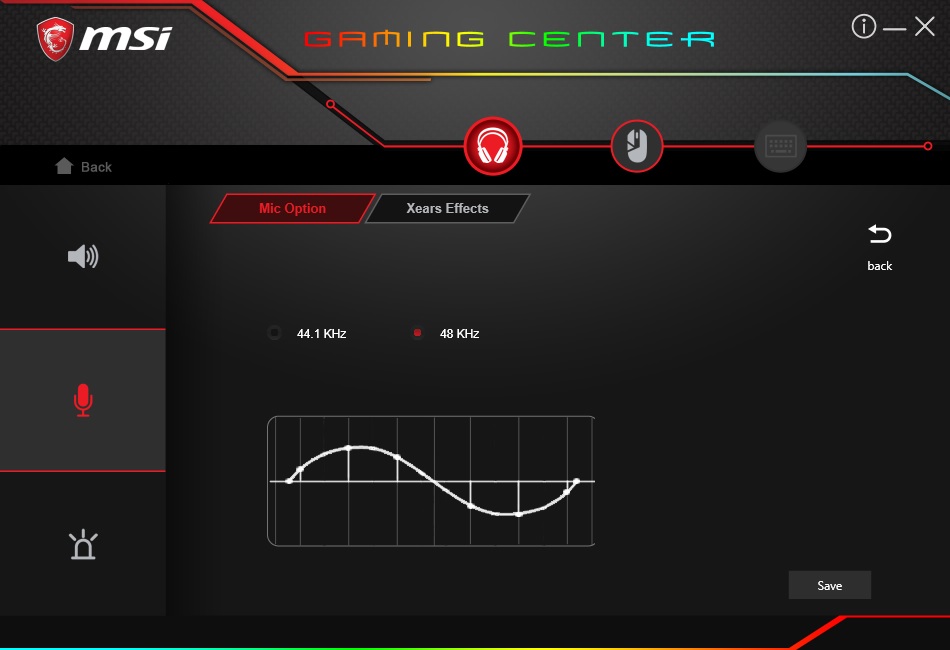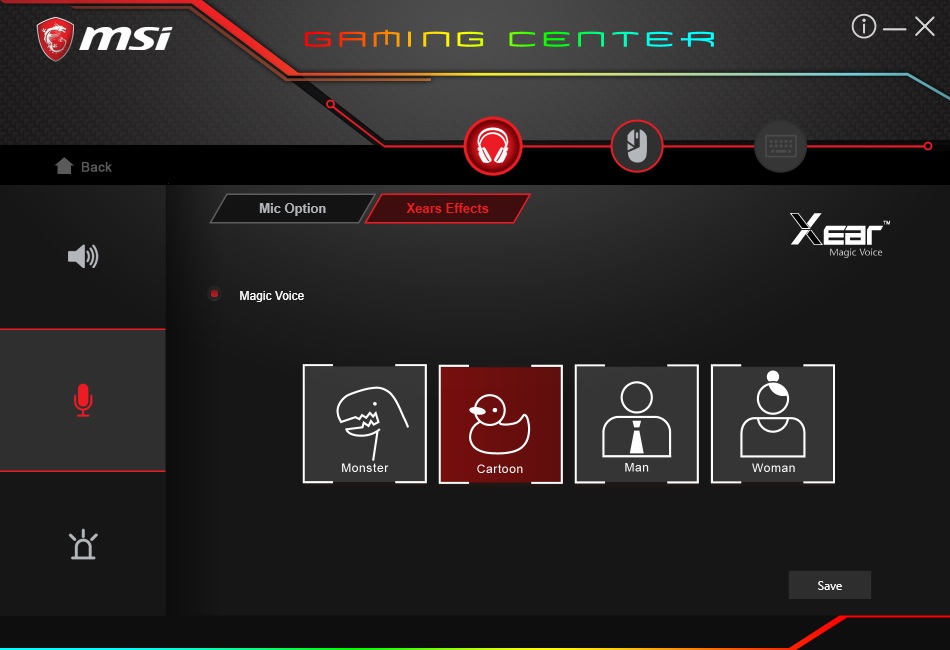 Di menu ketiga, Anda bisa mengutak-atik pola pencahayaan LED serta memilih warna dari palet red-green-blue – jumlahnya ada 16,7 juta warna lebih. Saya punya dua efek favorit, pertama adalah Cycling agar LED menampilkan warna berbeda-beda, dan kedua ialah Beats Mode. Di mode ini, LED akan mengikuti dentuman audio dan suara musik – memberi kesan cyberpunk pada Immerse GH70.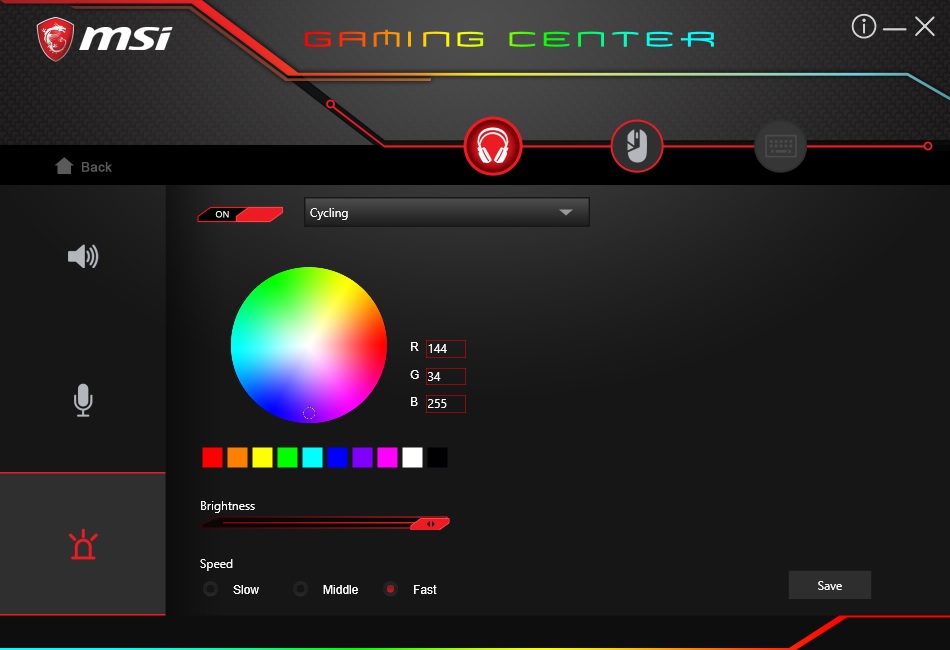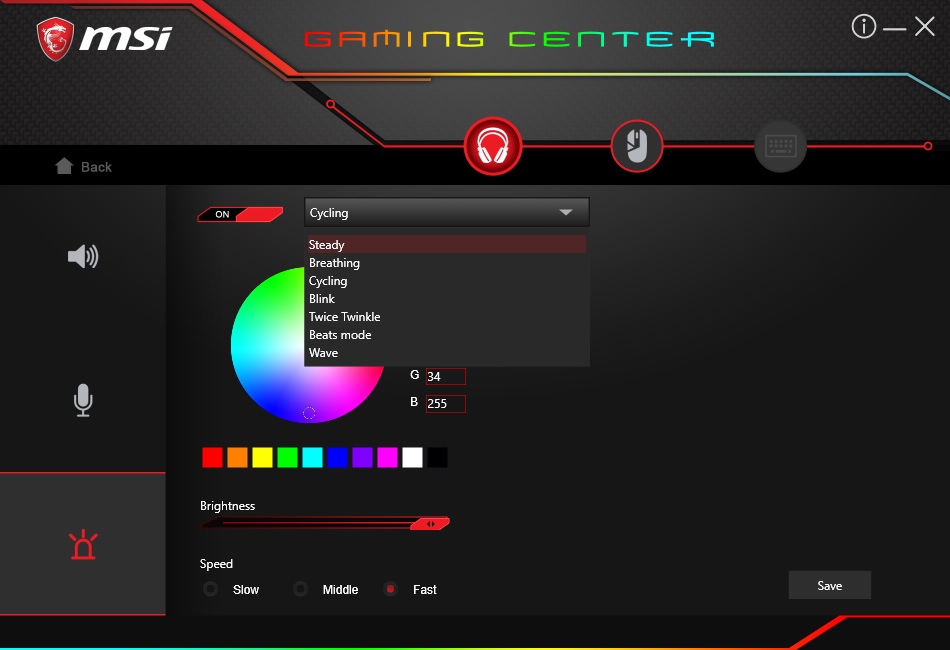 Performa suara dan pengalaman penggunaan
Saya bukanlah pakar audio seperti beberaparekan di DailySocial, tapi sebagai gamer, saya tahu apa yang betul-betul dibutuhkan. Dan dengan gembira, saya tak ragu merekomendasikan MSI Immerse GH70 bagi gamer yang berkesempatan membelinya. Dengan sedikit penyesuaian pada Gaming Center, saya menemukan setting paling manis buat menonjolkan detail – aspek krusial dalam game-game shooter bertempo cepat – tanpa mengorbankan performa bass.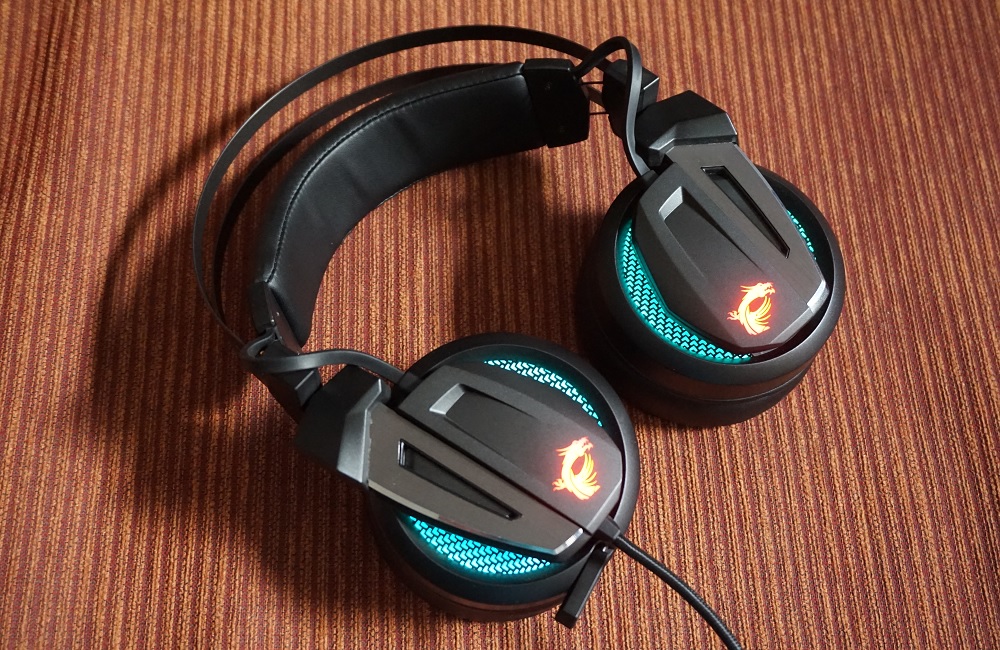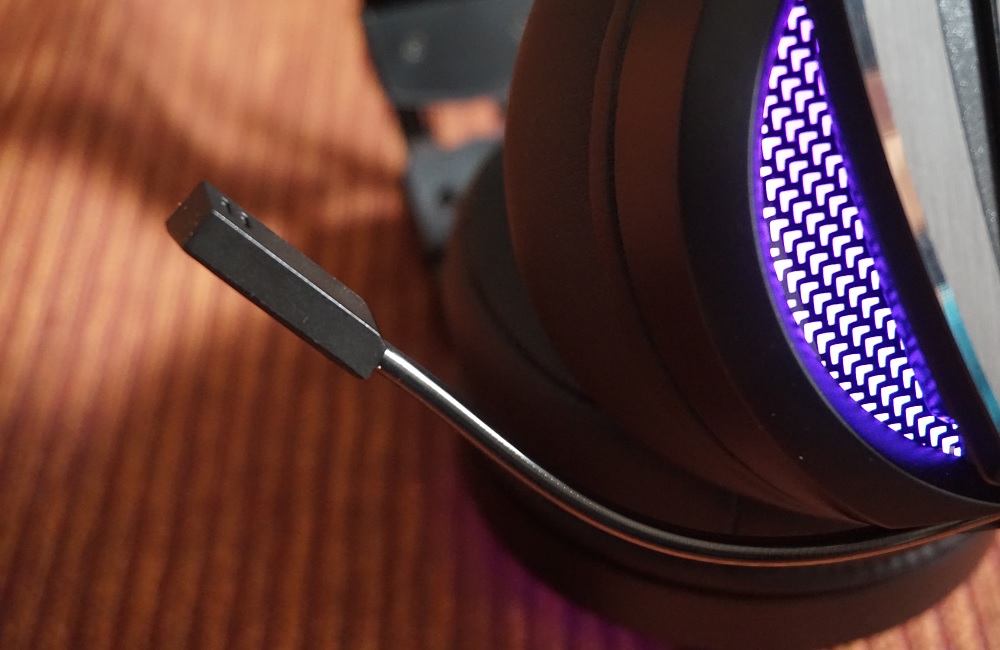 Immerse GH70 merupakan headphone yang tersertifikasi audio Hi-Res, sanggup menghidangkan output berkualitas 24-bit/96KHz. Performanya akan sempurna jika dikombinasikan dengan perangkat-perangkat yang siap mendukungnya – misalnya GT83VR, GT73VR, GS73VR, GS63VR, serta GS43VR.
Dengan memadukan audio Hi-Res dan surround sound 7.1, saya bisa mudah mendeteksi posisi lawan di Titanfall 2 dari derap langkah serta suara dorongan jet pack mereka. Sembari mengenakan headphone ini, saya tak pernah merasa bosan mendengarkan suara hantaman peluru meriam 50mm di robot lawan, bunyi gemuruh senapan mesin 20mm saat memuntahkan timah panas, hingga suara senapan serbu yang semakin nyaring ketika amunisi dalam magasin mulai menipis.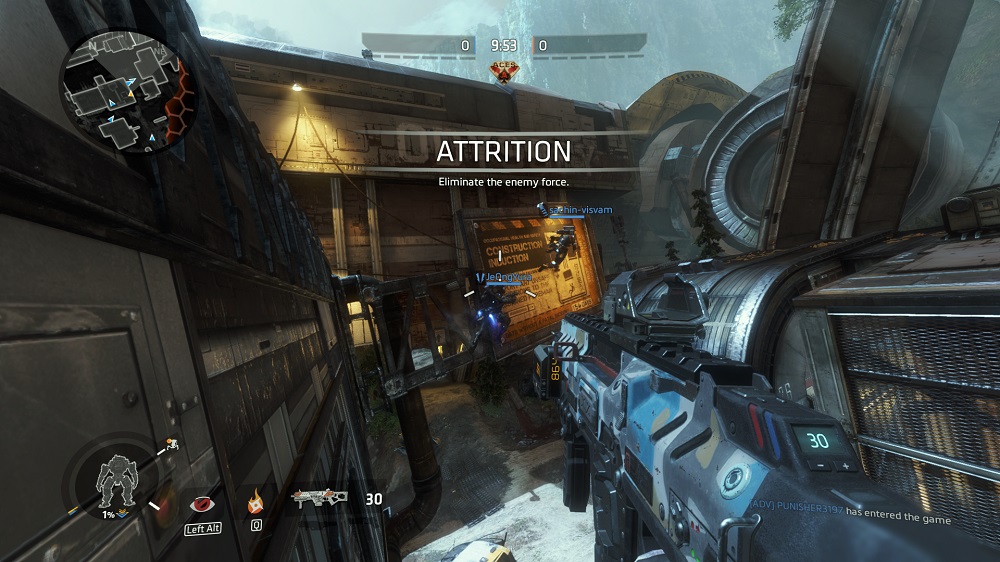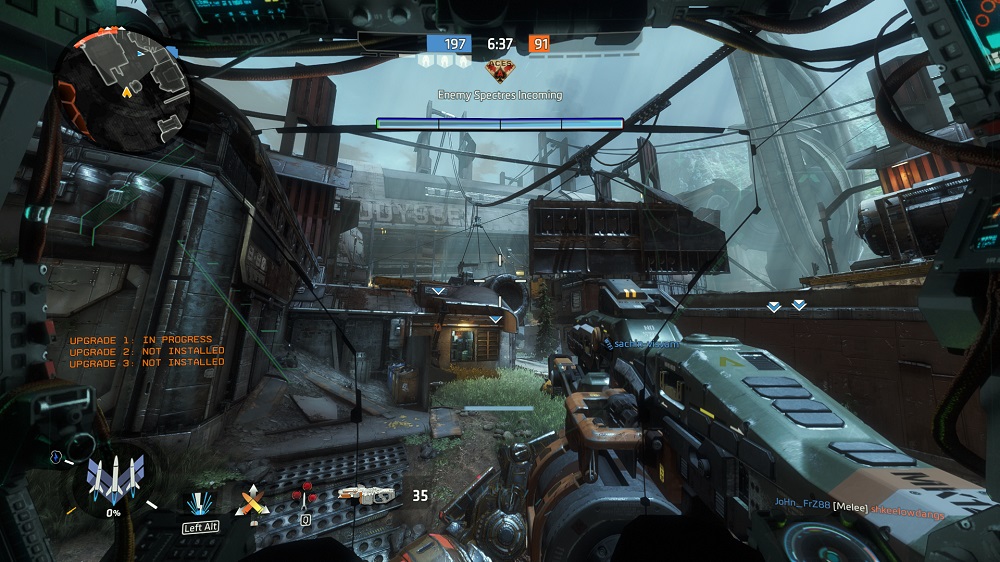 Performa suara Immerse GH70 tak kalah menonjol sewaktu dipakai menikmati game 'santai' seperti Divinity: Original Sin II. Suara derakan sihir listrik terdengar tajam dan mengerikan, lalu proyektil batu raksasa skill Fossil Strike juga terasa begitu berat serta berbahaya. Headphone ini memperkenankan saya mendengar detail yang sebelumnya terlewati, misalnya tetesan air di batu dan langkah kaki yang bergema dalam gua.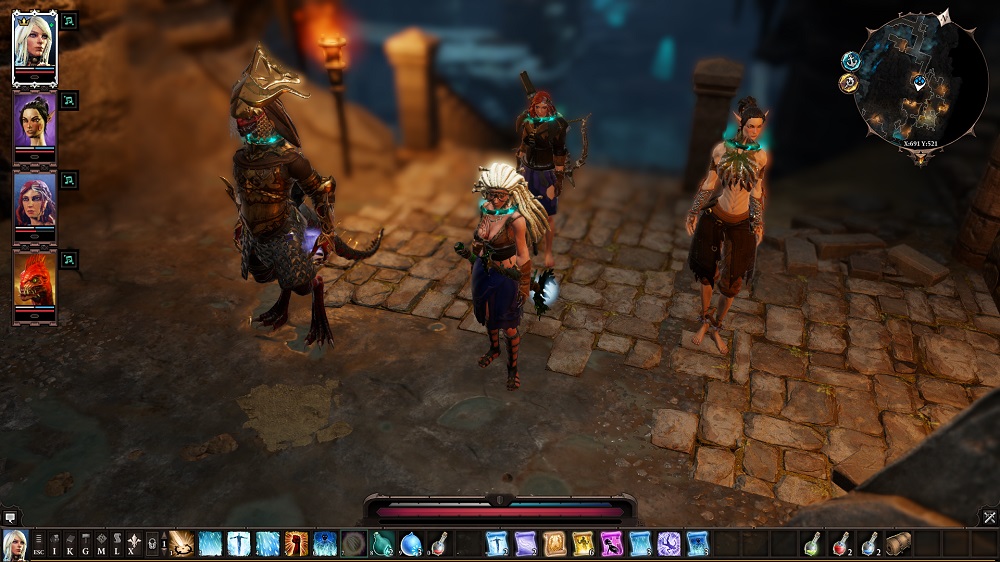 Kinerja musiknya juga tak kalah istimewa, dan supaya optimal, jangan lupa pilih mode musik di Game Center. Immerse GH70 saya uji dengan file FLAC lagu While My Guitar Gently Weeps (Beatles), Closer to the Edge (30 Seconds to Mars), Asleep in the Deep (Mastodon), dan tak lupa Bohemian Rhapsody (Queen). Semuanya terdengar memuaskan bagi sepasang 'telinga non-emas' yang saya miliki ini.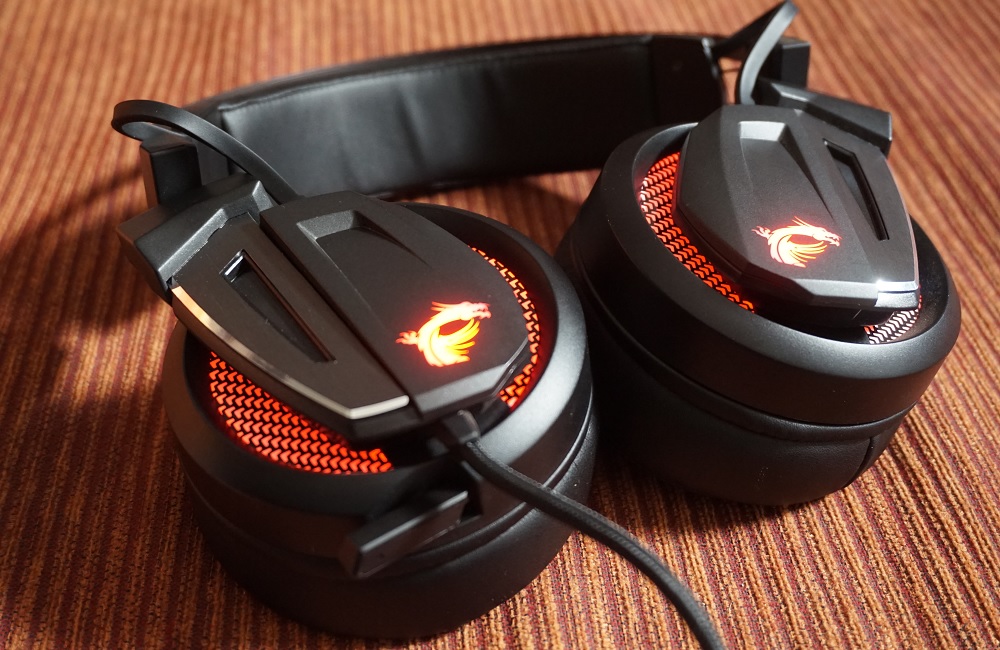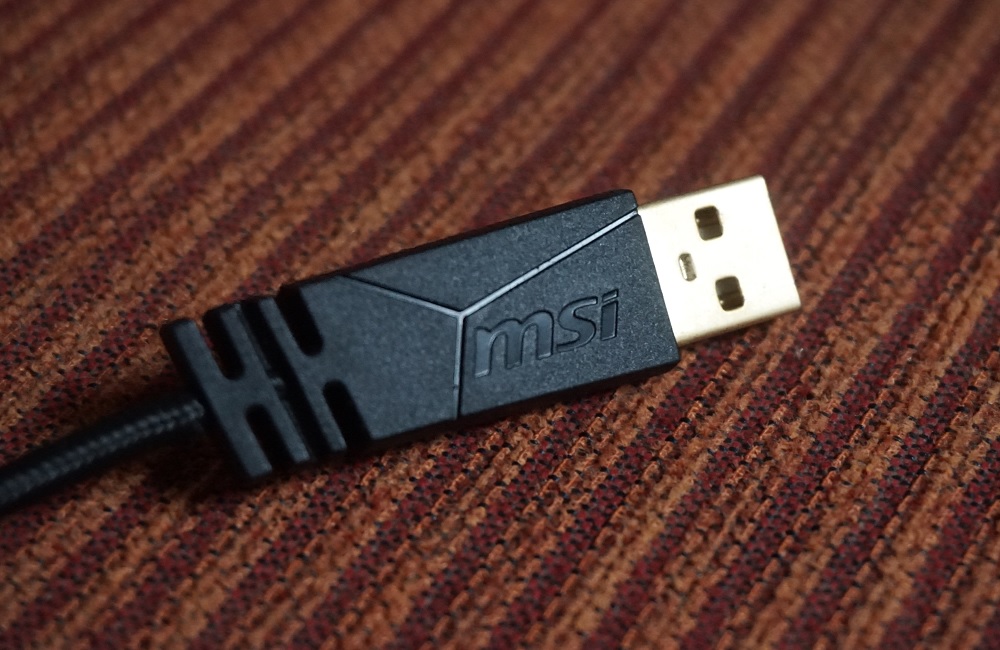 Berbicara lebih teknis, Immerse GH70 menyimpan unit driver neodymium 50mm sebagai jantungnya, memiliki impedansi 32ohm dan dapat menyajikan frekuensi dari 20Hz hingga 40KHz. Microphone-nya sendiri bisa merespons suara di frekuensi 100Hz sampai 10KHz.
Konklusi
Terlepas dari sejumlah kekurangan kecil seperti penyajian app dan tekanan ear cup yang sedikit berlebihan, tak butuh waktu lama bagi MSI Immerse GH70 untuk menjadi bagian esensial dari kegiatan gaming saya sehari-hari. Detail serta kinerja suara berbasis surround sound 7.1 adalah kekuatan utama produk ini, namun saya juga sangat mengapresiasi serunya proses kustomisasi fitur serta pencahayaan LED via Gaming Center. Selain itu, buat saya Magic Voice merupakan kejutan tak terduga, memberikan kesempatan 'bereksperimen' dalam game-game multiplayer online.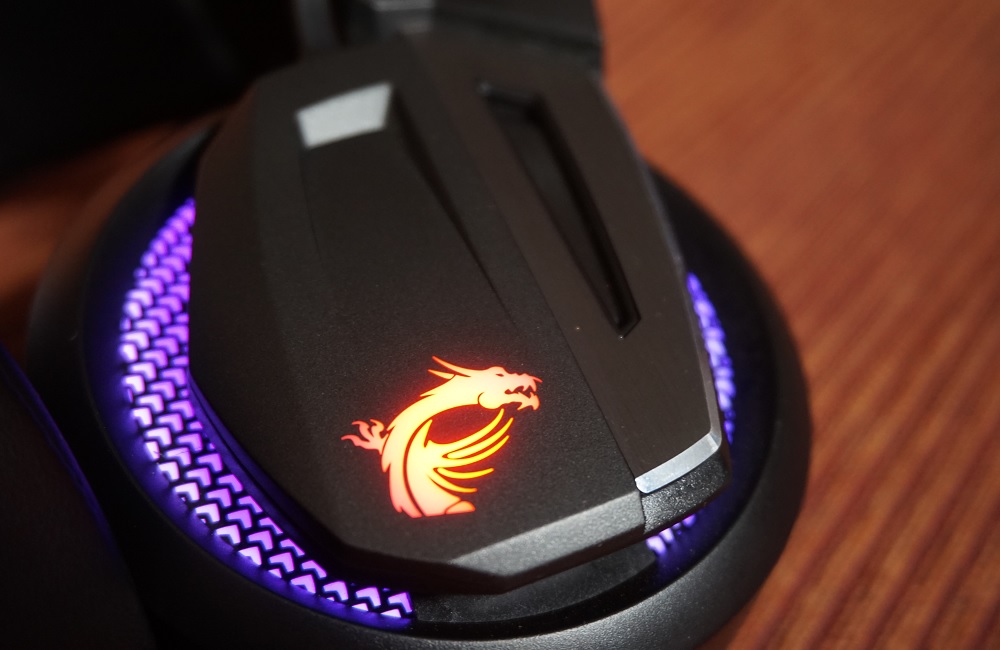 Immerse GH70 ialah satu dari sedikit perangkat yang berhasil mendorong saya untuk mengulang beberapa permainan dari awal. Headphone ini menyadarkan saya bahwa boleh jadi ada banyak hal di game yang tak sengaja terlewatkan. Setelah Divinity: Original Sin II beres, saya berniat buat menamatkan Doom lagi sambil ditemani Immerse GH70, dan sesudah itu, Project CARS 2.
Untuk sementara, tim MSI Indonesia belum menginformasikan harga resmi dari Immerse GH70 di tanah air. Di Amazon, headphone ini dibanderol di harga US$ 130.
DailySocial.id adalah portal berita startup dan inovasi teknologi. Kamu bisa menjadi member komunitas startup dan inovasi DailySocial.id, mengunduh laporan riset dan statistik seputar teknologi secara cuma-cuma, dan mengikuti berita startup Indonesia dan gadget terbaru.