Namanya memang tak setenar brand-brand periferal PC lain di tanah air, tapi Rapoo sebetulnya telah menyelami ranah aksesori komputer sejak 2002. Kabarnya ia sempat masuk di Indonesia pada tahun 2012, namun tenggelam di tengah hiruk-pikuk kehebohan gaming gear. Agar lebih mudah dikenal khalayak, Rapoo menyiapkan sub-brand gaming mereka: VPro.
Produsen periferal Shenzhen itu mulai mencoba menginvasi kembali segmen gaming gear nusantara di akhir 2017 ini. Beberapa minggu lalu, perwakilan Rapoo memberikan saya kesempatan untuk  menjajal mouse gaming mid-range terbaru mereka secara lebih personal, sebuah produk bernama VPro V25s. Ia menjelaskan bahwa V25s merupakan satu dari sejumlah produk anyar yang Rapoo siapkan buat menyaingi merek aksesori PC populer asal Swiss lewat kombinasi duet harga dan performa.
Dari sedikit riset, spesifikasi VPro V25s tak berada jauh dari Logitech G102 Prodigy. Namun hal yang membuatnya istimewa ialah presentasi tema 'gaming' yang diusung V25s: pencahayaan LED RGB menari tanpa henti, lalu desain simetris yang familier ternyata nyaman untuk menangani beragam tugas berbeda. Silakan simak ulasan lengkap VPro V25s di bawah ini.
Packaging
Rapoo bermaksud buat menjaga bundel penjualan VPro V25s tetap sederhana. Di dalam bungkusnya yang tak terlalu besar, Anda hanya akan menemukan unit mouse, kabel yang tersusun rapi, dan lembar 'quick start guide'. Di lembar panduan tersebut, Rapoo menyarankan pengguna untuk mengunduh aplikasi companion dari page V25s agar kita bisa mengonfigurasi DPI, LED, hingga memanfaatkan fungsi macro.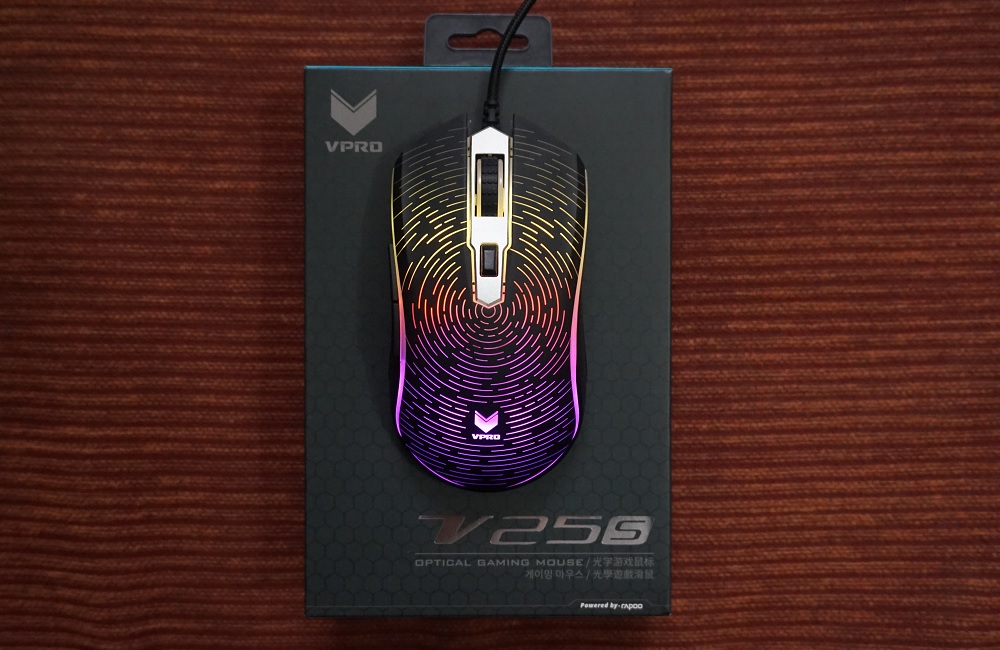 Desain
VPro V25s ialah mouse ambidextrous dengan lekukan-lekukan yang menyiratkan bagaimana tim perancangnya tidak melupakan elemen ergonomis. Dua tombol utama menjadi bagian dari pelat punggung, lalu di tengahnya ada scroll wheel dan switch DPI. Satu aspek yang menyebabkan mouse ini tidak sepenuhnya simetris adalah dua thumb button yang hanya tersedia di sisi kiri.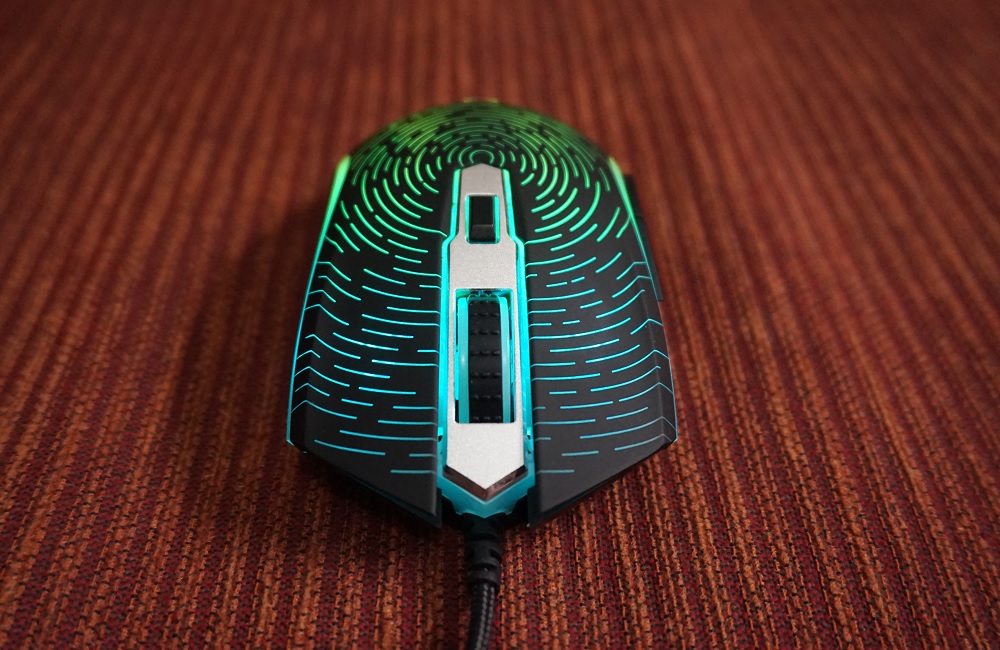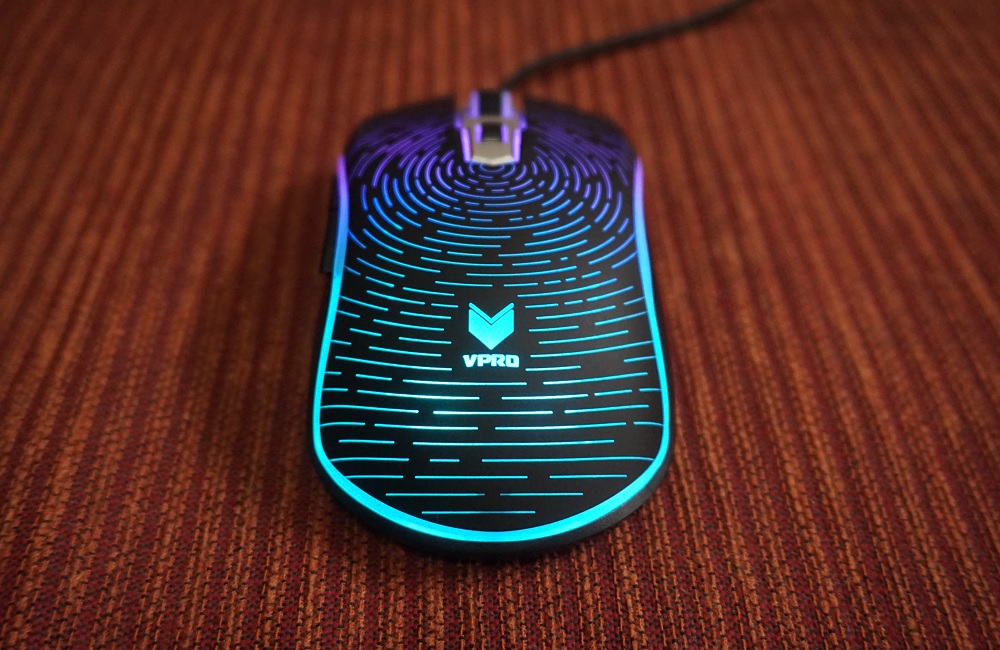 Tubuh hitam VPro V25s terbuat dari plastik, termasuk pada bagian metalik yang membingkai scroll wheel dan switch DPI. Untuk membuat pengendaliannya lebih akurat dan mengurangi peluang tergelincir dari jari, Rapoo membubuhkan lapisan karet bertekstur di kiri dan kanan mouse. Di sisi bawah, Anda akan menemukan empat mouse feet teflon, masing-masing berada di bagian ujung V25s. Mouse ini sendiri tersambung ke PC melalui kabel USB braided sepanjang 2-meter.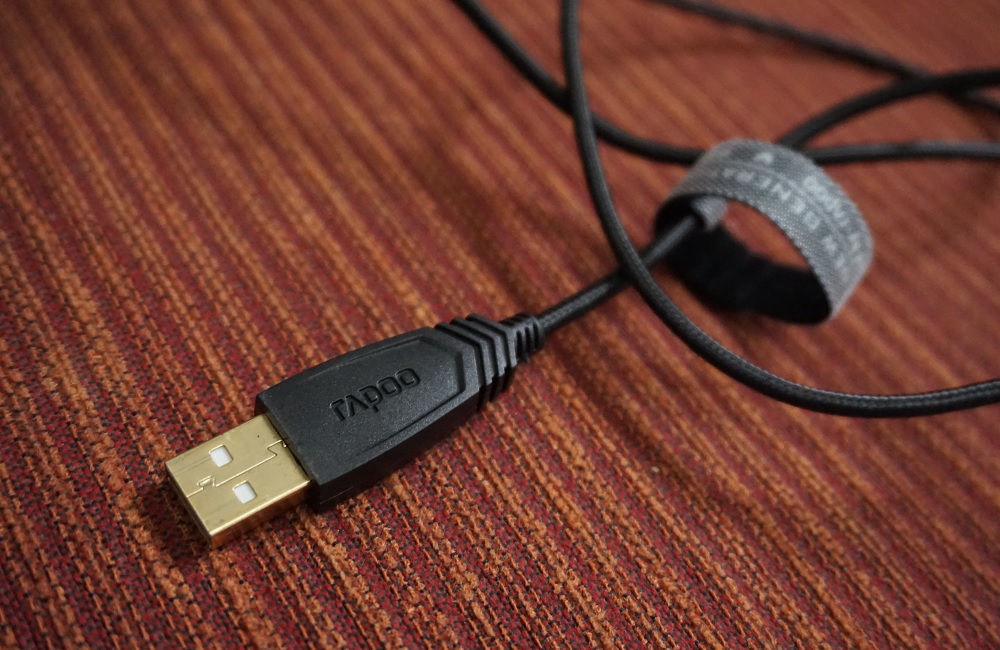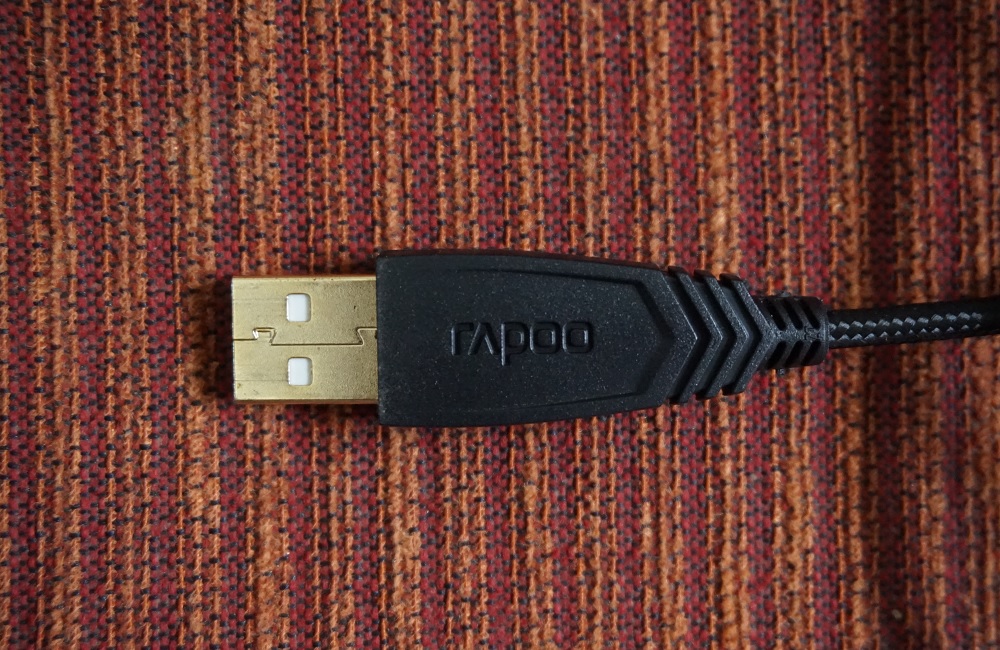 VPro V25s mempunyai dimensi 125,6×66,2×39,5-milimeter dan bobot di kisaran 120-gram tanpa menghitung kabel. Ukurannya ini mendukung penuh gaya claw grip (kebiasaan saya), dan memungkinkan jari-jari mungil ini menjangkau kelima tombol di sana – termasuk dua thumb button-nya. Lalu saat jempol, jari manis dan kelingking mengunci mouse di area karet, V25s sangat ringan buat diangkat.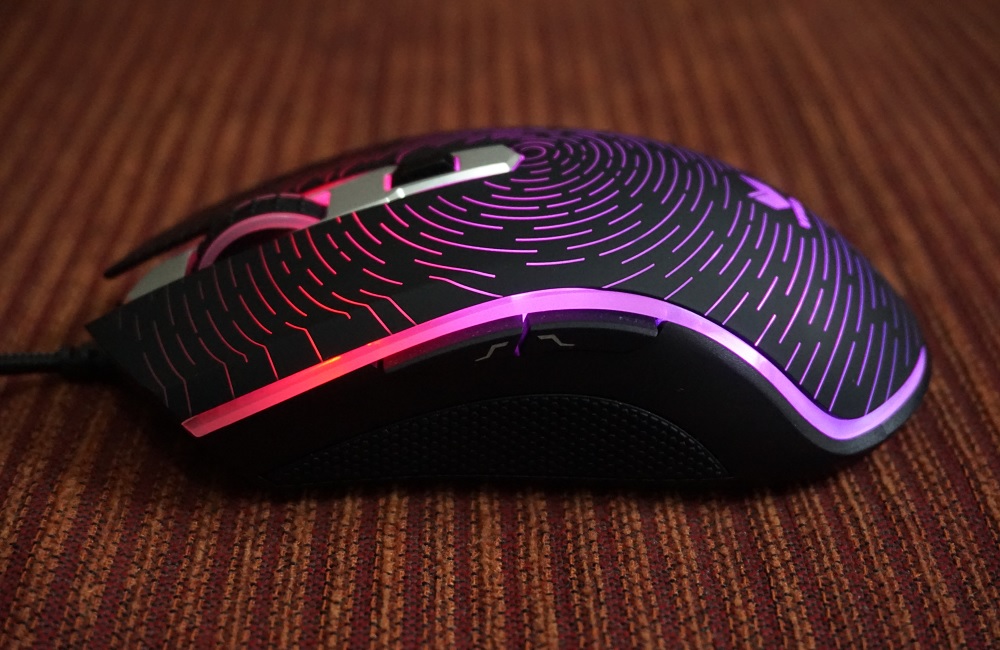 Pencahayaan LED diterapkan di bagian punggung mouse – mengisi garis pembatas pelat atas dan scroll wheel. Pola melingkar dengan garis putus-putus di sana mengingatkan saya pada sidik jari atau kulit bunglon, namun sebetulnya desain ini terinspirasi dari star trail (jejak bintang). Lighting RGB di V25s dibagi dalam tiga zona dan Anda bisa mengatur warna serta memilih mode pencahayaan (breathing, multicolor, statis, hingga 'spectrum cycling') via app.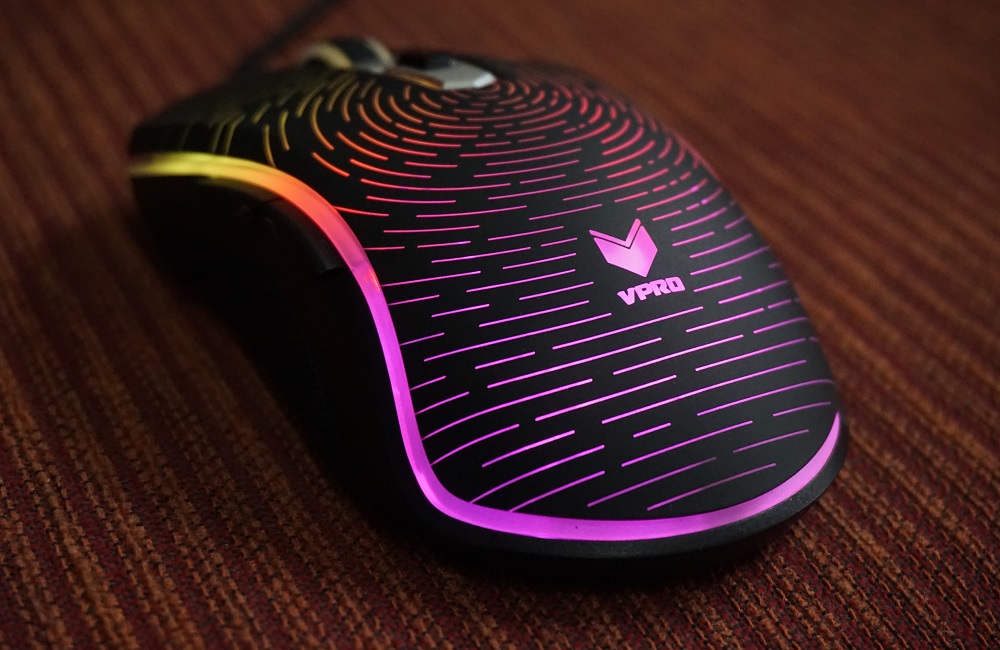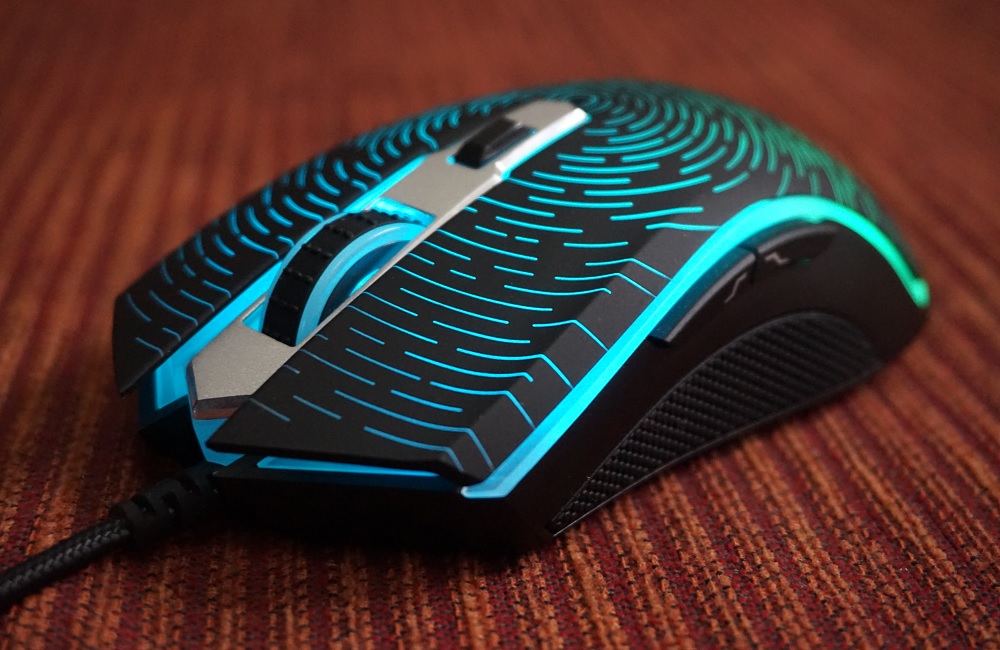 Kejutan unik di VPro V25s adalah dukungan fungsi sensor proximity. Komponen ini memungkinkan mouse mendeteksi eksistensi tangan Anda di dekatnya untuk segera mengaktifkan pertunjukan cahaya RGB. Begitu tangan menjauhinya, LED akan mati.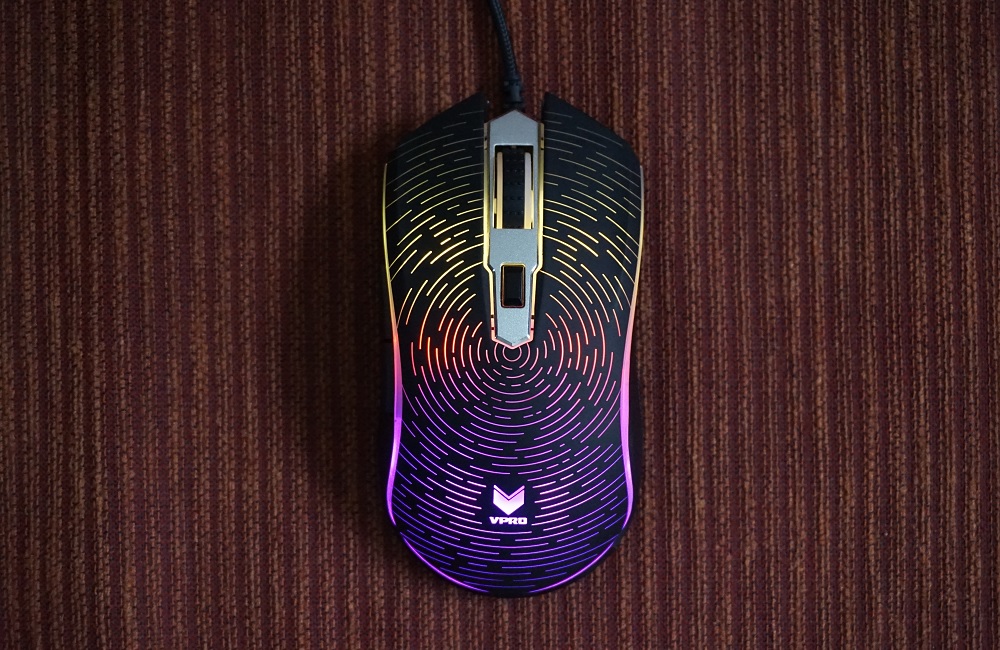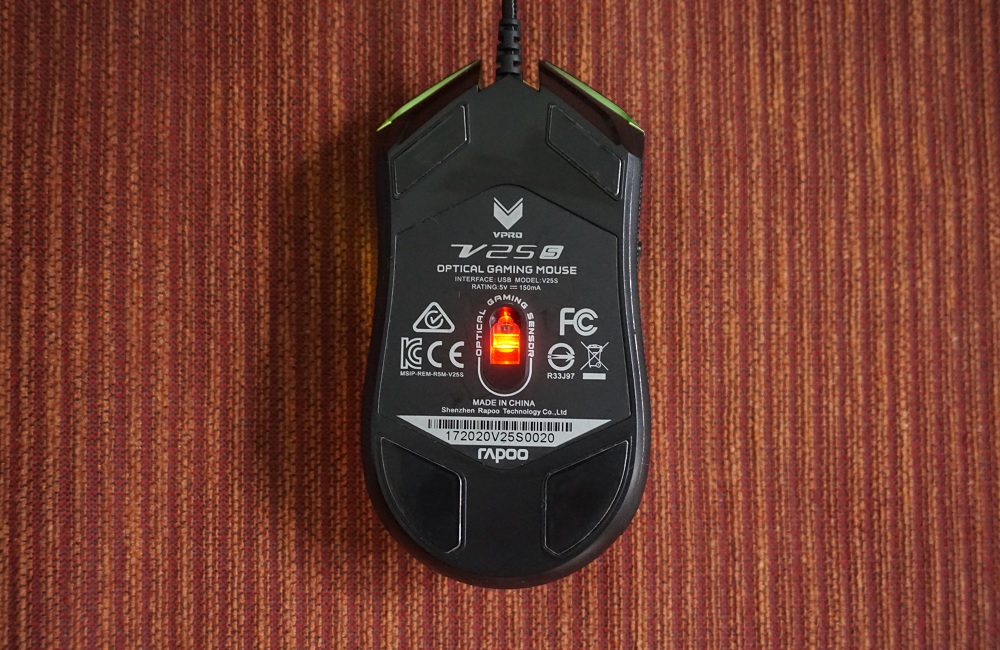 Rapoo V25s Driver
Tidak seperti Corsair Utility Engine atau SteelSeries Engine yang diramu untuk menunjang banyak device, app Rapoo V25s Driver tampaknya dispesialisasikan khusus buat mouse V25s saja. Saya berasumsi, Anda harus menginstal software lagi ketika ingin melakukan kustomisasi pada periferal Rapoo lain. Memang sedikit merepotkan, namun hanya dengan memasang app ini di PC barulah bagian-bagian terbaik dari mouse dapat terkuak.
Interface Rapoo V25s Driver memang tidak secantik garapan rival-rivalnya yang lebih berpengalaman, tetapi begitu dibuka, ia segera menyodorkan hal-hal esensial buat Anda. App terbagi atas lima menu: utama, berisi pengaturan DPI dan sensor; pengendalian LED; Macro Editor; menu Trophy; dan Help. Software turut menyediakan lima slot penyimpanan profile.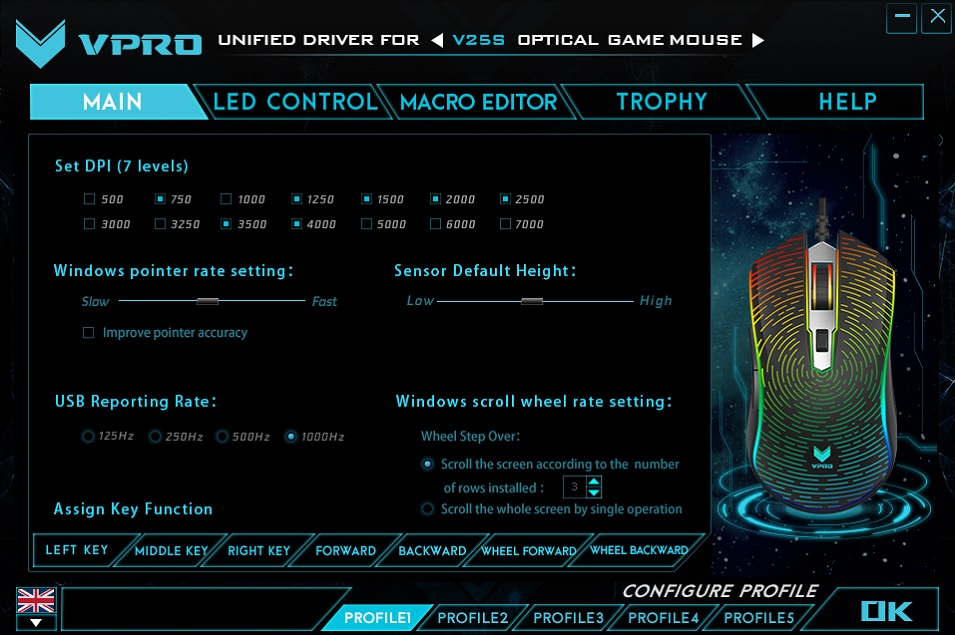 Di menu utama, Anda bisa menentukan tujuh level switch DPI, tersedia 14 pilihan dari mulai 500 sampai 7000. Kita juga dapat melakukan perubahan pada kecepatan pointer, sensitivitas default sensor, polling rate (125Hz hingga 1000Hz), serta memprogram ulang fungsi tombol.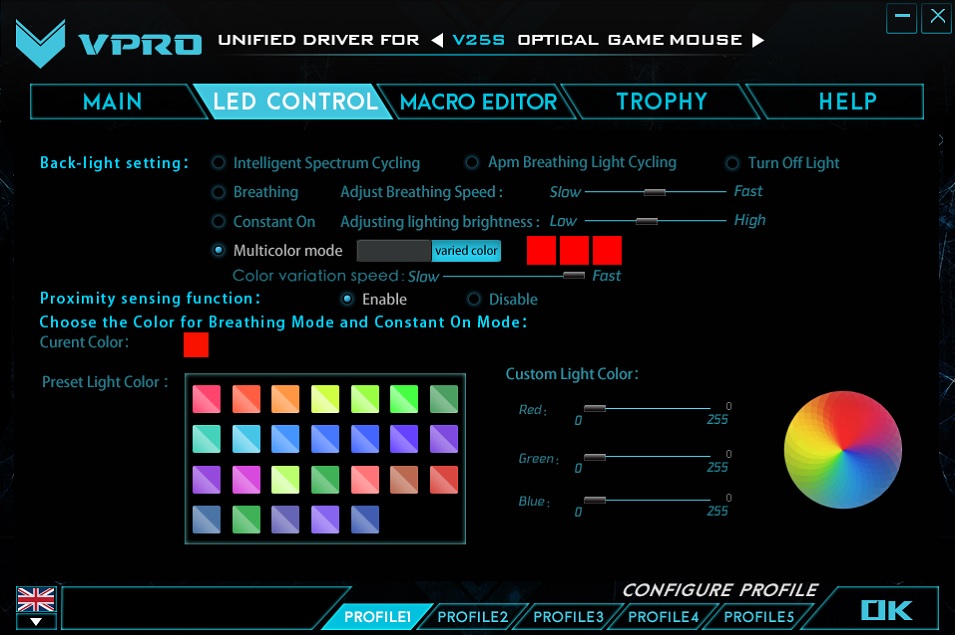 Di LED Control, Anda dipersilakan mengutak-atik segala hal terkait pencahayaan, termasuk memilih warna secara spesifik dari palet red-green-blue. Di sana pula Anda dapat menyala-matikan fungsi proximity sensing agar VPro V25s bisa 'merasakan' kehadiran telapak tangan sang user.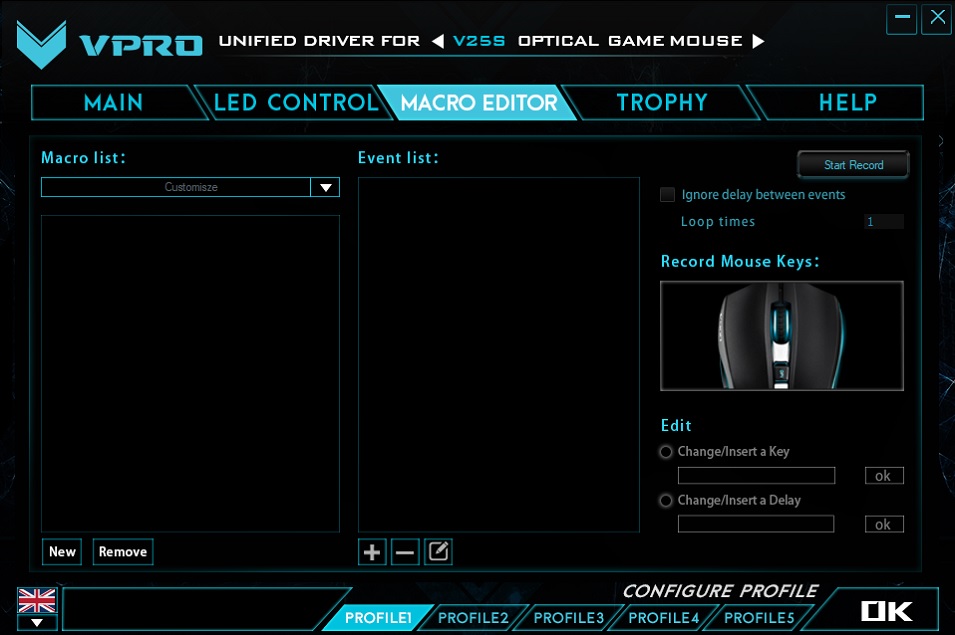 Macro Editor sendiri memungkinkan Anda merekam dan mengedit macro. Rapoo telah menyediakan beberapa preset buat game-game populer seperti Dota 2, Counter-Strike: Global Offensive, Minecraft hingga Skyrim. Jika game Anda tak ada di daftar, silakan buat macro-nya sendiri.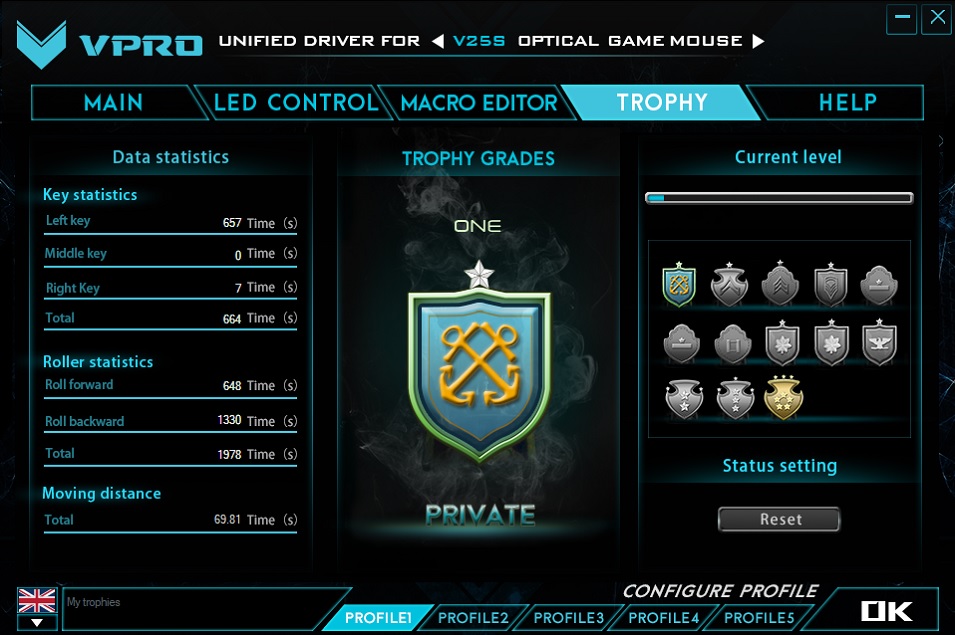 Trophy ialah fitur ala achievement yang sangat menarik. Semakin sering mouse   digunakan (klik kanan, kiri, atau menggerakkannya ke sana-sini) maka level trophy akan naik. 13 level di sana dibekali oleh badge berbeda, dan Anda juga dapat melihat data statistik terkait banyaknya tekanan pada tombol atau mengetahui kebiasaan diri saat menggunakan mouse.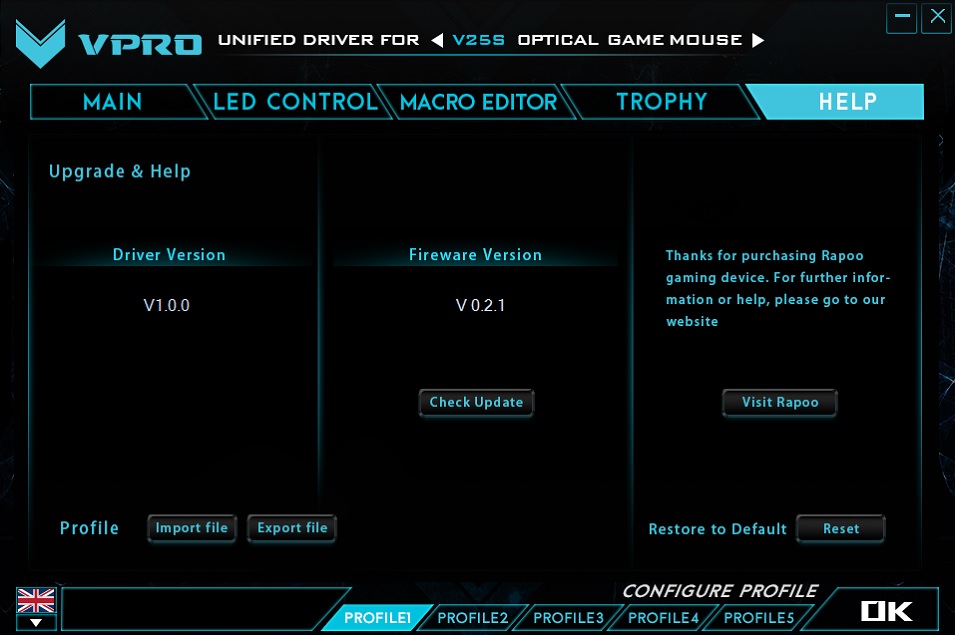 Kemudian via menu Help, Anda dapat mengimpor atau ekspor file profile, serta melakukan update firmware pada mouse V25s.
Performa dan pengalaman penggunaan
Rapoo VPro V25s memanfaatkan sensor optik 'khusus gaming', tetapi produsen tidak menjelaskan lebih rinci tipenya. Berdasarkan info di website, kabarnya sensor ini mempunyai kecepatan proses gambar di 5.300FPS serta sanggup melacak gerakan 80-inci per detik. Anda mungkin juga sudah bisa menerka, profile-profile penggunaan disimpan dalam unit memori built-in sehingga dapat diakses walaupun mouse disambungkan ke PC berbeda.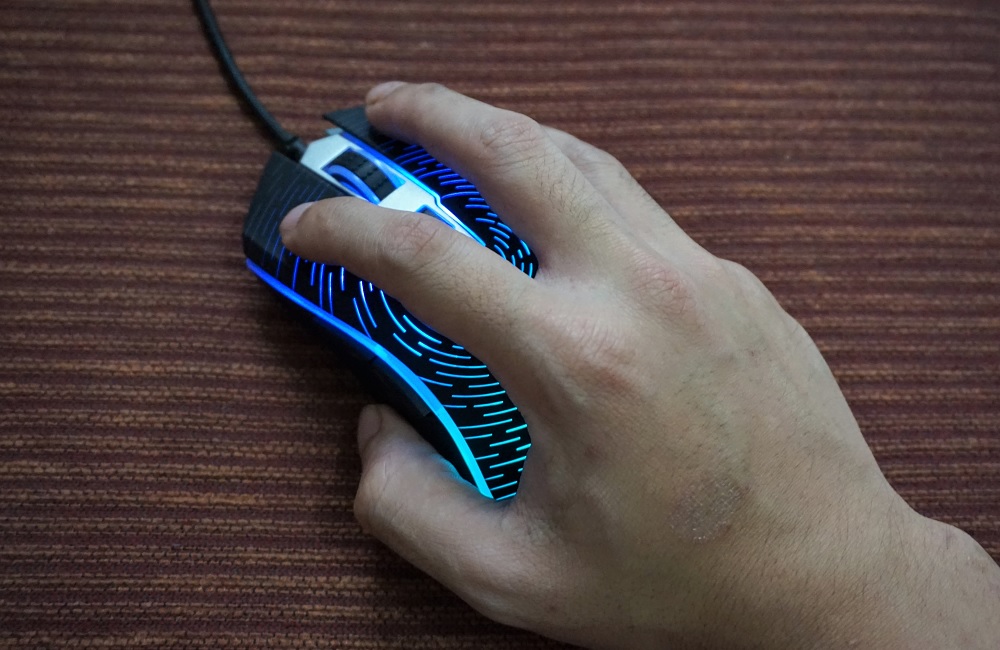 Mouse gaming Rapoo ini saya gunakan untuk bekerja sehari-hari dan bermain. Di tangan saya, desainnya sangat nyaman dan saya menyukai kesederhanaan lekukannya. V25s tidak memiliki sudut-sudut atau lekukan-lekukan ganjil, tak ada bagian yang menekan dan membuat genggaman jadi tidak enak. Dan seperti yang saya jelaskan sebelumnya, seluruh tombol gampang dicapai oleh jari.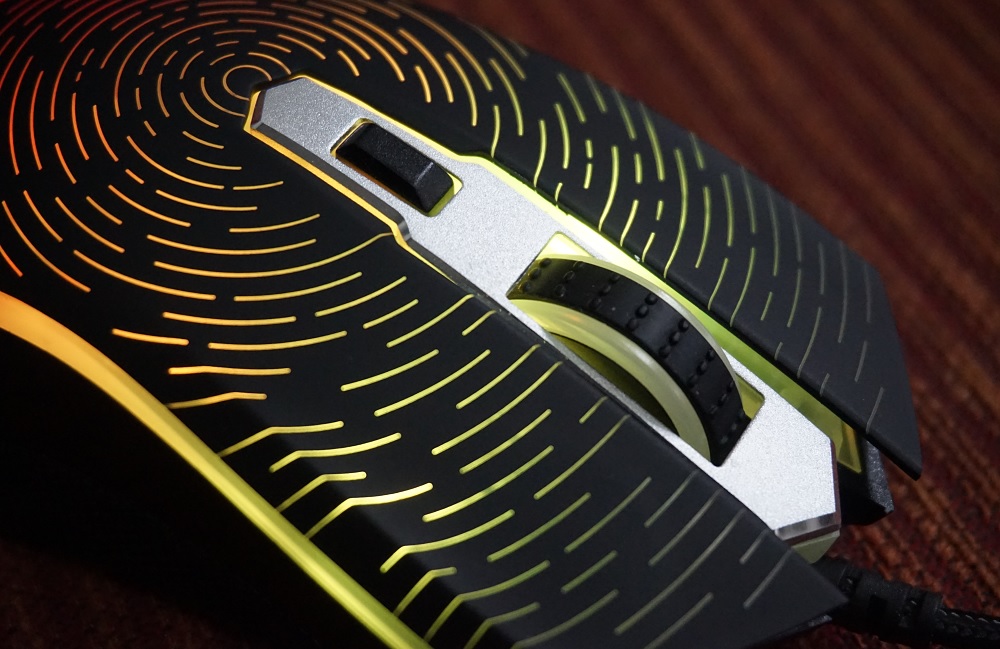 Saya belum mendapatkan konfirmasi soal tipe switch yang digunakan di VPro V25s. Resistensinya lebih tinggi sedikit dari switch Omron di MSI Clutch GM70, namun sensasi menekannya tetap empuk dan responsif. Thumb button-nya terasa pas, tidak terlalu keras tapi juga tak terlampau sensitif. Tombol jempol itu biasanya saya pakai untuk mengaktifkan Boost di game Titanfall 2, dan tak pernah gagal menyajikannya.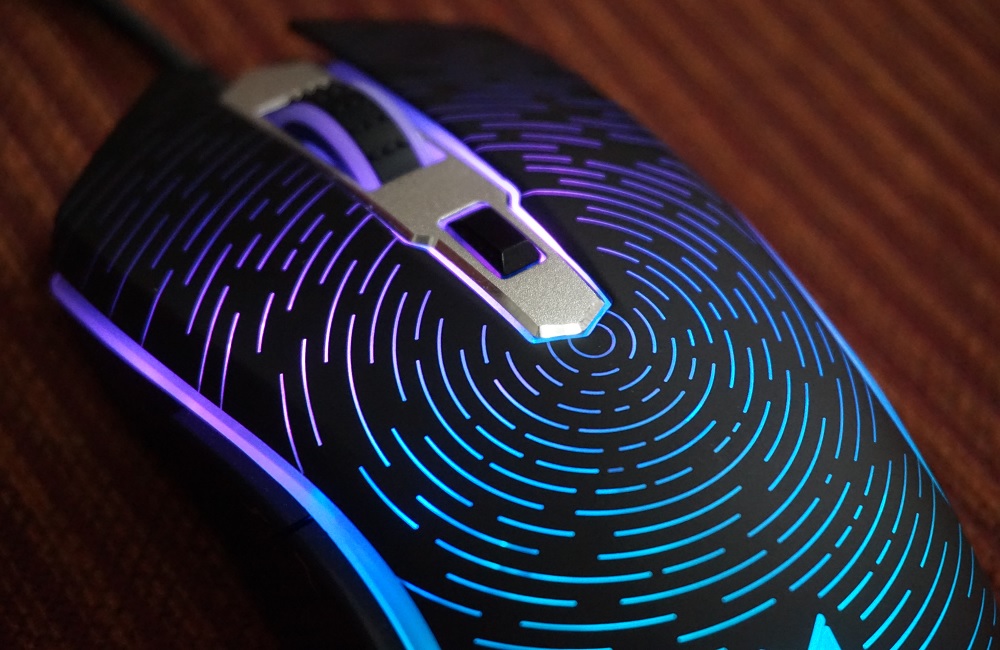 Mungkin hal yang bisa menimbulkan masalah adalah tidak adanya indikator level DPI. Jadi jika tak sengaja menekan switch saat seru berduel dengan lawan, Anda harus mencarinya secara manual dan mengira-ngira setting mana yang sebelumnya paling pas.
Anda mungkin akan menyangka bahwa penggunaan LED RGB secara merata di pelat atas keyboard menyebabkan mouse jadi hangat. Menariknya, hal tersebut tidak terjadi di VPro V25s. Periferal tetap terasa sejuk walaupun saya memakainya selama berjam-jam. Pemanfaatan tekstur doff di permukaan tubuhnya juga meminimalkan penumpukan minyak dan kotoran dari tangan.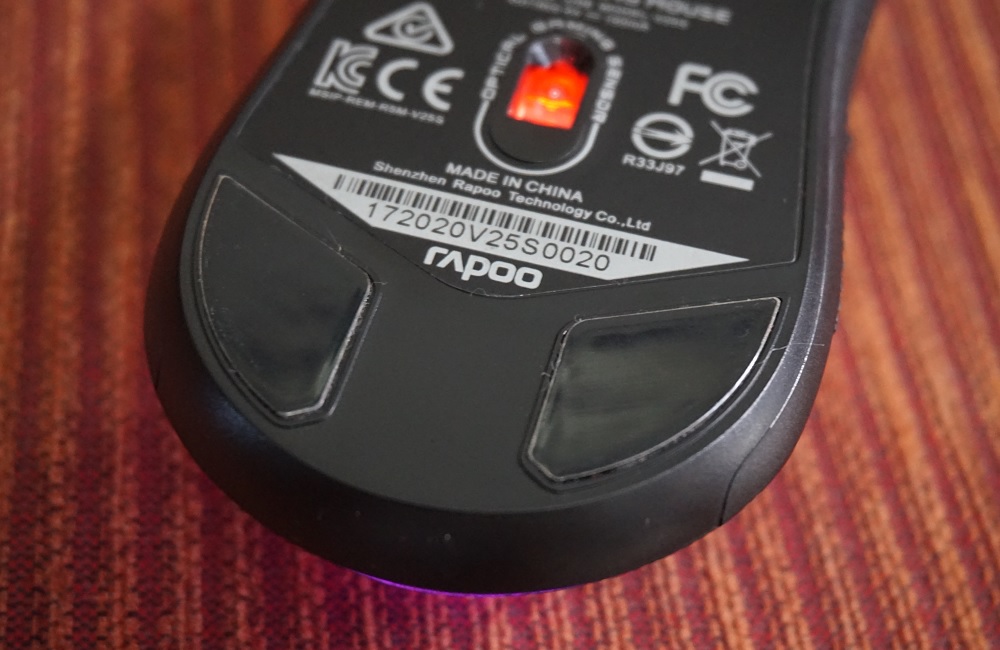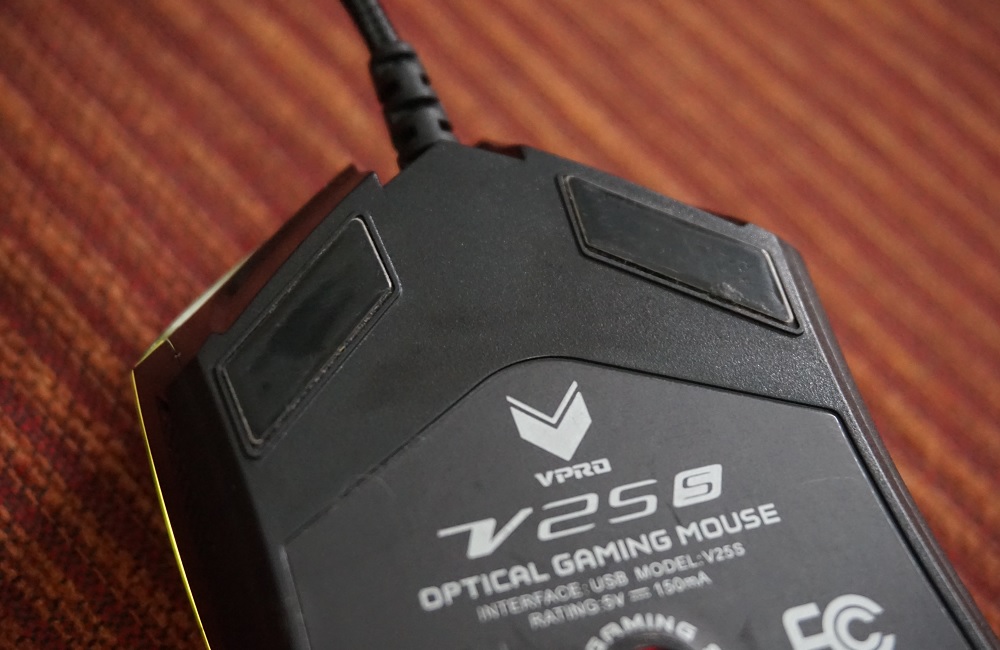 Selama dua minggu ke belakang, VPro V25s dengan setia menemani saya menikmati Wolfenstein II: The New Colossus, South Park: The Fractured But Whole, Divinity: Original Sin II dan Titanfall 2; dan sejauh ini, ia cukup fleksibel buat menangani genre permainan berbeda dan belum pernah mengecewakan.
Dalam permainan role-playing 'santai' yang tidak menuntut gerakan cepat (seperti Original Sin II misalnya) V25s bekerja sangat mulus. Mouse ini enteng dan tidak membebani jari meski navigasi dilakukan sepenuhnya menggunakan mouse – bahkan sewaktu meluncur di atas mouse mat kain standar. Di Wolfenstein II, semuanya terasa natural, dan saya tak perlu repot mengubah sensitivitas mouse secara manual via menu options – cukup dengan mencari level DPI yang tepat.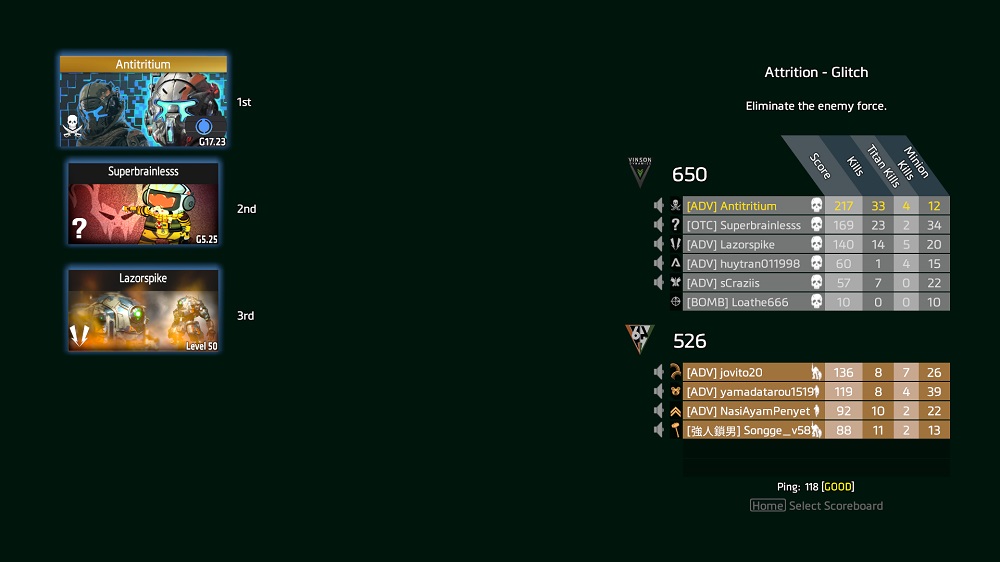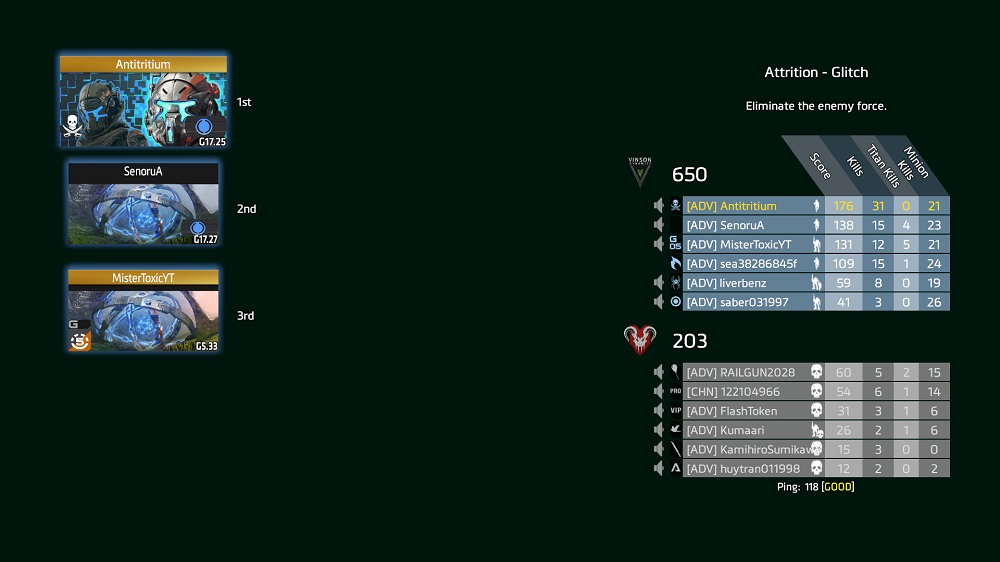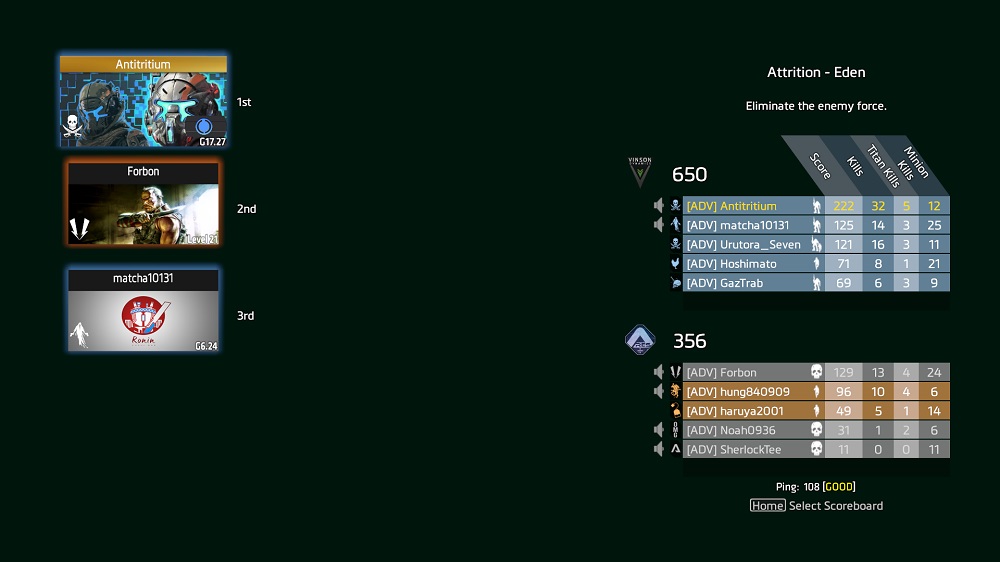 Buat menangani Titanfall 2, saya bahkan tidak perlu melalui proses adaptasi lagi. Karakteristik VPro V25s mirip MSI Clutch GM40 – plus LED RGB dan macro. Saya tanpa kesulitan lompat dari tembok ke tempok, Titan ke Titan, melacak pilot lawan dengan meriam 40mm, serta memburu mereka yang mencoba melarikan diri berbekal senapan Mastiff.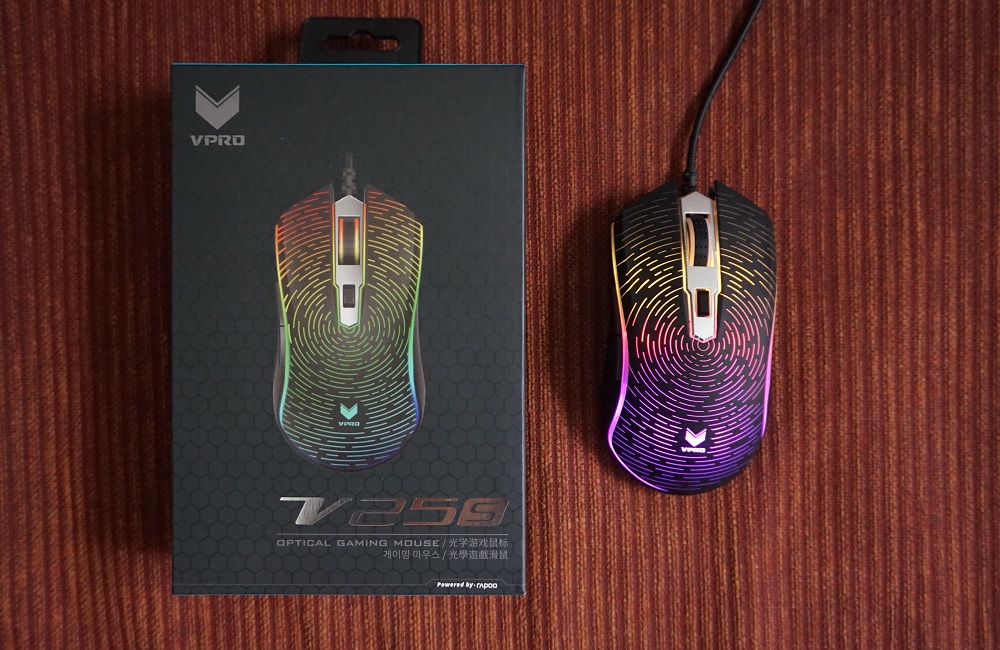 Melihat dari penyajiannya, Rapoo VPro V25s disiapkan untuk menunjang game-game ber-genre first-person shooter atau action – entah apakah itu permainan single-player ataupun multiplayer kompetitif.
Konklusi
Bagi saya, faktor utama yang membuat VPro V25s berbeda dari mouse gaming kelas menengah lain ialah keberhasilan Rapoo menghadirkan elemen gaming  dalam pengalaman penggunaan sehari-hari. Melalui fitur trophy dan level, mouse ini mengapresiasi kita ketika semakin sering menggunakannya. Sayangnya, mungkin Anda hanya dapat membanggakan pencapaian tersebut ke sesama pengguna mouse Rapoo.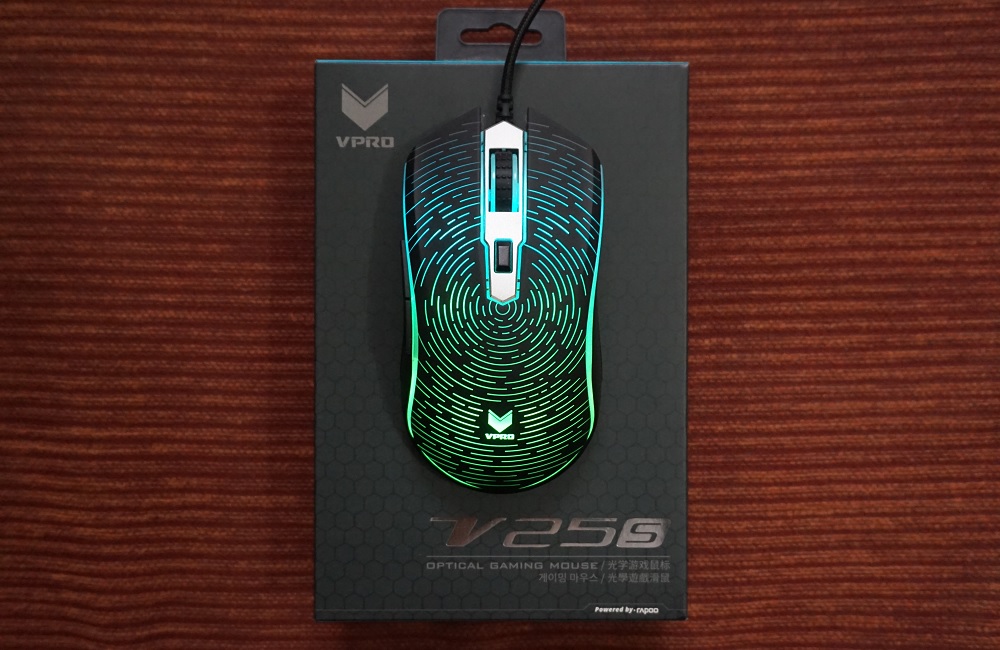 Dan di harga yang tidak terlalu tinggi, kinerja Rapoo VPro V25s tergolong mumpuni. Secara pribadi, mouse ini sangat pas dengan ukuran tangan saya dan postur claw grip (pada dasarnya membuat jangkauan jari jadi lebih pendek), lalu saya sama sekali tidak perlu melakukan proses adaptasi, terutama untuk menikmati Titanfall 2 – salah satu game bertempo tercepat yang menuntut refleks dan akurasi tinggi. Menurut saya, produk ini cocok buat gamer pemula atau veteran yang sedang berhemat.
Rapoo VPro V25s kabarnya sudah mulai dipasarkan di Indonesia, dijajakan di harga eceran paling mahal Rp 360 ribu.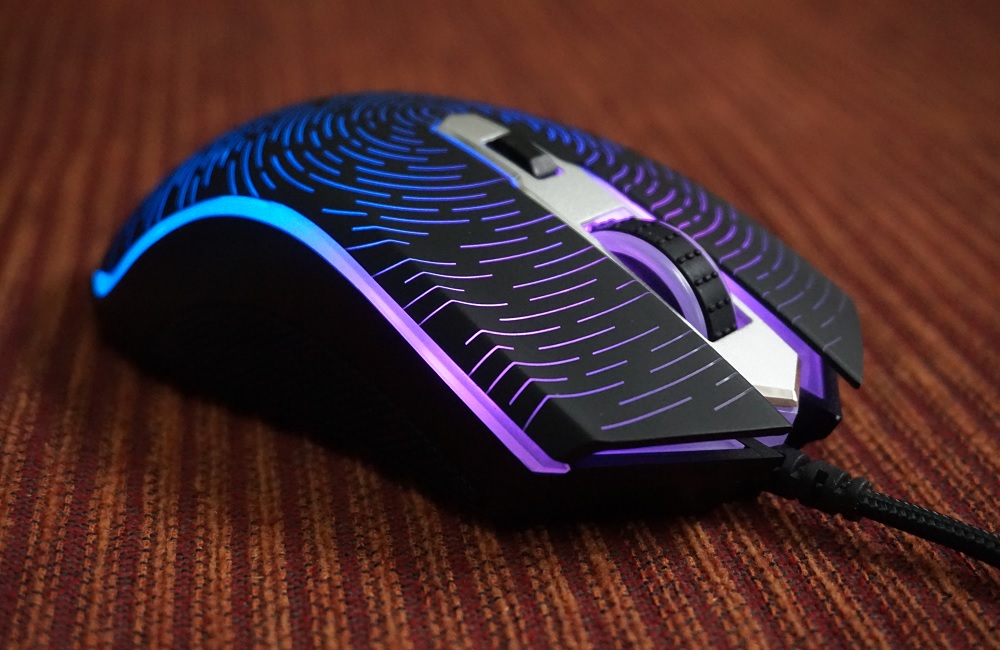 DailySocial.id adalah portal berita startup dan inovasi teknologi. Kamu bisa menjadi member komunitas startup dan inovasi DailySocial.id, mengunduh laporan riset dan statistik seputar teknologi secara cuma-cuma, dan mengikuti berita startup Indonesia dan gadget terbaru.