Riset Menilai Situs Mobile di Asia Tenggara, Bhinneka dan Traveloka Masuk di Peringkat Atas
Kecepatan akses masih menjadi masalah utama situs mobile di Indonesia
Prayogo Ryza - 19 December 2018
Google bersama Accenture Interactive mengeluarkan laporan riset bertajuk "Masters of Mobile Southeast Asia Regional Report 2018", menilai beberapa situs mobile di Asia Tenggara. Dari Indonesia, Traveloka dan Bhinneka masuk dalam lima besar terbaik di kategorinya.
Riset tersebut meneliti lebih dari 140 situs mobile yang terbagi menjadi 3 sektor, yakni layanan Financial Services, Retail and Commerce, dan Travel. Poin yang dinilai meliputi halaman produk, desain situs, kecepatan, kemudahan navigasi, dan beberapa aspek lainnya
Bhinneka masuk ke dalam lima besar situs mobile terbaik untuk kategori Retail and Commerce, tepatnya berada di peringkat kedua, di bawah Qoo10. Sementara untuk kategori travel, Traveloka mendapat peringkat terbaik.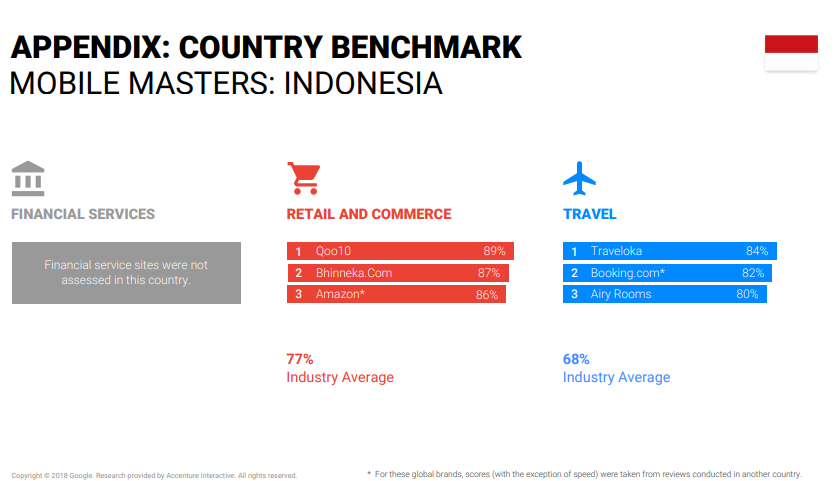 Dari penilaian yang dilakukan, rata-rata penyedia layanan dari Indonesia mendapat nilai baik untuk halaman produk (nilai 83%) dan desain situs (nilai 85%). Tetapi tidak dengan kecepatan aksesnya (nilai 64%).
Menghasilkan situs mobile yang baik
Di tengah tren penggunaan aplikasi mobile untuk akses layanan melalui smartphone, Google masih percaya bahwa situs mobile masih menjadi salah satu pendukung akses pengguna.
Google dalam laporannya juga memberikan beberapa masukkan mengenai bagaimana membangun situs mobile yang baik. Terutama untuk mengantisipasi masalah kecepatan akses.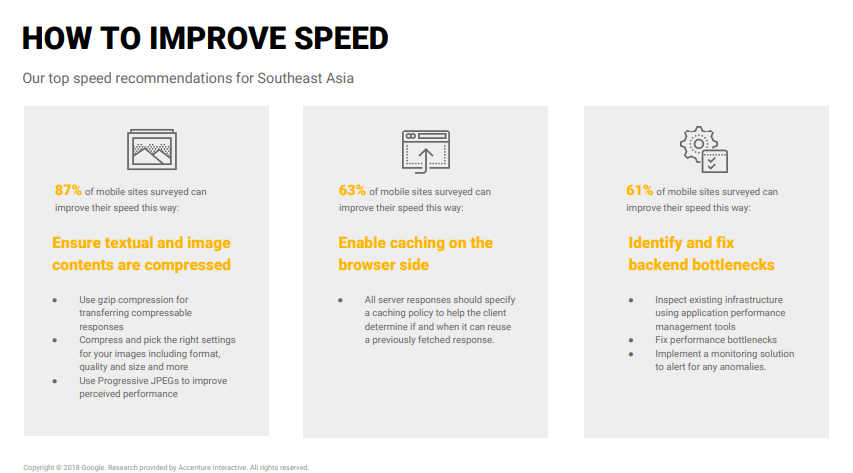 Beberapa saran dari Google ialah melakukan kompresi gambar dan teks. Termasuk pemilihan format, kualitas, dan ukuran yang tepat untuk masing-masing komponen.
Saran lainnya untuk bisa mendongkrak kecepatan akses situs mobile adalah mengidentifikasi dan memperbaiki bottlenecks yang ada di backend sistem. Solusi ini berkaitan dengan pemilihan dan pengelolaan infrastruktur, termasuk kecakapan monitoring untuk mengetahui permasalahan yang ada.
Google juga memberikan tips untuk mengoptimalkan desain dan pengalaman yang baik untuk situs mobile. Seperti memudahkan proses pencarian dengan error correction dan menghadirkan nomor telepon yang bisa langsung di-tap untuk menelpon. Terlihat sederhana tapi berpengaruh bagi pengalaman pengguna.
Thank you for Reading DailySocial.id
Starting at less than Rp 5.000/Day. You get unlimited access to DailySocial.id