Rockstar Luncurkan Software Launcher Game-nya Sembari Bagi-Bagi GTA: San Andreas Gratis
Software ini turut dibekali fitur penyimpanan cloud dan akan mendistribusikan update secara otomatis.
Sebagai platform gaming 'terbuka', suka tak suka gamer PC mesti mau menggunakan layanan serta software berbeda untuk menikmati beragam permainan, dari mulai Steam, Origin, Uplay, GOG, belum lagi Epic Store dengan judul-judul eksklusifnya. Beberapa waktu lalu, GOG memperkenalkan Galaxy 2.0 demi menggabungkan library dan para pemain di sejumlah platform dalam satu wadah.
Namun GOG mungkin akan sedikit kesulitan dalam menunaikan misi mulianya karena ada satu lagi publisher raksasa yang kembali meluncurkan software client-nya sendiri. Mereka adalah pemegang franchise Grand Theft Auto dan Red Dead Redemption, yaitu Rockstar Games. Perusahaan game asal Kota New York itu resmi mengumumkan Rockstar Games Launcher dan siapapun yang mengunduhnya sekarang berhak mendapatkan Grand Theft Auto: San Andreas secara cuma-cuma.
Rockstar Games Launcher disediakan khusus untuk PC ber-OS Windows, dan ke depannya ia akan menjadi portal utama dalam menikmati kreasi digital milik Rockstar. Anda membutuhkannya buat menjalankan game dan ia merupakan tempat pembelian mata uang in-game premium Grand Theft Auto V (Shark Cards). Dari pengamatan saya secara personal, software launcher ini merupakan ekspansi dari layanan komunikasi sekaligus DRM, Rockstar Games Social Club.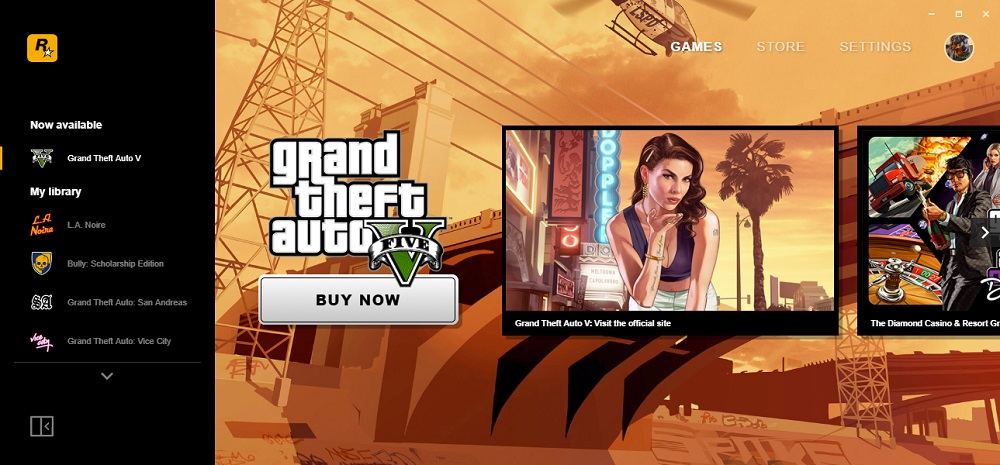 Melihat dari fitur-fitur yang ditawarkannya, Rockstar Games Launcher punya banyak kemiripan dengan Uplay. Software ini dibekali fitur penyimpanan cloud dan akan mendistribusikan update secara otomatis. Lalu apapun versi game yang Anda beli, fisik ataupun digital (termasuk dari platform lain), Rockstar Games Launcher tetap diperlukan agar permainan bisa dijalankan. Kondisi ini serupa ketika menginstal game Ubisoft dari Steam di mana Anda tetap diwajibkan log-in di Uplay.
Belum diketahui pasti akan seperti apa dampak kehadiran Rockstar Games Launcher terhadap permainan-permaianan Rockstar di Steam. Apakah publisher akan tetap menjajakan kreasi mereka di platform distribusi terbesar di dunia itu, atau malah pelan-pelan menarik game-nya agar hanya bisa diakses via launcher secara eksklusif? Lalu apakah pelepasan Rockstar Games Launcher menandai agenda peluncuran judul besar baru di PC - seperti Red Dead Redemption 2?
Belakangan ini, beberapa pemain di industri gaming memang tampak menjauhi Steam. Ada banyak game menarik yang kini cuma dapat dibeli di Epic Store (Control, Borderlands 3, Metro Exodus, Detroit: Become Human) lalu judul seperti Call of Duty: Black Ops 4 di PC hanya bisa dinikmati via software Battle.net.
Uniknya, langkah berbeda malah diambil oleh Microsoft. Biasanya menjual game mereka di Microsoft/Xbox Store, Gears 5 malah dihidangkan di Steam dan penawarannya dipermanis dengan potongan (penyesuaian) harga yang sangat atraktif khusus bagi konsumen di Indonesia.
Via GameSpot.
Are you sure to continue this transaction?
processing your transaction....