Spotify Dikabarkan Sedang Bersiap Meluncurkan Device Perdananya: Pemutar Musik untuk Mobil
Bocoran gambarnya mengindikasikan device ber-display yang bisa dioperasikan via perintah suara
Glenn Kaonang - 10 April 2018
Banyak kejutan dari Spotify dalam seminggu terakhir ini. Pada tanggal 3 April 2018, Spotify secara resmi memasuki pasar saham melalui New York Stock Exchange. Menurut data yang didapat Reuters, valuasi perusahaan Spotify kini mencapai angka $26,5 miliar.
Kemudian di tanggal 6 April, Spotify mulai menyebar undangan ke media, mengajak mereka untuk datang event yang bakal mereka helat di New York pada tanggal 24 April nanti. Spotify bilang bahwa mereka akan mengumumkan sesuatu di sana. Apakah yang dimaksud produk baru? Hardware mungkin? Bisa jadi, kalau menurut bocoran terbaru yang beredar.
Rumor mengenai hardware Spotify sebenarnya sudah berhembus di Reddit sejak Februari lalu. Pemicunya adalah notifikasi yang diterima beberapa pelanggan Spotify, yang menawarkan paket baru seharga $13 per bulan, sudah termasuk suatu device. Di atasnya, tampak gambar device ber-display yang menggantung di dashboard mobil.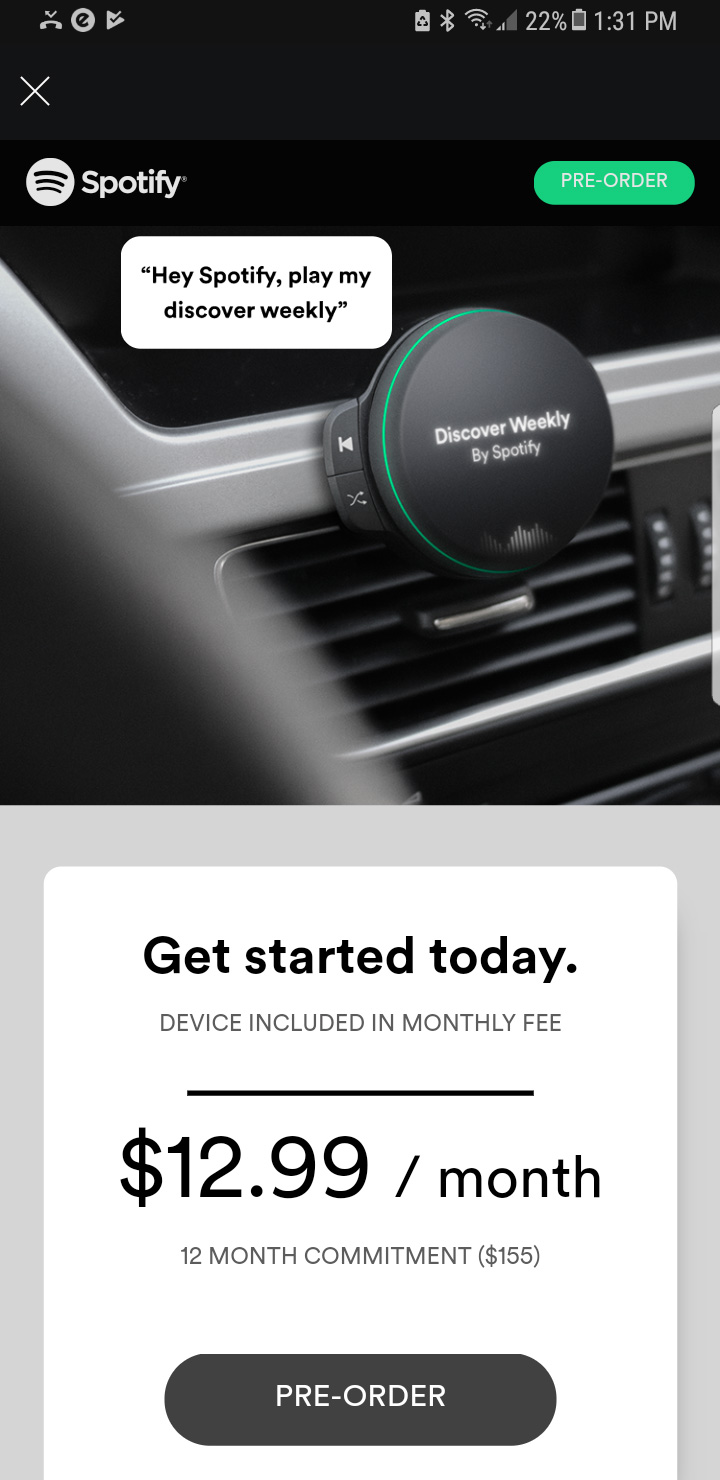 Di tempat lain, ada pelanggan yang melaporkan bahwa tarifnya $15 per bulan, dan device tersebut bakal mengemas konektivitas 4G serta integrasi Alexa. Ini semakin memperkuat indikasi bahwa Spotify memang sedang menggarap hardware-nya sendiri, dan hardware tersebut berupa pemutar musik untuk mobil.
Masih perlu bukti lain? Baru beberapa hari yang lalu, Spotify mengumumkan hasil kolaborasinya dengan Cadillac, di mana para pemilik mobil Cadillac yang didukung dapat mengunduh aplikasi Spotify langsung di sistem infotainment bawaannya. Yang absen dari aplikasi itu adalah dukungan perintah suara, dan Spotify rupanya melihat fitur ini sebagai elemen penting, berdasarkan pernyataannya kepada The Verge.
Jadi yang masih tanda tanya besar sekarang adalah jadwal perilisan dari hardware Spotify itu. Maka dari itu, wajar apabila banyak yang beranggapan bahwa device tersebut bakal diumumkan pada tanggal 24 April mendatang. Namun tetap saja tidak ada yang berani menjamin kepastiannya.
Sumber: The Verge.
Are you sure to continue this transaction?
processing your transaction....