Saksikan Dua Orang Ini Terbang Bebas Ala Iron Man
Yoga Wisesa - 13 May 2015
Avengers: Age of Ultron belum lama tayang di layar lebar, dan mungkin memanaskan kembali angan-angan kita untuk menjadi superhero. Di antara para pahlawan fiktif, Iron Man tampak menonjol karena sebenarnya ia tidak mempunyai kekuatan super. Dan kita tahu satu perangkat yang paling memungkinkan buat mengubah kita jadi Tony Stark dadakan ialah jet pack.
Sistem transportasi personal berupa jet pack berkali-kali sempat masuk ke dalam daftar konsep kendaraan masa depan. Sayang ia masih jauh dari penerapan praktis sebab tak cuma membutuhkan keahlian tinggi dalam mengendarainya, jet pack belum mempunyai standard desain serta lulus sertifikasi keselamatan. Namun hal tersebut tidak menghentikan dua individu, Yves 'Jetman' Rossy dan Vince Reffet, menguji batasan fisik dan nyali mereka.
"Jika Anda memiliki mimpi dan ide, bahkan seandainya terdengar gila, cobalah," jelas Yves Rossy di video XDubai berjudul Young Feathers, dipublikasi pada awal minggu ini. "Terbang merupakan mimpi manusia yang sangat tua, dan kita tidak berhenti mendorong realisasi impian itu langkah demi langkah mendekati keinginan - terbang bak burung."
Info menarik: Jetovator, Perpaduan Jet Pack Dengan Jet Ski
Di sana, Rossy dan Reffet terbang menggunakan jet pack. Pemandangan yang cukup biasa bukan? Tidak juga. Video tersebut tak sekedar menunjukkan para penantang maut melintas melewati bangunan tinggi, tapi berisi manuver-manuver epik layaknya aksi stunt pesawat tempur. Petualangan udara kedua pemberani itu dapat Anda saksikan lengkap di bawah ini.
Aksi Rossy dan Reffet bisa dilakukan berkat dukungan penuh jet pack canggih. Perangkat tersebut dilengkapi sayap selebar 1,8 meter, dibuat secara kustom menggunakan material serat karbon. Sebagai pembangkit tenaga utama, teknisi memanfaatkan empat buah mesin JetCat P200, menghasilkan daya dorong sebesar 23 kilogram dengan kecepatan rata-rata 250 kilometer per jam. Untuk memulai penerbangan itu, para pilot jet pack naik ke ketinggian 2,1 km via helikopter terlebih dulu.
Vince Reffet ialah anak didik sekaligus penerus warisan Yves Rossy, telah berguru sejak tahun 2009. Rossy sendiri adalah seorang pilot veteran, pernah menerbangkan beragam tipe pesawat dari mulai Hawker Hunter, pesawat komersil kelas Boeing, hingga jet tempur Mirage untuk Angkatan Udara Swiss. Selama 20 tahun terakhir, ia menghabiskan waktunya dalam merancang 15 model jet pack berbeda.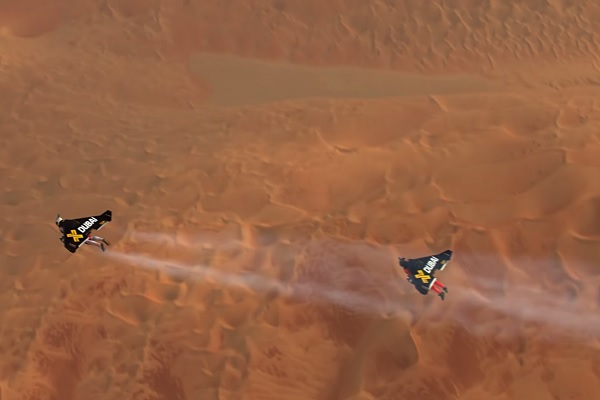 Via Digital Trends.
Are you sure to continue this transaction?
processing your transaction....