Samsung Galaxy A9 Telah Hadir, Smartphone dengan Empat Kamera
Hands-on hasil kamera juga disematkan dalam artikel ini
Daya tarik paling utama seseorang dalam memberi sebuah smartphone salah satunya tertuju kepada kameranya. Semakin baik kameranya, konsumen pun bisa lebih tertarik untuk membelinya. Setelah vendor smartphone menawarkan perangkat dengan dua sampai tiga kamera, Samsung menerobos batas dengan menawarkan empat kamera.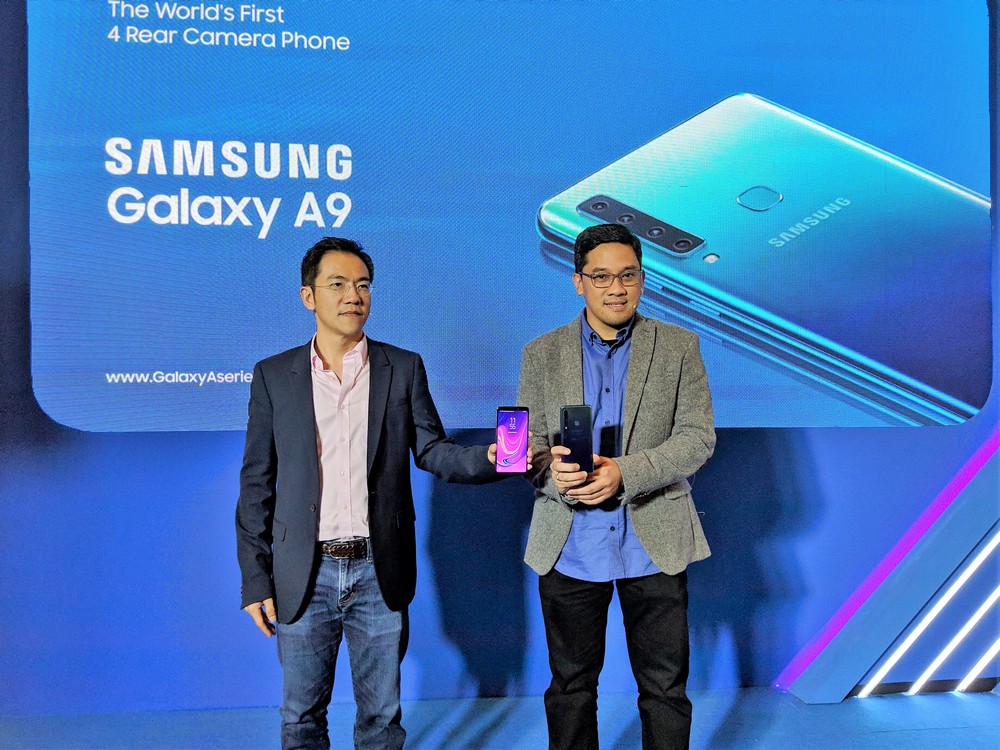 Samsung meluncurkan smartphone terbarunya dengan nama Samsung Galaxy A9. Peluncuran yang diadakan pada Mall Kota Kasablanka pada tanggal 21 November 2018 lalu tersebut juga menandakan penjualan perdana mereka di Indonesia. Kami pun juga pernah diundang oleh Samsung pada saat meluncurkan Samsung A9 di Malaysia.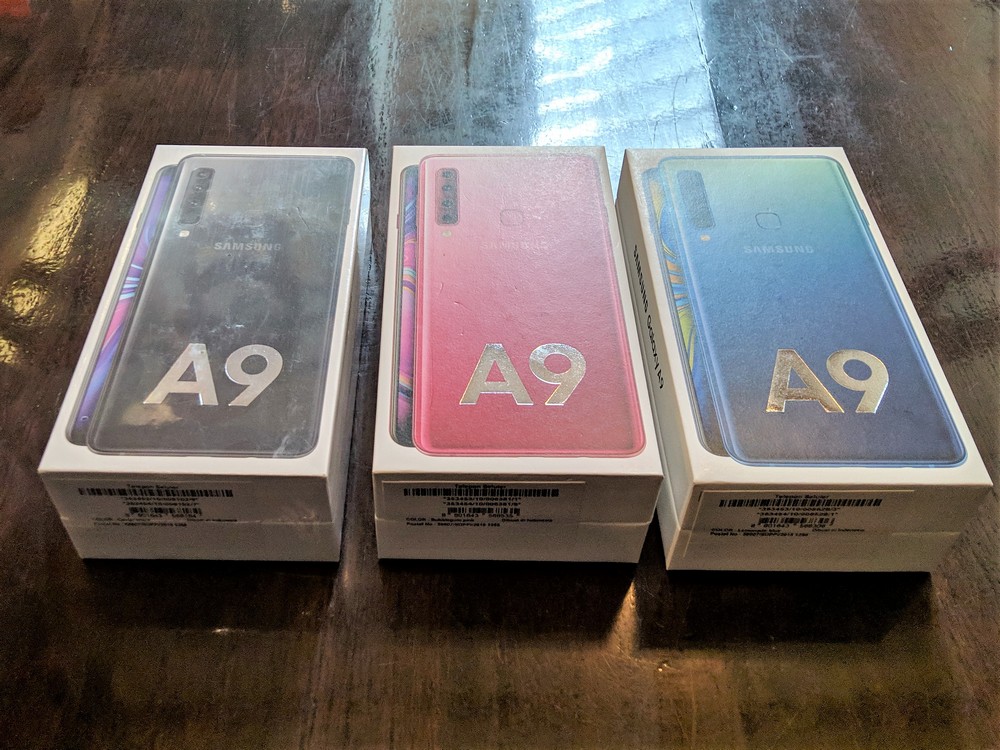 Yang menarik perhatian dari smartphone yang satu ini adalah tersedianya empat buah kamera pada sisi belakangnya. Kamera paling atas memiliki fungsi ultra wide, di mana dapat menangkap gambar dengan lebar 120 derajat. Kamera kedua memiliki resolusi 10 MP dan menggunakan lensa zoom 2x. Kamera ketiga memiliki resolusi 24 megapiksel dan merupakan kamera utama pada smartphone ini. Sedangkan yang terakhir digunakan untuk mengambil gambar bokeh.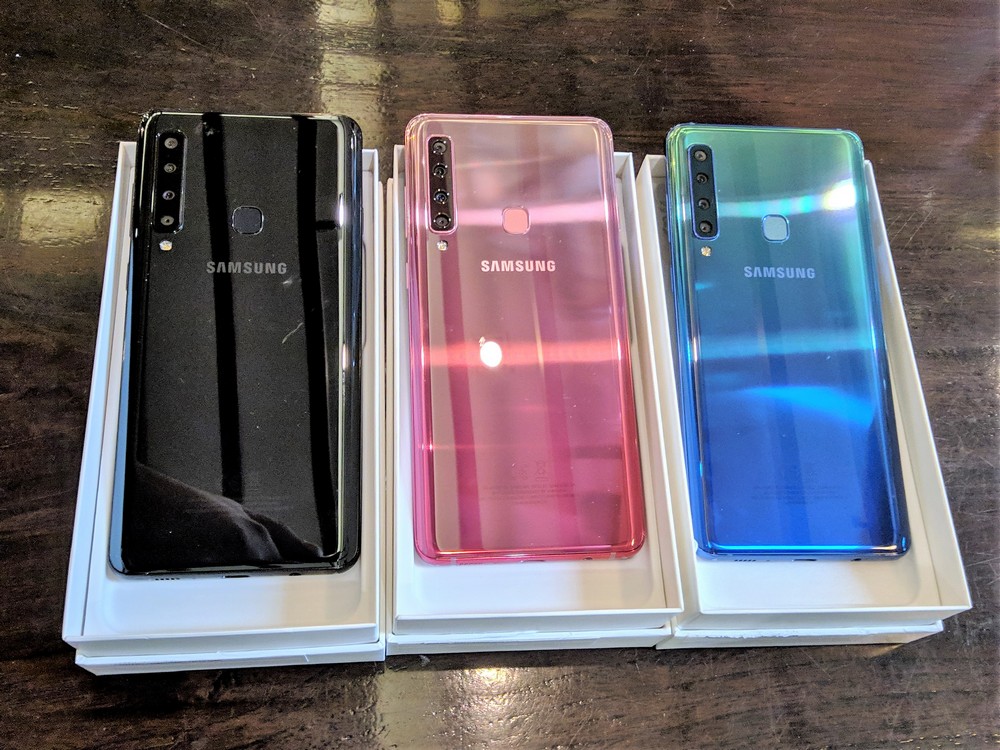 Samsung Galaxy A9 spesifikasi sebagai berikut:
| | |
| --- | --- |
| SoC | Snapdragon 660 |
| CPU | 4x2.2 GHz Kryo 260 + 4x1.8 GHz Kryo 260 |
| GPU | Adreno 512 |
| RAM / Internal Storage | 6 GB / 128 GB |
| Layar | 6.3″ 2220 x 1080 IPS rasio layar 18.5:9 |
| Baterai | 3800 mAh |
| Sistem Operasi | Android Oreo 8.1 |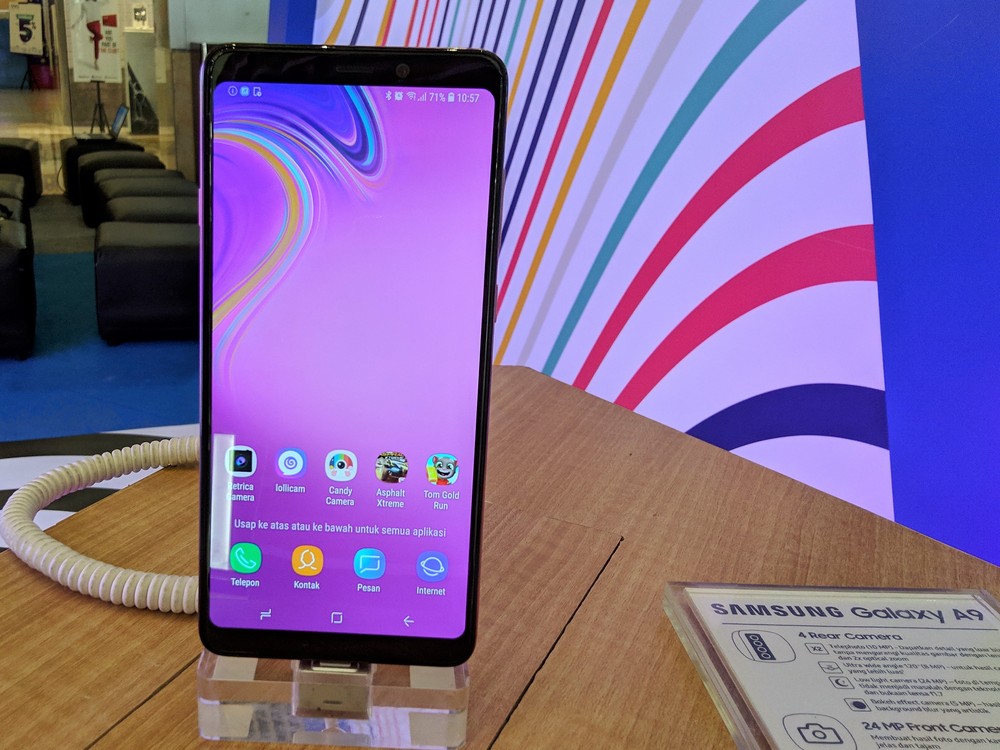 Samsung menjual Galaxy A9 dengan harga Rp. 7.999.000. Saat penjualan perdananya, Samsung menawarkan trade in untuk pembelian Samsung dengan penukaran sampai dengan lima perangkat. Jadi, saat jumlah 5 perangkat tersebut mencukupi, Samsung Galaxy A9 pun bisa didapatkan tanpa harus menambah uang.
NFC
Selama ini, banyak berita simpang siur yang mempertanyakan keberadaan Near Field Communication pada Samsung Galaxy A9. Kami pun sempat menanyakan kepada Denny Gallant selaku Head of Product Management, IT & Mobility Business I Smartphone, Tablet, Wearables, & Services Samsung Indonesia.
Beliau mengatakan bahwa sudah memegang unit retail dari Samsung Galaxy A9 dan bukan produk beta. Nyatanya, NFC sudah tersedia pada unit retail. Jadi, NFC sudah pasti ada pada smartphone yang satu ini.
Kamera: Sama dengan Galaxy A7
Karena kamera merupakan salah satu yang dijual oleh Samsung, tentu saja kamera menjadi bahan utama untuk kami coba. Ternyata, kinerja kamera dari smartphone yang satu ini mirip Galaxy A7. Pembeda utama adalah tersedianya kamera zoom untuk pengambilan gambar lebih dekat.
Samsung juga mengatakan bahwa mereka telah meningkatkan kamera pada saat kondisi gelap. Dengan bukaan f/1.7, membuat pengambilan gambar lebih baik dibandingkan dengan bukaan yang lebih kecil. Kami pun mencoba mengambil beberapa gambar dalam kondisi gelap.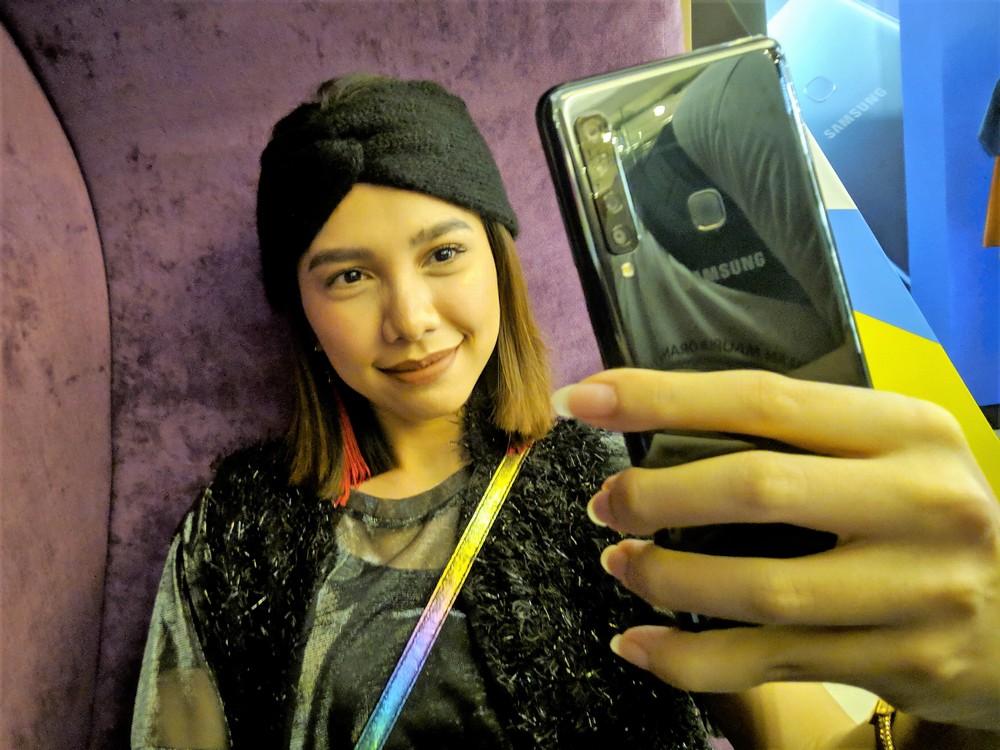 Denny Gallant mengatakan bahwa kamera pada Samsung Galaxy A9 sudah dilengkapi dengan Electronic Image Stabilization atau EIS. Sayangnya, OIS yang merupakan solusi hardware tidak tersedia pada Galaxy A9. Walaupun begitu, pengambilan video akan lebih nyaman dan tidak bergoyang pada saat tangan sedikit tremor.
Are you sure to continue this transaction?
processing your transaction....