Adopsi Infinity Display, Samsung Galaxy J6 Dipastikan Debut 21 Mei Mendatang
Samsung Galaxy J6 akan ditemani model lebih rendah Galaxy J4
Bambang Winarso - 18 May 2018
Belum lama ini Samsung meluncurkan smartphone seri Galaxy terbaru, Galaxy A6 dan Galaxy A6+ yang dipastikan bakal tersedia untuk pasar global. Tak lama setelahnya, Samsung rupanya ingin menyapa juga pasar yang lebih rendah di seri J lewat peluncuran Galaxy J6 yang bakal mengambil tempat di India 21 Mei mendatang. Apakah Galaxy A6 bersaudara juga akan menemani J6? Masih belum dipastikan. Undangan resminya sendiri tidak menyebutkan perangkat yang akan diumumkan. Tetapi belakangan, pabrikan asal Korea Selatan itu memberi kepastian bahwa Galaxy J6 akan menjadi salah satu suguhan utamanya.
Selain memastikan kehadiran Galaxy J6, kicauan akun Twiter resmi Samsung India itu juga memastikan ketersediannya sehari setelah peresmian di toko retail online dan offline.
The Samsung #GalaxyJ6 is coming soon with state-of-the-art design and features that will make your life truly infinite. It's coming to take you #ToInfinityAndMore. pic.twitter.com/pifMryBUyJ

— Samsung Mobile India (@SamsungMobileIN) 17 Mei 2018
Masih di kicauan yang sama, tampak pula sebuah Video yang menegaskan hadirnya layar Infinity Display, fitur baru yang paling disorot dalam undangan resminya. Mengingatkan kembali, desain layar tanpa bingkai pertama kali terlihat di flagship seperti Samsung Galaxy Note 8 dan Samsung Galaxy S9, dan sekarang dihadirkan pula di smartphone kelas menengah yang lebih terjangkau. Sesuatu yang tak biasa tampaknya sedang terjadi di tubuh Samsung, yang mungkin didorong oleh ketatnya persaingan dari para rival.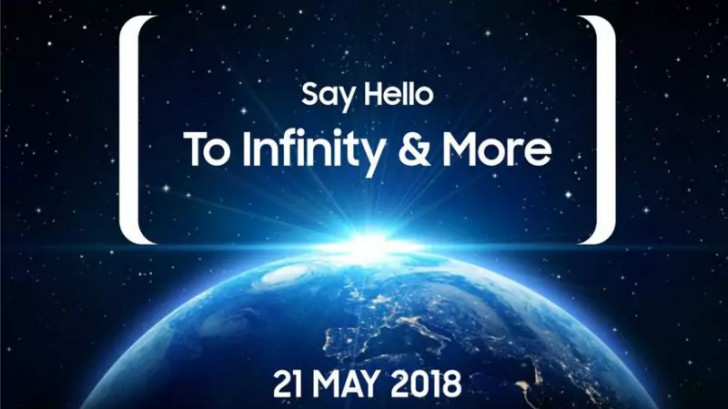 Samsung Galaxy J6 sendiri sudah menjadi bahan perbincangan dalam beberapa minggu terakhir. Smartphone diyakini bakal mengemas layar 5,6 inci HD + (720x1480 piksel) AMOLED Infinity Display yang ditenagai oleh Exynos 7870 SoC octa-core, digabungkan dengan opsi RAM 2GB, 3GB, dan 4GB, baterai 3000mAh, dukungan dual-SIM, dan pilihan penyimpanan 32GB/64GB. Smartphone juga disebut bakal menyertakan mode S-bike dan fitur Ultra Data Savings.
Tapi ada hal lain yang juga perlu untuk dibahas. Dalam undangan event, ada tagline "Say Hello to Infinity and More" yang mengisyaratkan bahwa Samsung tidak akan mengumumkan satu perangkat, tapi dua. Kemungkinan besar model yang lebih terjangkau, Galaxy J4 akan ikut menemani.
Berbeda dengan Galaxy J6, Galaxy J4 tidak akan membawa layar Infinity Display, melainkan hanya mengadopsi layar standar 5,5 inci dan belum jelas panel AMOLED atau LCD. Jeroannya dihuni oleh prosesor Samsung Exynos 7570 dengan RAM hingga 3GB. Kemudian kamera utamanya diyakini beresolusi 13MP dan 5MP di bagian depan.
Apakah Galaxy J6 juga akan diluncurkan di Indonesia? Kemungkinan besar iya, tapi waktu pastinya masih harus menunggu konfirmasi resmi dari Samsung. Kita tunggu saja.
Sumber berita GSMArena.