Samsung Kenalkan Papan Tulis Digital, Mudahkan Tim Melakukan Kolaborasi Saat Meeting
Samsung Flip ialah solusi integrasi ide dan memenuhi kebutuhan meeting yang lebih modern
Lukman Azis - 23 April 2018
Kita sudah hidup di dunia Internet of Things (IoT), teknologi ini sudah ada di sekitar kita. Termasuk smartphone yang tak pernah lepas dari pengawasan kita, laptop, perangkat wearable seperti smartwatch, dan beragam perangkat lain yang terkoneksi dengan internet.
Pelan tapi pasti teknologi IoT ini akan mengubah bagaimana kita hidup, berpikir, ataupun bekerja. Samsung pun melakukan riset, sebenarnya produk apa yang dibutuhkan untuk meningkatkan produktivitas dalam bekerja.
"Berdasarkan riset yang telah kita lakukan, kita membutuhkan perangkat untuk berkolaborasi ide, memperluas, dan membangun ide pada saat bersamaan." Ujar Albert Susilo, Head of Group Consumer Electronics Display Samsung Electronics Indonesia.
Menjawab tantangan tersebut, raksasa teknologi asal Korea Selatan itu meluncurkan Samsung Flip ke Indonesia. Sebuah papan tulis digital berukuran 55 inci yang didesain untuk mempermudah kita melakukan kolaborasi tim yang lebih simpel dan memenuhi kebutuhan meeting yang lebih modern sesuai gaya hidup saat ini.
"Samsung Flip bisa digunakan untuk semua orang, tapi kami juga punya target di segmen tertentu yaitu untuk para designer, digital agensi, arsitek, dan coworking space. Kami berharap teknologi pada produk ini dapat membuat bisnis bekerja lebih baik, cerdas dan cepat," tambahnya.
Tampilan Samsung Flip dapat diatur orientasi potrait atau landscape untuk menyesuaikan kebutuhan meeting. Kita bisa berkolaborasi bersama tim hingga empat orang (titik) sekaligus.
Layar seluas 55 incinya sudah ditopang resolusi Ultra HD (4K) dan dibekali dengan pena holder untuk corat-coret dengan pengalaman seperti menulis di kertas. Menariknya bila pena dicabut dari sarangnya, Samsung Flip akan langsung aktif dan siap digunakan.
Tidak harus menggunakan sentuhan pena khusus untuk berinteraksi dengan layar, kita cukup menggeserkan telapak tangan dengan cepat untuk menghapus tulisan. Kita dapat mengakses hingga 20 halaman untuk memberikan tulisan, dengan fungsi search yang tersedia untuk mempermudah ketika mencari catatan atau konten tertentu.
Papan pintar ini juga memiliki kaki yang bisa dipindahkan dengan mudah. Kemudian di bawahnya ada tray untuk meletakkan laptop. Untuk meningkatkan interaktifitas, Samsung Flip bisa terhubung melalui koneksi WiFi, NFC, ataupun USB.
Ada fungsi screen-sharing yang terintegrasi menghasilkan konten yang ada di Flip tersedia juga di PC, smartphone, dan tablet yang sedang terhubung. Selain itu, kita juga dapat mengimpor konten personally-stored ke layar Flip untuk memberikan ide-ide segar saat diskusi.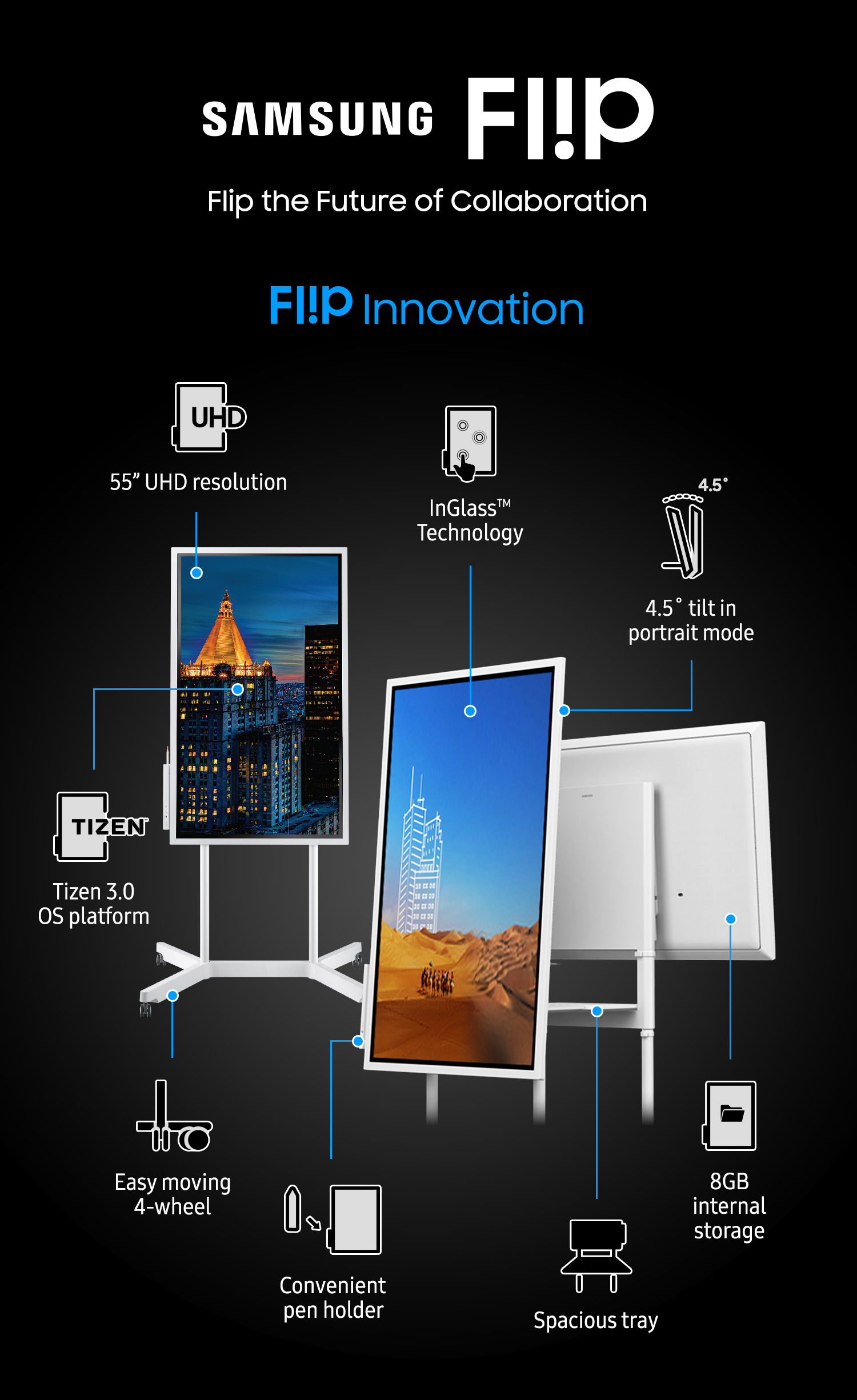 Ketika sebuah meeting selesai, layar Samsung Flip menyimpan semua konten dengan aman, menghilangkan kebiasaan mencatat dengan tangan yang tidak praktis. Anda juga tak perlu memfotonya, karena hasilnya bisa langsung dikirim melalui email atau menyimpannya melalui USB drive.
File di Samsung Flip juga bisa diamankan dengan password untuk menjaga rincian dari hasil meeting dan memastikan hanya orang yang memiliki akses yang dapat membukanya.
Samsung Flip hanya tersedia dalam satu ukuran saja yakni 55 inci resolusi 4K, berjalan pada OS Tizen 3.0, sistem keamanan Knox, dan memiliki ruang penyimpanan sebesar 8GB. Botot papannya 4 kg, kakinya 4 kg, jadi totalnya 8 kg. Harga Samsung Flip di Indonesia dijual Rp52 juta.
Are you sure to continue this transaction?
processing your transaction....