Samsung Umumkan TV Berteknologi MicroLED, Setara OLED tapi Modular dan Fleksibel
Namanya diambil dari pixel berukuran mikroskopis di dalamnya, yang bisa menyala dengan sendirinya tanpa bantuan backlight
Bicara soal TV OLED, LG adalah pemimpin di segmen ini. Pabrikan asal Korea Selatan itu adalah pemasok panel OLED untuk TV buatan Sony dan Panasonic, dan baru-baru ini mereka juga memamerkan TV OLED terbesar sekaligus tertinggi resolusinya (8K).
Samsung di saat yang sama masih menuai banyak debat perihal kemampuan lini TV QLED-nya dalam menyaingi kualitas gambar TV OLED. Permasalahannya, menurut mereka yang meragukan TV QLED Samsung, adalah panel yang digunakan masih membutuhkan backlight, tidak seperti panel OLED yang tiap-tiap pixel-nya bisa menyala sendiri, yang menjadi rahasia di balik superioritas OLED dalam hal kontras dan reproduksi warna.
Samsung sendiri sebenarnya pernah mengembangkan TV OLED di tahun 2012, tapi mereka gagal memproduksi massalnya. Dari situ mereka bertekad menciptakan teknologi alternatif yang bisa menyaingi OLED, maka lahirlah QLED, yang juga dikenal dengan istilah Quantum Dot.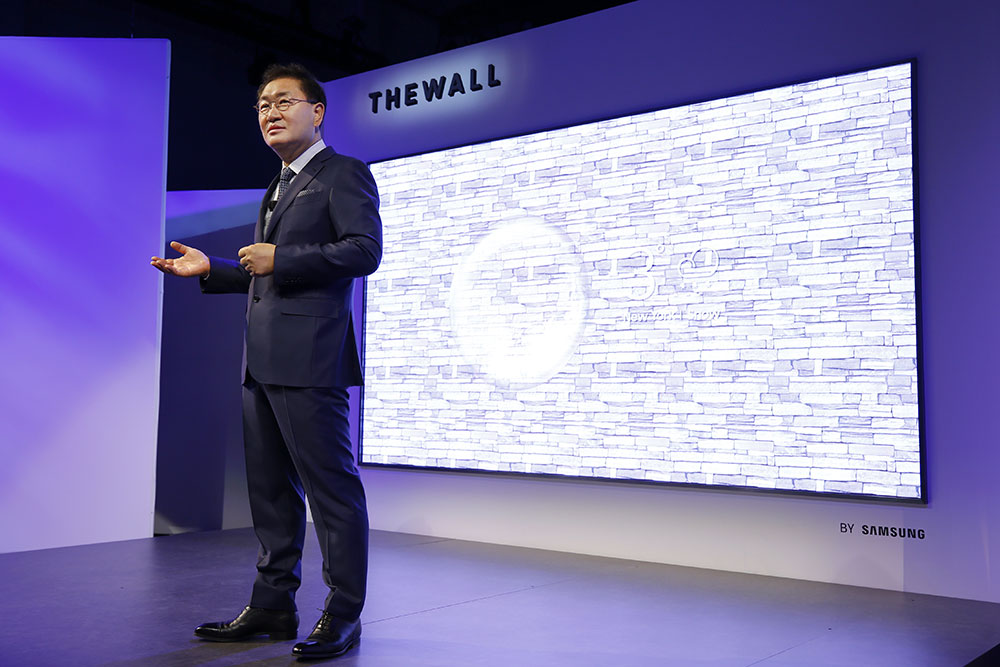 Tahun ini, Samsung sudah siap dengan alternatif yang lain lagi bernama MicroLED – jangan dipelesetkan jadi "mikrolet". Namanya diambil dari pixel berukuran mikroskopis di dalamnya, yang hebatnya, bisa menyala dengan sendirinya tanpa bantuan backlight, sama seperti OLED. Lalu apa yang membedakannya dari OLED?
Samsung bilang bahwa MicroLED bersifat modular. Artinya, TV berteknologi ini terdiri dari beberapa modul (panel) terpisah yang disatukan, bukan sebongkah panel utuh seperti pada TV OLED. Keuntungannya, MicroLED begitu fleksibel dan bisa diaplikasikan menjadi TV dalam berbagai macam ukuran, mulai dari yang kecil untuk di kamar tidur sampai yang segede gaban.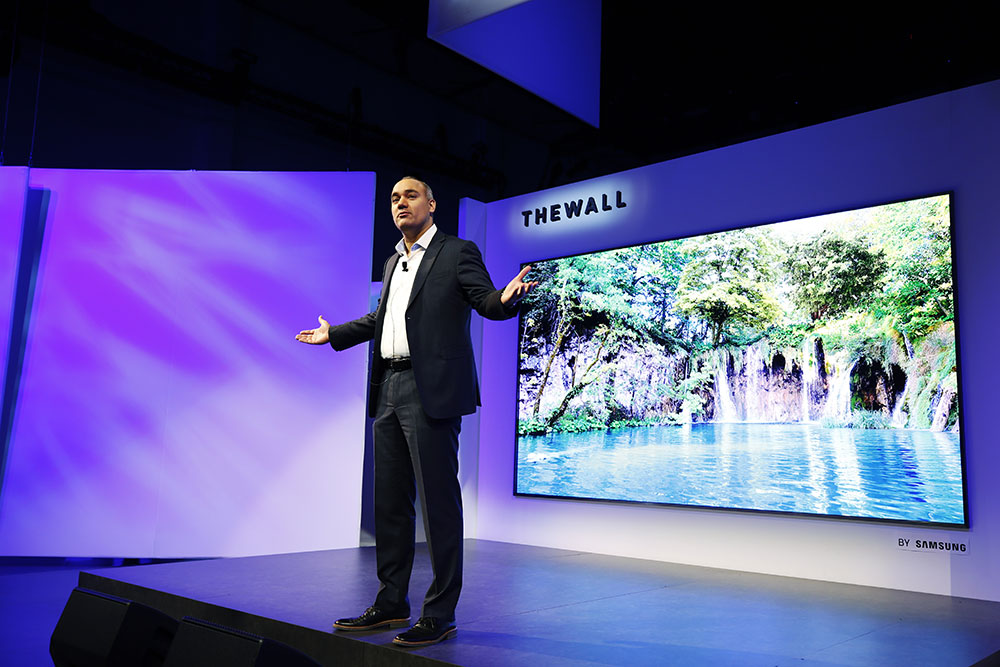 Pada kenyataannya, Samsung memamerkan teknologi ini lewat sebuah TV 4K raksasa berukuran 146 inci. Begitu besar dan lebarnya TV ini, Samsung menjulukinya dengan istilah "The Wall". Menurut pantauan The Verge, warna yang dihasilkannya cukup pekat, dan secara keseluruhan tampak sangat terang. Sambungan antar modulnya pun tidak kelihatan ketika ada konten yang sedang diputar.
Mengingat Samsung sejauh ini masih mengategorikan MicroLED dan The Wall sebagai konsep, membandingkan kualitas gambarnya dengan TV QLED maupun OLED bakal terkesan prematur. Meski demikian, Samsung sudah punya rencana untuk meneruskannya hingga menjadi produk untuk konsumen, dan mereka menarget musim semi tahun ini sebagai jadwal peluncurannya.
Sumber: Samsung.
Are you sure to continue this transaction?
processing your transaction....