Samsung Umumkan 980 Pro, SSD PCIe 4.0 dengan Kecepatan Baca 7.000MB/s
Samsung 980 Pro adalah M.2 NVMe SSD berperforma tinggi dengan interface PCIe 4.0
Lukman Azis - 23 September 2020
Samsung telah meluncurkan 980 PRO, drive M.2 NVMe SSD PCIe 4.0 berperforma tinggi dengan form factor compact NVMe 2280. Ia kompatibel dengan slot M.2 melalui interface PCIe 4.0.
Bila dipasangkan dengan motherboard yang kompatibel, 980 PRO menawarkan kecepatan sekuensial baca dan tulis masing-masing hingga 7.000MB/s dan 5.000MB/s. Samsung mengklaim performa 980 PRO dua kali lebih cepat daripada SSD PCIe 3.0 dan hampir 13 kali lebih cepat daripada SSD SATA.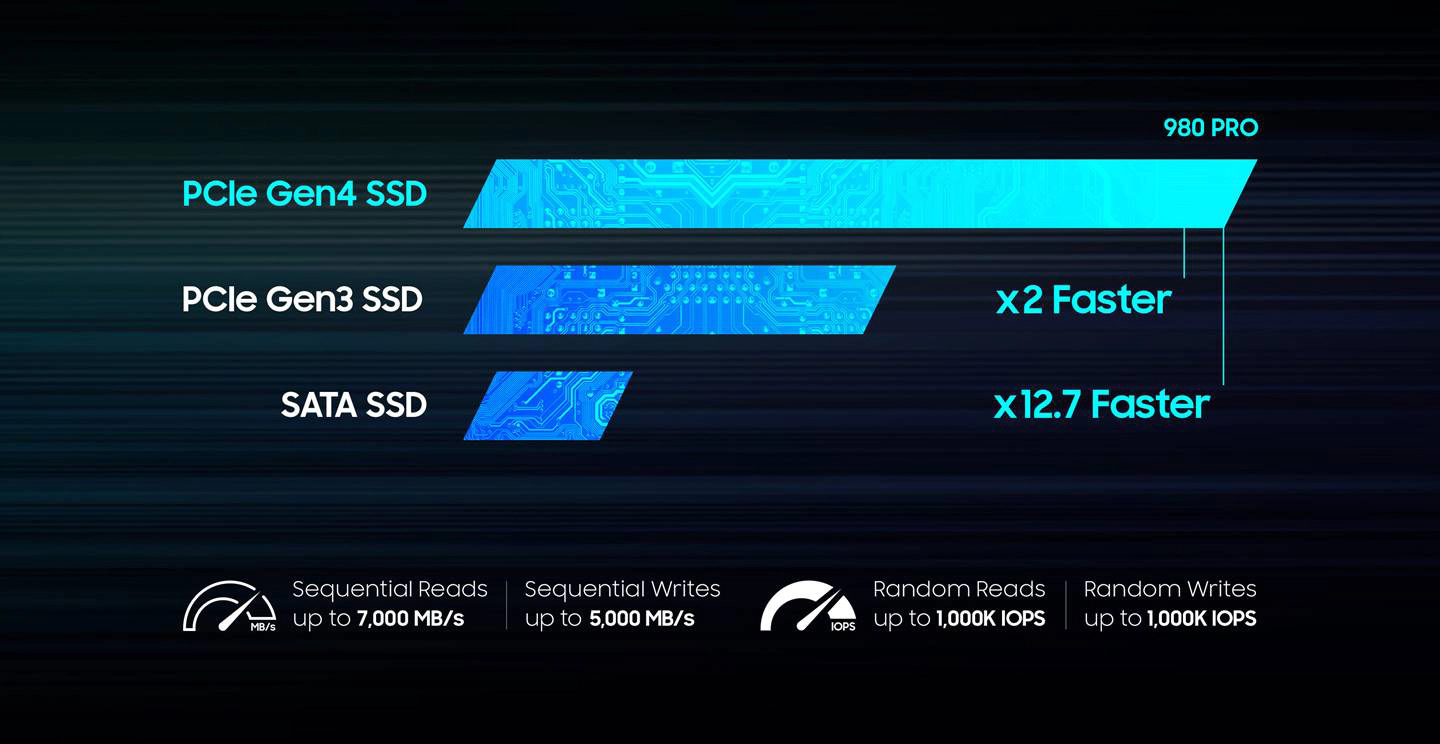 Saat ini, motherboard PCIe 4.0 memang tidak terlalu umum karena interface-nya masih relatif baru. Namun adopsi teknologi baru ini akan meningkat, termasuk CPU AMD Ryzen 3000, GPU Radeon RX 5700 dan 5700XT, serta yang terbaru Nvidia RTX 3080 graphics card. Sony dan Microsoft juga menggunakan teknologi custom SSD mereka di konsol PS5 dan Xbox Series S/X.
Untuk saat ini bila Anda tidak memiliki motherboard dengan interface PCIe 4.0, 980 Pro masih sanggup menyuguhkan kecepatan baca dan tulis maksimum masing-masing 3.500MB/s dan 3.450MB/s pada motherboard M.2 PCIe 3.0. Perlu dicatat, drive SSD berkapasitas lebih kecil cenderung memiliki kecepatan tulis yang sedikit lebih lambat tapi tidak mempengaruhi kecekapatan baca.
Hal ini juga berlaku pada 980 Pro, di mana versi 1TB punya kecepatan tulis hingga 3.450MB/s melalui PCIe 3.0, sementara versi 500GB dan 250GB memiliki kecepatan tulis masing-masing 3.400MB/s dan 2.700MB/s. Samsung 980 Pro akan tersedia dalam empat kapasitas, yaitu 250GB (US$90), 500GB US$150, dan 1TB US$230. Sementara, untuk versi 2TB akan menyusul sebelum akhir tahun tetapi harganya belum diungkap.
Sumber: The Verge
Are you sure to continue this transaction?
processing your transaction....