Gadget
Sangat Mungil, Charger Nipper Isi Ulang Device Anda Lewat Metode 'Lawas'
Beragam cara dilakukan konsumen demi memastikan perangkat kesayangan tetap menyala saat beraktivitas sehari-hari. Beberapa menginstal app khusus, mematikan fitur-fitur tertentu, menurunkan kecerahan layar, atau membawa power bank. Buat aksesori terakhir ini, telah diajikan sejumlah ide eksperimental, tapi baru Nipper yang penerapannya paling praktis.
The Nipper memang lebih matang dan aplikatif jika dibandingkan konsep Mini Power dari Tsung Chih-Hsien. Ia adalah portable charger dengan penampakan sangat mungil. Mungkin power bank yang Anda bawa sehari-hari masih merupakan medium penyimpanan tambahan daya handal untuk smartphone atau tablet. Tapi di situasi darurat, Nipper memungkinkan kita mengisi baterai device berbekal baterai AA.
Tim Design on Impulse mengemas Nipper sekecil-kecilnya. Berbentuk kubus plus strap kulit, dimensi portable charger tersebut hanya sebesar 17x17x17 milimeter. Ia bisa dijadikan gantungan kunci, atau sekedar diselipkan di kantong baju atau tas. Ketika diperlukan, tinggal pisahkan dua bagian Nipper, taruh dua baterai AA di antara magnet, kemudian masukkan connector Micro USB ke port di smartphone.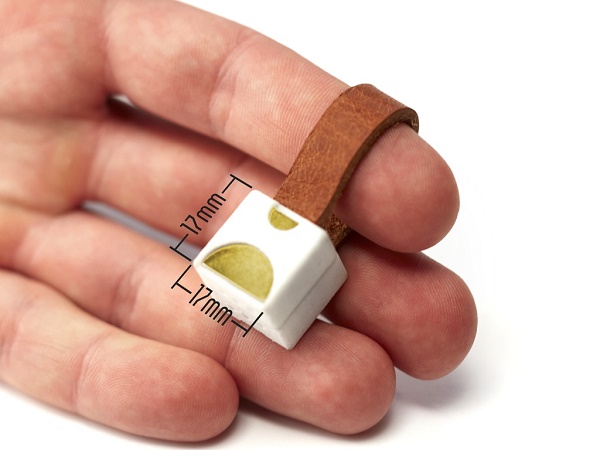 Pertanyaan terbesarnya kini ialah, seberapa efektifkah The Nipper? Untuk smartphone modern, ia sanggup menambahkan sekitar 10 persen dari total kapasitas selama 30 menit, melewati 20 persen dalam satu jam. Beberapa contoh uji coba meliputi Nokia 106 (54%, 5,3 jam talk-time), Blackberry 9330 (38%, 1,7 jam talk-time), HTC One M7 (20%, 3,6 jam talk-time), Samsung Galaxy S6 (17%, 3,4 jam talk-time) dan Kindle Voyage (33%, 15 hari membaca).
Info menarik: Baterai Tambahan Smartphone Ini Terbuat Dari Kardus?
Namun ingat, performa isi ulang sangat bergantung dari merek dan jenis baterai AA-nya. Design on Impulse menyarankan Duracell tipe baru dengan 500mAh. Nipper menyimpan tiga magnet neodynium. Selain untuk menahan baterai, magnet berfungsi buat menyambungkan aliran listrik di papan sirkuit internal. Sirkuit tersebut dinamai boost converter, tugasnya adalah mengubah tenaga dari baterai jadi pemasok tenaga sebesar 5 volt.
Baterai AA masih dianggap solusi praktis serta efektif oleh tim Design on Impulse karena ia banyak dijual di mana-mana. Dan karena masih berada di tahap pengumpulan dana, ada dua skenario pembuatan Nipper: andai permintaannya tidak terlalu besar, produksi dilakukan lewat proses 3D printing berbahan nilon kualitas tinggi. Tapi jika banyak orang berminat, Nipper akan digarap memanfaatkan teknik cetak di material polypropylene.
The Nipper dapat Anda pesan sekarang di Kickstarter seharga mulai dari £ 15 atau US$ 24.
Are you sure to continue this transaction?
processing your transaction....