Schoters Accommodates Student's Requirements to Pursue Education Abroad
Plans for fundraising, currently has 200 thousand active users
Yenny Yusra - 17 June 2020
In an objective to help high school/vocational graduates and professionals who want to pursue a higher-level education, Radyum Ikono (CEO) and Muhammad Aziz (COO) created Schoters. Operating since January 2019, this edutech platform is formed as a marketplace accommodating users to get access to education abroad.
"I see many Indonesians from high school students to professionals who want to study abroad to get a better-quality education. However, there is limited access to information and preparation. We then created Schoters as a platform that provides end-to-end solutions for everyone who wants to study abroad in various countries," Ikono said.
Schoters platform offers some features, such as campus registration consulting and scholarships, TOEFL / IELTS preparation, test preparation such as SAT / GRE / GMAT, document translation services, other foreign language courses (German, Japanese, Korean, Arabic), installment assistance, and tuition payment. Schoters intends to solve any problems faced by prospective students. In addition to being accessible through the website, Schoters also provides an application on the Android platform.
"Schoters' business model is a marketplace that involves partners with expertise in specific services. Schoters takes fees from each transaction made by students to these partners," Ikono said.
Available for everyone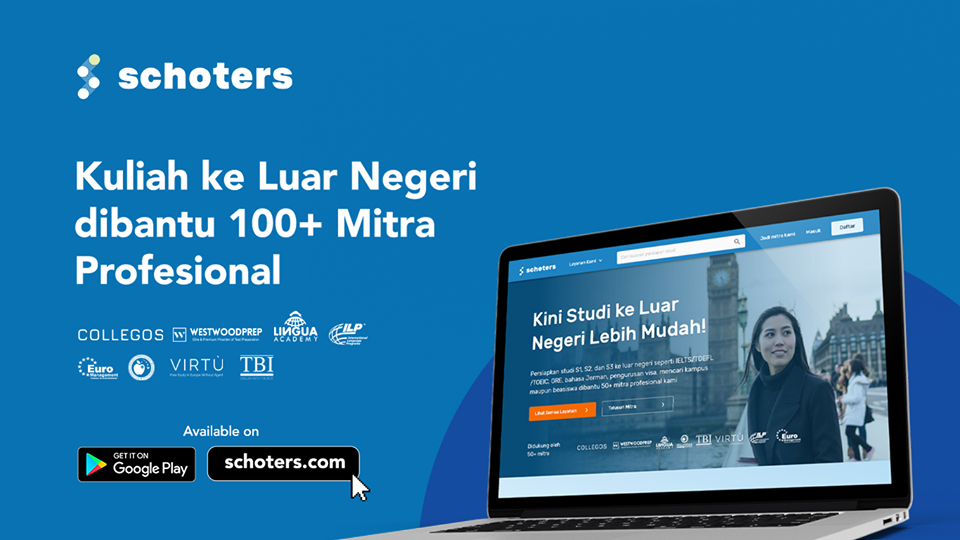 Regarding the key features that distinguish Schoters with previous platforms, Ikono highlighted some companies engaged in similar business sectors tend to reach only the upper middle segment. Therefore, it is perceived that studying abroad is expensive and only affordable for certain classes.
"At Schoters, we present an affordable alternative preparation service, that anyone can make their dream of studying abroad come true. In addition, unlike Schoters which already full online, some other companies are still opening and outreach conventional offline-based classes (with branches in big cities)," Ikono said.
To date, Schoters has more than 200 thousand active users throughout Indonesia. They noted many students from outside the city who are yet to have access by other service providers.
"The fun thing is when they took part in the Schoters program and finally managed to go abroad for Bachelor, Master, or Doctoral degree. Schoters currently has helped students get hundreds of admissions on campus and scholarships in more than 15 countries. Starting from Japan, United Kingdom (UK), Australia, New Zealand, Korea, China, Russia, the Netherlands, Switzerland, Thailand, Malaysia and so on," Ikono added.
In the near future, the company plans to raise Pre-Series A fund. During the Covid-19 pandemic, it is quite affecting the course of the company's business. However, Schoters claims to solve it with a special strategy.
"Using the right marketing strategy, the team managed to make a turnaround, which is uniquely attract many students to come and study at Schoters for more productive time during work and study at home. It s enough said, there is no significant negative impact from The Covid-19 pandemic to our business," Ikono said.
– Original article is in Indonesian, translated by Kristin Siagian
Application Information Will Show Up Here