Selain Cortana, Windows 10 Akan Terintegrasi Dengan Xbox?
Yoga Wisesa - 15 December 2014
Pada demonstrasi Cortana oleh WinBeta awal minggu kemarin, kita mendapat kesan bahwa ada banyak hal yang masih harus Microsoft sempurnakan - terutama berkaitan dengan penampilan interface. Berdasarkan update terakhir, Windows 10 Technical Preview tampak jauh lebih terpoles; dan muncul indikasi mengenai beberapa buah fitur baru.
Namun kabar teranyar itu malah berasal dari sumber tak resmi, dilaporkan oleh The Verge, berdasarkan screenshot-screenshot bocor di internet. Build 9901 Windows 10 tak cuma memperlihatkan Cortana baru, tapi juga animasi serta perubahan-perubahan pada menu setting. Dan di antara semua ini, yang paling menarik adalah aplikasi Xbox build-in di dalamnya.
Menurut narasumber, app Xbox dirancang untuk menjembatani PC dan home console Microsoft, memberikan akses ke seluruh ekosistem Xbox: achievement, daftar teman, activity feeds dan Store. Lalu besar kemungkinan akan ada integrasi SmartGlass di waktu ke depan. Berita ini terasa pas dengan tweet bos Xbox Phil Spencer minggu kemarin ketika ditanya soal acara Microsoft bulan Januari besok.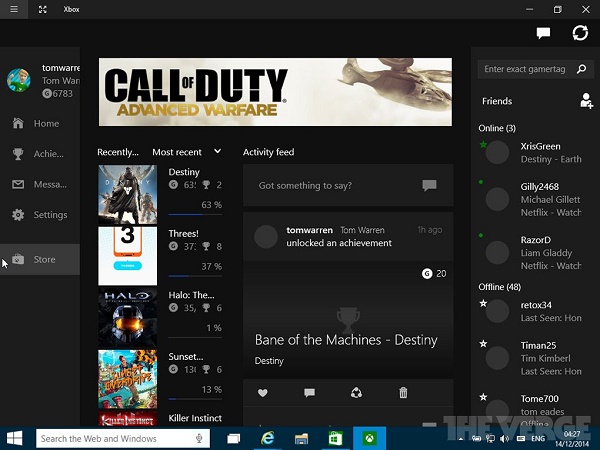 "Kita akan lebih fokus pada topik-topik terkait Windows 10," tulisnya. "Sudah saatnya bagi kami untuk membahas gaming di Windows." Meski semuanya memang berawal dari Windows, belakangan ini hubungan para penikmat game di PC dan Microsoft belum bisa dibilang harmonis. Masa depan Games for Windows Live juga tidak jelas - sang produsen tiba-tiba mengumumkan untuk mendukung terus hanya beberapa hari sebelum ia seharusnya dinonaktifkan.
Info menarik: Simak Demo Aksi Cortana di Microsoft Windows 10
Harapan terbesar dari komunitas ialah dengan app Xbox, hubungan pengguna PC serta Microsoft dapat semakin membaik, dan mereka kembali melihat PC sebagai medium gaming potensial (seperti seharusnya). Dan betapa membahagiankannya jika Microsoft menyatukan Xbox dan PC dalam sebuah platform a la Steam atau Origin, dimana permainan komputer bisa berjalan di console, serta sebaliknya - meski harapan terakhir ini boleh dibilang mustahil terjadi.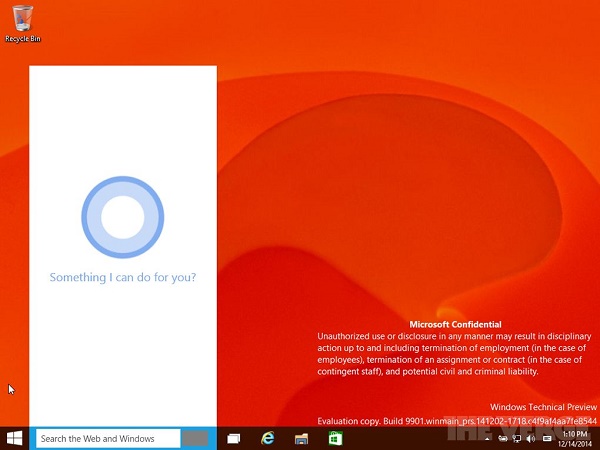 Berkaitan dengan build 9901 Windows 10, Microsoft telah membubuhkan animasi switch baru, dan sepertinya memutuskan untuk menghilangkan Control Panel tradisional. Tombol settings juga dipindahkan dari Charms Bar. Kemudian berbeda dari layout Store saat ini, musik, film serta TV muncul bersama app dan game.
Microsoft berencana mengungkap Windows 10 lebih jauh pada presentasi di kampus Redmond tanggal 21 Januari 2015 yang dibawakan oleh Terry Myerson, Joe Belfiore, Phil Spencer dan sang CEO Satya Nadella.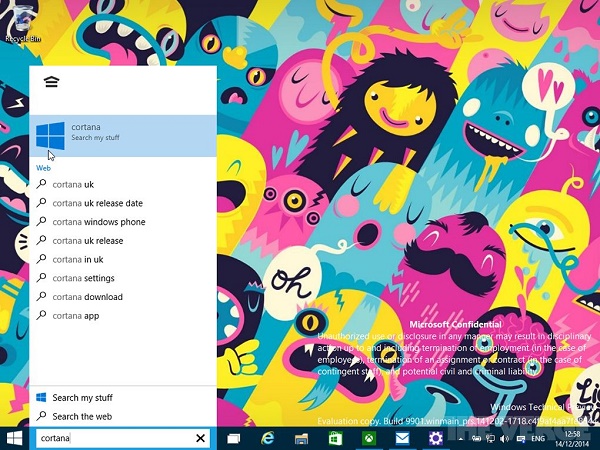 Sumber tambahan: Blog Windows. Sumber gambar: The Verge.
Are you sure to continue this transaction?
processing your transaction....