Sempurnakan Google Now, Google Juga Kembangkan OS Baru untuk Perangkat Internet of Things
Glenn Kaonang - 29 May 2015
Bersamaan dengan diumumkannya Android M, Google juga telah menyempurnakan Google Now hingga menjadi lebih paham konteks dan lebih sigap dalam menjalankan tugasnya sebagai asisten pribadi.
Context Engine yang menjadi otak Google Now kini mampu mengenali lebih dari 100 juta lokasi yang tersebar di dunia, sedangkan Knowledge Graph yang dimanfaatkan Google Now untuk menjawab pertanyaan-pertanyaan yang kita berikan kini telah memiliki akses ke sekitar 1 miliar entitas.
Info menarik: Google Perkenalkan Aplikasi Baru, Google Photos
Namun yang sangat menarik adalah fitur baru bernama "Now on Tap". Sederhananya, fitur ini memungkinkan Anda untuk mengakses Google Now dari aplikasi apapun, tanpa meninggalkan aplikasi tersebut. Kendati demikian, Google Now di sini akan memahami konteks yang berkaitan dengan apa yang sedang tampak di layar smartphone.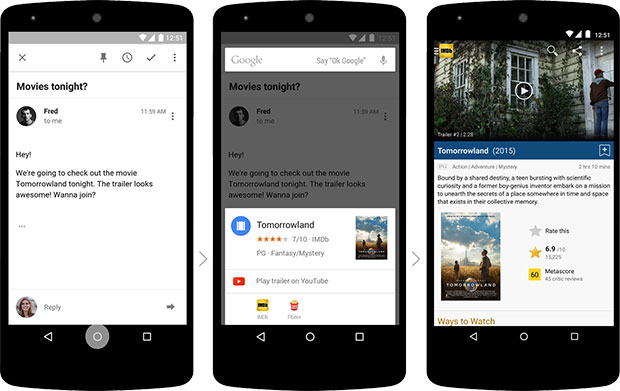 Misalnya, Anda menerima email dari teman yang mengajak Anda menonton suatu film. Masih di aplikasi Gmail, Anda bisa menekan dan menahan tombol Home untuk 'memanggil' Google Now. Ajaibnya, tanpa menerima instruksi apa-apa dari Anda, Google Now akan langsung menampilkan sebuah card berisikan informasi tentang film yang dimaksud teman Anda, dan dari situ Anda bisa melihat detail informasinya secara lebih merinci.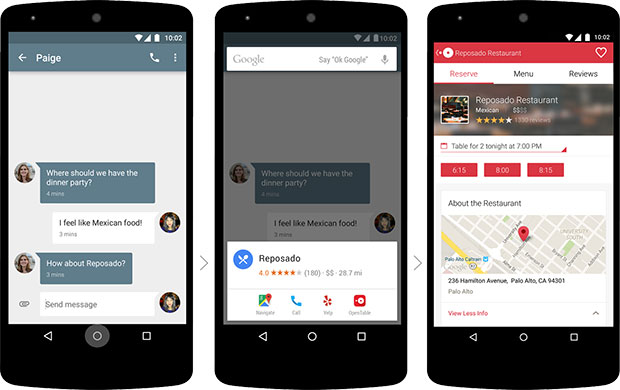 Contoh lain adalah ketika Anda sedang membuat janji makan malam bersama seorang teman. Google Now dapat menampilkan informasi restoran yang tengah diperbincangkan di aplikasi IM (instant messaging) secara otomatis berkat kemampuan natural language processing-nya yang handal.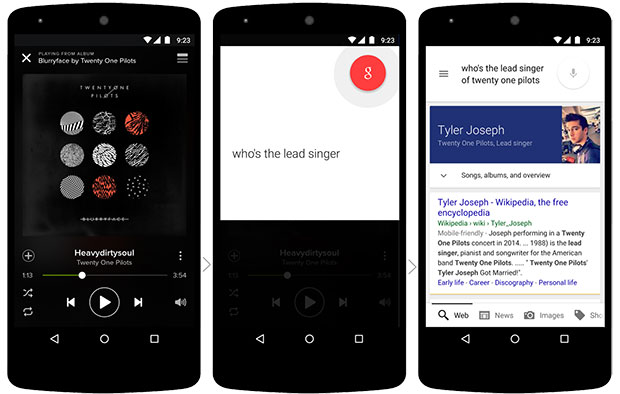 Contoh terakhir, saat sedang mendengarkan lagu, Anda bisa mengucapkan "OK Google, who's the lead singer", dan Google Now akan menampilkan informasi tentang vokalis utama dari band yang tengah Anda putar lagunya tersebut.
Info menarik: Desain Google Cardboard Diperbarui Demi Mendukung Lebih Banyak Smartphone
Project Brillo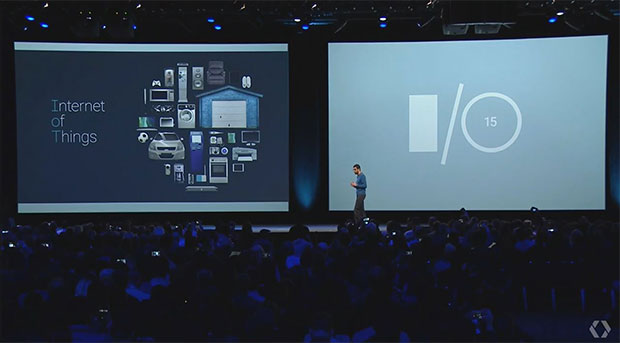 Di luar ranah Android, Google rupanya tengah menyasar segmen IoT (Internet of Things) dengan serius. Memanfaatkan aset dan keahlian milik tim Nest – yang sudah sangat berpengalaman di bidang smart home – plus tenaga ekstra dari tim pengembang Android dan Chrome OS, Google mengembangkan sebuah sistem operasi baru yang dirancang khusus untuk perangkat-perangkat IoT.
Mengusung codenameProject Brillo, OS baru ini bisa dikatakan sebagai Android versi mini, dengan fitur-fitur dasar yang dibutuhkan perangkat IoT. Spesifikasi hardware yang diperlukan terbilang minimal, sehingga perangkat-perangkat seperti smart door lock pun tetap bisa menjalankannya.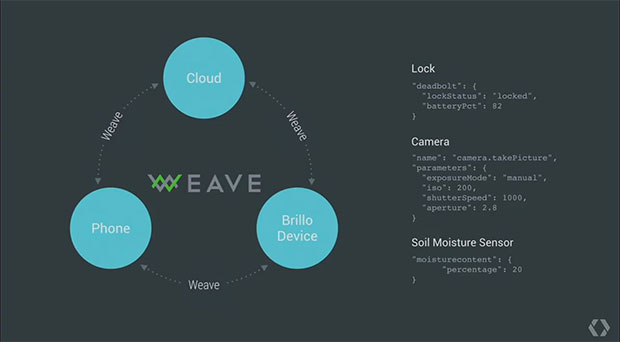 Mendampingi Project Brillo adalah API yang dijuluki Weave. Sejauh ini belum ada banyak informasi soal Weave, akan tetapi bisa dipastikan API ini dirancang sebagai jembatan komunikasi antara perangkat IoT – baik yang menjalankan OS Project Brillo atau tidak – dengan smartphone dan cloud.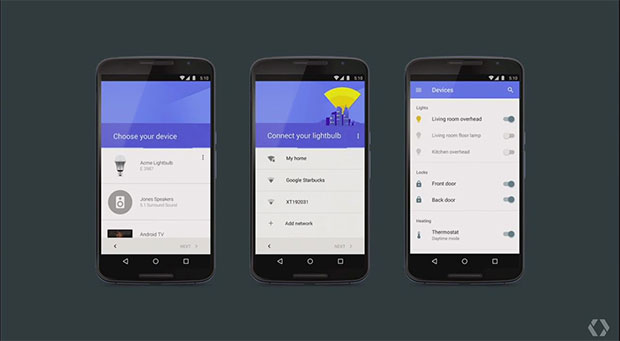 Terakhir, Google juga ingin menyederhanakan proses setup perangkat-perangkat IoT ke dalam satu aplikasi terpusat. Dari aplikasi ini, Anda bisa mengatur dan menetapkan konfigurasi semua perabot rumah pintar yang berkomunikasi via Weave tadi.
Are you sure to continue this transaction?
processing your transaction....