Gadget
Senapan Air High-Tech Spyra One Siap Membantu Kita Menghentikan Pemberontakan Skynet
Bisa jadi alternatif jika bagi Anda The Boring Company Flamethrower terlalu berbahaya...
Sebagai perusahaan konstruksi terowongan yang didirikan Elon Musk, pengumuman tersedianya senapan penyembur api oleh The Boring Company memang mengejutkan. Flamethrower mungkin cocok untuk mempertahankan Bumi dari serangan alien, tapi melihat kondisi sekarang, peluang terjadinya skenario tersebut jauh lebih kecil dibanding pemberontakan AI.
Jika kebangkitan robot menjadi kekhawatiran Anda, startup bernama Spyra punya alternatif yang tak kalah efektif dari The Boring Company Flamethrower, namun penyajiannya lebih aman buat sesama manusia. Tim asal Munich itu memperkenalkan Spyra One, yaitu senapan air mainan paling canggih di dunia. Air adalah musuh besar sirkuit elektronik dan dengannya, kita bisa membungkam pemberontakan Skynet sebelum dimulai.
Founder Spyra, Sebastian Walter, menjelaskan bahwa dahulu pistol air jauh lebih besar dari lebih efektif dari model yang ada sekarang. Namun dalam waktu 20 tahun, desain dan penyajian mainan ini tidak banyak berubah. Inilah latar belakang dikembangkannya Spyra One. Dengan teknologi di dalamnya, Spyra One mampu menembakkan peluru air secara individual, serta mengisi amunisi secara otomatis.
Spyra One mempunyai penampilan seperti senjata-senjata di film sci-fi dengan desain bullpup (ruang amunisi berada di belakang pelatuk). Rancangan ini memungkinkan penggunaan laras yang lebih pendek tanpa mengorbankan jarak jangkauan proyektil. Tubuhnya didominasi warna merah atau biru, dipadu zona putih pada ujung laras, area handle, serta popor. Spyra One mempunyai konstruksi tahan benturan, dan Anda bisa melihat jumlah amunisi dan baterai via layar digital.
Di dalam, mainan pistol air ini menyimpan banyak teknologi canggih. Spyra One mampu menembakkan proyektil air bervolume 30ml secara konsisten dengan jarak efektif 7,5-meter. Sumber tenaganya ialah baterai rechargeable, sanggup menembakkan 1125 proyektil dengan 45 kali pengisian tangki sebelum Anda harus men-charge-nya kembali. Proyektil air tersebut tentu tidak berbahaya, kecuali jika Anda adalah robot.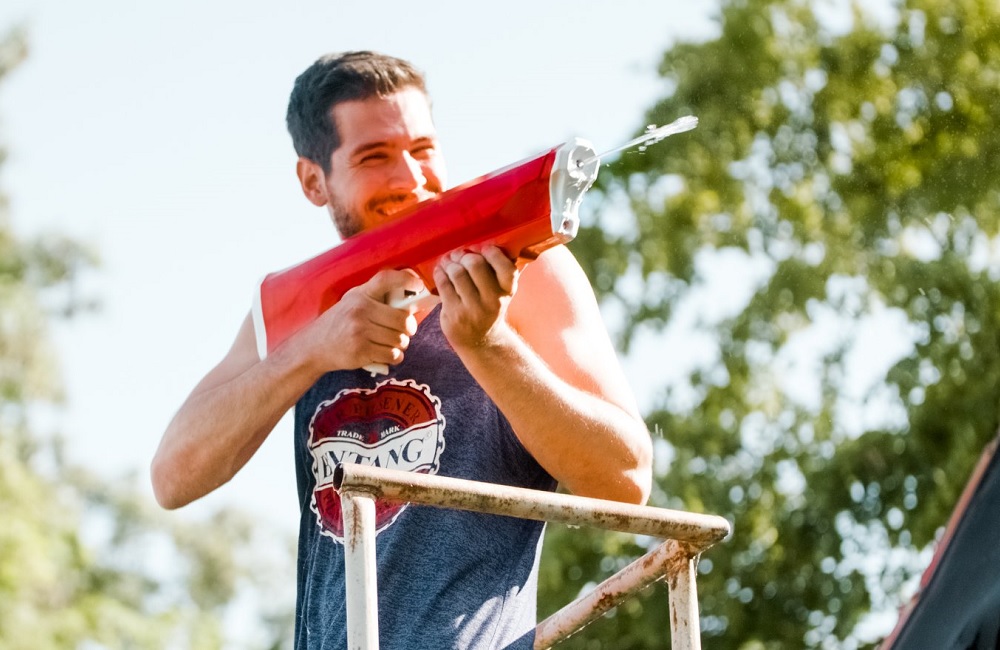 Ketika air di tangki habis, kita bisa mengisi amunisi dari sumber manapun. Sistem pompa bekerja secara otomatis. Dengan menekan tombol, ia segera mengisi tangki dalam waktu hanya 14 detik, dan selanjutnya Anda bisa kembali beraksi. Bagian ujung pompa turut dilengkapi filter untuk mencegah partikel-partikel kotoran masuk. Baterainya sendiri bisa di-charge via slot USB type-C, penuh dalam waktu enam jam.
Sayangnya buat saat ini, misi melindungi peradaban Bumi dari ancaman Skynet masih belum bisa berjalan optimal. Meski kampanye crowdfunding Spyra sukses dan mainan tersebut sudah bisa dipesan di Kickstater, Spyra One belum bisa dibeli oleh kita yang ada di Indonesia. Produk dijajakan seharga mulai dari € 115 atau kisaran US$ 133.
Are you sure to continue this transaction?
processing your transaction....