Absen 30 Tahun, Sekuel RPG Klasik The Bard's Tale Akan Meluncur Tahun Ini
Game akhirnya rampung setelah tiga tahun dikembangkan.
Yoga Wisesa - 13 July 2018
Sebelum industri game dipenuhi oleh franchise-franchise populer, The Bard's Tale pernah menjadi kiblat para developer. Ia merupakan salah satu seri permainan role-playing tertua, dikembangkan lebih lanjut oleh desainer legendaris Brian Fargo. Seri ini telah membuahkan enam game, jika Anda menyertakan spin-off The Bard's Tale (2004) dan The Mage's Tale untuk VR.
Penerus sejati dari The Bard's Tale baru terungkap di tahun 2015 silam, dikerjakan oleh studio baru Fargo, InXile Entertainment. Dalam mengembangkannya, developer memanfaatkan metode penggalangan dana serupa Wasteland 2 dan Torment: Tides of Numenera. Dan tiga tahun setelahnya, game berjudul The Bard's Tale IV: Barrows Deep itu akhirnya siap diluncurkan.
Seperti karya-karya mereka sebelumnya, InXile mencoba memadukan gameplay RPG klasik dan modern. Belakangan, pendekatan ini terbukti efektif. Kesuksesan Divinity: Original Sin II dan Legend of Grimrock memperlihatkan masih ada banyak pemain veteran yang menginginkan permainan dengan gameplay kompleks. Berbeda dari spin-off The Bard's Tale yang lebih menyerupai parodi, Barrows Deep didesain untuk jadi pewaris sejati seri ini.
Lewat The Bard's Tale IV: Barrows Deep, InXile mengombinasikan konsep dungeon crawler dalam perspektif orang pertama dan kebebasan bereksplorasi. Ketika permainan seperti Legend of Grimrock membatasi gerakan pemain via grid/tile, Barrows Deep mempersilakan Anda menjelajahi dunia dan memecahkan teka-teki secara leluasa. Namun Anda tidak melakukannya sendirian. Layaknya dungeon crawler klasik, Anda mengendalikan satu grup petualang.
Formula dungeon crawler baru benar-benar terasa saat Anda memasuki pertempuran. Saat bahaya menghadang, sesi permainan berubah menjadi turn-based, lalu posisi musuh dan grup Anda dibagi per grid. Dalam satu turn, masing-masing karakter memiliki satu kesempatan menggunakan skill atau menyerang. Di sana, penempatan posisi sangat penting. Beberapa musuh baru bisa diserang sesudah Anda mengalahkan rekannya yang berdiri di depan terlebih dulu.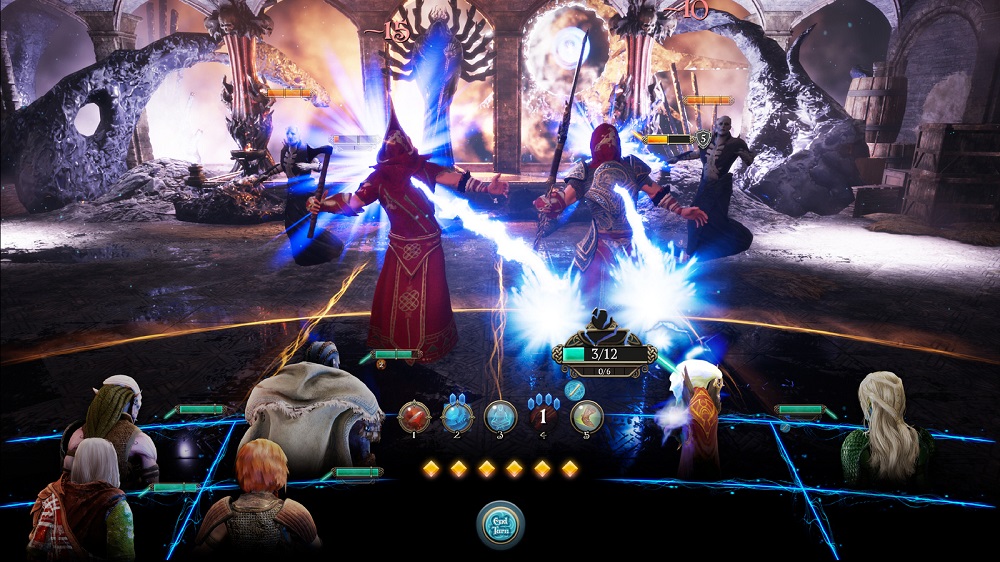 Berdasarkan versi beta yang sudah dicoba beberapa media gameglobal, aspek unggulan di Barrows Deep juga terletak pada audionya. Dengan mengusung judul 'The Bard's Tale', developer tidak mau mengecewakan. Alunan musik dapat Anda dengarkan di tiap tempat, lalu game juga ditunjang oleh dialog yang menarik dan meyakinkan. Anda sendiri dipersilakan menentukan dan mengustomisasi tokoh utamanya serta memilih suaranya.
Berdasarkan informasi di laman Steam, The Bard's Tale IV: Barrows Deep rencananya akan dirilis pada tanggal 18 September 2018 di PC, kemudian akan menyusul di Xbox One dan PlayStation 4. Saat ini pre-order baru bisa dilakukan di website resminya.
Thank you for Reading DailySocial.id
Starting at less than Rp 5.000/Day. You get unlimited access to DailySocial.id