Setelah Klompencapir, Slab Games Rilis 'Teka-Teki Silang Two Poin Oh' di Android
Bambang Winarso - 22 August 2013
Slab Games kembali menelurkan sebuah game baru bernama Teka-Teki Silang 2.0, mas Hermanto salah satu pentolan Slab Games berseloroh menyebut versi game dengan istilah 'two poin oh!' saat menghubungi TRL via email. Game ini merupakan karya aplikasi mobile kedua Slab Games setelah sebelumnya melahirkan game lucu berbumbu lokal bernama Klompencapir.
Game Teka-Teki Silang 2.0 mengusung genre brain and puzzle, menyasar pengguna Android yang gemar permainan asah otak. Meski konsepnya sama dengan teka-teki silang yang ada di majalah atau surat kabar, tetapi game buatan Slab Games ini sudah dimodifikasi sedemikian rupa sehingga tampilannya jauh lebih menarik dan modern.
Tak hanya dari segi tampilan, dijelaskan bahwa Slab Games juga menggubah gameplay dengan tambahan berupa koin yang dapat ditukarkan dengan bonus yang dapat dipergunakan selama mengarungi level demi level permainan. Kehadiran fitur koin dan bonus tidak hanya menjadikan game ini berbeda tetapi juga merubah total warna permainan TTS yang sebelumnya monoton menjadi lebih berwarna dan tidak membosankan.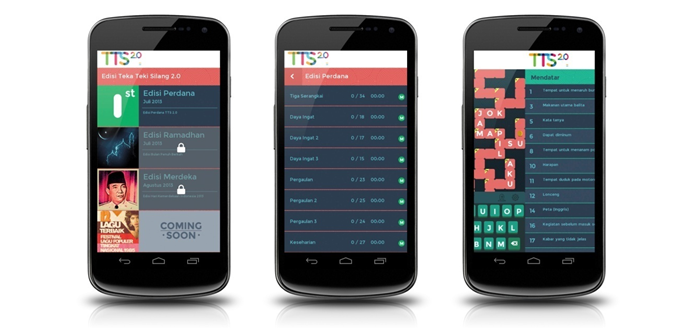 Kelebihan lain yang disebutkan ada dalam aplikasi Teka-Teki Silang 2.0 buatan Slab Games ini berupa pembaharuan pertanyaan yang dilakukan secara berkala sehingga pemain level mahir dapat terus dapat merasakan tantangan saat bermain.
Sayangnya saat menulis berita ini, saya tidak dapat mengakses perangkat Android jadi tidak bisa melakukan review. Tapi jujur saya tertarik sekali untuk mencoba. Sobat TRL yang sedang pegang perangkat Android mengapa tidak mencicipinya sekarang?
Game ini layak dicoba, bukan hanya karena ini buatan anak lokal tetapi dari pantauan TRL game ini sudah menempati posisi ke 19 di tangga game terbaik di kategori Brain and Puzzle dan sudah diunduh lebih dari 10 ribu kali hanya dalam 2 minggu sejak dirilis, hebat kan?
Bagi yang mau mencoba, silahkan unduh gameTeka-Teki Silang two poin oh! di tautan ini atau mau nyicip game Klompencapir silahkan unduh di tautan ini.
---
This Smart & Innovative channel is brought to you by Smartfren. Live Smart through internet and mobile. For more information on product and solution provided by Smartfren, visit Smartfren website:http://www.smartfren.com/ like Smartfren Facebook Page, and follow @smartfrenworld.
Are you sure to continue this transaction?
processing your transaction....