ShopKey, Aplikasi Serba Bisa Untuk Pebisnis yang Ingin Go Digital Tanpa Ribet
Banyak fitur disediakan untuk mempermudah rencana Anda Go Digital
Banyak UMKM pemula yang merasa kesulitan dalam membuat website, karena merasa tidak banyak memahami bagaimana cara membuatnya dan belum ada biaya untuk merekrut yang orang yang lebih kompeten dalam bidang tersebut. Shopkey bisa menjadi solusi Anda untuk hal tersebut.
Shopkey adalah  aplikasi yang bisa membantu para UMKM agar bisnisnya bisa terlihat profesional tanpa harus ribet menggunakan tenaga tambahan. Ada banyak fitur shopkey yang bisa membantu bisnis Anda jauh lebih berkembang. Fitur yang dimiliki oleh ShopKey akan dijelaskan secara detail sebagai berikut.
Membuat Website
Banyak yang setuju pasti ketika ada yang mengatakan bahwa membuat website terutama website usah itu sulit. Di Shopkey para UMKM tidak perlu repot jika ingin membuat website, dengan menggunakan Shopkey UMKM hanya memerlukan 30 detik untuk membuat website usaha.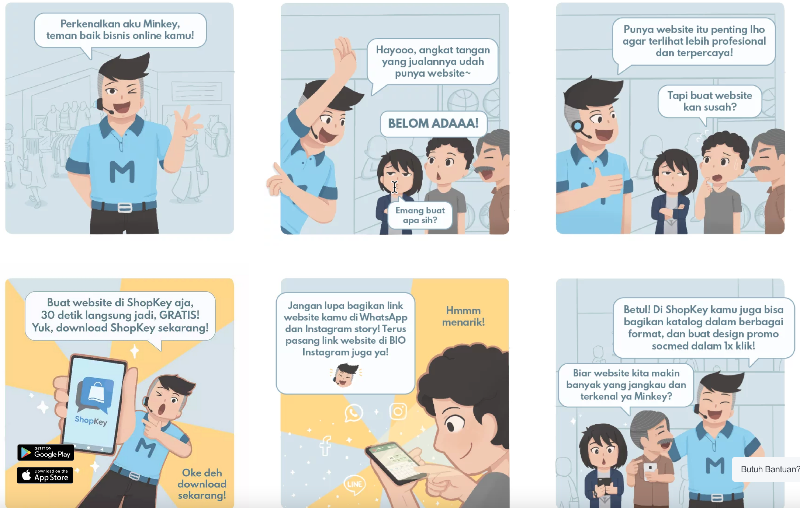 Pembuatan Katalog
Di Shopkey kamu tidak perlu bingung lagi untuk mendesain katalog produk Anda agar menarik. Shopkey menyediakan berbagai format dan design. Anda tinggal membagikannya ke media sosial agar lebih banyak menjangkau banyak orang.
Upload Produk
Di Shopkey Anda tidak perlu repot untuk mengupload produk Anda secara satu per satu. Karena Shopkey memiliki fitur upload produk sekaligus banyak hanya dalam satu klik saja.
Cek Ongkos Kirim
Di Shopkey Anda tidak perlu repot untuk menggunakan website atau aplikasi tambahan. Di Shopkey juga ada banyak pilihan jasa antar yang bisa And cek harga ongkos kirimnya.
Balas Cepat
Pelanggan Anda tidak perlu repot untuk menunggu Anda membalas pesan, melalui Shopkey pesan yang masuk bisa langsung dibalas oleh sistem.
Socmed Post
Fitur ini cocok untuk Anda yang ingin mempromosikan produk di media sosial, di Shopkey Nada hanya perlu memilih desain, memasukan foto dan info produk, Anda langsung bisa menguploadnya ke media sosial.
Mengatur Pesanan
Di Shopkey Anda bisa mengatur semua pesanan pelanggan cukup dari satu aplikasi, di Shopkey Anda hanya perlu klik hotkey untuk mengatur semua pesanan pelanggan tanpa harus buka-tutup aplikasi.
Fitur Keranjang
Jika Anda sudah membuat website di Shopkey akan Anda fitur keranjang seperti di marketplace, jadi konsumen Anda akan dimudahkan ketika membeli barang yang Anda jual di website.
Are you sure to continue this transaction?
processing your transaction....