SIAP Kembali Dihadirkan, Sajikan Rangkaian "Bootcamp" untuk Startup di Bidang Sosial
Bootcamp akan dilaksanakan pada 2 Maret - 13 April 2019, saat ini pendaftaran telah dibuka
Randi Eka - 12 February 2019
Social Innovation Acceleration Program (SIAP) akan kembali diselenggarakan tahun ini. Bersinergi dengan British Council, program akselerasi ini siap membantu bisnis sosial (social enterprise) di Indonesia melalui serangkaian aktivitas bertajuk Social Enterprise Development (SED) Bootcamp dengan tema "Developing Inclusive and Creative Economics".
SED Bootcamp adalah program edukasi intensif selama dua bulan bagi para founder social enterprise. Para founder akan mendapat kesempatan untuk mendapatkan hands-on mentoring dari para pakar, networking dengan investor, dan akses kerja sama dengan stakeholder di bidang sosial.
Bootcamp pertama tahun ini akan diselenggarakan pada tanggal 2 Maret - 13 April 2019, dengan 15 Mentor yang telah berpengalaman di industri startup. Para mentor tersebut adalah Vikra Ijaz (CPO Kitabisa.com), David Soukhasing (Managing Director ANGIN), Gibran Hufaizah (CEO eFishery), Yohanes Sugihtononugroho (CEO Crowde), dan lain-lain.
SIAP dan British Council akan menyelenggarakan bootcamp di empat kota, yaitu: Jakarta, Makassar, Yogyakarta, dan Malang. Ditargetkan 120 startup atau pengusaha sosial dapat berpartisipasi dalam acara ini.
Selain SED Bootcamp akan ada beberapa kegiatan lain, termasuk Design Sprint. Tahun lalu, program akselerasi SIAP sudah menginkubasi lebih dari 50 penguasa sosial di Jakarta, seperti SaveYourselves.id, Menjadi Manusia, ObabasBaca Pibo, dll.
"Dengan mengikuti SED Bootcamp, para founder dapat belajar berbagai kurikulum seperti Social Entrepreneurship 101 dan Change Theory, Product Development, Market Analysis, Business Model Innovation, Sustainability Scheme, Growth Planning, Impact Measurement dan Assessment, Finance, dan Investment dalam dua bulan. Setelah menyelesaikan program tersebut, terdapat program akselerasi untuk pengembangan produk dan sesi mentoring personal agar para founder bisa mendapatkan feedback mendalam mengenai social enterprise-nya dari para mentor," ujar Managing Director SIAP, Aghnia Banat.
Segera daftar Social Enterprise Development Bootcamp Batch-4 ini di: http://bit.ly/bootcampbatch4 sebelum tanggal 21 Februari 2019! Mengenai informasi lebih lanjut, bisa didapatkan di situs resmi SIAP www.socialinnovation.id.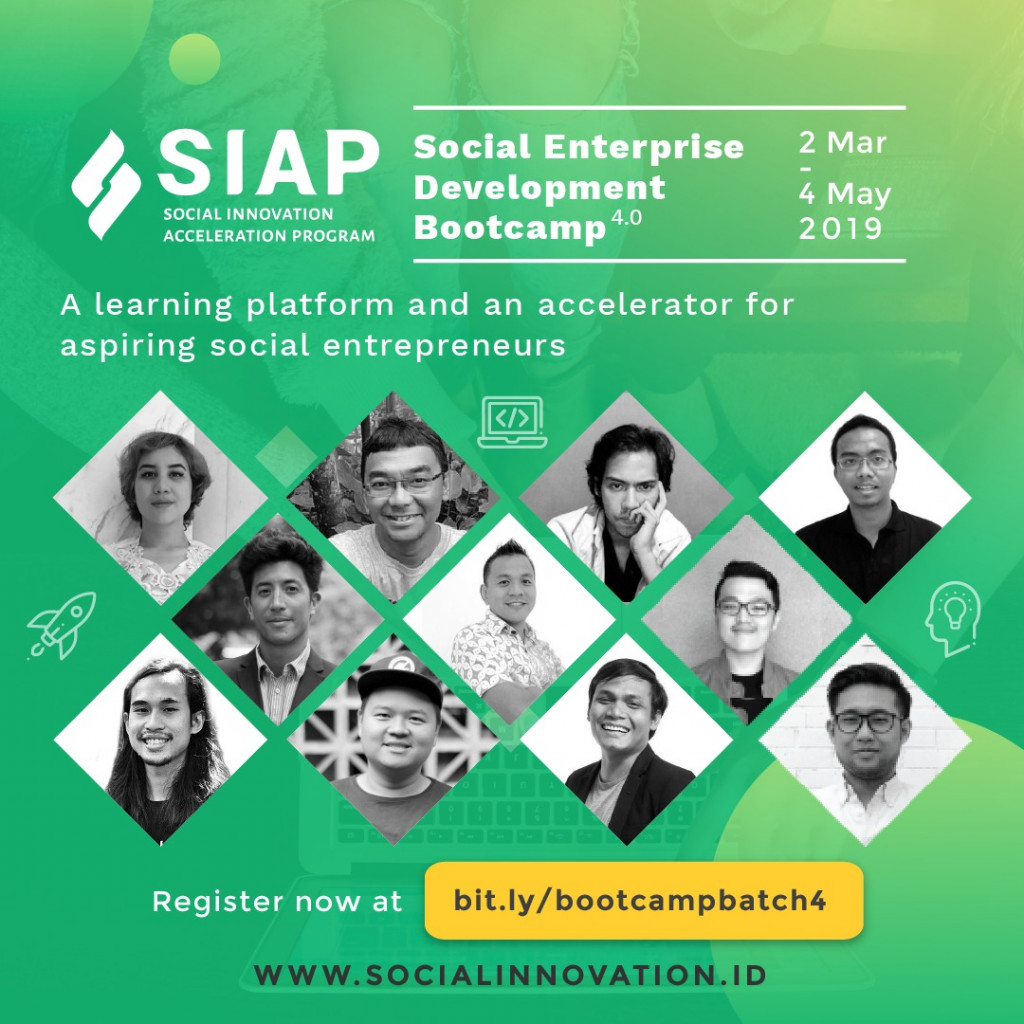 --
Disclosure: DailySocial adalah media partner Social Innovation Acceleration Program 2019
Are you sure to continue this transaction?
processing your transaction....