Simak Video Ini dan Buat Robot BB-8 Anda Sendiri
Berdasarkan instruksi dari sang desainer, Anda tidak memerlukan 3D printer, unit CNC, atau bor berukuran besar.
Yoga Wisesa - 1 February 2016
Sebelum The Force Awakens hadir di layar lebar, Mark Hamill pernah menyampaikan bahwa ia terkejut J.J. Abrams berhasil menciptakan droid yang lebih lucu dari R2-D2. Sebagai 'penerus' R2, BB-8 memang menggemaskan. Dan menemani penayangan film Star Wars episode VII, Sphero turut menawarkan miniatur robot BB-8 yang seolah-olah memiliki kesadaran diri.
Tidak sedikit penggemar berat Star Wars rela mengeluarkan uang ratusan dolar untuk mengadopsinya Sphero BB-8. Ingin memiliki BB-8 sendiri tapi tak mau mengorbankan isi kantong terlalu banyak? Ada solusi menarik dari user YouTube bernama Angelo Casimiro. Lewat channel TechBuilder miliknya, pemuda jenius berusia 17 tahun ini melepas video DIY (do-it-yourself) pembuatan robot BB-8 dari nol.
Ada beberapa faktor yang membuat upaya Angelo tersebut sangat istimewa. Ia memanfaatkan objek-objek biasa, sehingga tidak membutuhkan modal terlalu besar. Tak kalah canggih dari produk Sphero, BB-8 kreasinya dapat dikendalikan via smartphone. Dan karyanya itu mempunyai ukuran sebesar astromech droid milik Poe Dameron, bukan miniatur.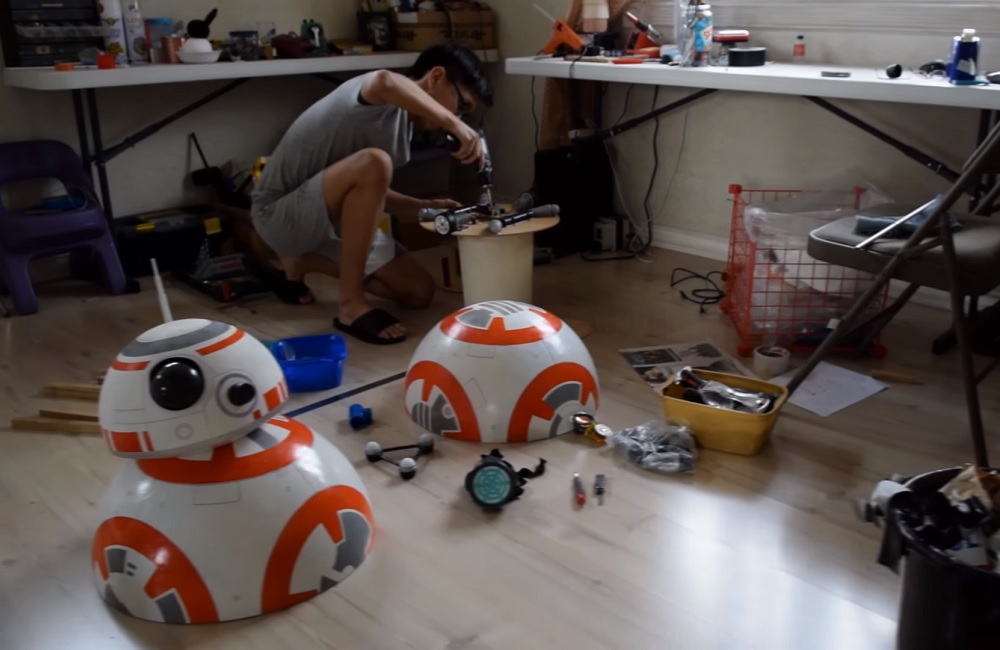 Melalui Instructables, Angelo menceritakan alasan mengapa ia memulai proyek ini. Ayahnya adalah seorang kolektor mainan sekaligus fans Star Wars. Mereka berdua memang tertarik dengan Sphero BB-8, tapi produk dijual online seharga US$ 150, dan setelah sampai di Filipina (negara asal Angelo), harganya naik hingga US$ 210. Belum lagi, toko seringkali kehabisan stok.
Karena keterbatasan material, Angelo memutuskan buat menggunakan barang sehari-hari, contohnya deodoran roll-on sebagai ball bearing, canvas untuk jadi fiberglass, styrofoam, bola pantai, bola Natal sebagai mata serta pernak-pernik lain. Ia menyampaikan, BB-8-nya tidak memerlukan 3D printer, unit CNC, atau bor berukuran besar. 'Otak' dari robot ialah board microcontroller Arduino Uno, tersambung ke roda internal di dalam tubuh.
Yang paling mengagumkan adalah, Angelo merancang BB-8 sehingga droid bisa bergerak seperti di film: bagian kepala tetap berada di atas sementara tubuhnya bergerak. Caranya? Sang kreator memanfaatkan magnet speaker untuk menghasilkan sistem gyro dengan rotasi 360 derajat. Baterai, rangkaian motor dan komputer diletakkan bersama pemberat di area bawah BB-8. Begitu selesai, Angelo mengendalikannya melalui aplikasi Arduino gratis (didesain buat mobil remote control) via Bluetooth.
Ingin mulai merakit BB-8 Anda sendiri? Silakan ikuti panduan lengkap Angelo dalam video berdurasi 20 menit ini.
Via The Verge.