Konferensi tentang Digitalisasi di Sektor Pertanian Digelar Akhir Bulan Ini
Bertajuk "The Smart & Digitalization Farming Conference Indonesia 2019", digelar pada 25 September 2019 di DoubleTree by Hilton Jakarta
Randi Eka - 17 September 2019
Sebuah acara bertajuk "The Smart & Digitalization Farming Conference Indonesia 2019" akan segera digelar pada 25 September 2019 nanti. Bertempat di DoubleTree by Hilton Jakarta, beragam sesi dihadirkan mengangkat tema mengenai konsep cerdas dan digital di sektor pertanian.
Tidak hanya soal penerapan teknologi untuk membantu produktivitas petani, diskusi juga akan diisi oleh pembahasan mengenai transformasi rantai pasokan dan inovasi terkini dalam agrobisnis. Para peserta juga akan dimanjakan penampilan produk dari para mitra di sesi pameran.
Rahmad Syakib selaku Operations Officer dari Agribusiness of International Finance Corporation/IFC (World Bank Group) akan turut hadir dalam acara ini. Bersama dengan CTO Dattabot & HARA Imron Zuhri, ia akan berdiskusi tentang transformasi agrotech di Indonesia.
Delegasi dari Big Idea Ventures, yakni Qaynat Sharma, juga akan hadir mempresentasikan studi kasus tentang peningkatan peminat makanan nabati dan daging segar secara global. Termasuk membahas tentang dampak tren tersebut pada konsumen dan peluang investasi agro.
Selain itu masih ada tema lain yang akan disampaikan, termasuk kiat membangun kemitraan untuk peningkatan bisnis pertanian digital, hingga bagaimana petani milenial menjadi unjung tombak agrikultur di Indonesia.
Agenda selengkapnya beserta tata cara pendaftaran dapat disimak melalui situs resminya: http://www.smartdigitalizationfarming.com.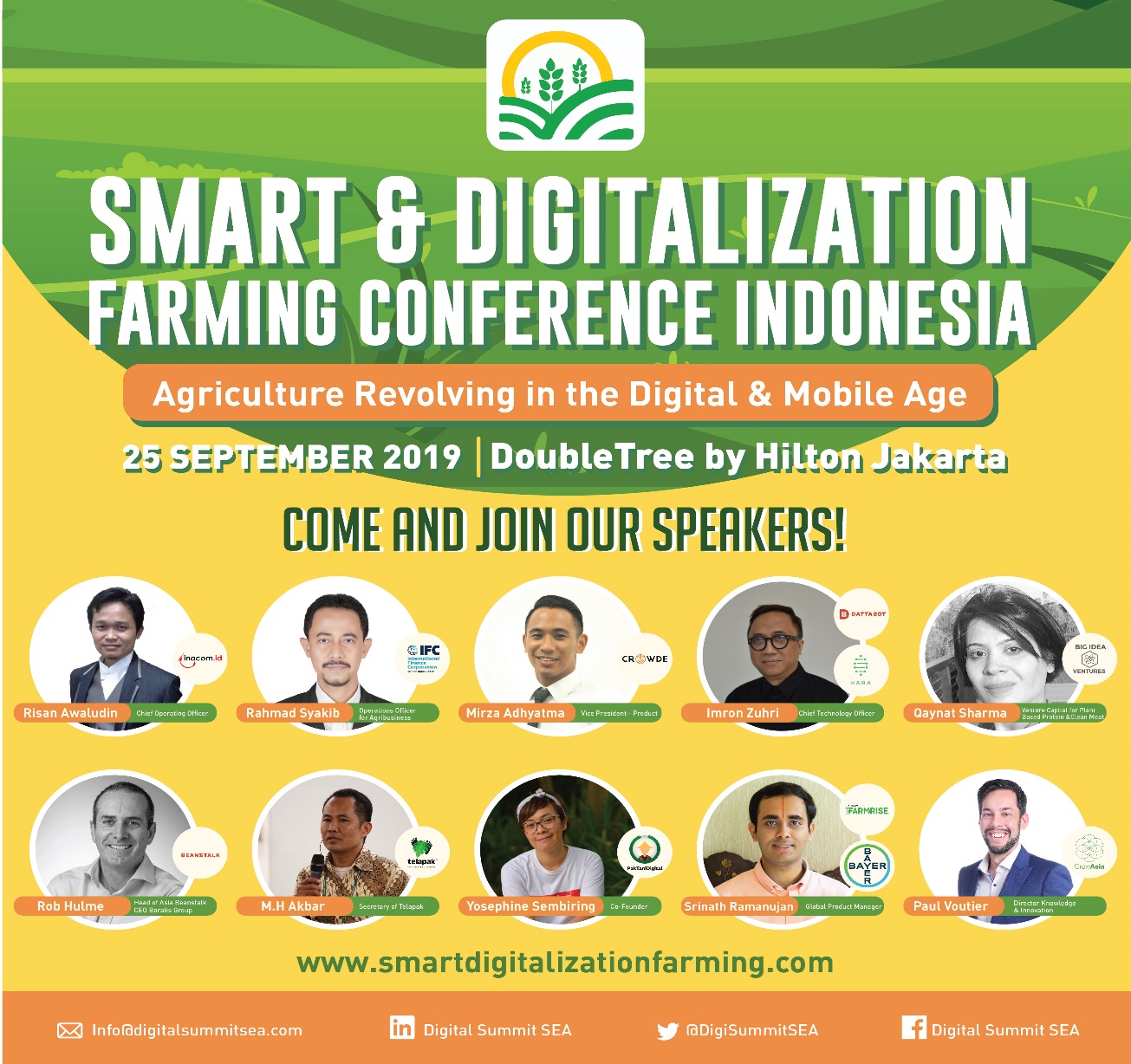 —
Disclosure: DailySocial merupakan media partner acara konferensi ini
Dailysocial.id is a news portal for startup and tecnology innovation. You can be a part of DailySocial.id`s startup community and innovation members, download our tech-related research and statistic reports, and follow the latest news about startups and gadgets.