Smartfren Hadirkan Satu Lagi MiFi 4G LTE, Andromax M2S
Bambang Winarso - 18 September 2015
Keseriusan Smartfren dalam mengadopsi teknologi 4G LTE kembali ditunjukkan dengan melepas MiFi baru bernama Andromax M2S kemarin, Kamis (17/9/015). Melengkapi dua model sebelumnya, Andromax M2P dan Andromax M2Y.
Dalam pernyatan kepada MetroTVNews yang disampaikan oleh T. Kugan K. Thirunavakarasu, pihak Smartfren berharap Andromax M2S dapat menjadi pilihan baru masyarakat dalam mengakses jaringan 4G LTE.
Sama seperti pendahulunya, Andromax M2S juga sudah mendukung jaringan super cepat 4G LTE di frekuensi 2.300 MHz dan 850 MHz.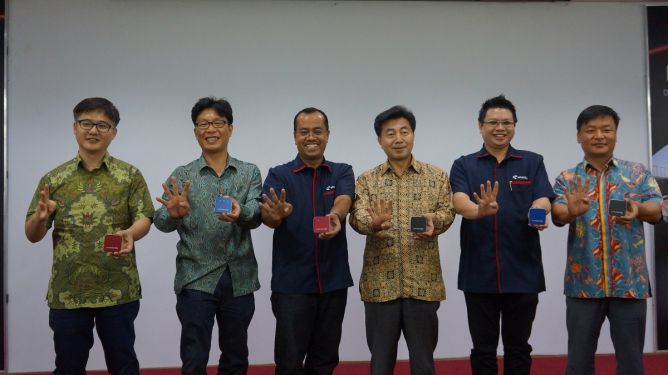 Sementara itu Head of Devices Smartfren Sukaca Purwokardjono berharap perangkat ini dapat memberikan alternatif jaringan ngebut bagi para pengguna yang tidak berkeinginan membeli ponsel dengan dukungan 4G tapi ingin merasakan manfaatnya.
Info Menarik:Smartfren Resmikan Layanan 4G LTE-Advanced Pertama di Indonesia, Apa Itu?
Mifi Andromax M2S diklaim mampu memberikan kualitas jaringan yang efisien sekaligus stabil. Hal ini dikarenakan ia menggunakan prosesor Qualcomm 9320 yang telah dikenal punya reputasi sangat baik. Smartfren juga membenamkan baterai 2.000mAh dengan kemampuan pakai hingga 10 jam dan 300 jam ketika dalam posisi stand-by.
Proses perakitannya sendiri Smartfren dibantu oleh LG Innotek yang bermarkas di Cikarang. Mendukung program pemerintah, Smartfren dan LG menggunakan komponen seperti top case, bottom case, shield can, dan subantena buatan dalam negeri. Hanya PCB, baterai dan charger yang dipasok dari luar negeri.
Menyerupai standar pembuatan smartphone, Andromax M2S melewati beberapa fase produksi yang ketat guna memastikan kualitas produk. MiFi melewati beberapa fase pengujian sebelum dijual ke konsumen, antara lain pengujian tombol dengan ditekan sebanyak 6.000 kali, pengujian charger dan juga droptest dari ketinggian satu meter. Meski tak menampik produknya akan pecah, tapi pihak LG Innotek mengklaim Andromax M2S akan tetap bekerja dengan baik.
Konsumen yang berniat memiliki Andromax M2s dapat membawa pulang perangkat dengan mahar hanya Rp 599.000. Tapi untuk 500.000 unit pertama Smartfren memberi potongan Rp 100.000 sehingga konsumen hanya cukup membayar Rp 499.000.
Sumber berita MetroTVNews dan gambar header Smartfren.
Are you sure to continue this transaction?
processing your transaction....