Bermain Game Sepuasnya dengan Smartphone Gaming Xiaomi Black Shark
Dirancang untuk Anda yang memiliki passion dan ambition dalam bermain game mobile
Lukman Azis - 17 April 2018
Cukup bermodalkan smartphone dengan spesifikasi kelas menengah, maka kita sudah bisa memainkan genre game yang sedang populer saat ini. Sebut saja multiplayer online battle arena (MOBA) seperti Arena of Valor, Mobile Legends, dan Vainglory, ataupun game battle royale seperti PUBG Mobile, Fortnite Mobile, dan Rules of Survival.
Ya, ukuran layar yang meluas ditopang resolusi tinggi, chipset bertenaga, serta RAM dan ruang penyimpanan yang lapang, membuat aktivitas gaming di smartphone makin menyenangkan. Pertanyaannya ialah apakah kita membutuhkan smartphone gaming?
Bila Anda ialah penghobi berat main game mobile, memiliki passion dan ambition ketika bermain seperti misalnya ingin menjadi e-atlet atau atlet e-sport, smartphone gaming mungkin sangat cocok buat Anda.
Selain Razer Phone, Xiaomi juga telah meluncurkan smartphone gaming perdana mereka, Xiaomi Black Shark. Perangkat ini dibuat oleh perusahaan yang dimodali oleh Xiaomi yang juga bernama Black Shark. Seberapa hebat Xiaomi Black Shark? Inilah beberapa detail yang perlu diketahui.
Desain Unik dan Sistem Pendingin Canggih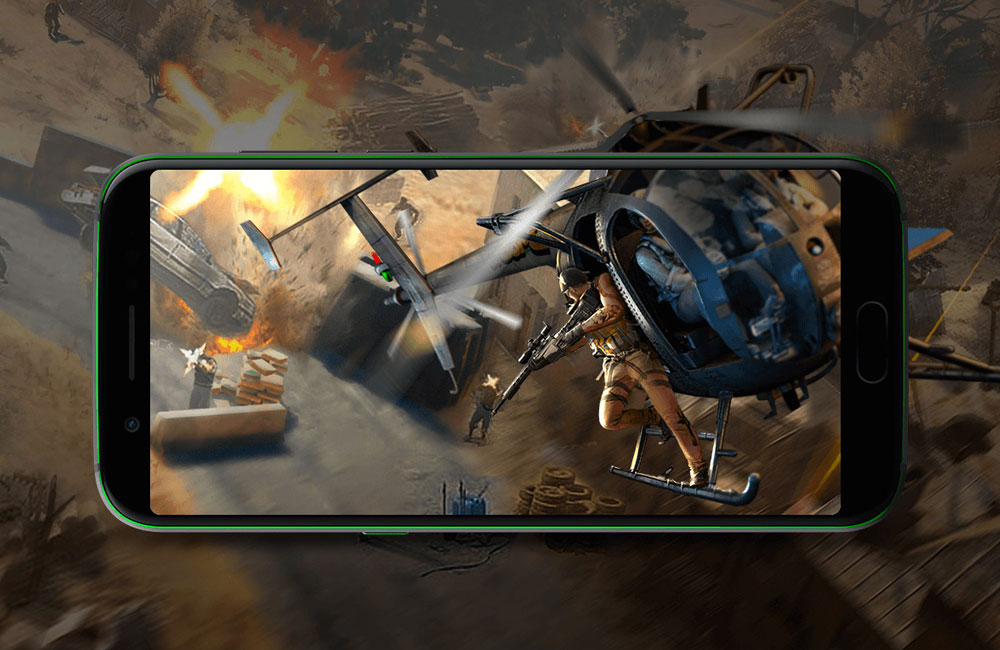 Salah satu kelemahan smartphone ketika diajak bermain game secara intens ialah suhu yang kerap cepat panas. Xiaomi memastikan Anda bisa bermain sepuasnya berkat liquid cooling system multi-stage atau berlapis yang diklaim bisa menurunkan suhu CPU hingga 8 derajat.
Bermain lama-lama juga tidak akan terlalu membuat tangan pegal, berkat desain dengan sudut-sudut yang membulat. Body-nya tersusun atas material aluminium dengan desain bagian belakang bertekstur yang sangat unik. Selain itu, di tengahnya terdapat logo 'S' dengan warna hijau neon yang mirip dengan logo Razer.
Untuk memaksimalkan kemampuan gaming-nya, Xiaomi Black Shark telah menjalankan Android 8.0 Oreo dengan sentuhan JOY UI dan telah dilengkapi kontroler Shark GamePad. Aksesori ini terhubung lewat Bluetooth 5.0 dan punya baterai 340 mAh yang mampu bertahan hingga 30 jam satu kali pengisian.
Sebenarnya Xiaomi Black Shark hanya dibekali satu buah speaker, namun earpiece-nya juga bisa sebagai speaker kedua - misalnya untuk voice chat dalam game. Terdapat juga tombol khusus "Shark" di sisi kiri yang memungkinkan Anda mencurahkan semua sumber daya hardware pada game yang Anda mainkan.
Gaharnya Spesifikasi Xiaomi Black Shark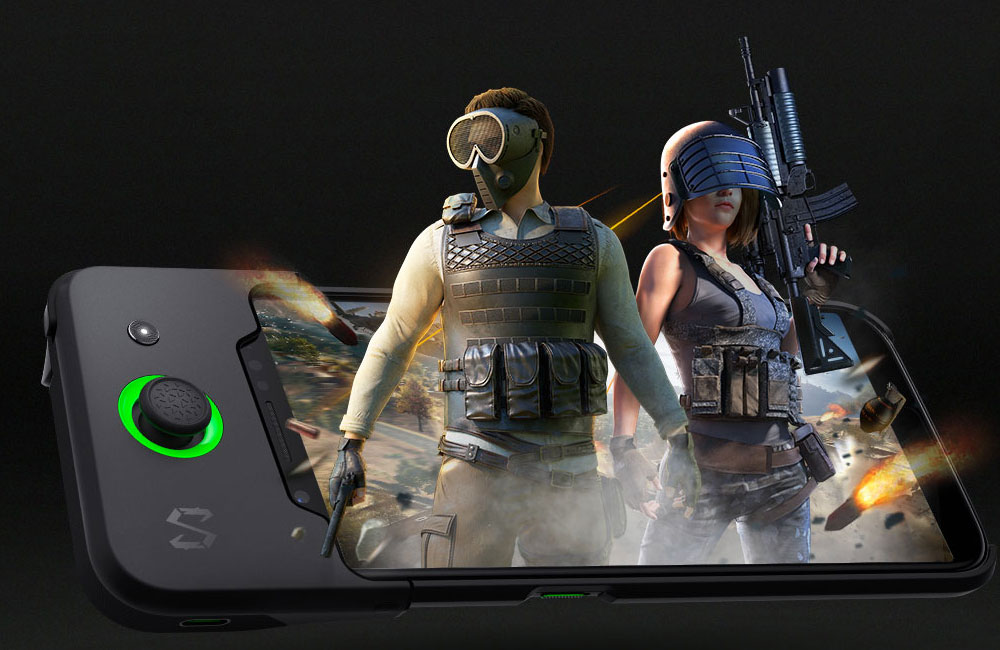 Saya sempat bertanya-tanya, apa bedanya bermain game di perangkat kelas menengah dan atas, jawabannya ialah 'experience'. Lebih puas, kita bisa mengatur kualitas grafis paling tinggi dan tentu saja 'bebas lag'.
Hal ini berkat chipset high-end Qualcomm terbaru, Snapdragon 845. Didongkrak RAM 6GB dengan ruang penyimpanan 64GB atau varian RAM 8GB dengan memori internal 128GB tanpa slot microSD. Kapasitasnya baterai yang dibenamkan 4.000 mAh dengan pengisian cepat Quick Charge 3.0.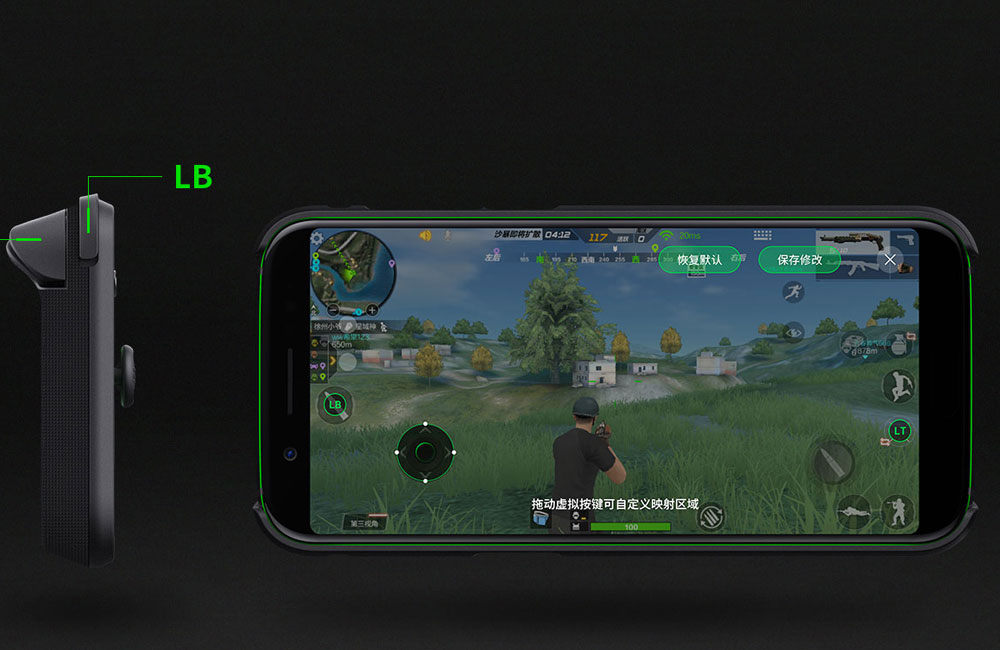 Lebih detail, Xiaomi Black Shark mengusung bentang layar seluas 6 inci resolusi Full HD+ 2160x1080 piksel dengan tingkat kerapatan layar 403 ppi dan teknologi MEMC. Rasio layar yang dikenakan sudah 18:9 sehingga menampilkan konten lebih banyak dibanding rasio 16:9.
Meski smartphone gaming, kemampuan fotografi tidak diabaikan. Xiaomi Black Shark dilengkapi teknologi kamera ganda 12-megapiksel dan 20-megapiksel. Sementara, kamera depannya ialah 20-megapiksel.
Harga Xiaomi Black Shark
Dibanding Razer Phone, harga Xiaomi Black Shark jauh lebih terjangkau. Di Tiongkok, varian RAM 6GB dibanderol dengan harga CNY2.999 atau sekitar Rp6,5 juta. Sementara varian RAM 8GB dijual CNY3.499 atau Rp7,6 jutaan.
Tersedia mulai tanggal 20 April dalam pilihan warna polar night black dan sky grey. Sedangkan Shark GamePad dijual secara terpisah seharga CNY179 atau sekitar Rp390.000.
Sumber: PhoneArena
Are you sure to continue this transaction?
processing your transaction....