Luncurkan Snap Minis, Snapchat Makin Mirip dengan WeChat
Deretan aplikasi pihak ketiga kini dapat diakses langsung dari tampilan chat aplikasi Snapchat
Glenn Kaonang - 15 June 2020
Kehadiran platform Snap Games tahun lalu mengindikasikan ketertarikan Snapchat untuk berevolusi menjadi semacam superapp ala WeChat. Jadi tanpa perlu meninggalkan aplikasi Snapchat, pengguna dapat mengakses beragam aplikasi lain, dalam kasus ini aplikasi gaming.
Maka dari itu, tidak mengejutkan mendengar kabar mengenai Snap Minis sebagai salah satu dari seabrek fitur baru yang diperkenalkan dalam ajang Snap Partner Summit 2020. Snap Minis pada dasarnya merupakan Snap Games tapi untuk aplikasi-aplikasi non-gaming, dan premisnya tidak berubah: pengguna dapat mengakses deretan aplikasi pihak ketiga langsung dari tampilan percakapan di Snapchat.
Snap Minis bisa diakses dengan mengklik icon bergambar roket tepat di atas tampilan keyboard. Tempatnya jadi satu dengan Games; pengguna dapat menyortir kategorinya dengan mengklik masing-masing tab di bagian paling bawah. Semuanya bisa langsung dibuka tanpa harus mengunduh apa-apa terlebih dulu.
Sejauh ini sudah ada tujuh Minis yang terintegrasi, dan sesuai namanya, masing-masing ibarat versi mini dari aplikasi yang bersangkutan. Salah satu contohnya adalah Headspace, yang menawarkan akses cepat ke sesi meditasi singkat pada versi mininya, atau Saturn, yang versi mininya membantu para pengguna untuk saling membandingkan jadwal sekolahnya.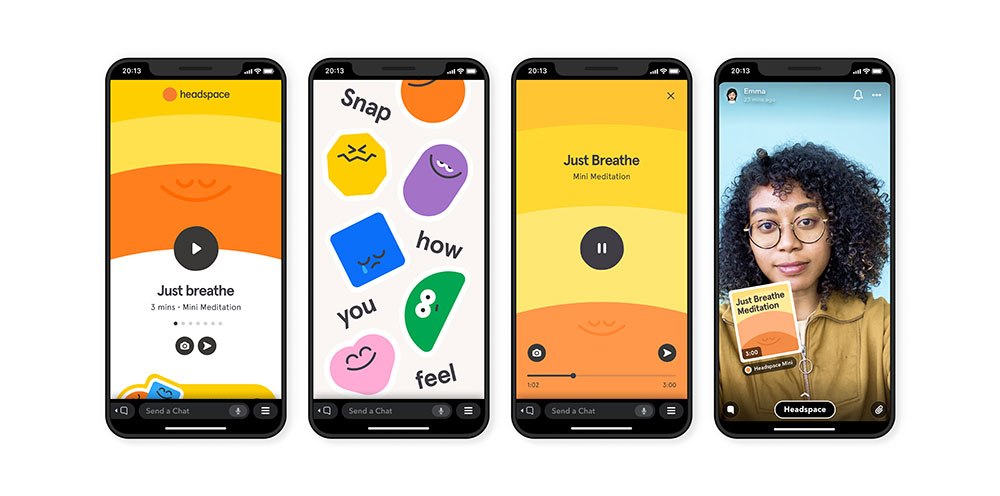 Snap pun tidak lupa menyelipkan Minis bikinan mereka sendiri, yakni Let's Do It yang berfungsi untuk membantu pengguna membuat keputusan secara berkelompok. Integrasi banyak aplikasi tentu membuka peluang bagi Snapchat untuk merambah banyak segmen sekaligus seperti yang sudah dibuktikan oleh WeChat maupun sejumlah superapp lain.
E-commerce merupakan satu segmen yang hendak dituju oleh Snap dengan adanya Minis, seperti disampaikan oleh CEO-nya, Evan Spiegel, kepada The Verge. Ke depannya, tidak menutup kemungkinan ada Minis yang mempersilakan para pengguna untuk berbelanja online bersama teman-temannya selagi asyik ngobrol di group chat.
Seperti halnya Snap Games, Snap Minis memanfaatkan teknologi HTML5, dan Snap menjanjikan langkah-langkah integrasi yang terbilang mudah. Developer yang tertarik membuat Minis tidak akan ditarik biaya, dan Snap juga tidak akan mengambil persentase keuntungan seandainya ada transaksi yang berlangsung di dalam sejumlah Minis.
Sulit mengabaikan pengaruh besar WeChat terhadap proses evolusi Snapchat menjadi sebuah superapp, tapi kita juga tidak boleh lupa bahwa Tencent (perusahaan induk WeChat) adalah salah satu investor besar Snap. Kepada Financial Times, Evan Spiegel mengaku bahwa relasi mereka dengan Tencent-lah yang pada akhirnya membuat mereka jadi condong ke konsep superapp.
Sumber: TechCrunch dan Snap.
Are you sure to continue this transaction?
processing your transaction....