Softbank Akan Kembali Suntik Dana Segar untuk Grab dan Tokopedia
Komitmen investasi Softbank untuk Indonesia mencapai $5 miliar untuk tiga tahun mendatang
Marsya Nabila - 29 July 2019
Softbank Group mengungkapkan segera menambah investasi sebesar $2 miliar (lebih dari Rp28 triliun) untuk Grab. Rencananya dana tersebut akan dipakai untuk pengembangan jaringan transportasi perkotaan generasi selanjutnya, serta transformasi layanan penting seperti industri kesehatan.
Konglomerat asal Jepang ini juga siap tambah investasi untuk portofolionya yang lain di Indonesia, yakni Tokopedia.
Pengumuman ini disampaikan Chairman dan CEO Softbank Masayoshi Son setelah menemui Presiden Joko Widodo tadi pagi (29/7) di Istana Merdeka, Jakarta. Ditemani CEO Grab Anthony Tan, President of Grab Indonesia Ridzki Kramadibrata, dan CEO Tokopedia William Tanuwidjaya. Menteri Koordinator Bidang Kemaritiman Luhut Binsar Pandjaitan dan Kepala Badan Koordinasi Penanaman Modal Thomas Lembong juga turut hadir dalam pertemuan tersebut.
"Kami akan berinvestasi $2 miliar melalui Grab. Tokopedia juga sangat, sangat penting untuk itu kami akan tambah investasi ke sana agar tumbuh lebih pesat," terang Son seperti dikutip dari Bloomberg, Senin (29/7).
Secara terpisah, dalam keterangan resmi, Son mendetailkan suntikan untuk Grab ini bakal digunakan untuk mendorong digitalisasi di beberapa layanan penting dan proyek infrastruktur. Grab dan Softbank akan menciptakan jaringan transportasi generasi berikutnya untuk Indonesia dengan ekosistem kendaraan elektrik yang ramah lingkungan.
Kedua perusahaan juga akan mengembangkan solusi geo-mapping bagi Indonesia untuk mendorong pengembangan dalam negeri, serta adopsi teknologi masa depan.
Tak hanya itu, sebagai komitmen jangka panjang, Grab akan mendirikan headquarter kedua di Indonesia. Nantinya kantor pusat ini akan menjadi rumah bagi R&D Center dan kantor pusat untuk bisnis GrabFood.
Dengan demikian, memungkinkan Grab melayani kebutuhan konsumen di Indonesia yang unik serta fokus menciptakan solusi yang mendukung pemberdayaan wirausahawan kecil dan agen Grab-Kudo.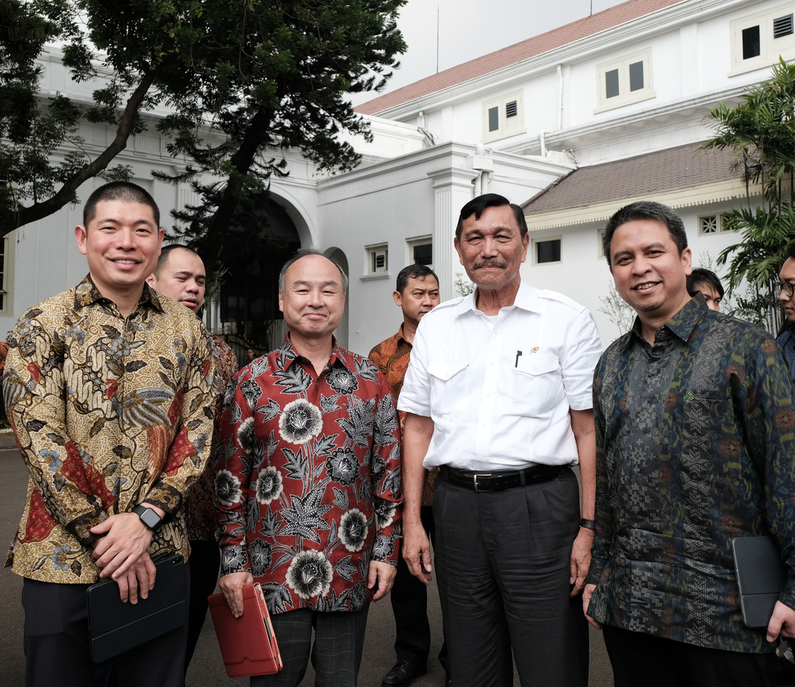 Kantor pusat ini akan memberikan kesempatan berkarier bagi ribuan sumber daya manusia Indonesia dan meningkatkan keahlian talenta di bidang teknologi melalui kemitraan dengan universitas terkemuka di Indonesia.
CEO Grab Anthony Tan menerangkan, pihaknya memiliki komitmen jangka panjang dalam pembangunan negeri secara berkelanjutan. Dia percaya melalui investasi untuk digitalisasi layanan penting dan proyek infrastruktur, dapat mewujudkan ambisi Indonesia sebagai ekonomi digital terbesar di Asia Tenggara.
Sementara itu, Luhut Binsar Pandjaitan menambahkan pengembangan kendaraan elektrik akan menjadi proyek percobaan di Jakarta. Dia menargetkan persiapan pengembangan ini akan selesai dalam waktu tiga tahun, sejalan dengan investasi Softbank.
Luhut juga mengungkapkan komitmen investasi Softbank untuk Indonesia pada tiga tahun mendatang bisa mencapai sebesar $5 miliar (lebih dari Rp70 triliun), termasuk suntikan modal baru untuk Grab sebesar $2 miliar.
Investasi ini, menurutnya, bakal disalurkan Softbank untuk perusahaan startup kecil seperti Aruna yang juga bergerak di sektor maritim. "Kami sedang dalam diskusi, mungkin pelaku usaha kecil juga, tidak hanya Grab dan Tokopedia," terang Luhut dikutip dari Katadata.
Application Information Will Show Up Here
Application Information Will Show Up Here
Are you sure to continue this transaction?
processing your transaction....