Sony dan Nike Umumkan Sepatu Basket Resmi PlayStation
Sebelumnya, Sony sempat memperkenalkan figure ala Amiibo yang diadopsi dari game-game eksklusif PlayStation.
Yoga Wisesa - 23 January 2018
Masuknya kita ke era digital ternyata tidak mengurangi permintaan konsumen terhadap mainan. Hal ini mendorong sejumlah perusahaan gaming untuk mencoba menggabungkan elemen mainan fisik ke video game. Inkarnasi yang mungkin masih hangat di ingatan kita adalah Disney Infinity dan figurine Amiibo buat sejumlah console Nintendo.
Langkah serupa tampaknya juga diikuti oleh Sony Interactive Entertainment. Belum lama, Sony memperkenalkan figure ala Amiibo yang diaopsi dari game-game eksklusif PlayStation seperti LittleBigPlanet, WipEout, Crash Bandicoot, Tekken 7, Bloodborne, God of War, dan Parappa The Rapper buatan Totaku Collection. Namun mainan-mainan ini sebetulnya tidak bisa memengaruhi gameplay karena memang tidak didukung NFC.
Kali ini Sony mencoba menciptakan satu item collectible yang 'sedikit lebih terkoneksi' ke console current-gen mereka, tetapi tak lagi menggunakan pendekatan mainan. Mereka menggandeng perusahaan produk olahraga terbesar di dunia Nike dan atlet NBA All-Star Paul George untuk menciptakan sepatu resmi console PlaStation. Sepatu unik ini dinamai PG2 'PlayStation' Colorway.
PG2 'PlayStation' Colorway mengusung desain ala sepatu signature pebasket Paul George yang didesain oleh Tony Hardman. Dan kebetulan, George juga merupakan seorang penggemar berat console Sony, jatuh cinta sejak ayahnya memberikan PlayStation 2 sebagai kado Natal. Rancangan PG2 kabarnya lebih tradisional dibanding PG1, dengan penambahan area sayap di sisi luar agar lebih stabil serta pemanfaatan bantalan udara Nike Zoom.
Tentu saja ada banyak sentuhan istimewa bertema PlayStation di sana. PG2 'PlayStation' Colorway mempunyai tubuh berwarna gelap plus bumbu biru khas PlayStation, lalu area kulit memiliki pola lingkaran-kotak-segita-X yang digunakan di tombol DualShock. Sony membubuhkan tema Galaxy di bagian midsole, juga menggunakan warna PlayStation klasik pada lubang tali/eyelet - yaitu hijau, ungu, merah dan biru.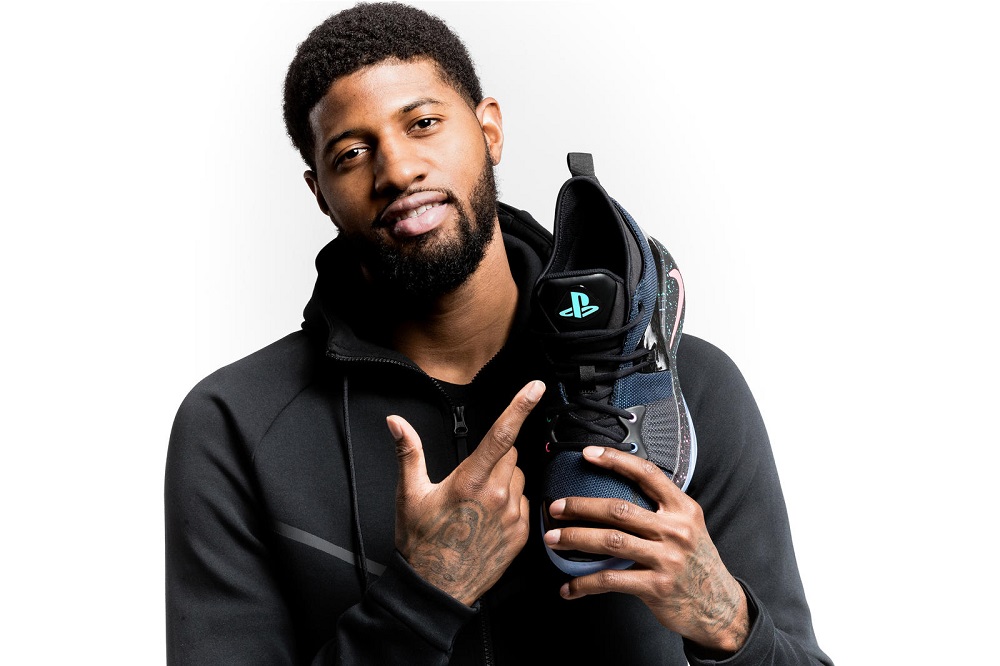 Tentu saja elemen paling menonjol di sana ialah kehadiran sistem pencahayaan LED pada dua logo di bagian tongue. Sepatu kanan mengusung logo PG, sedangkan kiri meng-highlight logo PlayStation. Lampu tersebut bisa dinyalakan dengan menekan tombol di sisi belakang tongue. Lampu LED tersebut ditenagai oleh baterai lithium ion internal, menyajikan tiga mode pencahayaan.
Baik Sony maupun Nike belum memberi tahu berapa harga dari PG2 'PlayStation' Colorway. Rencananya, produk akan mulai dipasarkan secara global pada tanggal 10 Februari nanti.
Seperti action figure Totaku, PG2 'PlayStation' Colorway juga tidak dibekali NFC. Namun Anda bisa menemukan kode voucher PlayStation Network di bagian belakangnya. Belum diketahui apa yang akan dibuka olehnya. Apakah kode tersebut bisa membuka karakter/kostum khusus di NBA Live 18 atau NBA 2K18?
Sumber: Nike.
Are you sure to continue this transaction?
processing your transaction....