Spotify Uji Fitur untuk Menambahkan Lagu yang Tersimpan di Perangkat Android
Cocok bagi yang memiliki koleksi lagu yang memang tidak ada dalam katalog Spotify
Glenn Kaonang - 3 December 2018
Selengkap apapun katalog musik Spotify, tentu masih ada banyak lagu-lagu yang terlewatkan. Untuk menikmati lagu-lagu tersebut, otomatis Anda harus beralih ke tempat lain. Semisal Anda memang pernah membeli versi digitalnya, ya Anda harus menggunakan pemutar musik bawaan ponsel untuk mendengarkannya.
Alangkah baiknya seumpama lagu tersebut bisa dimasukkan ke dalam playlist Spotify bikinan sendiri, sehingga kita tidak perlu berganti-ganti aplikasi demi mendengarkan lagu tertentu. Kabar baiknya, Spotify tengah menguji fitur yang memungkinkan kita untuk meng-import koleksi lagu yang tersimpan di perangkat.
Kabar ini didapat dari temuan seorang developer muda, Jane Manchun Wong, yang belum lama ini juga sempat mengungkap fitur baru yang tengah diuji Facebook. Dari screenshot yang dibagikannya ke Twitter, fitur import ini bisa diakses dari menu pengaturan aplikasi Spotify.
Jane juga secara eksplisit menyebut "Android", menandakan bahwa fitur ini sepertinya tidak akan tersedia di iOS, apalagi mengingat iOS dari dulu memang lebih tertutup terkait integrasi-integrasi semacam ini.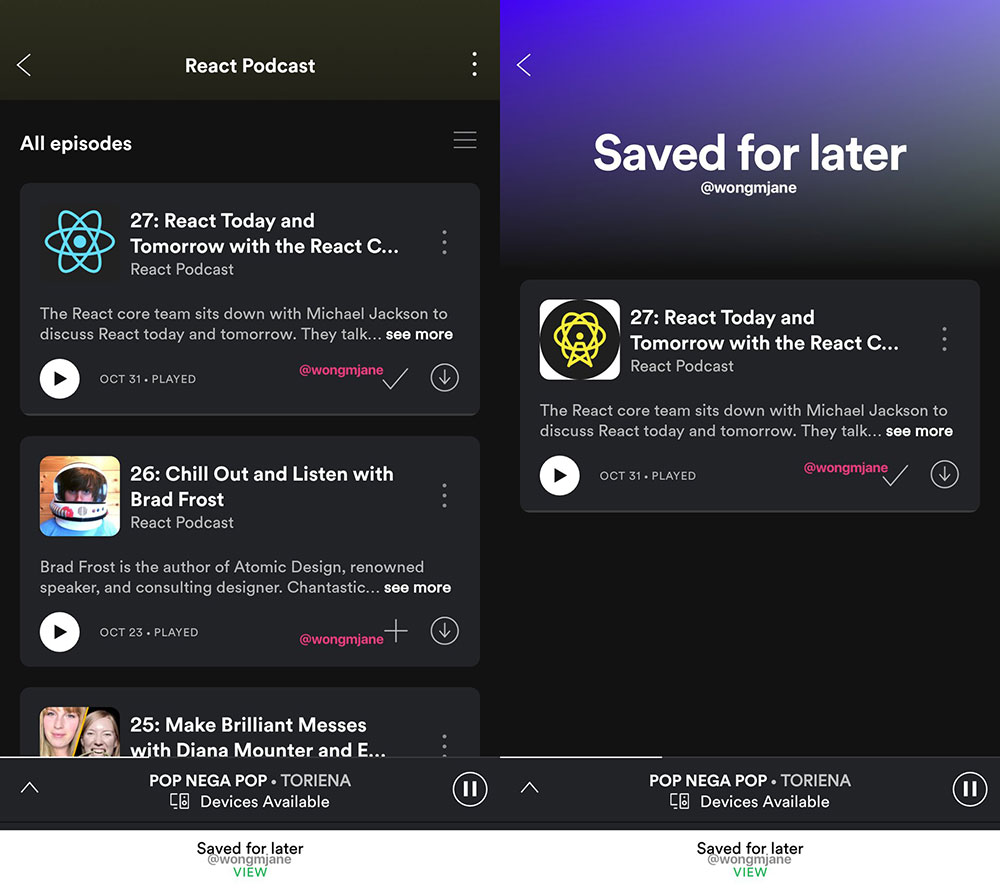 Temuan lain Jane juga menunjukkan Spotify sedang menguji fitur penyimpanan untuk podcast, sehingga pengguna bisa dengan mudah mendengarkan episode yang sempat terlewatkannya. Belum lama ini Spotify sempat meluncurkan program khusus untuk kreator podcast, jadi wajar apabila mereka terus membenahi aplikasinya agar lebih bisa memenuhi kebutuhan konsumen podcast.
Selebihnya, masih ada sejumlah fitur lain yang tengah diuji, tapi mayoritas adalah penyempurnaan tampilan. Berhubung tidak ada konfirmasi sama sekali dari Spotify, belum ada yang tahu kapan fitur-fitur baru ini bakal dirilis ke publik.
Sumber: Android and Me.
Are you sure to continue this transaction?
processing your transaction....