Spotify Siap Racikkan Playlist untuk Menemani Perjalanan Masing-Masing Konsumennya
Sayang sekali sepertinya baru tersedia untuk konsumen Spotify di Amerika Serikat
Glenn Kaonang - 18 November 2019
Personalized playlist hasil racikan algoritma merupakan salah satu kekuatan utama Spotify dibandingkan layanan streaming musik lain. Spotify sadar betul akan hal ini, dan mereka tidak menunjukkan tanda-tanda untuk berhenti. Yang terbaru, mereka meluncurkan playlist berjudul "Soundtrack your Ride" untuk menemani perjalanan konsumennya.
Playlist ini akan diracik berdasarkan sejumlah faktor di samping riwayat lagu-lagu yang pernah kita dengarkan di Spotify. Pertama-tama, konsumen diminta untuk mencantumkan titik berangkat dan titik tujuan di atas interface Google Maps guna mengalkulasikan durasi perjalanan.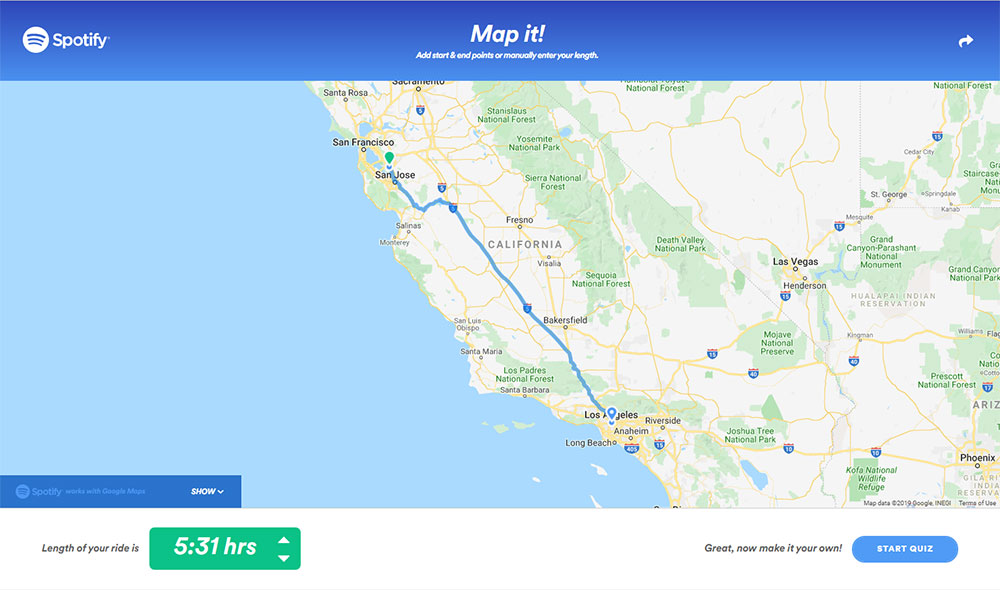 Setelahnya, konsumen dipersilakan menjawab lima pertanyaan: dengan siapa mereka berkendara, jenis mobil yang digunakan, seperti apa "drive vibe"-nya, dan dua pertanyaan terakhir seputar musik (genre musik favorit saat berkendara, dan lagu pilihan dari enam opsi yang disediakan).
Dari situ Spotify akan meracikkan playlist dengan durasi yang sesuai seperti lama perjalanan konsumen. Variasi lagunya tentu didasari jawaban dari pertanyaan-pertanyaan di atas, meski saya cukup yakin Spotify telah membatasi katalognya sesuai dengan tema road trip untuk konteks ini.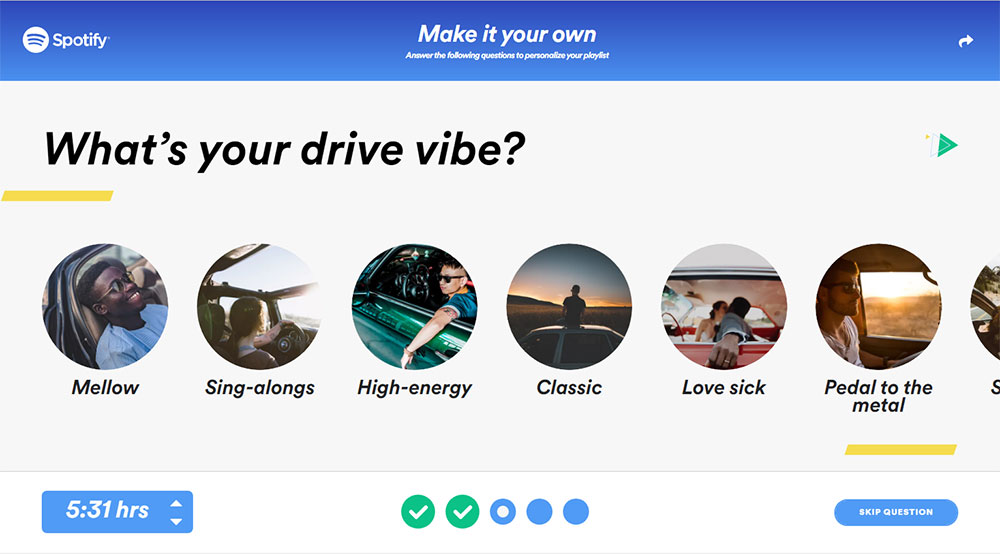 Meski terdengar menarik, Soundtrack your Ride punya dua kelemahan. Yang pertama, fitur ini sepertinya baru tersedia di Amerika Serikat saja, sebab saat saya mencoba mencantumkan lokasi di tanah air, tidak ada satu pun rekomendasi lokasi yang muncul.
Yang kedua, Soundtrack your Ride harus dibuat via browser, baik melalui perangkat desktop ataupun mobile. Sejauh ini belum ada opsi untuk membuatnya melalui aplikasi Spotify. Semoga saja saat fiturnya sudah merambah negara kita nanti, proses pembuatannya bisa langsung menggunakan aplikasi Spotify.
Sumber: The Verge.
Are you sure to continue this transaction?
processing your transaction....