StartupIndonesia.co Bermitra dengan Draper University, Hubungkan Startup Lokal dengan Program Inkubator di Silicon Valley
Adakan webinar untuk kenalkan program dan bahas topik "new normal" pada tanggal 20 Juni 2020
Randi Eka - 16 June 2020
Sejak diluncurkan pada akhir tahun lalu, StartupIndonesia.co platform hub online untuk pengusaha rintisan lokal terus menambah kapabilitas dan memperluas jaringan. Teranyar, mereka baru umumkan kolaborasinya dengan program pra-akelerasi dari Silicon Valley, Draper University.
Melalui kolaborasi ini, StartupIndonesia.co menjadi official partner bagi Draper University untuk menjaring startup dari Indonesia. Memungkinkan para startup di StartupIndonesia.co mendapatkan akses untuk bergabung dengan program tersebut, termasuk terkoneksi dengan para investor dari Silicon Valley. Program kerja sama ini resmi dibuka mulai 11 Juni 2020.
"Dengan kerja sama ini, kami berharap bisa memberikan kesempatan yang sama bagi semua startup yang ada di Indonesia, bahkan yang di luar Jakarta untuk terhubung dengan Silicon Valley. Harapannya, partnership dengan Draper University bisa mengangkat visibility startup dari Indonesia," ungkap Head of StartupIndonesia.co Erwin Arifin.
Sementara itu Chairman StartupIndonesia.co Shinta Dhanuwardoyo juga menambahkan, "Kami mengajak para startup dan founder dari seluruh Indonesia untuk berpartisipasi dalam kerja sama ini, karena merupakan kesempatan yang bagus untuk bisa terhubung dan belajar dari salah satu hub inovasi dunia di Silicon Valley."
StartupIndonesia.co diluncurkan untuk membantu founder mendapatkan informasi dan akses ke jaringan mitra strategis, seperti mentor atau investor. Platform online ini diinisiasi oleh KADIN dan didukung oleh Kementerian Riset & Teknologi, Kementerian Telekomunikasi & Informatika, Asosiasi Modal Ventura Indonesia, dan BUBU.com.
Didirikan pada tahun 2012 oleh Tim Draper, Draper University telah memiliki lebih dari 1000 alumni dari 89 negara yang tergabung dengan Techstars, 500 Startups, dan YCombinator. Selain itu, startup lulusan Draper University juga telah mendapatkan venture funding lebih dari US$240 juta dan masuk ke dalam Forbes 30 Under 30.
Sebagai pengenalan, StartupIndonesia.co akan mengadakan webinar pada tanggal 20 Juni 2020 mendatang. Beberapa pemateri dari Draper University dan StartupIndonesia.co akan berbagi ide inovatif dan solusi untuk para startup sebagai persiapan new normal dalam Webinar bertajuk "Live from Silicon Valley: Innovation for the New Normal".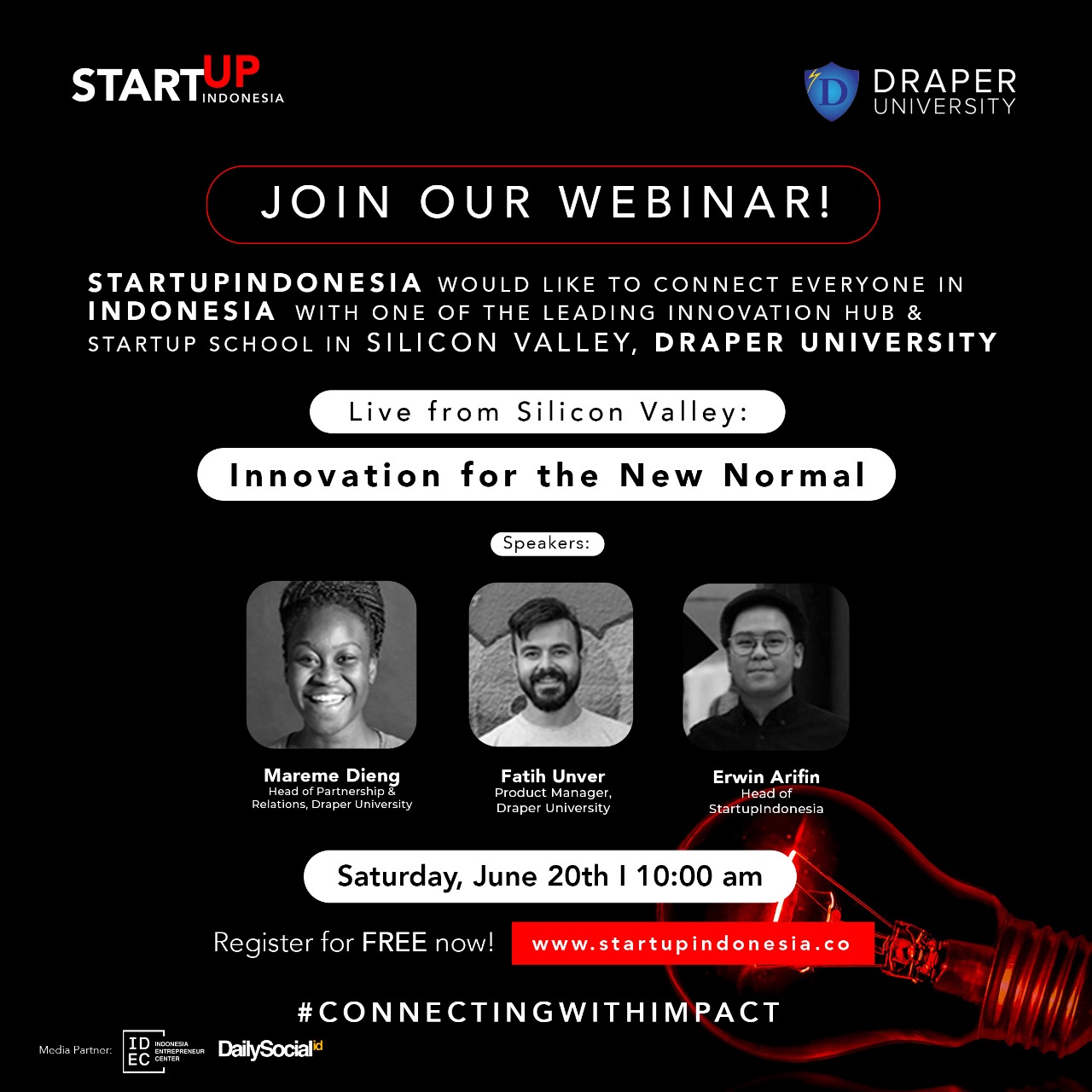 --
Disclosure: DailySocial merupakan strategic partner StartupIndonesia.co
Are you sure to continue this transaction?
processing your transaction....