Strati Ialah Mobil 3D Printed Pertama di Dunia, Bisa Dibuat Hanya Dalam 44 Jam
Yoga Wisesa - 15 September 2014
Walaupun khalayak industri telah menggunakannya bertahun-tahun lalu, metode 3D printing dengan harga terjangkau memang baru tersedia belum lama ini. Munculnya berbagai produk-produk 3D printer murah membuka jalan bagi pengguna biasa untuk berkreasi, belajar dan memulai bisnis kecil-kecilan.
Sebelumnya, 3D printing sudah diaplikasikan ke hal-hal tidak umum: Angkatan Udara Inggris menggunakannya untuk memproduksi komponen pesawat jet dan perusahaan kontraktor Amerika mengusungnya untuk membangun rumah. Tim Local Motors asal Arizona mendapatkan ide yang tak kalah radikal, dengan metode tersebut mereka menciptakan Strati, mobil 3D printed pertama di dunia.
Strati dirancang sebagai mobil elektrik dua penumpang, mampu berjelajah antara 100 hingga 120 mil (160-193 kilometer), dan dapat membawa Anda melesat hingga 40 mil per jam atau setara dengan 64 kilometer per jam. Mobil ini 'dicetak' menjadi satu bongkahan utuh melalui teknik bernama direct digitalmanufacturing via BAAM (big area additive manufacturing), dimana mesin menterjemahkan desain digital langsung menjadi objek fisik.
Info menarik: CreoPop, Pena 3D Printing Untuk Menggambar, Mewarnai dan Berkreasi di Mana Saja
Strati ialah mobil pertama yang diusung dengan metode tersebut, dan kebetulan, ia juga bertenaga listrik. Untuk komponen-komponen lain seperti baterai, kabel, kaca, motor dan suspensi; para penciptanya memanfaatkan beberapa sumber berbeda seperti satu contohnya mobil Renault Twizy. Biasanya proses 3D printing dilakukan untuk mencetak komponen satu per satu, dan baru kemudian dirakit. Namun melalui pendekatan ini, Strati bisa dicetak hanya dalam 44 jam.
Berbicara pada Scientific American, CEO Local Motors John Rogers menyampaikan bahwa mobil 3D printed seperti Strati bisa digunakan untuk keperluan sipil maupun militer. Tapi yang terpenting, ia dapat mengubah cara kita menciptakan kendaraan, membuatnya lebih cepat. "Dengan begitu inovasi juga bisa hadir lebih cepat," tuturnya.
Strati berarti 'lapisan' dalam bahasa Itali, merepresentasikan bagaimana proses cetak dilakukan berlapis-lapis. Bagi khalayak awam, ide tersebut memang masih sulit dicerna, namun bayangkan: melalui 3D printing, produsen dapat lebih menghemat bahan, apalagi Strati memanfaatkan material daur ulang.
Info menarik: Berbekal iPad, Buah Hati Anda Dapat Berkreasi dengan Printer 3D Printeer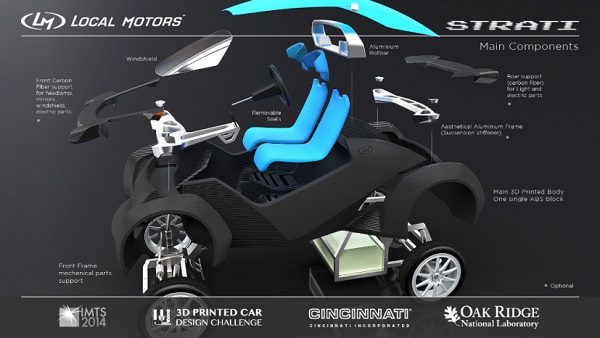 Rencananya, Local Motors akan terus berusaha agar waktu produksi bisa semakin cepat, 24 jam untuk membuat satu mobil, selanjutnya 10 jam - seperti beberapa brand mobil global ternama.
Local Motors dikenal sebagai pencipta mobil-mobil khusus off-road, dan itu alasannya mengapa Strati mempunyai desain unik. Untuk membuatnya, Local Motors berkolaborasi dengan Oak Ridge National Laboratory milik Department of Energy di bulan Januari. Ketika itu, Local Motors bahkan belum memiliki mesin cetak, bahan dan desain. Semua tugas itu rampung hanya dalam enam bulan.
Mereka berhasil mempersingkat waktu cetak dari 140 jam menjadi 45 jam akhir minggu kemarin. Dan di akhir minggu, Local Motors juga telah melakukan test drive. Tidak kita sangka, masa depat ternyata hadir secepat ini...
Sumber lain: Extreme Tech. Gambar: BGR.com.
Are you sure to continue this transaction?
processing your transaction....