Stylefeed Adalah 'Instagram' Khusus Brand Fashion Lokal
Glenn Kaonang - 13 July 2015
Dalam perkembangannya, Instagram kini tidak cuma berfungsi sebagai layanan berbagai foto saja, tetapi juga sebagai sarana bagi mereka yang ingin berbisnis online. Tidak jarang ada brand-brand baru yang memulai kiprahnya dengan berjualan via Instagram.
Barang-barang yang dijual pun bermacam-macam, mulai dari makanan, jajanan, kosmetik sampai busana. Di bidang fashion sendiri, brand lokal baru terus bermunculan, dan hampir semuanya turut eksis di Instagram. Berangkat dari keinginan untuk menciptakan wadah khusus buat brandfashion lokal, lahirlah aplikasi bernama Stylefeed.
Stylefeed sederhananya merupakan 'Instagram' khusus brand fashion lokal. Namun bedanya, ia benar-benar dirancang untuk menampung berbagai 'toko' pakaian online dari dalam negeri.
Info menarik: The Net Set Ingin Ciptakan Nuansa Kebersamaan Saat Berbelanja Online
Konsep yang dibawa tidak jauh berbeda dibanding Instagram. Setiap brand akan memiliki lamannya sendiri-sendiri, lalu kita sebagai pengguna bisa mem-follow beberapa brand sekaligus guna menerima notifikasi terkait informasi promo atau diskon.
Masing-masing brand dapat mendesain laman katalognya dengan beragam jenis layout. Kalau Anda merupakan seorang pemilik toko busana online yang tertarik bergabung, Anda bisa langsung mengunduh aplikasinya dan melakukan registrasi secara cuma-cuma.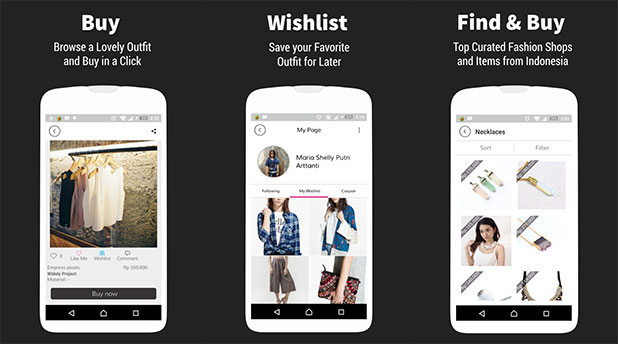 Sekarang ini, pihak pengembangnya yang bermarkas di Yogyakarta mengklaim sudah ada lebih dari 100 brandfashion lokal yang tergabung di Stylefeed. Maka dari itu, sistem rekomendasi pun diterapkan dalam bentuk kurasi supaya pengguna bisa lebih mudah menemukan brand yang sesuai dengan gayanya.
Info menarik: 5 Fakta Menarik Tentang Kegiatan Jual-Beli Online di Indonesia
Terdapat tiga menu utama di Stylefeed: Shop, Feed dan Notification. Shop akan menampilkan semua produk dari setiap brand yang ada, termasuk jumlah follower-nya masing-masing. Feed akan menyajikan berbagai informasi promosi, produk-produk terbaru, produk terlaris sampai informasi event yang akan digelar suatu brand. Terakhir, Notification adalah tempat bernaungnya update informasi yang dikirim brand yang pengguna follow.
Soal transaksi, Stylefeed tidak berperan sebagai perantara; ketika hendak membeli, pembeli akan langsung di-redirect ke platforme-commerce atau situs yang dipunyai brand tersebut. Dengan kata lain, transaksi berlangsung antara pembeli dan penjual secara langsung, tanpa campur tangan dari Stylefeed.
Aplikasi Stylefeed saat ini sudah bisa diunduh langsung dari Google Play. Versi iOS-nya tengah digarap dan diharapkan dapat segera menyusul.
Sumber: DailySocial.
Are you sure to continue this transaction?
processing your transaction....