Sukses dengan Robot Penghisap Debu, iRobot Kini Garap Robot Pemotong Rumput
Juga dilengkapi kemampuan memetakan area sekaligus fitur pulang otomatis di saat baterainya kritis
Glenn Kaonang - 31 January 2019
Robot penghisap debu bukanlah penemuan baru, akan tetapi belakangan ini kecanggihannya semakin tidak terbayangkan. Lihat saja Roomba i7+ bikinan iRobot, yang mampu mengosongkan dirinya sendiri sekaligus memetakan ruangan secara akurat agar kinerjanya semakin efisien.
Robot pemotong rumput pun juga demikian; bukan barang baru, akan tetapi rupanya masih banyak aspek yang dapat disempurnakan, dan itulah yang coba diwujudkan oleh kreasi terbaru iRobot yang dinamai Terra. Ya, ini adalah pertama kalinya sang dedengkot robot vacuum cleaner membuat suatu robot pemotong rumput.
Tidak seperti kebanyakan robot pemotong rumput yang mengharuskan pemilik rumah untuk menetapkan perimeter menggunakan kabel, Terra hanya memerlukan kita untuk menempatkan wireless beacon di sekitar area yang hendak digarap. Tentunya sebagai sebuah pemotong rumput, Terra dirancang agar benar-benar tahan terhadap cuaca yang tak bersahabat.
Sebelum bisa beroperasi sendiri, Terra harus lebih dulu dinavigasikan secara manual melalui aplikasi pendampingnya di smartphone. Tujuannya adalah supaya Terra dapat mempelajari rute-rute yang harus diambil, sekaligus bagian mana yang harus ia hindari.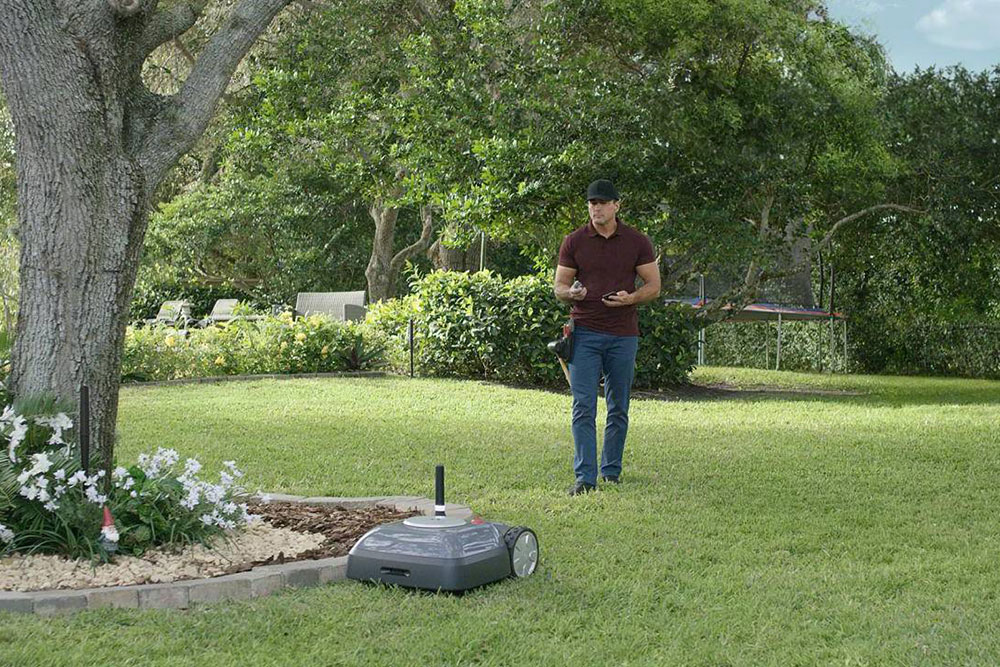 Lewat aplikasi ini pula pengguna dapat menentukan seberapa tinggi rumput yang hendak disisakan, serta memantau rutenya maupun membuatkan jadwal tersendiri. Satu hal yang berpotensi menjadi kekurangan adalah, Terra memanfaatkan konektivitas Wi-Fi, dan kita tahu lahan depan atau belakang rumah sering kali menjadi zona dengan sinyal Wi-Fi terlemah.
Dalam satu kali charge, Terra mampu beroperasi selama sekitar satu jam. Charging-nya sendiri membutuhkan waktu sekitar dua jam, dan apabila baterainya kritis di saat ia sedang bertugas, Terra bakal bergerak sendiri menuju charging base-nya, lalu setelahnya kembali bekerja melanjutkan dari titik terakhir yang ia tinggalkan.
Hal lain yang menarik adalah detail-detail kecil yang diperhatikan oleh iRobot. Sepasang pemotong milik Terra tak hanya bersifat modular, tapi juga disertai pegas untuk mencegah bilah pemotongnya patah ketika tidak sengaja berjumpa dengan batu maupun objek lain yang keras.
iRobot Terra rencananya akan dipasarkan lebih dulu di Jerman. Produk ini pada dasarnya merupakan bagian dari visi iRobot untuk membangun ekosistem robot yang memungkinkan suatu kediaman untuk 'merawat' dirinya sendiri, baik dari luar maupun dari dalam.
Sumber: The Verge.
Are you sure to continue this transaction?
processing your transaction....