Tak Cuma Perangkat Smart Home, Nuimo Juga Bisa Mengontrol Aplikasi Smartphone
Glenn Kaonang - 18 May 2015
Anda sudah membeli sejumlah speakerSonos guna menciptakan setup audio multi-room yang asik, dan beberapa ruangan di rumah Anda sudah dipasangi bohlam pintar Philips Hue. Di pintu depan rumah, bahkan sebuah smart door lock turut hadir melengkapi. Rumah pintar Anda sejatinya sudah mulai menunjukkan manfaatnya, selanjutnya apa lagi?
Well, sebelum Anda merasa puas, tampaknya Anda akan cukup dipusingkan oleh sederet aplikasi smartphone yang dibutuhkan untuk mengontrol semua perangkat smart home tersebut. Hal ini memang berarti Anda bisa mengontrol semuanya di mana pun Anda berada. Namun saat berada di dalam rumah, terkadang kita menginginkan solusi yang lebih praktis.
Solusi yang lebih praktis itu tidak harus melibatkan smartphone, malahan smartphone Anda juga bisa dikontrol olehnya. Sebuah perangkat bernama Nuimo hadir di Kickstarter guna menjalankan tugas ini.
Info menarik: Oomi Adalah Sistem Smart Home dengan Kemudahan Integrasi Aksesori
Nuimo merupakan sebuah universal controller untuk bermacam perangkat smart home atau Internet of Things (IoT). Bentuknya kelihatan simpel; bulat, pipih dan minimalis. Diameternya cuma 78 mm, tebalnya hanya 19 mm, sedangkan beratnya berkisar 190 gram.
Di dalamnya tersimpan chip Bluetooth LE, membuatnya kompatibel dengan hampir semua perangkat yang juga dibekali konektivitas nirkabel irit daya tersebut. Sejumlah lampu LED berwarna putih berperan sebagai indikator mode yang tengah aktif.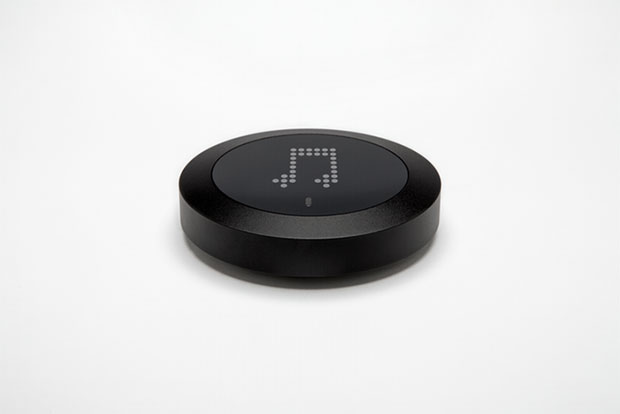 Untuk mengontrol perangkat menggunakan Nuimo, Anda bisa memanfaatkan sejumlah cara. Pertama, Anda bisa memutar bezel-nya. Kedua, permukaan Nuimo yang telah dibubuhi panel kapasitif bisa Anda klik maupun swipe. Terakhir, sensor inframerah milik Nuimo akan membaca gerakan tangan Anda, mirip seperti fitur Air Gesture yang terdapat di beberapa smartphone buatan Samsung.
Info menarik: Ikea Concept Kitchen 2025 Berikan Gambaran Soal Perubahan Gaya Hidup dalam 10 Tahun ke Depan
Lalu apa saja perangkat yang bisa dikontrol oleh Nuimo? Memulai debutnya, Nuimo bisa diintegrasikan dengan speaker besutan Sonos, Nest Thermostat, Philips Hue, Lockitron Smart Lock, Wemo Smart Lock, Smartthings Smart Home Hub, dan perangkat DIY Arduino. Selanjutnya, para developer bebas merancang bentuk integrasi lainnya karena Nuimo telah mengadopsi sistem open-source.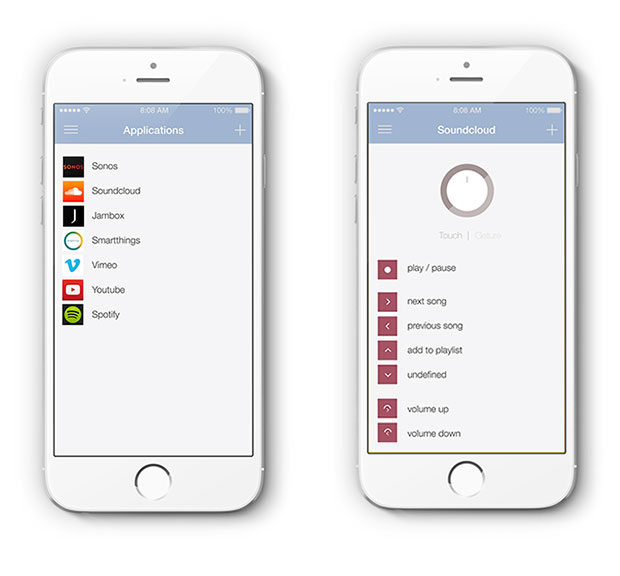 Namun seperti yang saya katakan di awal, Nuimo juga dapat mengontrol berbagai aplikasi multimedia di smartphone atau komputer. Mulai dari musik yang diputar di aplikasi Soundcloud, sampai video yang tengah di-stream dari YouTube, Anda bisa mengontrolnya dengan Nuimo sehingga smartphone Anda bisa mengisi ulang baterainya di dalam kamar tanpa gangguan.
Bicara soal baterai, Nuimo menggunakan baterai lithium-polymer yang rechargeable. Daya tahannya sendiri bisa mencapai waktu 4 bulan, namun semuanya bergantung pada penggunaan Anda. Nuimo disertai sebuah mount berbasis magnet sehingga Anda bisa menempelkannya di tembok dan melepasnya untuk dibawa-bawa ke berbagai ruangan dengan mudah.
Dikembangkan dan dirakit di Jerman, Nuimo awalnya hanya akan dipasarkan di berbagai negara saja – rinciannya tidak dicantumkan di laman Kickstarter-nya, namun tim pengembangnya sudah merencanakan ekspansi internasional. Pledge terendahnya saat ini adalah €109 (± Rp 1,6 juta), sedangkan harga ritelnya nanti akan naik menjadi sekitar €150 (± Rp 2,25 juta).
Via: NBC News.
Are you sure to continue this transaction?
processing your transaction....