Tak Lama Setelah Diumumkan, Xbox One X Project Scorpio Edition Ludes Di-Pre-Order
Project Scorpio Edition adalah 'kenang-kenangan' perjalanan panjang yang Microsoft lalui demi menggarap Xbox One X.
Yoga Wisesa - 24 August 2017
Melihat performa Xbox One X di atas kertas, mungkin sulit bagi Sony untuk bersaing jika hanya mengandalkan permainan eksklusif. Bagaimanapun juga, console Microsoft tersebut merupakan sistem yang sanggup menyuguhkan konten 4K secara native. Kehadirannya sangat dinanti, bukan cuma oleh fans, karena eksistensinya berpotensi mengubah alur industri console.
Rumor mengenai keinginan Microsoft menciptakan versi lebih canggih dari Xbox One sudah lama terdengar, namun baru di ajang E3 2017 kemarin mereka memperkenalkannya secara resmi. Di sana, Microsoft mengubah nickname Project Scorpio dengan nama yang lebih formal, Xbox One X. Namun meski era baru akan dimulai bulan November nanti, sang console maker asal Amerika itu tidak melupakan proses panjang yang telah mereka lalui.
Di momen pembukaan acara Gamescom Cologne 2017, Microsoft menyingkap Xbox One X Project Scorpio Edition, edisi terbatas dari 'console game terkuat di dunia saat ini'. Varian ini menyimpan komposisi hardware serupa model standar, namun desainnya-lah yang membuat Project Scorpio Edition istimewa. Begitu diincarnya produk ini, ia segera diserbu para gamer dan saat ini stok di Target dan Best Buy sudah kosong.
Lalu apa yang membedakan Project Scorpio Edition dengan Xbox One X biasa? Pertama, console sengaja dirancang agar bisa berdiri vertikal (via stand). Kemudian Microsoft membubuhkan branding 'Project Scorpio' hijau di unit console serta controller, dilatarbelakangi tubuh berwarna hitam. Jika Anda lihat lebih dekat, permukaan Project Scorpio Edition memiliki pola titik-titik kecil.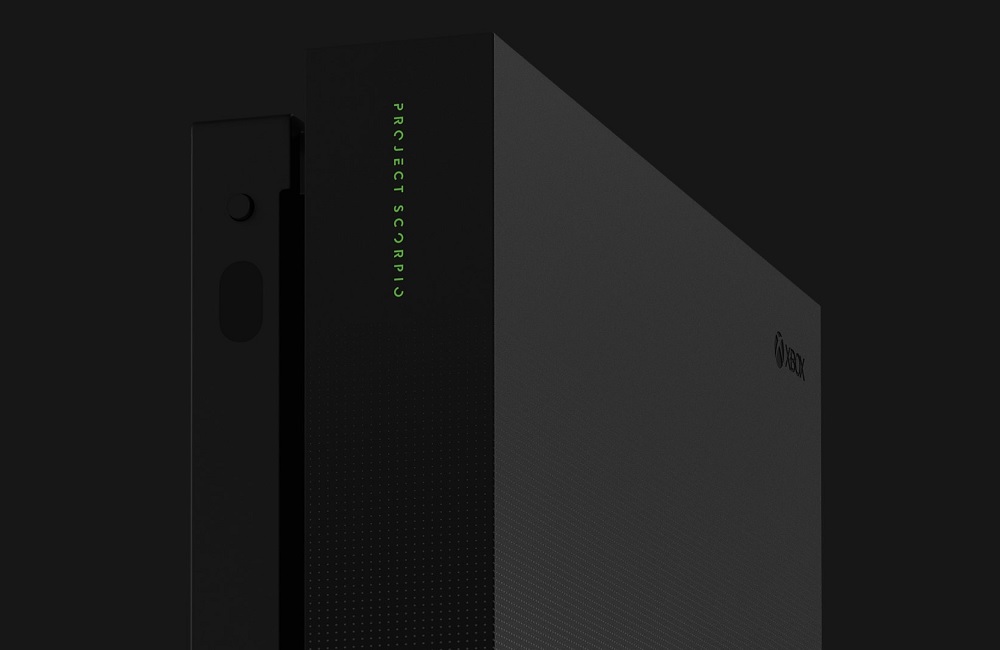 Di dalam, ia menyimpan CPU octa-core kustom 2,3GHz, GPU berarsitektur Polaris 40-compute unit 1,172GHz berkekuatan 6-teraflop, memori GDDR5 12GB 326GB/detik, didukung flash memory 8GB, hard disk 1TB, unit power supply internal 245W, serta optical disc drive Blu-ray UHD.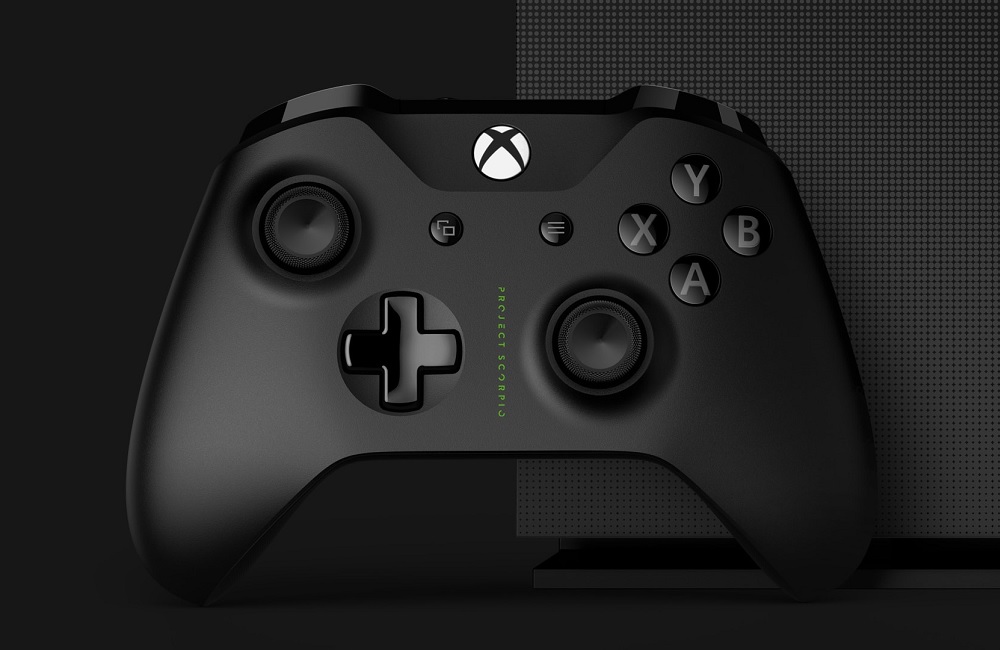 Hal paling menarik, dan mungkin alasan mengapa Xbox One X Project Scorpio Edition diburu gamer adalah harganya. Microsoft membanderolnya setara versi standar, di harga US$ 500. Pelepasannya juga dilakukan berbarengan, yakni pada tanggal 7 November 2017.
Di bawah ini ialah daftar game yang rencananya akan memanfaatkan kecanggihan hardware dari Xbox One X:
Agents of Mayhem
Age of Empires Definitive Edition
Anthem
ARK: Survival Evolved
The Artful Escape of Francis Vendetti
Ashen
Assassin's Creed: Origins
Astroneer
Battlefield 1
Black Desert
Brawlout
Chess Ultra
Code Vein
Conan Exiles
Crackdown 3
Cuphead
Dark and Light
The Darwin Project
Dead Rising 4
Deep Rock Galactic
Destiny 2
Deus Ex: Mankind Divided
Diablo 3: Reaper of Souls
Dishonored 2
Dishonored: Death of the Outsider
The Division
Doom
Dovetail Games Euro Fishing
The Elder Scrolls Online: Morrowind
Elite Dangerous
Everspace
The Evil Within 2
F1 2017 Special Edition
Fable Fortune
Fallout 4
Farming Simulator 17
Farming Simulator 18
Far Cry 5
FIFA 18
Final Fantasy 15
Firewatch
For Honor
Fortnite
Forza Horizon 3
Forza Motorsport 7
Gears of War 4
Ghost Recon: Wildlands
Ginger: Beyond The Crystal
Gwent: The Witcher Card Game
Halo 5: Guardians
Halo Wars 2
Hello Neighbour
Hitman Season 1
Homefront: The Revolution
Injustice 2
Killer Instinct
Killing Floor 2
The Last Night
Life is Strange: Before the Storm
The Long Dark
Madden NFL 18
Mafia 3
Mantis Burn Racing
Mass Effect: Andromeda
Metro Exodus
Middle-earth: Shadow of War
Minecraft: Xbox One Edition
Minecraft: Xbox One Edition Favorites Pack
NBA 2K17
NBA 2K18
Need for Speed Payback
Observer
Ori and the Will of the Wisps
Outlast 2
Paladins
Path of Exile
Playerunknown's Battlegrounds
Portal Knights
Pure Chess
Pro Evolution Soccer 2018
Project Cars 2
Quantum Break
Raiders of the Broken Planet
ReCore
Real Farm Sim
Resident Evil 7: Biohazard
RiME
Riverbond
Robocraft Infinity
ROBLOX
Rocket League
Sea of Thieves
Slime Rancher
SMITE
Sniper Elite 4
Sniper Ghost Warrior 3
Sonic Forces
Star Wars Battlefront 2
State of Decay 2
Strange Brigade
Sunset Overdrive
Super Lucky's Tale
Steep
SUPERHOT
The Surge
Skyrim: Special Edition
Titanfall 2
Tacoma
Tekken 7
Unruly Heroes
Warframe
Warhammer: End Times
We Happy Few
The Witcher 3: Wild Hunt
Wolfenstein: The New Colossus
World of Tanks
Sumber: Microsoft.