Game
Tangkap Ikan Sebanyak-Banyaknya di Game CATch The Fish
Ada game baru yang menarik yang bisa kita mainkan di awal tahun 2015 ini, game itu berjudul CATch The Fish. Game besutan KeepOnMotion ini akan mengajak kita bermain bersama karakter kucing yang menggemaskan. Di dalam game ini, kita akan memerankan seekor kucing kelaparan yang ingin memakan ikan.
Dengan gameplay yang menyenangkan dan menantang, reflek mata dan kecepatan jari kita akan diadu. Karakter kucing yang kita mainkan akan berdiri di atas sebuah balok kayu yang mengapung di atas sungai. Di sungai tersebut, akan muncul balok-balok kayu dari sisi kiri dan kanan layar.
Balok-balok tersebut akan terisi oleh ikan. Ketika ada ikan di dalam balok tersebut, kita harus menekan balok kayu tersebut untuk memakannya. Ketika ditekan, karakter kucing yang kita mainkan akan melompat ke balok tersebut.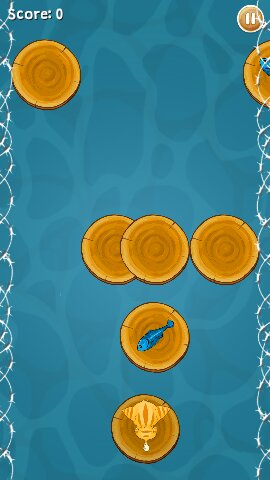 Kita harus memastikan bahwa jarak antara kucing dengan balok kayu tidak terlalu jauh. Jika jaraknya terlampau jauh, kucing yang kita kendalikan tidak akan mampu melompat ke atas balok tersebut. Kita juga harus memperhatikan isi dari balok tersebut. Terkadang, bukan ikan yang akan ada di dalamnya melainkan seekor kodok. Jika kucing kita melompat ke atas kodok tersebut, maka permainan akan berakhir.
Info menarik: TempaLabs Luncurkan Permainan Rage Call Bertema Call Center
Kita juga harus berhati-hati dalam menekan layar. Jika kita tidak sengaja meleset menekan baloknya, maka kucing kita akan masuk ke dalam air dan permainan akan berakhir.
Tak hanya itu, di pinggir sungai terdapat kawat duri yang akan membuat permainan berakhir apabila kucing yang kita mainkan terkena kawat tersebut. Inilah mengapa game ini sangat membutuhkan kecekatan dan juga tingkat akurasi yang tinggi untuk bisa memainkannya.
Selain untuk mendapatkan nilai tertinggi dalam menangkap ikan, di dalam game CATch The Fish ini kita juga bisa mengumpulkan berbagai karakter kucing yang lucu. Ketika tulisan ini dibuat, ada empat jenis kucing yang bisa kita dapatkan. Cara mendapatkannya pun berbeda-beda setiap karakter kucing, ada yang harus mengumpulkan sejumlah ikan, ada yang harus menengai pagar kawat belistrik sebanyak 200 kali, dan lain sebagainya.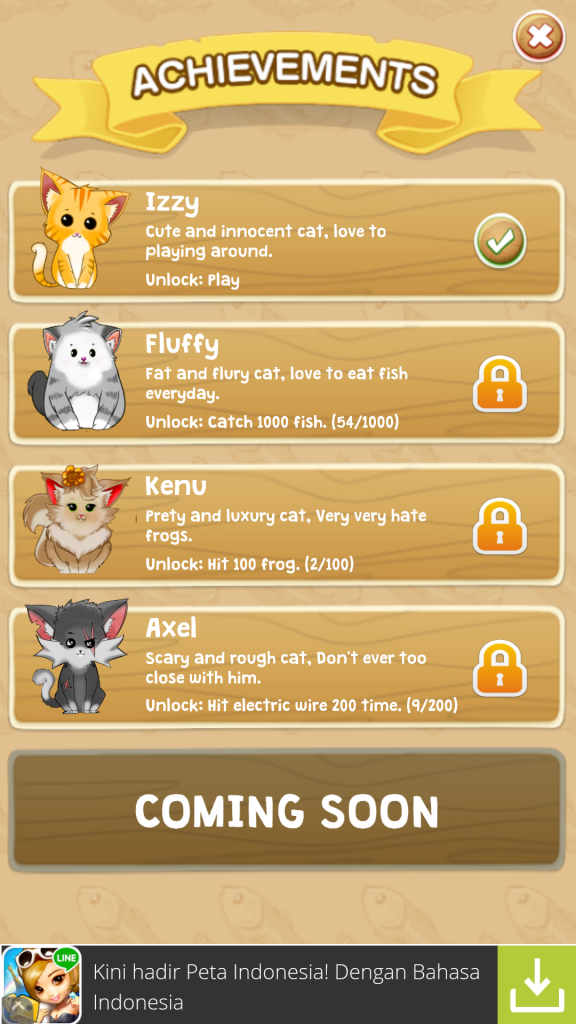 Untuk menghindari rasa jenuh dalam bermain, mungkin pengembang game ini ke depannya bisa menambahkan obyek lain di dalam gameplay, misalkan power up atau rintangan lain. Lebih menarik lagi apabila dibuat dengan beberapa pilihan level atau obyektif permainan yang beragam. Namun tanpa komponen itupun, game ini sudah menampilkan mekanik yang menarik untuk dimainkan dan dibalut dengan grafis yang baik.
Game ini sangat cocok untuk mengisi waktu luang. Apalagi jika Anda adalah pecinta kucing, rasanya akan semakin seru melihat tingkah kucing-kucing gemesin yang ada di dalam game ini. CATch The Fish saat ini sudah tersedia di Google Play secara cuma-cuma.
Are you sure to continue this transaction?
processing your transaction....