Technology Roles to Help Millennials' Housing Problem
81 million millennials are yet to own a house
The Ministry of Public Works and Public Housing (PUPR) estimates that 81 million people of the millennial generation - born between 1980 and 2000 - are yet to own a house. The amount is equivalent to 31% of the population in Indonesia.
In the middle of last year,  there was a plan to divide a special mortgage scheme into three groups based on age. First, for ages 25-29 years, cost relief is provided for flats or rental apartments.
Second, for those aged between 30-35 years in the form of subsidies. Finally, people at the age of 35 years above, with a permanent job and an apartment fit to salary, on how to make it feasible and comfortable. The government sent representatives to learn about the concept of millennial housing in South Korea.
To date, everything is still a discourse. On the other hand, the rise in property prices was not followed by an increase in the Regional Minimum Wage (UMR).
Improving purchasing power can actually be performed by the central bank by giving allowance to the loan to value (LTV) for Home Loans (KPR). However, banks do not necessarily apply it to consumers. There have been adjustments, even months, since allowance has been granted.
Within that period of time, can it be guaranteed that the consumer purchasing power remains?
Complex and conventional process
The longer we delay to buy means the harder it will be to catch up. Although deciding to buy a house, for most people, is not simple math. In terms of humans, besides pricing, there are many considerations in terms of location, how close to public transportation, main roads, facilities around the house, and many more.
People are getting aware that buying a house in Jakarta is impossible. Therefore, they decided to go to the surrounding cities.
Everybody knows that the process of buying a house, especially through the KPR is quite complicated, time-consuming, and cost much. Without any other options offered besides compromised and following the entire procedure.
There is a booking fee required for collateral to buy a house so the agent does not sell the selected house to another party while waiting for the mortgage process to finish. The amount of value varies depending on the developer, starting from Rp500 thousand for low-cost housing, up to Rp25 million for luxury housing. When the purchase occurs, booking fees can reduce the purchase price.
Furthermore, paying appraisal to the bank or a third party appointed by the bank for assessment and pricing. It's similar to booking fees and the value varies. Unfortunately, appraisal money will be forfeited when the KPR submission is rejected.
Appraisal is an important phase because there is an estimate of house prices. There are a number of considerations that have caused the KPR application to be rejected, for example, the location is not ideal, near a cemetery, garbage disposal, or high-voltage electricity pole. This component can decrease housing prices.
Unfortunately, when you reach this phase and the KPR application is rejected, the money will be forfeited because each bank has its own assessment. Therefore, you have to pay another appraisal to different banks. This phase takes time, you must consider the deadline for booking fees.
The entire financial data of prospective buyers will be checked thoroughly by BI Checking, whether there's a record of bad credit, the bank would be reluctant to provide loans. After this phase, a feasibility creditor analysis will enter. The bank will survey the prospective creditor's workplace, check the account, and the employment status when taking non-subsidized KPR.
Whether you are a permanent employee, the assessment do not stop there. When you've been working under a year, there might be some obstacles. When you make it, there must be additional prerequisites. For example, submitting a letter of employment from the previous office.
Mediana, a private employee, admitted her expectation to buy a house for the last few years. He realized that it was time to turn her salary into assets, especially her parents are getting old. She gets more excited when the support came from his work environment.
"Well, it's kind of will and not willing to go abroad, it's no longer to spend money on traveling. Honestly, it's partly influenced by friends. My mind was not 100% ready yet. Pretty stressful," she told DailySocial.
Through so much discussion, she finally made it. She decided to buy a house not far from the office and still reachable via CommuterLine. Medio 2017, Mediana started to collect down payment (DP) by 30% of the house price of Rp437 million. She withdraws all personal savings and supported by parents for DP.
The credit agreement starts in May 2018. At that time, the mortgage installments begin. She happened to use BTN for the KPR because the housing developer was a partner of the state-owned bank.
"Also, Indonesia's economic growth was slowing down that year, therefore, the interest rates were lower for smaller installment."
Starting from finding a house, KPR facilities, everything was done manually. In fact, she didn't use any technology because she thought it didn't offer the right solution. Mediana visited the location randomly, there are several places she had visited.
The suffer of having a house
Mediana's story is quite relevant to the global research released by HSBC with Kantar TNS. This research stated about 36% of millennials who already own houses in various parts of the world, get financial assistance from their parents.
In Canada, the portion is similar to global figures, which is 37%. In the United Arab Emirates, the figure is much greater, at 50%. France is in the lowest order, only 26% of millennials buy houses with the help of their parents.
This research involved 9,009 respondents from nine countries, namely Australia, Canada, China, France, Malaysia, Mexico, the United Arab Emirates, United Kingdom, and the United States.
As many as 70% of millennials in China already have houses, placing this country the highest of the eight other countries. In the US, the figure is only 35%. While in Australia, the figure is much smaller, which is 28%.
More than half of respondents said they were willing to cut down on lifestyle costs and have fun in order to have a home. They are willing to reduce hanging out in cafes or shopping for clothes. Not only saving, they are also willing to undergo various sufferings in order to be able to buy a house.
As many as 21% of millennial said they were forced to postpone having children. As many as 33% choose a house that is much smaller than desirable. Then, 18% of millennials are willing to buy a house that is not so desirable, for example too far from the place of work. In fact, there are 21% of millennial states that they rent out some rooms to help pay the installments.
Observing prop-tech development
Technology is designed to make decisions easier. The same thing also applied when buying a property that should be assisted with technology. How is the development of technology for property today?
From the startup realm, there are now several players who focus on property technology or well-known as proptech. It is defined as the use of information technology to facilitate exploration, purchase, sale, and management of the real estate.
When translated into business languages, it includes property listings, virtual reality platforms, rentals, and property funding. Almost all proptech verticals are present in Indonesia, mostly on listings, rentals, and funding.
In terms of listings, there are Lamudi, Travelio, Rumah123, 99.co, and Rumah.com. Each player began to enter another vertical, for example, Travelio which helps property owners' management. Rumah.com provides a mortgage calculator to help simulate and additional information to enrich users' insights.
Meanwhile, in terms of funding there are CicilSewa and Gradana, both of which focus on property financing. CicilSewa offers the concept of paying rent property on a monthly basis, whether for a house, shop, or apartment. The problem they want to solve is having to pay rent in advance for a year or two.
While Gradana utilizes the p2p lending scheme for non-bank mortgage loans, including loans to make a down payment when applying for a mortgage. This solution is considered revolutionary, given the fairly high risk.
Through one of its products, GraStrata, the tenor is available for up to 20 years. As one of the steps in risk management, the company requires borrowers to plant a deposit of 2% of the loan value and will be returned after paying it off.
The solution provided by Proptech startup is quite a relief because they are able to answer the pain points that continue to haunt prospective home buyers. However, what about banking?.
Take an example of a BTN red plate bank. It was designated by the state to focus on housing finance. So it's natural, all of its products are specifically designed to make it easier for customers to make mortgage payments.
Their commitment to improving business through technology should be appreciated, also ambitious. BTN developed the concept of Proptech through the BTNProperty site and application. Available menu options for property search, submission, consultation, to search for professional services ranging from architects, consultants, notaries, interior design, roofers, gardens, roofs, buildings, and personal BTN agents.
The application also provides a mortgage calculator to calculate the down payment and monthly installments on a mortgage plan or calculate the maximum property price that can be purchased from total customer income. Even there, you can apply for a BTN KPR, claimed the process is only 10 minutes.
BTN has quite diverse mortgage products, there are new mortgages / KPA, Mortgage Mortgages, Secondary Mortgages, Take Over Mortgages, Lightweight Loans, and Gaeess Mortgages which are specifically for millennial customers. KPR Gaeesss was released since October 2018 targeting millennials aged 21-35 years. Advances start at 1%, free of admin fees, a fixed interest rate of 8.25% for two years, a 50% discount, and various tenor up to 30 years.
The concept of BTN Property offered by BTN is quite interesting. The abundant data bank is actually very useful for increased utilization in order to mix the products needed by customers. The more relevant the solutions offered from the solutions offered.
"In our opinion, this is a serious problem. There is a gap between the current housing sector and developments in society, where the productive age is now increasingly dominated by millennials who are slightly different in habit and service needs. We as the main players [in housing finance] must understand very well with this condition, "said BTN President Director Pahala N Mansury as quoted by WartaEkonomi.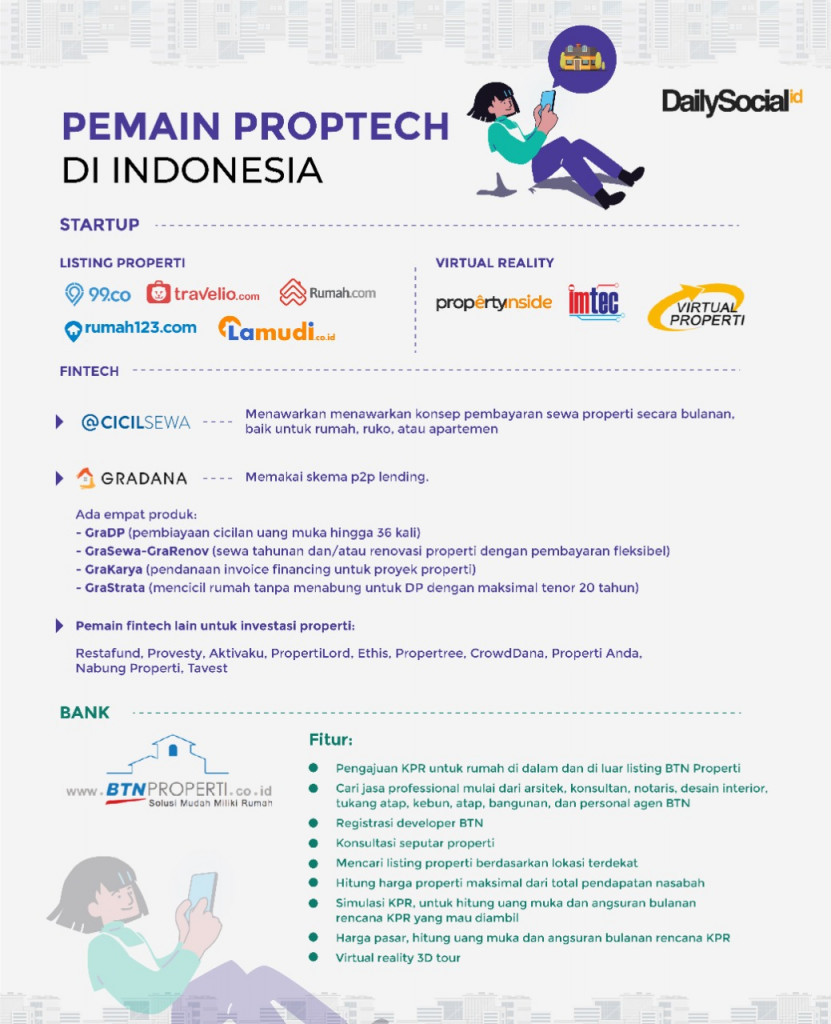 Expectation for the Government
Banking products such as those offered by BTN can be a silver lining for financial access in the Kiwari generation. But the real hot ball is in the hands of policymakers. Strict regulation is the key to show the government's support for the current generation to have affordable housing in terms of price and distance.
Property observer, Alviery Akbar explained that currently the central and regional governments still own the largest land area in the city. That is why further intervention on this issue can only be made through regulation. The Associate Director of Residential Sales & Leasing at Colliers International Indonesia said that strict regulations are the key to affordable housing not being undermined by speculators.
"Therefore, you need to intervene through government regulations specifically to create housing for the younger generation with very strict requirements to avoid investors/speculators. The role of banks that provide KPA / KPR can be intervened by selecting buyers according to specified requirements," Alviery said.
The DKI Jakarta Regional Government has given an example of how regulatory intervention is needed to solve problems in the property sector. This is reflected when Governor Anies Baswedan signed Governor Regulation Number 132 of 2018 concerning Management of Owned Apartment Management in late 2018. Through this regulation, the government patches legal loopholes that are often played by developers through the withdrawal of fees or other management.
Plans on paper are always easier than they are implemented and compiling policies will always coincide with political interests. If local and central governments decide to make housing affordable for the younger generation, Alviery said the government must find another way for some residents who might lose their homes due to government projects such as people living on riverbanks or those affected by infrastructure development.
Relying on the private sector is like a longing for the moon. The high-price land and the very commercial character of property developers are the main reasons behind the absence of property price under Rp500 million built by private developers.
"Every inch of land is very valuable even if you have to build a residence, it is more profitable for the upper-middle market that will bring maximum profit," Alviery added.
Despite the government's role, technology in the property industry continues to develop. Even though they are yet to solve the main problem, the Kiwari generation can at least utilize the current technology to obtain credit or simply access essential information before buying a residence offered by some prop-techs and BTN.
–Original article is in Indonesian, translated by Kristin Siagian
Are you sure to continue this transaction?
processing your transaction....