Telkomsel Gelar Program TINC Batch 5, Incar Startup Potensial di Tengah Pandemi
Telah bina 19 startup dengan dua di antaranya adalah solusi yang dikembangkan internal yakni Intank
Marsya Nabila - 8 July 2020
Telkomsel kembali menggelar program corporate inkubator dan akselerator Telkomsel Innovation Center (TINC) Batch 5. Kali ini TINC tidak mengangkat tema khusus dalam membidik startup binaan, melainkan ada sejumlah segmen yang dinilai memiliki kenaikan momentum di tengah pandemi yang masih berlangsung.
Segmen startup tersebut di antaranya IoT, pemelajaran mesin (ML), kecerdasan buatan (AI), teknologi periklanan (ads tech), fintech, logistik dan supply chain, healthtech, dan edutech.
"TINC fokus pada lini vertikal yang bisa difasilitasi oleh aset milik Telkomsel. Pada batch sebelumnya, kebanyakan solusinya untuk telko, tapi makin ke sini kami banyak berinteraksi ada banyak masalah di luar sana yang bisa diselesaikan oleh startup. Jadinya kami perluas cakupannya," ujar VP Corporate Strategy Telkomsel Andi Kristianto, dalam konferensi pers secara online, kemarin (7/7).
Pendaftaran untuk batch ini sudah dibuka secara resmi sejak 15 Juni 2020. Dibandingkan batch sebelumnya, TINC memperkenalkan tiga manfaat lebih untuk startup binaannya, yakni market access, go to market and sales channels, dan innovation lab (testing lab IoT dan 5G, sandboxing platform, dan development kit).
Dalam pengembangan inovasi, TINC membaginya menjadi dua tahap, yakni inkubasi (prototyping, proof of concept) dan akselerasi (piloting, commercial), dengan pelaksanaan yang berlangsung selama tiga sampai 12 bulan.
Ada dana hibah yang diberikan untuk tahap awal. Andi menjelaskan, besarannya akan tergantung pada proposal yang diajukan startup terpilih. Nantinya dana tersebut akan dipakai untuk pengembangan startup agar lebih matang.
Model pendanaan berikutnya adalah berbentuk investasi. Ketika MVP sudah siap dan butuh akselerasi lebih jauh, startup akan menerima dana investasi yang berupa convertible notes. Nominalnya akan lebih besar dengan tenor yang lebih panjang.
"Kalau startup tumbuh fit dalam jangka panjang dan memberi nilai tambah buat Telkomsel, maka akan diinvestasi. Dari sisi kita akan dibantu untuk leverage network."
Program Telkomsel lainnya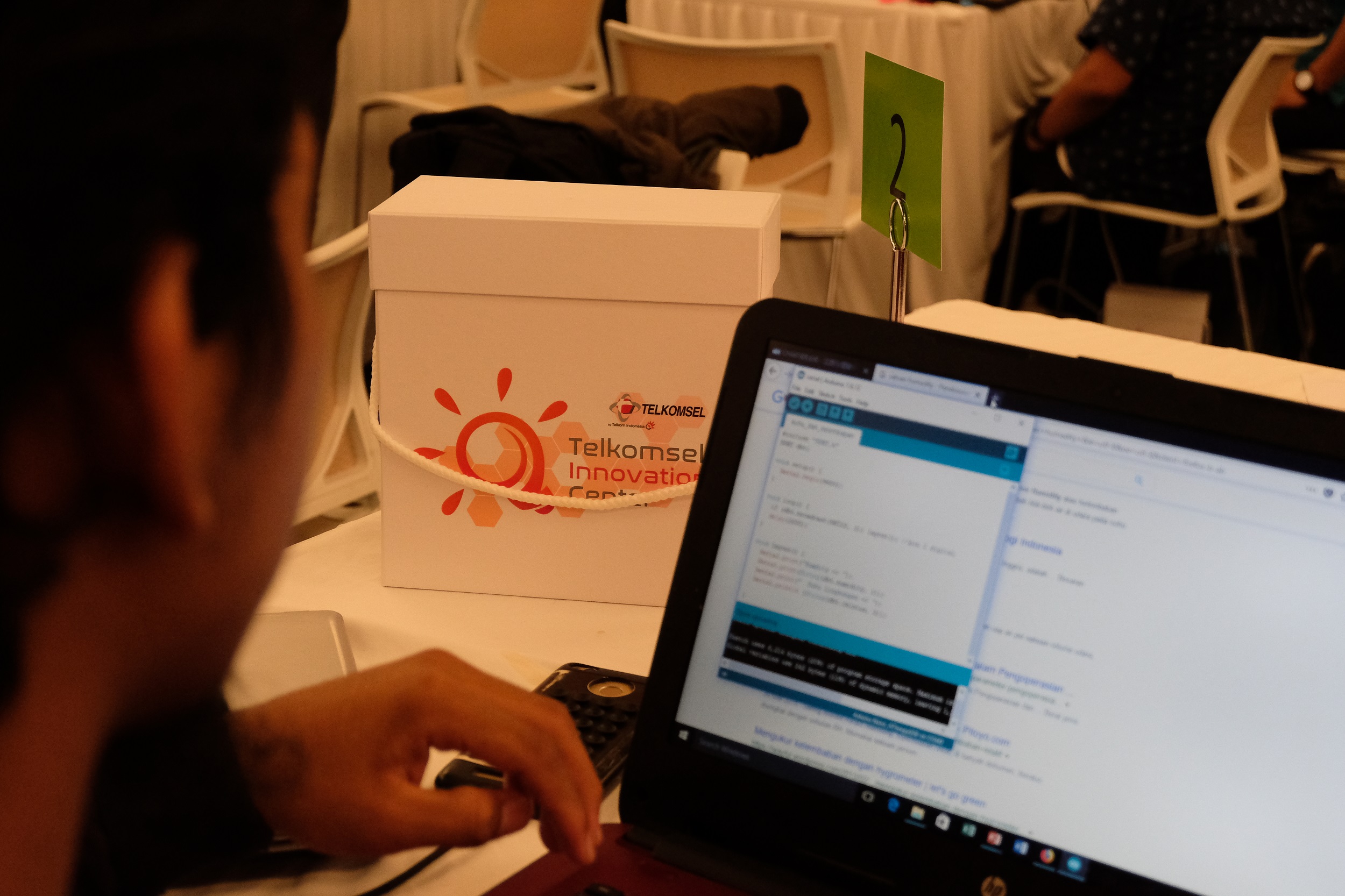 Sejak pertama kali digelar, TINC merupakan bagian dari salah satu pilar Telkomsel dalam mentransformasi perseroan menjadi perusahaan telkomunikasi digital terdepan, bersama pilar inovasi digital lainnya yaitu The NextDev dan Telkomsel Mitra Inovasi (TMI).
Ketiganya punya kesamaan misi, sama-sama ingin membangun ekosistem bagi para pegiat startup. Akan tetapi, ketiganya punya fokus yang berbeda. Misalnya The NextDev lebih diarahkan pada talent scouting dan social impact, TINC sebagai wadah untuk berakselerasi dan berkomersialisasi bersama Telkomsel, dan TMI fokus pada investasi strategis.
TINC sendiri telah berlangsung sejak 2018. Tiap batch memiliki tema khusus yang diangkat. Secara berurutan, batch pertama mengangkat soal smart city and environment; agritech; industrial IoT. Berikutnya dalam batch 4 dan 5 tidak mengangkat tema, alias Telkomsel terbuka pada semua inovasi tapi dengan catatan ada beberapa sektor yang diincar karena sedang "hot" pada momentum tersebut.
"Mulai batch 4 kita mau beyond IoT karena pada batch 1-3 kita merasa sudah me-represent semua use case utama di industri. Batch 4 ini dimulai awal tahun 2020 dan mulai tahun ini pula kita mau lihat tren apa yang lagi banyak di ekosistem startup di tahap awal maupun level yang sudah siap masuk market," jelas GM Business Incubation Telkomsel Eko Seno Prianto.
Secara total ada 19 startup binaan yang berhasil masuk sampai proses inkubasi sepanjang TINC dilaksanakan, di dalamnya terdapat dua solusi startup yang dikembangkan dari tim internal Telkomsel, salah satunya adalah Intank (Intelligent Tank Monitoring System).
Nama-nama startup binaan lainnya adalah eFishery, Jala, Mertani, Banopolis, Smash, Habibi Garden, Bantuternak, Neurafarm, TraffoBit, Eltisia, Manpro, Chatbiz.id, Cryptoscope, T-Man, Birru, Calty Farms, Fishgator, dan Mantis ID.