Hari ini secara resmi kompetisi The NextDev 2016 dibuka Telkomsel bagi para pengembang aplikasi Indonesia. Acara yang turut dihadiri Menkominfo Rudiantara ini akan mengambil tema Towards Sustainable Smart City. Tema yang diangkat diharapkan dapat lebih menantang para pengembang muda Indonesia untuk bisa berfokus kepada pengembangan smart city.
"Tahun ini the NextDev ingin memperluas kategorinya bukan hanya smart city namun juga smart rural. Kami melihat masih banyak di pelosok nusantara yang membutuhkan dukungan berupa aplikasi dan tentunya teknologi untuk mengembangkan potensi," kata VP Corporate Communications Telkomsel Adita Irawati kepada media hari ini di Jakarta.
Pengembangan smart city hingga smart rural
Mengawali rangkaian kegiatan, The NextDev bekerja sama dengan Mark Plus akan menggelar roadshow ke 20 kota di seluruh Indonesia. Dipilihnya kota-kota ini merupakan hasil riset tim The NextDev setelah melihat peluang, potensi, dan antusiasme pemerintah setempat untuk memanfaatkan teknologi mambangun smart city.
"Kami melihat saat ini bukan kota-kota besar saja yang memiliki peluang besar untuk membangun smart city, namun kota-kota lainnya di pelosok Indonesia juga mulai memberikan perhatian dan minat yang besar untuk bisa mensejahterakan warga melalui teknologi," kata Adita.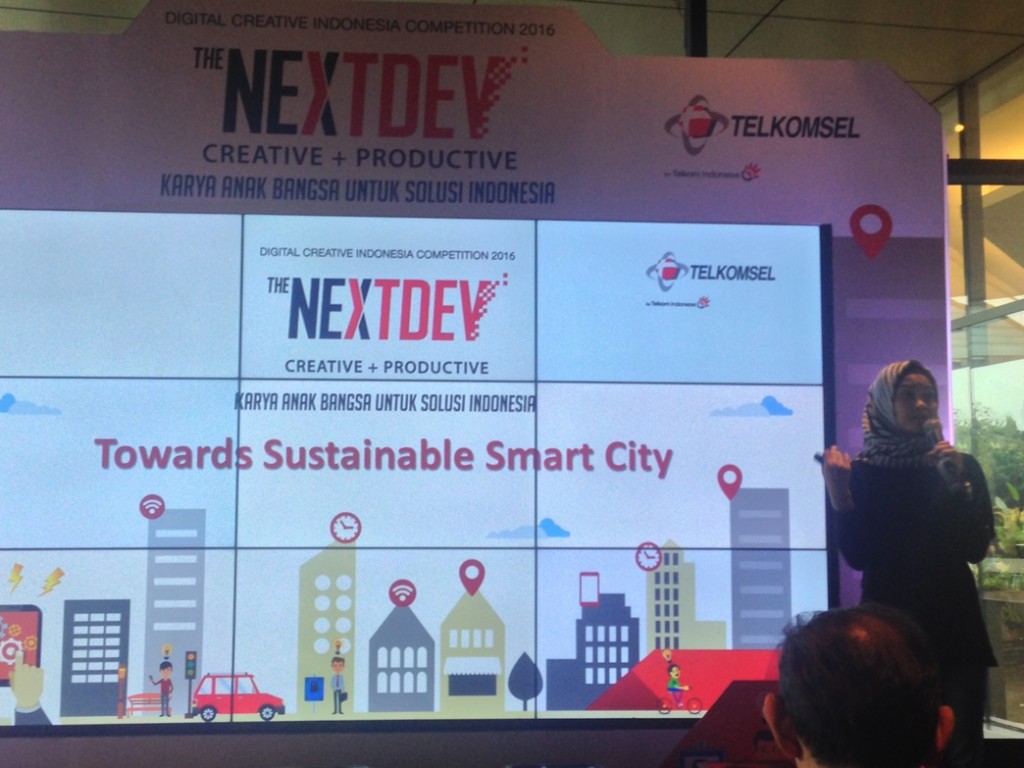 Untuk tahun 2016 ini, The NextDev masih mengedepankan empat pilar yang sama yaitu smart economy, smart governance, smart environment, dan smart living.
Pendaftaran The NextDev sudah dibuka untuk umum dan bisa diakses di situs khusus The NexDev 2016. Setelah gelaran roadshow usai dilakukan, para peserta akan mengikuti empat tahap lanjutan, yaitu regional pitching, kick-off, boot camp dan diakhiri dengan grand final.
"Nantinya 20 finalis yang beruntung akan mengikuti boot camp selama 5 hari, dan secara intensif akan diberikan materi [dan] mentoring oleh para juri [dan] juga mentor the NextDev 2016," kata Adita.
Hadiah "6M" untuk tiga pemenang
Tidak berbeda jauh dengan hadiah di tahun sebelumnya, tiga pemenang yang beruntung akan mendapatkan hadiah "6M" dari Telkomsel. 6M tersebut adalah market access, management trip, marketing publication, money, mentoring dan terakhir monetization.
"Tentunya kami berharap usai kegiatan The NextDev ini para pemenang bisa menjaga dan mengembangkan produknya. Kami tidak ingin usai menjadi pemenang inovasi akan terhenti. Dengan alasan itulah 6M kami berikan kepada tiga pemenang The NextDev 2016," kata Adita.
Untuk tahun 2016 ini, diharapkan peserta yang mengikuti The NextDev akan lebih banyak dibanding tahun-tahun sebelumnya. Di tahun 2015, The NextDev mencatat sebanyak 500 ide terkumpul dari para pengembang muda di seluruh Indonesia. Fokus kepada smart city namun dengan ruang lingkup yang lebih luas, yaitu kategori pengembangan aplikasi untuk rural atau pedesaan, diharapkan ajang The NextDev bisa menghasilkan aplikasi-aplikasi baru dan bermanfaat untuk masyrakat.
"Pada penyelenggaraan kedua ini kami akan memberi acknowledgement khusus untuk memotivasi pengembangan aplikasi di pedesaan. Kami merasa konsep smart city sebaiknya juga mampu mengakomodasi masalah di pedesaan untuk menciptakan dampak yang lebih holistik bagi masyarakat," tuntas Direktur Utama Telkomsel Ririek Adriansyah.
DailySocial.id adalah portal berita startup dan inovasi teknologi. Kamu bisa menjadi member komunitas startup dan inovasi DailySocial.id, mengunduh laporan riset dan statistik seputar teknologi secara cuma-cuma, dan mengikuti berita startup Indonesia dan gadget terbaru.