Seperti pabrikan mobil pada umumnya, Tesla juga menawarkan berbagai konfigurasi untuk sedan dan SUV elektriknya, Model S dan Model X. Baru-baru ini, Tesla diam-diam rupanya telah menambahkan varian baru, yakni Model S 100D dan Model X 100D.
Sekadar mengingatkan, angka dan huruf yang mengikuti nama mobil Tesla merupakan indikasi spesifikasinya. Dalam kasus ini, "100" menandakan kapasitas baterai sebesar 100 kWh, sedangkan "D" menandakan adanya sepasang motor elektrik (dual motor).
Sebelum ini, Tesla sebenarnya sudah mempunyai Model S dan Model X P100D, dimana "P" merupakan singkatan dari "performance", mengindikasikan performa tercepat dari semua varian yang ditawarkan. Dengan begitu, bisa kita simpulkan bahwa varian baru 100D ini merupakan versi yang sedikit lebih malu-malu soal performa, tapi sebagai gantinya, konsumsi dayanya lebih efisien.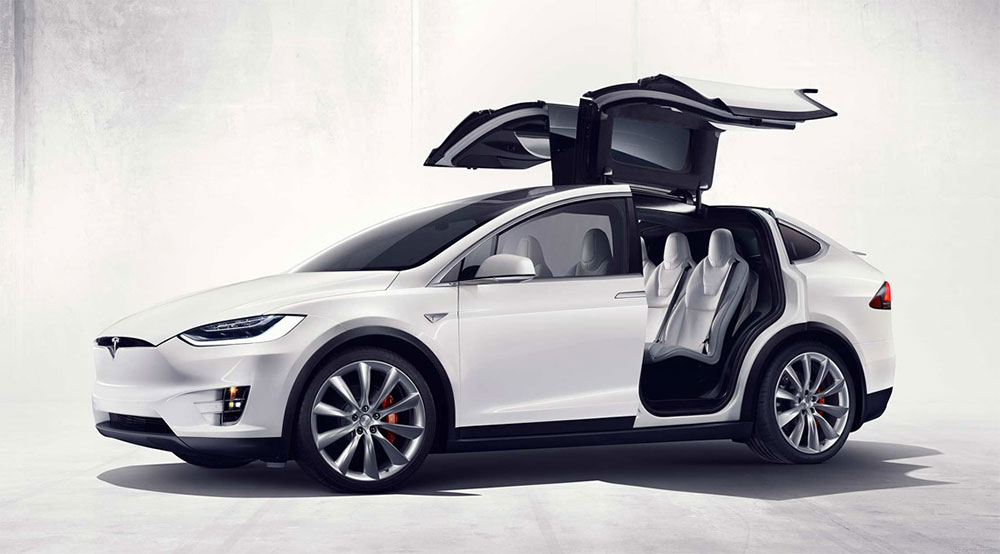 Menurut Tesla sendiri, Model S 100D dapat menempuh jarak sejauh 539 km sebelum perlu di-charge kembali baterainya – 32 km lebih jauh dibanding S P100D yang sama-sama mengusung baterai 100 kWh, dan 66 km lebih jauh daripada S 90D.
Akselerasinya menurun drastis jika dibandingkan P100D, tapi saya pribadi lebih memilih efisiensi daya ketimbang kecepatan, apalagi mengingat akselerasi 0 – 100 km/jam dalam waktu 4,2 detik saja sudah sekelas mobil sport dan hanya terpaut sedikit dari mayoritas supercar.
Untuk Model X 100D, jarak tempuh maksimumnya adalah 474 km – 9 km lebih jauh dari X P100D dan 61 km lebih jauh dari X 90D. Sekali lagi akselerasinya menurun menjadi 4,8 detik, tapi coba Anda cari SUV lain yang larinya bisa sekencang ini – saya yakin Anda akan kesulitan.
Soal harga, Model S 100D dan Model X 100D hanya lebih mahal sedikit dari 90D, $3.000 tepatnya. Dibanding P100D, Model S 100D lebih murah $42.000, sedangkan Model X 100D lebih murah $37.000.
@dtweiseth Tesla will never stop innovating. People are buying the wrong car if they expect this. There will be major revs every 12 to 18 months.

— Elon Musk (@elonmusk) January 22, 2017
Bersamaan dengan itu, CEO Tesla, Elon Musk, mengungkapkan via Twitter bahwa Tesla akan merilis versi baru dari mobil-mobilnya setiap 12 sampai 18 bulan – bukan mobil baru, tapi yang dibekali komponen baru seperti misalnya hardware Autopilot yang lebih canggih dan sebagainya.
Di sini Tesla sejatinya berkaca pada industri laptop, dimana seringkali pabrikan merilis versi baru yang mengemas prosesor anyar dan sejumlah revisi kecil lainnya. Singkat cerita, kalau Anda memutuskan untuk membeli mobil buatan Tesla, siap-siap saja menerima kenyataan pahit bahwa mobil Anda bukan lagi yang terbaru hanya dalam setahun ke depan.
Sumber: Car & Driver.
DailySocial.id adalah portal berita startup dan inovasi teknologi. Kamu bisa menjadi member komunitas startup dan inovasi DailySocial.id, mengunduh laporan riset dan statistik seputar teknologi secara cuma-cuma, dan mengikuti berita startup Indonesia dan gadget terbaru.