The Connected Sleeve Hadirkan Fitur Wireless Charging pada iPhone dalam Wujud yang Sangat Elegan
Merupakan sebuah powerbank berkemampuan wireless charging yang menyamar sebagai pouch mewah berbahan kulit asli
Glenn Kaonang - 10 February 2016
Dalam mencari aksesori smartphone, terutama casing, sulit menemukan keseimbangan antara fungsi dan estetika. Ambil contoh iPhone Smart Battery Case. Desainnya jauh dari kata cantik, akan tetapi fungsinya amat bermanfaat, sanggup menggandakan daya tahan baterai iPhone 6 yang memang terkenal agak loyo.
Namun bukan berarti keseimbangan fungsi dan estetika ini mustahil dicapai. Buktinya adalah produk bernama The Connected Sleve ini. Didesain secara handmade di Perancis, ia merupakan sebuah pouch untuk smartphone yang terlihat begitu mewah. Di saat yang sama, ia juga merangkap peran sebagai powerbank dengan kemampuan wireless charging.
Connected Sleeve kompatibel dengan sejumlah perangkat sekaligus, yakni iPhone 5, 5S, 6 dan 6s, Samsung Galaxy S6 dan S6 Edge, Sony Xperia Z5, Microsoft Lumia 950, dan LG Nexus 5. Khusus untuk iPhone dan Xperia Z5 yang tak dibekali fitur wireless charging, telah disertakan sebuah adapter khusus yang bisa ditancapkan ke port Lightning atau micro USB.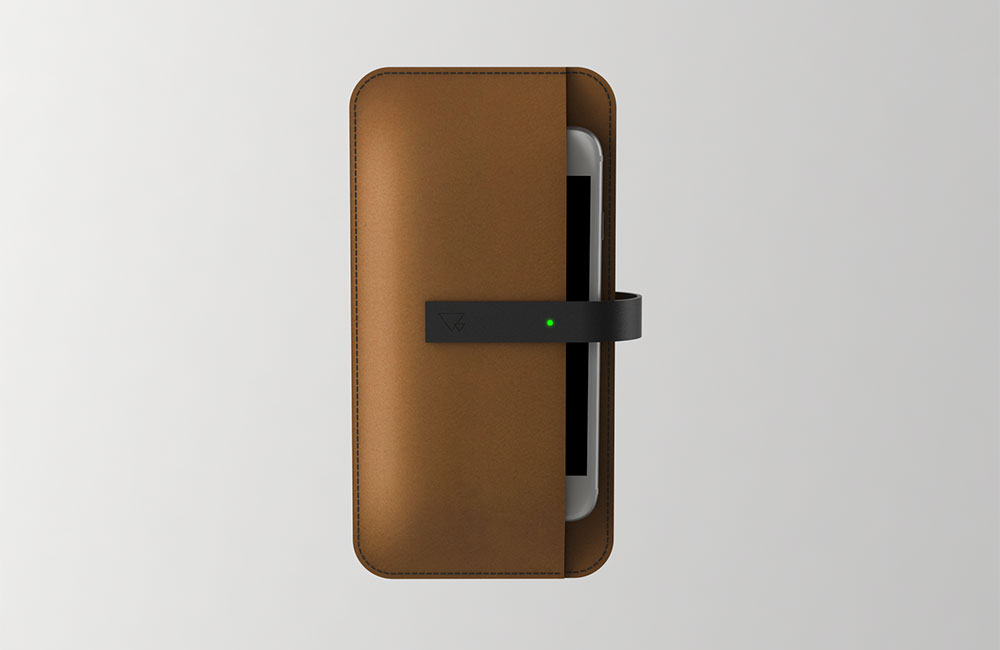 Cara kerjanya simpel sekali. Setiap kali smartphone dijejalkan ke dalam pouch, charging akan segera berlangsung. Hal ini tentu saja juga berlaku ketika smartphone diletakkan di atas pouch berbahan kulit asli tersebut. Pouch ini mengemas baterai berdaya 4.500 mAh; cukup untuk mengisi ulang baterai smartphone kira-kira hampir dua kali.
Untuk mengecek sisa baterai milik pouch-nya, pengguna bisa melihat warna pada indikator LED-nya: hijau berarti di atas 90 persen, merah berarti di bawah 90 persen, dan merah berkedip berarti sudah kurang dari 20 persen – atau bisa juga melalui aplikasi pendampingnya di smartphone. Untuk mengisi ulangnya kembali, pengguna tinggal menancapkan tali pengaitnya yang merupakan konektor USB, atau bisa juga dengan menempatkannya di atas Qi wireless charger.
Ide di balik The Connected Sleeve ini memang terbilang sederhana, tapi eksekusinya benar-benar dijalani dengan baik. Buat yang tertarik, ia bisa dipesan melalui Kickstarter seharga $140, belum termasuk biaya pengiriman internasional. Harga retail-nya akan melonjak menjadi $270.