English
The Digital Service has Transformed Nation's Behavior in SEA
Investment to marketing and promo finally shows result
Google-Temasek report titled "e-Conomy SEA 2019" placed e-commerce and online travel as the biggest participant in the regional digital economy. In 2019, each gives $38 billion and $34 billion, to increase at $153 billion and $78 billion by 2025.
Previously in 2018, the same report placed the online travel sector on top, e-commerce presents a new experience that creates rapid growth. The players' effort to promote also have a significant impact - online shopping festival such as 9.9, Singles Day, 12.12  always welcomed to all businesses.
Google Trends data showed e-commerce promotion has constantly increased per year. With various strategy, starts from influencer and gamification feature to acquire users to connect with the platform. A machine learning technology has also affected the increase of product offerings to all consumers.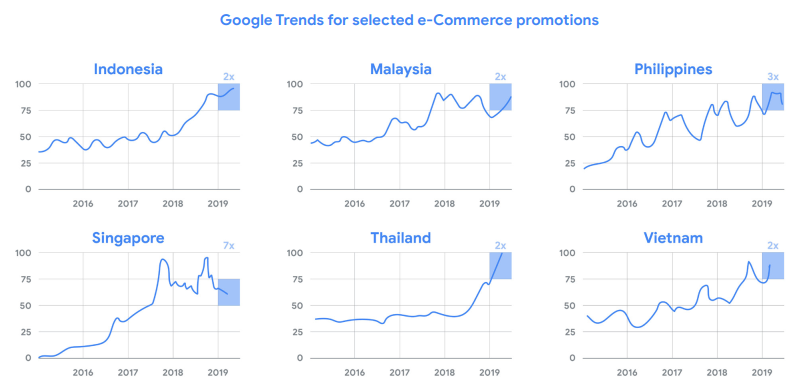 The logistics expand also has an impact on the rising e-commerce. In order to pamper its users, some even provide fast delivery - less than 24hr after the finished order. All the attempts, from the promotion to logistics, has changed the basic behavior for online shopping. Prior to this, e-commerce mostly served those who want to make a "big" purchase, such as a smartphone or TV, but daily goods are now available.
Over 5 million orders are processed by e-commerce per day worth $15-$20 on average.
Food delivery becomes the hype
In 2015, the ride-hailing sector is worth $3 billion, by this year at $13 billion, projected to reach $40 billion by 2025. Four years ago, the industry is only about alternative transportation. To date, it has further expanded to provide more services. A significant example is food delivery, such as Go-Food or GrabFood - later might be financial services.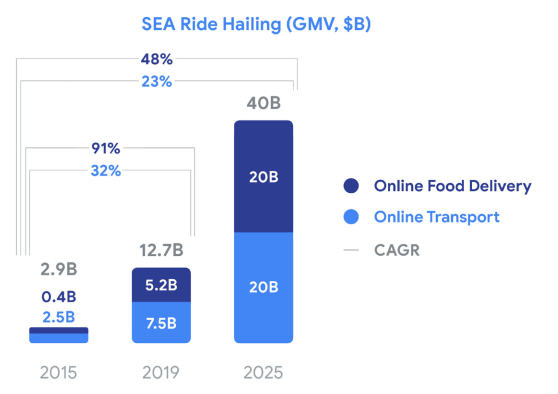 The food delivery service has been highlighted since 2018 as it affected much on consumer's behavior. People from all classes are fond of the service, using effectivity as justification amid traffic congestion and weather condition. In the metropolitan area, the service is in high demand.
There are lots of reasons, besides promotion and marketing effort from the decacorns, accessibility to the food industry is expanding. The delivery service offered various menus from restaurants to small stalls. In terms of business, the platform brings a lot of benefits. Some have been using it to build a better connection to the users through rewards and loyalty programs.
Entertainment channel is still on
Since 2015, there are at least 100 million new internet users in Southeast Asia. Applications from video, music, and game are channels with the highest demand - through smartphones. The value has reached $14.2 billion this year and to multiple a few times by 2025. Most users prefer free content, even if it means to watch some ads.
A new trend captured, that short-time video, such as Bigo Live and Tik Tok has fascinated the market. A supported app like lip-sync has produced viral content adored by groups of people. In addition, online gaming is boosting up. One of the popular games is Free Fire under Garena that acquires 450 million users with 50 million active users.
Budget hotel supporting the travel industry
This sector has been matured enough in Southeast Asia's digital economy. Tourism becomes the main factor. As a market, the urge of the middle class to travel - have a significant effect on the online travel industry. Alternative services arose, budget hotel platforms for example, such as OYO and RedDoorz.
An aggregator platform like Tiket.com, Traveloka, and Booking.com is planning for a better maneuver. Partnership with other digital players is getting increased, with ride-hailing for example. Not only as a travel ticket provider, but the online travel agency is also getting ready with "experience" channel for users who want to take a full trip. Various features are now accessible in one platform, ticket to the amusement park and various shows.
Service integration
Another note to mind is service integration from the platform to improve user experience. Take the Hooq partnership with Grab to provide streaming video last year as an example. Another one is Gojek's latest maneuver to present kumparan news on its platform. The integration has extended various services on each platform.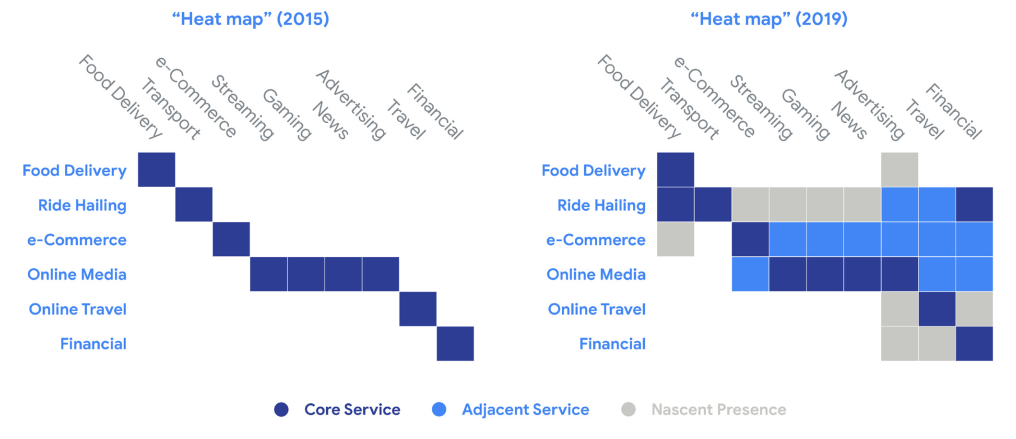 Take a note on ride-hailing and e-commerce as the most ambitious ones. Various digital services are being integrated into apps. Acquisitions and investment become the solution for some startups to improve the entire capability on its platform.
–Original article is in Indonesian, translated by Kristin Siagian
Are you sure to continue this transaction?
processing your transaction....