Gadget
The Drinkable Book Bantu Kita Murnikan Air
Sebagai elemen penopang kehidupan terpenting, di tubuh manusia air sangat esensial untuk distribusi nutrisi, membantu pencernaan, serta menstabilkan suhu. Terpenuhinya kebutuhan cairan memudahkan badan mengatur kalori, bahkan menjaga pikiran tetap fokus. Sayangnya hingga zaman modern ini masih banyak orang kesulitan memperoleh akses ke air bersih.
Di sisi lain, air kotor merupakan penyebab penyebaran berbagai macam penyakit. Hal tersebut telah lama menjadi fokus utama para ilmuwan dan lembaga kesehatan dunia. Mereka mencoba menciptakan solusi penyediaan air bersih yang gampang dan terjangkau. Salah satu jelmaan dari upaya itu dipamerkan oleh Dr Teri Dankovich berupa penemuan bernama The Drinkable Book - atau 'buku yang bisa diminum'.
Terlepas dari keunikan namanya, lembaran-lembaran dalam The Drinkable Book bukan untuk 'langsung diminum'. Teknik penyuguhannya sangat sederhana, tidak memerlukan langkah-langkah pemakaian khusus serta dapat digunakan semua orang. Caranya: sobek halaman The Drinkable Book, lalu tuangkan air di atasnya - baik dari sungai, danau atau sumur. Hasil rembesan di bawahnya adalah air murni nan bersih, tanpa bakteri.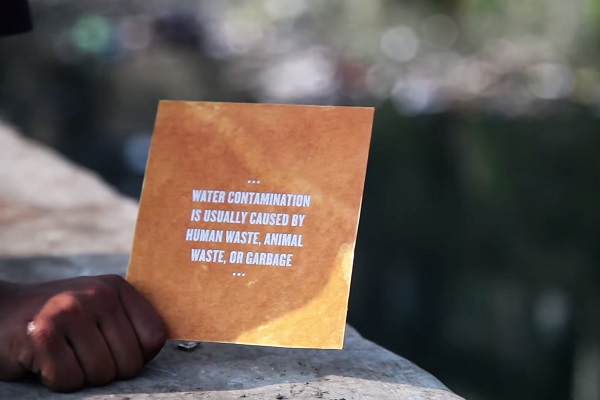 Instruksi sendiri dituliskan pada tiap lembar The Drinkable Book. Rahasia penemuan itu terdapat pada aspek mikroskopisnya. The Drinkable Book diolah serta menyimpan ion perak dan tembaga. Saat air meresap, bakteri-bakter yang ada di sana akan mati. Tingkat efektivitasnya sangat tinggi, rata-rata 99 persen. Di atas 90 persen saja sudah sangat baik. Level kontaminasi tersebut serendah air keran di Amerika Serikat.
Info menarik: Baterai 'Origami' Ini Murah, Cuma Butuh Air Kotor Buat Mentenagainya
The Drinkable Book memasuki tahun kedua pengembangannya, dan ia lulus uji coba ekstrem. "Ada satu lokasi di mana kami memakai air pembuangan di got, yang pastinya mengandung banyak sekali bakteri. Namun kami sangat terkesan pada kemampuan kertas The Drinkable Book, sanggup menumpas semua bakteri di dalam sampel. Mereka (tim) sempat merasa jijik saat baru memulainya. Akhirnya kami berpikir, jika ini saja mampu dilakukan, potensinya akan lebih besar lagi," kata Dr Teri Dankovich pada BBC.
Berdasarkan tes, satu lembar The Drinkable Book bisa memurnikan 100 liter air. Artinya, satu buku memastikan satu orang mendapatkan pasokan air bersih selama empat tahun. Tapi Dankovich dan kawan-kawan masih membutuhkan waktu lagi untuk menyempurnakan performa (melawan virus dan protozoa) serta mendorongnya masuk ke tahapan produksi berskala besar. Sejauh ini, The Drinkable Book baru dibuat menggunakan tangan...
Sumber: Page Drinking Paper.
Are you sure to continue this transaction?
processing your transaction....