Bertolak belakang dari anggapan mayoritas orang, turnamen eSport sebetulnya sudah dilangsungkan sejak tahun 90-an. Namun memang berkat dilangsungkannya ajang The International Dota 2 oleh Valve Corporation, khalayak jadi sadar tentang potensi ranah gaming kompetitif, serta mendorong orang buat berbondong-bondong berpartisipasi di sana.
Suka atau tidak, uang ialah faktor paling menarik dari eSport, dan salah satu alasan mengapa The International selalu jadi perhatian. Acara yang mempertandingkan game MOBA terpopuler di Bumi itu menawarkan hadiah senilai jutaan dolar. Dari tahun ke tahun, jumlah prize pool-nya terus bertambah. Tahun lalu, total hadiah mencapai US$ 20,77 juta, dan saat kita mengira angka ini sulit dikalahkan, The International 2017 kembali memecahkan rekor.
Terhitung di tanggal 12 Juli 2017 kemarin, prize pool The International 2017 Dota 2 resmi melampaui jumlah hadiah yang ditawarkan event terdahulu. Saat artikel ini ditulis, prize pool baru saja melewati angka US$ 20,8 juta – tepatnya US$ 20.803.960. Mengingat ajang utamanya sendiri baru akan dilangsungkan pada tanggal 7 sampai 12 Agustus di Key Arena Seattle, angka tersebut diperkirakan akan terus naik – jangan kaget jika nilainya melebihi asumsi Anda.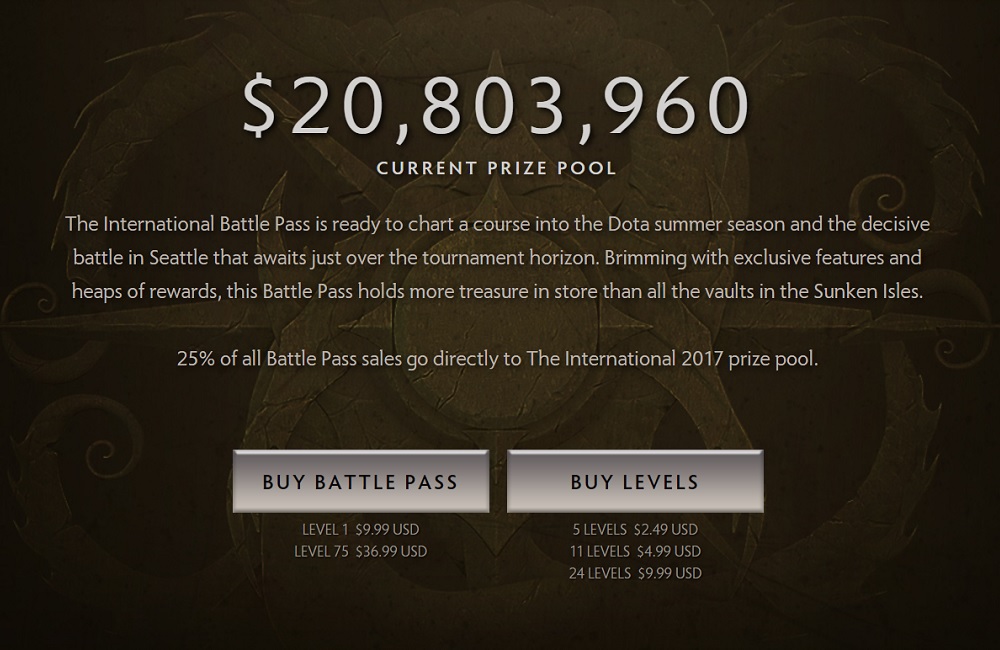 Seperti biasa, uang tersebut diperoleh dari penjualan Battle Pass. Valve mendeskripsikan Battle Pass sebagai 'DLC musiman', sebuah aktivitas digital Dota 2 di mana Anda bisa menaikkan level dengan mengerjakan quest, tantangan harian, serta mendapatkan achievement. Battle Pass juga mempersilakan kita menebak hasil pertandingan pertandingan besar, dan jika tebakan itu tepat, Anda akan memperoleh banyak poin (ada cukup banyak elemen judi di dalamnya).
Battle Pass untuk The International 2017 dijajakan mulai dari harga US$ 10. Dengan membelinya, Anda disuguhkan berbagai hadiah seperti Immortal Treasure I, II dan III, Music Pack dan Cursor Pack edisi The International 2017, Evolving Courier dan Evolving Ward level satu, Seasonal Terrain musim semi dan lain-lain. Lalu jika tidak keberatan mengeluarkan uang sebesar US$ 37, Anda bisa membeli Battle Pass level 75, berisi bonus konten yang lebih banyak lagi.
Tersedia pula kesempatan buat upgrade level Battle Pass tanpa perlu menyelesaikan tugas. Untuk menambah 5, 11 atau 24 level, Anda dipersilakan membeli akses seharga US$ 2,5, US$ 5, dan US$ 24.
25 persen uang yang Valve peroleh dari penjualan Battle Pass langsung dialirkan ke prize pool The International 2017. Silakan simak info detailnya di situs Dota 2 jika Anda ingin tahu lebih jauh penawaran apa saja yang ada di Battle Pass kali ini.
DailySocial.id adalah portal berita startup dan inovasi teknologi. Kamu bisa menjadi member komunitas startup dan inovasi DailySocial.id, mengunduh laporan riset dan statistik seputar teknologi secara cuma-cuma, dan mengikuti berita startup Indonesia dan gadget terbaru.