The Power Wallet, Dompet Sekaligus Teman Setia Smartphone
Meth Pralistami - 16 October 2014
Di era yang semakin canggih ini, penggunaan smartphone semakin meluas. Namun dengan segala fitur-fitur yang tersedia, seringkali tidak ditopang dengan daya baterai yang besar, alias boros baterai.
Hal ini tentunya merepotkan bagi Anda yang sering berpergian. Belum lagi kalau tempat yang kita kunjungi jarang menyediakan tempat untuk mengisi daya baterai smartphone, atau parah nya lagi, sering lupa membawa charger.
Sebagai solusinya, saat ini sudah banyak power bank yang tersedia dipasaran. Namun tidak jarang orang yang malas untuk menggunakan powerbank karena alasan repot membawanya, belum lagi ukuran power bank yang terkadang hampir sama dengan ukuran smartphone. Saya sendiri akan lebih memilih mempunyai dua baterai daripada harus membawa power bank kemana pun saya pergi.
Info menarik: [Panduan Pemula] Cara Restart iPhone Tanpa Menggunakan Tombol Power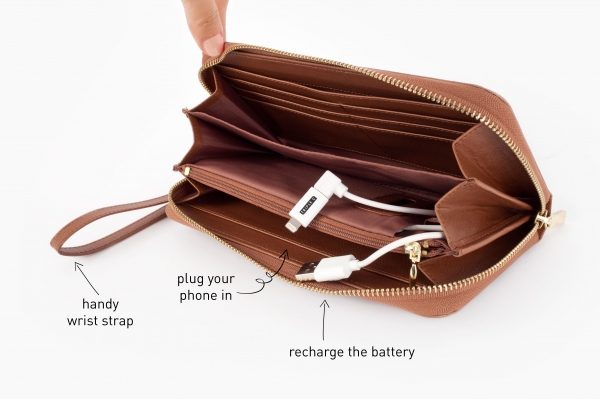 Tetapi ternyata power bank tidak melulu merepotkan, seperti The Power Wallet ini misalnya. The Power Wallet merupakan sebuah dompet yang memiliki power bank di dalamnya, jadi kita tidak lagi kerepotan membawa smartphone dan power bank yang membuat dompet kita sesak.
Ukuran dompet dari Power Wallet ini seperti dompet perempuan pada umumnya, muat berbagai macam kartu, uang dan tidak lupa tempat untuk smartphone, dengan letak yang rapi. Jadi para perempuan yang membawa smartphone ke manapun bisa tetap berpergian dengan gaya yang kece tanpa harus merasa khawatir kehabisan daya baterai smartphone.
The Power Wallet sudah menyediakan kepala charger berbentuk USB untuk smartphone Android dan untuk iPhone. The Power Wallet dibanderol dengan harga US$ 79 atau berkisar Rp 950 ribuan. Anda dapat membelinya melalui Photojojo
Sumber CoolMomTech.