The Void Merupakan Virtual Reality di Dunia Nyata
Yoga Wisesa - 25 May 2015
Kini setelah arena pacu virtual reality menjadi kian memanas berkat partisipasi nama-nama terkemuka, pertanyaan selanjutnya adalah, seberapa jauh mereka berani menerapkan teknologi itu di dunia hiburan. Dengan kematangan di sisi teknis, tiga talenta jenius berkeinginan untuk meneruskan dan merampungkan apa yang dahulu telah dimulai oleh Virtuality dan Sega VR.
Sekarang apa bayangan Anda tentang penggunaan produk head-mounted display seperti Vive dan Oculus Rift? Mengenakannya di ruang gaming khusus, membawa Anda seolah-olah masuk ke permainan? Ken Bretschneider, James Jenson dan Curtis Hickman mempunyai pandangan berbeda pada pengaplikasian VR. Mereka memperkenalkan The Void, fungsinya ialah mengajak Anda berkunjung ke dunia virtual, secara harfiah.
The Void merupakan ide ambisius. Sederhananya, ia adalah sebuah taman bermain seluas 18 hektar, bagian dari Evermore Park. Di sana, Anda dapat merasakan berbagai petualangan dari mulai fantasi, horor, serta fiksi ilmiah berbekal tingkat realisme tinggi berkat virtual reality: Mengalami epiknya (dan sulitnya) bertarung melawan naga raksasa, menginfiltrasi stasiun ruang angkasa, hingga menjelajahi labirin yang dihuni monster.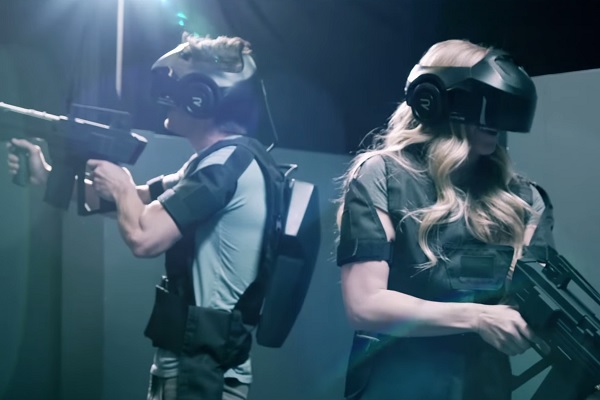 The Void memanfaatkan perangkat VR bernama Rapture HMD. Head-mounted display ini didesain untuk menyajikan pengalaman virtual reality paling nyata, diklaim melampaui spesifikasi beberapa produk retail kompetitor. Tiap device menyimpan sepasang display curved OLED 1080p 120Hz, hampir dua kali level penerimaan resolusi dan warna di mata manusia, diitambah headphone dan mic berkualitas tinggi.
Info menarik: Drone Mungil nan Modular Elf Dibekali Teknologi Virtual Reality
Tentu saja sekedar headset belumlah lengkap, Rapture HMD turut dilengkapi pakaian pelacak gerakan dan aksesori semisal pedang, pistol serta kursi simulator. Dengan memegang pernak-pernik mirip asli - bukan sekedar periferal controller - pengalaman jadi makin realistis. Bayangkan rasanya membawa lentera melewati lorong-lorong bawah tanah, di mana Anda harus mengendap-endap agar tidak menarik perhatian makhluk jahat yang menghuninya.
Hebatnya lagi, Anda bisa menikmati The Void bersama atau melawan teman. Konten ialah hal esensial, dan tim bermaksud untuk mengembangkannya sendiri, dibantu developer dan perusahaan third-party lain. Mereka ingin menyuguhkan isinya seperti film, dan telah sibuk meramunya selama beberapa tahun ke belakang.
The Void dijadwalkan untuk mulai dikonstruksi bulan September nanti, dan mulai beroperasi Juni 2016 di Evermore Park, Utah. Tiket berkisar antara US$ 25 sampai US$ 40. Rencananya, The Void juga akan dibuka di benua Asia, Eropa dan Australia. Mari tonton video pengenalannya di bawah.
Sumber: TheVoid.com. Via Digital Trends. 
Are you sure to continue this transaction?
processing your transaction....