Kacamata AR Tilt Five Ingin Kawinkan Board Game dengan Video Game
Interaksinya tetap dengan objek fisik seperti kartu atau dadu, akan tetapi dengan bumbu visualisasi 3D
Glenn Kaonang - 8 October 2019
Sekitar enam tahun yang lalu, sebuah proyek bernama CastAR muncul dan menuai sukses di Kickstarter. Sangat disayangkan perangkat augmented reality tersebut tidak jadi terwujud. Di tahun 2017, perusahaan yang mengembangkannya bangkrut setelah gagal menerima pendanaan seri B dari investor.
Beruntung sosok di baliknya tidak menyerah. Ia adalah Jeri Ellsworth, mantan engineer Valve pertama yang ditugaskan membentuk divisi hardware, dan yang berkontribusi terhadap pengembangan HTC Vive, Steam Box maupun Steam Controller. CastAR memang sudah bangkrut, akan tetapi Jeri bersama tim kecilnya tetap berjuang untuk membeli balik aset-aset mereka yang sempat terlikuidasi.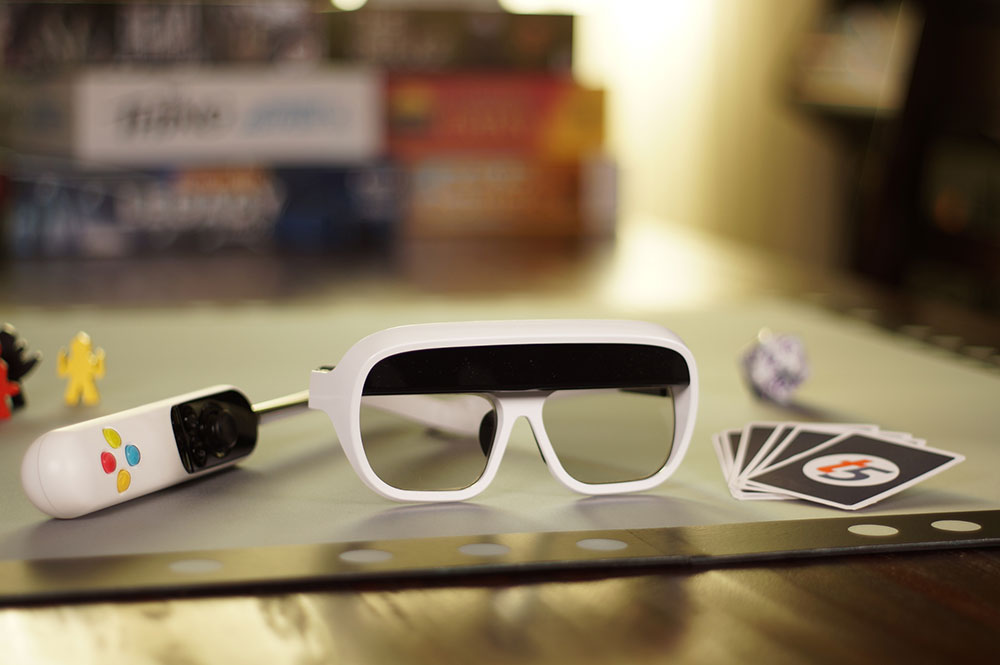 Dari situ terbentuklah perusahaan baru bernama Tilt Five, dan bersamanya datang versi yang lebih sempurna dari CastAR. Prinsip dasarnya masih sama: Tilt Five merupakan kacamata dengan kapabilitas augmented reality, hanya saja sekarang fokusnya dikhususkan untuk tabletop gaming (board game).
Kreatornya mengibaratkan Tilt Five sebagai hasil perkawinan antara video game dan board game. Seperti halnya board game, pemain akan berinteraksi dengan objek-objek fisik seperti kartu, dadu, figurine dan lain sebagainya, akan tetapi pengalamannya disempurnakan lewat visualisasi 3D ala video game, yang diproyeksikan langsung ke alas bermain di atas meja.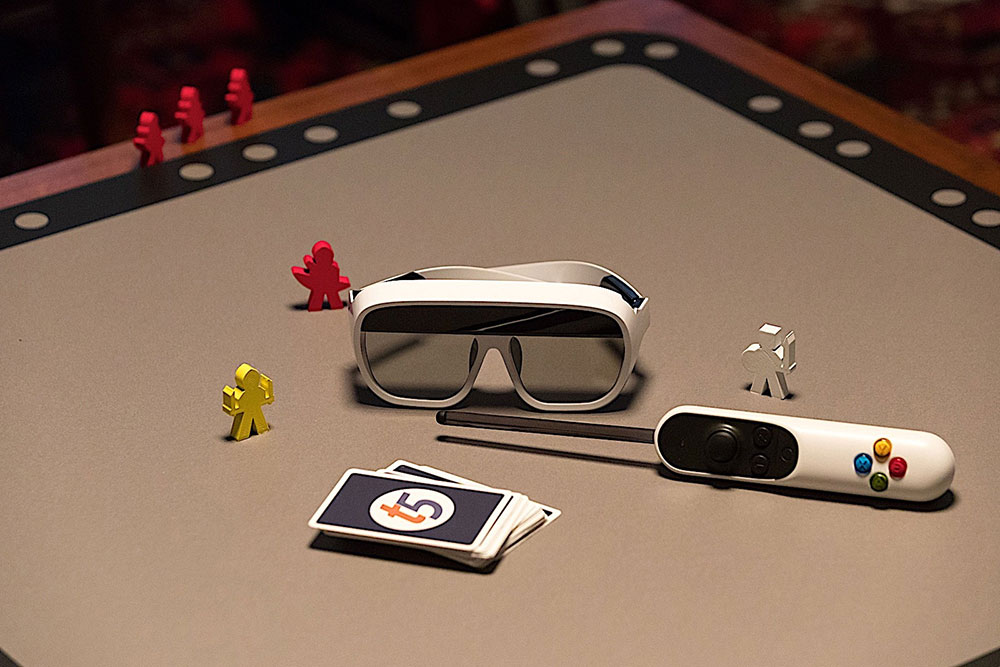 Tilt Five terdiri dari tiga komponen esensial: kacamata berkamera dan berproyektor HD yang tersambung via kabel USB ke PC atau smartphone, controller dengan wujud ala tongkat sihir, dan alas bermain dengan permukaan retroreflektif untuk menampilkan visualisasi 3D-nya.
Total ada dua kamera yang tertanam pada kacamata Tilt Five, satu yang berteknologi head tracking, dan satu lagi kamera computer vision untuk mendeteksi objek-objek di atas meja seperti kartu dan dadu, tidak ketinggalan juga kedua tangan masing-masing pemain. Tracking-nya sendiri berlangsung secara pasif berkat alas retroreflektif itu tadi, dan kacamatanya menawarkan field of view seluas 110°.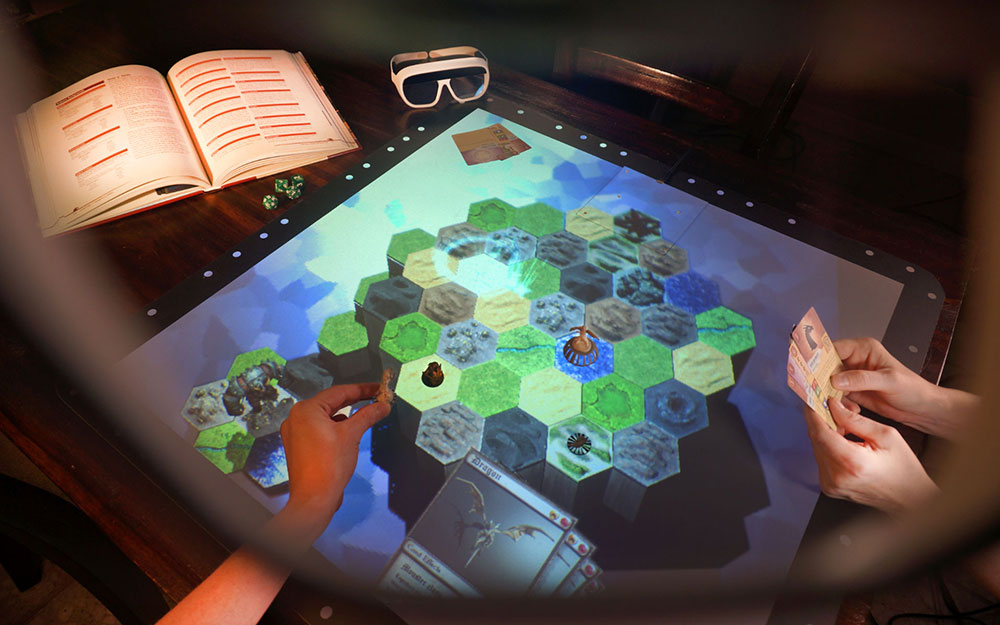 Menariknya, fisik Tilt Five tidak jauh lebih besar dari kacamata biasa. Bobotnya pun hanya sekitar 85 gram, dan ia bisa dipakai tanpa melibatkan satu pun strap yang ribet, jauh berbeda dari yang ditawarkan CastAR sebelumnya. Pengguna berkacamata pun tetap bisa memakai Tilt Five dengan mengganti penyangga hidungnya terlebih dulu.
Elemen video game yang dipinjam bukan cuma grafik 3D saja, tapi juga fitur save game dan multiplayer. Dalam mode multiplayer, apa yang Anda lihat di atas meja bakal sama persis dengan yang dilihat oleh pemain-pemain lain di kediamannya masing-masing.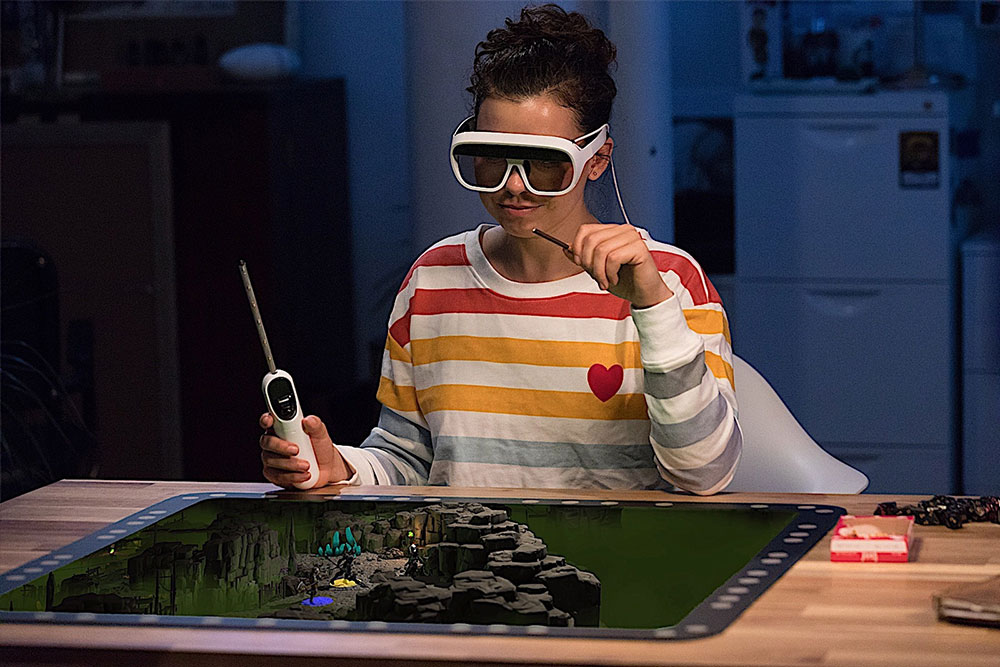 Seperti halnya CastAR, Tilt Five saat ini juga sedang ditawarkan melalui platform crowdfundingKickstarter, dan sejauh ini proyeknya sudah mendulang lebih dari $1 juta meski deadline-nya masih cukup panjang. Yang membuatnya berbeda dari CastAR, Tilt Five sudah sempat diproduksi dalam jumlah kecil untuk dipakai sejumlah developer yang berminat mengembangkan konten buatnya.
Juga berbeda adalah status Jeri Ellsworth yang kini menjabat sebagai CEO di Tilt Five, yang berarti ia bisa lebih leluasa mengatur arah visi perusahaannya. Singkat cerita, prospek Tilt Five jauh lebih cerah ketimbang CastAR enam tahun silam, dan di saat yang sama potensinya juga lebih luas berkat sederet penyempurnaan dari sisi teknis.
Buat yang tertarik, paket penjualan termurahnya dihargai $299 di Kickstarter, dan ini sudah mencakup kacamata, controller, alas bermain, serta sejumlah bonus game perkenalan. Estimasi pengiriman barangnya dijadwalkan pada Juni 2020.
Sumber: Engadget.
Are you sure to continue this transaction?
processing your transaction....