Mode game Vainglory 5V5 is real dan benar-benar baru. Punya rasa yang berbeda dengan mode 5V5 pada Arena of Valor ataupun Mobile Legends.
Selain bisa menikmati grafis yang lebih aduhai, Vainglory juga bangga punya gameplay yang lebih kompleks. Nah pada update Vainglory versi 3.0 nanti, yang akan digulirkan bulan Februari ini akan membuka mode game 5V5 untuk semua pemain.
Saat ini hanya para pemain yang punya golden ticket yang sudah bisa memainkan lebih awal map Sovereign's Rise. Berikut sejumlah tips bermain mode game 5V5 Vainglory yang bisa Anda terapkan nanti.
1. Perubahan Komposisi Hero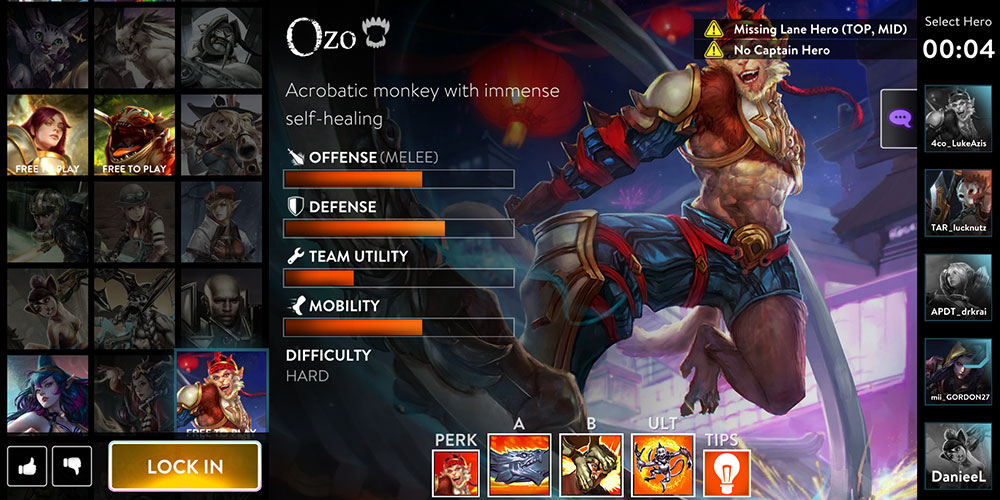 Saat ini ada 37 hero di Vainglory yang terbagi menjadi lima tipe yaitu assassin, mage, protector, sniper, dan warrior. Tiap hero tersebut masih dikelompokkan lagi berdasarkan role yaitu jungle, lane, dan roaming. Ya, cukup berbeda dengan AOV dan ML.
Di mode 5V5 ini kita akan bermain di tiga lane, yakni top lane, mid lane, dan bottom lane. Jadi bukan hanya komposisi tipe hero saja yang harus diperhatikan, tapi juga peran dari hero tersebut.
2. Jangan Lupa Beli Item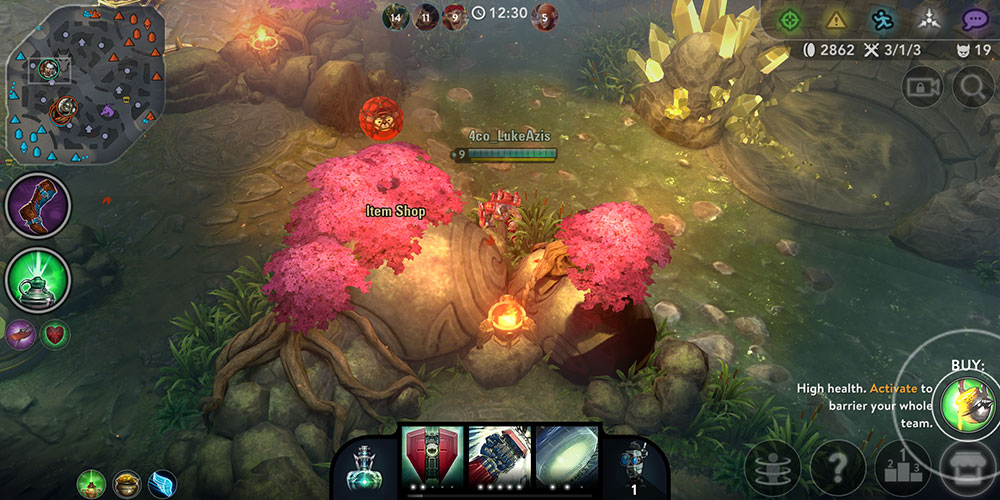 Berbeda dengan AOV dan ML, begitu gold terkumpul saat match, Anda bisa langsung membeli item yang dibutuhkan di mana pun berada.
Vainglory tidak begitu, Anda harus membelinya di toko. Selain di markas, Anda juga bisa membeli item pada dua jungle shop yang berada di bagian tengah map di sisi bawah dan kanan.
3. Sistem Kontrol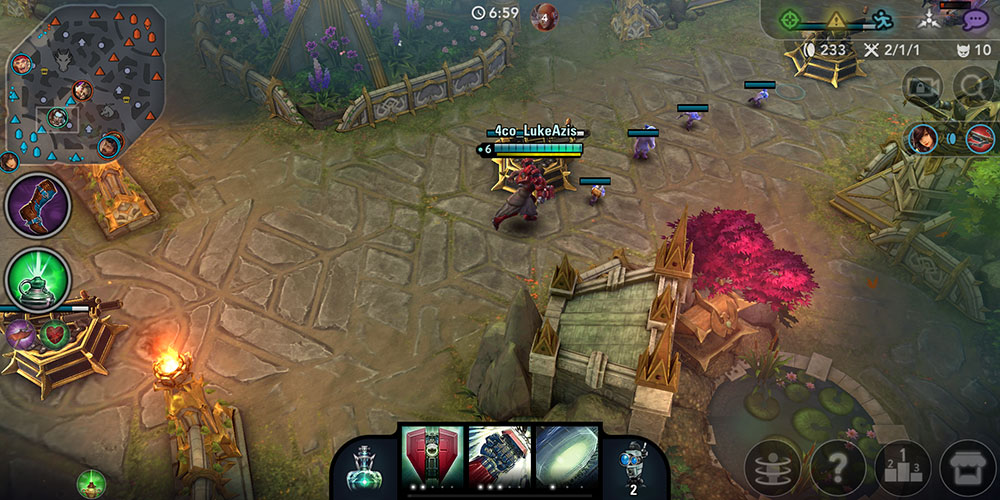 Vainglory menggunakan "full touch control" atau sistem tap sebagai pengganti kursor mouse klik seperti MOBA di PC. Bukan d-pad analog virtual seperti yang ada pada AOV dan ML.
Yang harus Anda ketahui ialah kemampuan kontrolnya sudah ditingkatkan, untuk menggerakkan hero tidak hanya bisa melakukan tap, tapi juga hold dan slide ke arah yang Anda inginkan untuk membantu bergerak dengan cepat.
4. Scout Camera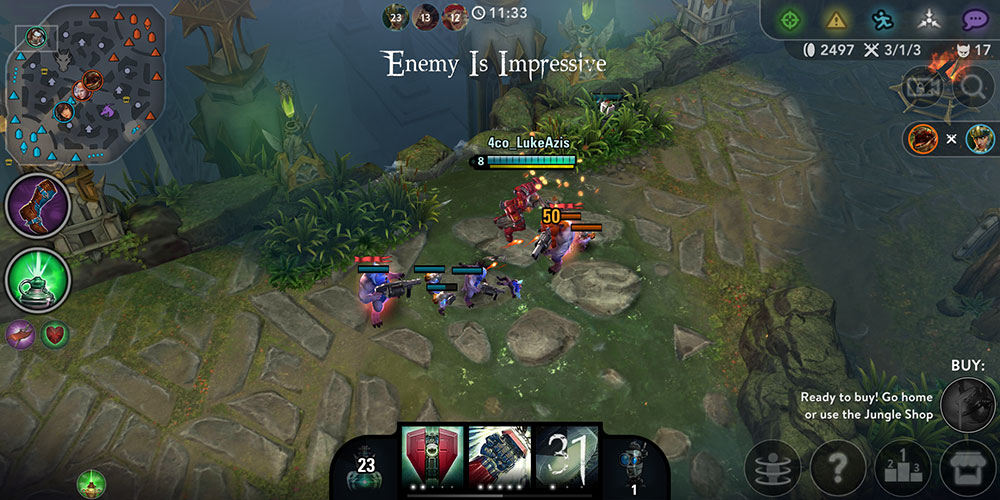 Mode 5V5 Vainglory dibekali fog of war, sesuai namanya arena akan diselimuti oleh kabut perang dan akan terang jika Anda berjalan ke titik yang diarahkan.
Meski secara visual memanjakan, tapi jarak pandang penglihatan kita jadi terbatas. Di sini Anda harus pintar-pintar menggunakan fitur scout cam yang akan membantu Anda menambah jarak pandang.
5. Free Camera
Bila mengaktifkan ini, Anda bisa dengan bebas menggeser kamera untuk melihat ke sekeliling area walaupun Anda sedang menggerakkan hero. Ya, seperti game MOBA pada PC.
Anda dapat menggeser kamera ke manapun yang Anda inginkan, tanpa harus tap dan holdmini map. Sangat membantu untuk membaca keadaan, sehingga Anda bisa mengambil keputusan dengan cepat dan tepat.
6. Kuasai Asset dan Supply
Ya, harus ada hero dengan peran jungle dan roam yang bertugas untuk farming di monster camps untuk mendapatkan gold.
Tugas lain jungle termasuk menyerang monster camps musuh dan juga ganking sang laner musuh agar ia jadi tak bisa farm.
7. Taklukkan Ghostwing dan Blackclaw
Ghostwing akan terbangun di menit ke-8, jadi persiapkan tim Anda untuk menaklukkannya dan tim Anda akan mendapat buff yang bisa digunakan push dan team fight.
Sedangkan, Blackclaw yang merupakan pengganti dari Kraken dan bila tim Anda menaklukannya muncul pada menit ke-13. Ia akan membantu tim Anda menghancurkan turret, dan mengubah alur permainan. Keduanya akan respawn 180 detik setelah mereka ditaklukkan.
Itu dia tips bermain mode game 5V5 Vainglory, mode tersebut saat ini belum tersedia dalam mode ranked match dan hanya tersedia dalam mode casual dan solo bot. Yang terakhir, Anda juga harus rajin-rajin menonton pertandingan mode 5V5 dari para pemain pro Vainglory.
DailySocial.id adalah portal berita startup dan inovasi teknologi. Kamu bisa menjadi member komunitas startup dan inovasi DailySocial.id, mengunduh laporan riset dan statistik seputar teknologi secara cuma-cuma, dan mengikuti berita startup Indonesia dan gadget terbaru.