Tips Mengganti Mesin Pencari di Safari Pada Perangkat iOS
Aditya Daniel - 9 July 2015
Perangkat iPhone dan iPad kini tak lagi sekedar menjadi alat komunikasi. Selain dapat digunakan untuk mendukung aktivitas keseharian penggunanya, perangkat iPhone dan iPad juga dapat menjadi sumber informasi. Dengan Safari sebagai peramban bawaan, pengguna bisa mendapatkan beragam informasi yang diinginkan.
Safari menghadirkan 4 mesin pencari yang bisa Anda gunakan sesuai keinginan, yaitu Google, Bing, Yahoo dan DuckDuckGo. Google adalah mesin pencari default pada Safari, meski demikian, Anda bisa menggantinya dengan mesin pencari lain.
Bagaimana caranya? Ikuti tutorial berikut ini:
Buka menu Settings, lalu pilih Safari.
Pada bagian Search, tap Search Engine dimana Anda akan diberikan 4 pilihan mesin pencari tersebut di atas.
Sebagai contoh, saya memilih DuckDuckGo sebagai mesin pencari pada perangkat iPhone saya.
Saya memilih DuckDuckGo sebagai mesin pencari pada Safari bukan tanpa alasan. DuckDuckGo memiliki parameter bernama bangs yang bisa digunakan untuk melakukan pencarian langsung ke dalam sebuah situs.
Selain itu, untuk urusan privasi, DuckDuckGo tidak menyimpan aktivitas pencarian kita yang dapat digunakan untuk menyuguhkan konten iklan seperti yang dilakukan oleh Google.
Info Menarik: [Panduan Pemula] Cara Restart iPhone Tanpa Menggunakan Tombol Power
Semisal Anda ingin mencari sebuah sepatu baru dari Amazon, maka cukup gunakan parameter bang !amazon di depan keyword sepatu yang dicari. Anda akan langsung dibawa ke halaman web Amazon yang berisi hasil pencarian sepatu yang Anda inginkan.
Mencari sebuah definisi ataupun informasi di Wikipedia? Gunakan bang !w di depan keyword yang akan dicari. Mencari sebuah aplikasi dari iTunes App Store? Gunakan bang !appstore.
DuckDuckGo menyediakan ribuan bang dari berbagai situs yang ada di internet, bahkan Anda bisa mendaftarkan parameter bang untuk pencarian di situs yang Anda miliki.
Sedikit tips tambahan, Anda bisa menghapus sejarah pencarian di Safari pada perangkat iOS menggunakan cara berikut:
Dari menu Settings > Safari.
Pilih "Clear History and Website Data" lalu konfirmasi dari pop-up yang muncul.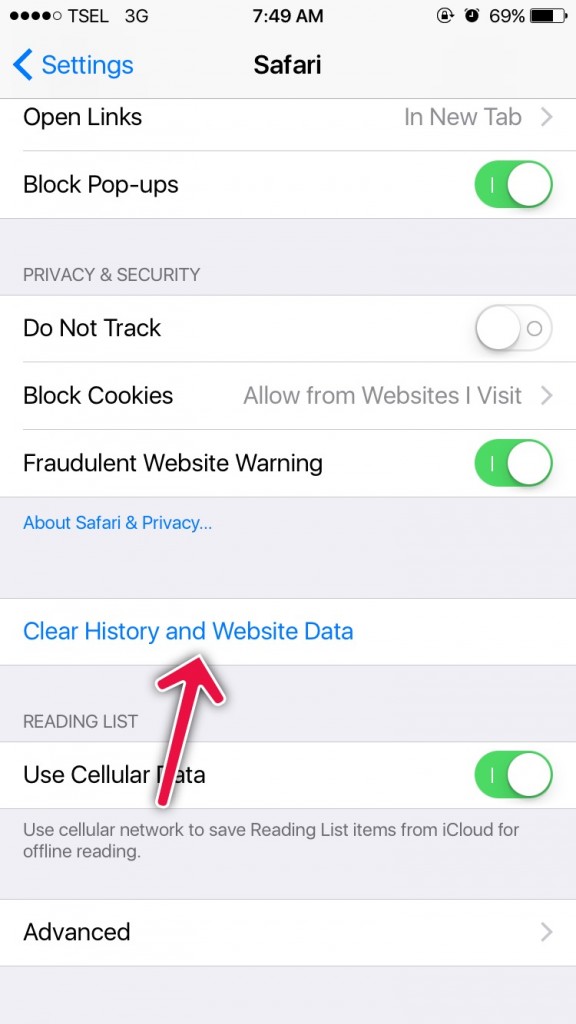 Demikian beberapa tips pada peramban Safari yang Anda coba. Jika tak ingin menggunakan DuckDuckGo sebagai mesin pencari, Anda juga bisa memilih Yahoo atau Bing. Selamat mencoba!
Gambar header: iPhone via Hadrian/Shutterstock.com.
Are you sure to continue this transaction?
processing your transaction....