Game
Tips Menjadi Champion of Dawn di Mode Survival Battle Royale Mobile Legends
Mode survival Mobile Legends ini melibatkan 99 pemain, mampukah Anda bertahan selama mungkin?
Saat ini, intensitas saya bermain game MOBA seperti Arena of Valor dan Mobile Legends sedang berkurang. Alasannya karena saya sedang kegandrungan game PUBG Mobile, hampir tiap malam saya 'mabar' - kadang juga pantang tidur sebelum kenyang makan ayam.
Meledaknya kepopuleran formula 'last man standing' ini pun membuat sejumlah pengembang game mengimplementasikan mode battle royale di dalam game-nya. Moonton salah satunya, mereka memasukkan mode survival di Mobile Legends.
Lalu, bagaimana tips untuk menjadi seorang Champion of Dawn di mode survival battle royale dalam game Mobile Legends: Bang Bang?
Berbeda Tujuan
Bila di mode utama yakni rank atau classic hanya melibatkan dua tim dengan masing-masing lima pemain dan punya tujuan untuk menghancurkan markas musuh.
Di mode survival melibatkan 33 tim dengan masing-masing tiga pemain, totalnya ada 99 pemain. Tujuannya pun berbeda, yakni untuk menjadi tim yang bertahan paling akhir dan menjadi seorang Champion of Dawn.
Tiga Player
Di mode survival ini, Anda tidak bisa memilih bermain secara solo, duo, atau squad dan bukan juga lima pemain seperti biasa - tapi hanya tiga pemain.
Role yang bisa dipilih pun ada tiga kategori yaitu physical, magical, dan defense. Hero yang bisa dipilih juga diacak.
Untuk tips memilih hero, agar komposisi tim Anda balance - maka direkomendasikan satu kategori satu hero. Perhatikan juga tipe serangannya, jarak dekat atau jarak jauh.
Tips Bermain Mode Survival Mobile Legends
Saat memasuki map yang disebut Battlefield, Anda tidak naik pesawat ya - melainkan seekor Flying Dragon. Cara bermain terbaik ialah dari awal selalu bersama, kerja sama mutlak dibutuhkan.
Anda bisa memberi tanda agar bisa terjun di titik yang berdekatan. Hati-hati jangan sampai berpisah terlalu jauh, karena bisa terciduk oleh musuh.
Hero kita sudah di level 15, di sini kita akan membunuh monster creep, lord, dan juga musuh untuk mencari item atau equipment yang tepat sesuai tipe hero, mendapatkan buff, dan pasokan berupa mega heal.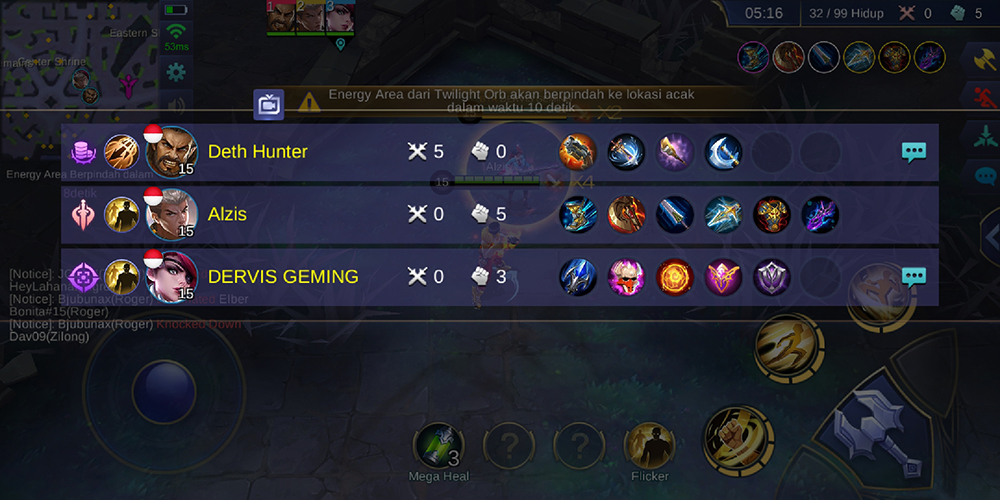 Di sinilah pengetahuan mengenai build item Anda diuji. Tidak semua item cocok untuk hero Anda, maka Anda bisa mengambil item atau menjatuhkan item bila ingin menggantinya.
Setiap pemain hanya memiliki satu kehidupan, namun ketika hero Anda mati - tim memiliki kesempatan untuk menghidupkan kembali dengan batas waktu 30 detik. Bila tak terselematkan, Anda bisa menonton pertarungan tim Anda atau keluar dari match.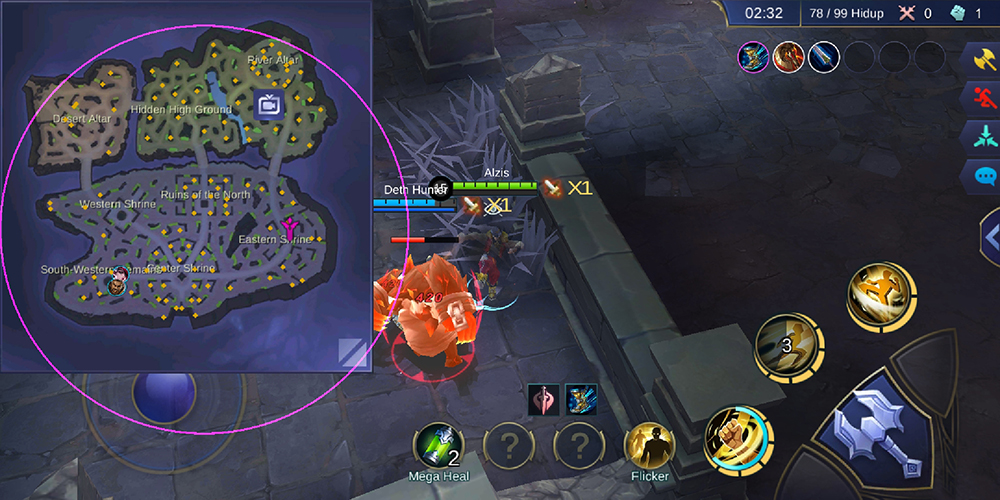 Saat game dimulai, safe zone akan terbentuk dan beransur-ansur akan semakin mengecil. Jadi, pastikan untuk selalu berada di dalam safe zone.
Bentrokan dengan tim lain pun tak terelakkan lagi, cobalah atur strategi dan tetap waspada. Biasanya ada hero musuh yang bersembunyi di rerumputan dan siap menyergap. Sebaliknya, Anda juga bisa bersembunyi di rumput bersama tim dan memasang jebakan.
Itu saja, tips bermain mode survival battle royale di game Mobile Legends dan cara menjadi seorang Champion of Dawn. Sekarang, saatnya Anda mencoba sendiri - mampukah Anda bertahan hidup?
Are you sure to continue this transaction?
processing your transaction....